Overwatch 2: All Season 3 Battle Pass skins, ranked
The best and worst of the skins you can get in Overwatch 2's latest Battle Pass.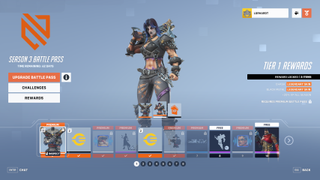 (Image credit: Windows Central)
The third season of Overwatch 2 has finally arrived, and with it came a brand new 80-tier Battle Pass filled with a variety of new customization items for players to earn. These include smaller unlocks like name cards, voice lines, emotes, and highlight intros, but the items that most players truly care about are the skins. These cosmetics completely change the look of the character they're for with new outfits, makeup, hairstyles, and other features, and as a result, they're highly sought after by the Overwatch community.
The Overwatch 2 Season 3 Battle Pass has 10 skins on offer for players that progress through it, split between its Free and Premium reward tracks. I've ranked those skins below, showcasing the best (and worst) of what the Battle Pass has in store for fans.
10. Tactical Zarya
Of the two default appearance reskins in the Battle Pass, tier 50's Tactical Zarya is by far the least appealing one, and is also the lamest Premium skin from the pass in general. One of my favorite things about Zarya's outfits is that they're usually loud and proud and often feature a good amount of color, but between its dark gray armor plating and light gray undersuit, this skin is overwhelmingly drab. The white hair isn't helping matters, and while the light blue accents do break up the monotony somewhat, it's not enough to save Tactical Zarya from landing squarely at the bottom of this list. Hard pass.
9. Galactic Sigma
This will probably be a controversial ranking, as the starry night sky shader on Galactic Sigma's suit is incredibly cool. With that said, the colors here are not doing it for me, with the bright green of the suit and light purple of Sigma's skin standing out as particularly strange given the theme. I think a darker color palette would have worked much better here, especially since a very dark blue or black would be perfect for representing the cosmos. It's not a terrible skin, especially for one that's in the Battle Pass' Free tier, but I was hoping for something better at tier 70. It doesn't even come close to usurping top notch options like Maestro or Flying Dutchman.
8. Deluxe Baptiste
Baptiste's default Overwatch 2 appearance is already a good look, but this tier 10 Free reskin of it is even better. Unlike Tactical Zarya, Deluxe Baptiste changes the outfit's colors instead of axing them, swapping out teal and white for a luxurious red and gold scheme. The dark gray leg armor brings a healthy amount of variety to the look, while the red and gold Biotic Launcher acts as the perfect finishing touch. If you want a simple style for Baptiste, this is arguably the best choice available.
7. Hong Hai Er Junkrat
This tier 60 Premium skin is inspired by the "Red Boy" from the 16th Century Chinese novel Journey to the West, a character that possesses the ability to shoot smoke and fire from his eyes, nose, and mouth. It's a great fit for Overwatch's resident explosives enthusiast Junkrat, and while I do think the skin is a bit busy and overdesigned, I love its intricate details and color variety. Most of Junkrat's skins are great, and this one is no exception.
6. Demon Queen Moira
Tier 40's Demon Queen Moira is another of the Premium Battle Pass' Asian Mythology-themed skins, with this one alluding to the evil child-eating demon queen Rangda from Balinese legend. The colors here are fantastic, with the skin prominently featuring white, tan, red, gold, brown, and purple. The design itself is pretty simple, but small details and varying patterns ensure that the outfit is visually interesting. The icing on the cake, though, is the Rangda mask on Moira's back.
5. Folklórica Sombra
This tier 30 Premium Sombra skin is easily one of her best, as it features a gorgeous blend of pinks, purples, and blues with gold accents, complete with a stylish hairdo and flower crown. The inspiration from Mexican folk dancing outfits is a great way to show off some of Sombra's heritage, and in general, it's fun when Overwatch skins are on the colorful side. Also, since most of Sombra's skins are rather dark in nature, it's refreshing to get something that's brighter and more pleasant like this.
4. Chasa Reaper
Chasa Reaper is arguably the cleanest Premium skin from the Battle Pass, and even though it doesn't have a whole lot of color going on, the perfectly-balanced design absolutely makes up for that. It's based on the Korean myth that tells the tale of the death god Gangnim, and that comes through strongly with the simple, yet beautifully patterned robes and gauntlets, as well as the unsettling mask. My favorite part of the skin, though, is Reaper's dapper hat that has a wide, transparent brim. Overall, it's a stellar cosmetic, and since it's on the Battle Pass' first tier, you barely even have to do anything to acquire it.
3. Invisible Man Cassidy
Like Chasa Reaper, Invisible Man Cassidy is a Premium skin I can't help but fall in love with based on the design alone. This riff on the classic monster movie is an excellent fit for Cassidy's charming demeanor, and Blizzard did a great job balancing style with simplicity. The sharp contrast between the light silver shirt and the black pants, scarf, and hat is also a great example of neutral colors looking awesome, with the red and purple accents giving the outfit some nice bursts of color diversity. This might just be Cassidy's best skin yet, and I'll definitely be rocking it once I get to tier 20.
2. Black Metal Junker Queen
Some skins just completely outclass everything else in a hero's wardrobe, and the new Premium Black Metal Junker Queen is one of them. Junker Queen has been closely associated with rock and metal music ever since Blizzard released her Origin Story trailer so a skin that makes her look like a member of a metal band is about as fitting as it gets. Her black and blue hair looks fantastic, and the rest of the spiky rocker outfit has plenty of cool details, too. It's unlocked at the same time as Chasa Reaper, so you'll be able to equip it after reaching the Battle Pass' first tier.
1. Amaterasu Kiriko
I didn't love Cyber Demon Genji and Zeus Junker Queen wasn't really my style, but Amaterasu Kiriko is an absolutely FIRE Mythic skin that I'm instantly equipping once I reach tier 80. Everything about this skin, from its elegant silhouette and beautiful patterns to its combination of vibrant whites, golds, yellows, and reds, is simply perfection. It's easily my favorite from the Battle Pass, and from Season 3 in general.
Like other Mythic skins, this one also features a variety of customization options for Kiriko's hair, makeup, and robes. I think the default colors are the best ones, but if you don't, there are also alternative blue, purple, and bronze or red, white, and lavender color schemes to choose from as well.
---
Overwatch 2 Season 3 is here, and the game as a whole is available now on Xbox Series X|S, Windows PC, PS5, PS4, and Nintendo Switch. It's arguably one of the best Xbox shooters available, and since it's free-to-play, it doesn't cost anything to check it out. Alternatively, there's the Overwatch 2: Ultimate Battle Pass Bundle that includes the Premium Battle Pass, 20 Battle Pass levels, and 2,000 Overwatch Coins for $30.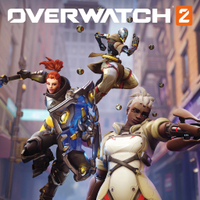 Overwatch 2: Ultimate Battle Pass Bundle
The $30 Overwatch 2: Watchpoint Pack offers fans a variety of benefits that will allow them to get guaranteed access to a Premium Battle Pass track, 20 Battle Pass levels, and 2,000 Overwatch Coins.
Get the Windows Central Newsletter
All the latest news, reviews, and guides for Windows and Xbox diehards.
Brendan Lowry is a Windows Central writer and Oakland University graduate with a burning passion for video games, of which he's been an avid fan since childhood. You'll find him doing reviews, editorials, and general coverage on everything Xbox and PC. Follow him on Twitter.