The best random and crazy video game facts, courtesy of a viral Tweet
Fake horse sprinting and invisible proximity mines are just some of the fun facts shared on Twitter recently.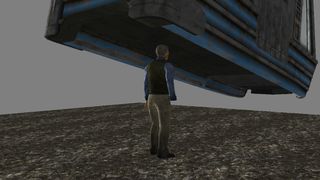 (Image credit: Future)
The Twitter account for the Aaron & Tommy: Super Pod Saga asked people to share the "most useless piece of video game knowledge" they know. The tweet blew up, receiving 20,500 likes, 18,800 quote tweets, and 2,461 retweets at the time of publication. Gamers took the opportunity to share fun facts like the voice of Mario appearing in another video game and the metro in Fallout 3 actually being an NPC with a train for a head.
Here are some of the best "useless" facts from Twitter.
Two heads are better than one
Our managing editor Jez Corden jumped in on the trend, sharing a fact about Dragon Age: Origins regarding an interesting game of chess.
Goldeneye glitch
With Goldeneye making its way to Xbox consoles and the Nintendo Switch, it's good to brush up on facts from the gaming classic. Twitter user and Trivium vocalist Matthew kiichichaos Heafy shared a way to make invisible proximity mines.
Fallout devs using their head
The following fact from misterOwO is relatively well-known, but it's still quite interesting to see how game developers work around problems.
Our colleagues at PC Gamer took a look at this phenomenon back in 2021. It turns out the metro is actually a piece of the NPC's arm, not their head. In any event, it's still funny.
Fake speed
John Epler, the Creative Director of Dragon Age shared a secret about "sprinting" on a horse.
Epler clarified that riding a horse in the game is faster than travelling on foot but that the sprint and normal run for the horse are the same speed.
A mysterious mug
It's unclear why, but a mug floats outside the boundaries of the final chapter 6 map in Portal 2. Twitter users @MasterSwrdRemix shared a clip of the odd object.
Oblivion oddities
Due to a bridge that is often drawn in Oblivion, you can rarely purchase a specific home. Sheesh. Even in video games, it's hard to get on the real estate ladder (via @SHOOREHPLPPL on Twitter).
Twitter user Madithen shared another strange NPC in Oblivion. All they do is watch ham.
A coding accident sends the Bravil castle steward to their death every single day. It's a tough life living in the world of Oblivion (via @saltandbrepper on Twitter).
Baking bread in Oblivion can be risky business, at least if you're Salmo the baker. Twitter user @KiroUsako highlighted that you can cause the game to crash by adding bread to Salmo's inventory. A bit ironic.
Drivable cars in Max Payne
Max Payne 3 uses the same engine as GTA 4 and 5, as highlighted by Rich Evans Thug Shaker on Twitter. That means that every vehicle in the game is drivable.
A hidden narrator
The developers behind Fallout: New Vegas came up with a clever way to present the outro sequences. Twitter user @Its_Jabo showed off how the game uses a projector-like screen and a hidden narrator.
Runner up voice actors
You'll get a little treat if you defeat an optional boss in Legend of Dragoon for PS1, as pointed out by Prim just be tweeting.
Mario in The Game
Charles Martinet is best known for his iconic performances as the voice of Mario, but did you know he appears briefly in The Game (via Ben Prunty)?
Overwatch Easter egg
Twitter user @retro_wen shared a fun little Easter egg that plays if you shoot the bells on the Dorado map in Overwatch to form a certain tune.
Blowing up blimps
GTA 5 makes you invincible when you start a mission, which opens the doors for all sorts of fun. User @jbzingo on Twitter showed off how blowing up a blimp is one option at the beginning of the "dead man walking" mission.
Throwback Halo
If you miss the days of the Warthog from the original Halo, there's a way to get that driving style back, as highlighted by Jaime Griesemer.
"Not" an X-Men game
8-Bit Alchemy shared the fact that the NES game Werewolf was going to be an X-Men game. That didn't happen, but the sprites in the game are rather obvious.
Hidden gems
Games provide countless hours of entertainment, both with their intended plots and mechanics as well as glitches and errors. While most players prefer a polished game, a few mistakes here and there can add charm to a title. A floating mug, an NPC marching to their death, or a person staring at ham cooking is a bit of fun on top of the core elements of a game.
A lot of the facts shared on Twitter aren't mistakes at all, they're clever ways to work around the limitations of a game. For example, Metro Exodus using invisible rats to control a character's eyes allows the developers to use a preexisting mechanic to perform a task (via @mac_shirk on Twitter).
Windows Central Newsletter
Get the best of Windows Central in your inbox, every day!
News Writer and apps editor
Sean Endicott brings nearly a decade of experience covering Microsoft and Windows news to Windows Central. He joined our team in 2017 as an app reviewer and now heads up our day-to-day news coverage. If you have a news tip or an app to review, hit him up at sean.endicott@futurenet.com (opens in new tab).