The Razer Stream Controller X is brand new and nearly half the price of Razer's first attempt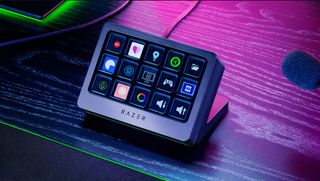 (Image credit: Razer)
What you need to know
Razer has launched a new Stream Deck, the Razer Stream Controller X.
This is their second-ever Stream Deck device and has been made in collaboration with Loupedeck.
The Razer Stream Controller X is nearly half the price of the original model, at $149.99.
---
Razer launched its first streaming control deck last year, the Razer Stream Controller was expensive at $269.99 and there are many cheaper alternatives available. Now those options include Razer's own updated stream deck, the Razer Stream Controller X which hits the market today at a much more palatable $149.99 USD. This brings it squarely into competition with the Elgato Stream Deck MK.2. Fans of Razer's well-built products, will be happy to know they can now match the rest of their gaming set-up with this streamlined streaming device, as it's also a lot more attractive than its big brother.

How does the Razer Stream Controller X differ from the original Razer Stream Controller?
The Razer Stream Controller X is launching at almost half the price of its predecessor, but you may be wondering what else is different. The Razer Controller X boasts the following features:
Has 15 LCD keys that can display customizable icons.
A detachable 50-degree anti-slip magnetic stand and swappable magnetic faceplate for customization.
Compatible with Razer Synapse 3.
Multi-link macros feature.
The multi-link macros specifically allow you to make your own shortcuts by linking a number of actions to one of the 15 switchblade keys. The compact Razer Stream Controller X is designed for efficient multi-tasking, allowing you to make your own shortcuts for content creation and link to other apps like Twitch, OBS Studio, Spotify and more.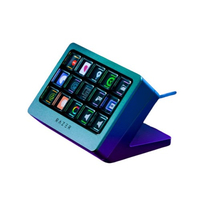 Razer Stream Controller X
Streamline your stream with this compact stream deck from Razer. The all-in-one device lets you manage content creation apps and tools with 15 customizable LCD keys, and switch up your style with a magnetic faceplate.
Buy now direct from Razer
If you're a streamer and a fan of Razer products, this is definitely worth checking out at the more reasonable price point.

We'll have to wait till we can get hands-on to see how it really compares to the Razer Stream Controller, so watch this space for our review if you're waiting to pull the trigger. If you're just starting out in streaming, we can recommend some budget items to get you started.
Get the Windows Central Newsletter
All the latest news, reviews, and guides for Windows and Xbox diehards.
Jen is a News Writer for Windows Central, focused on all things gaming and Microsoft. Anything slaying monsters with magical weapons will get a thumbs up such as Dark Souls, Dragon Age, Diablo, and Monster Hunter. When not playing games, she'll be watching a horror or trash reality TV show, she hasn't decided which of those categories the Kardashians fit into. You can follow Jen on Twitter @Jenbox360 for more Diablo fangirling and general moaning about British weather.