Gears of War 4 to feature new cast of characters and local multiplayer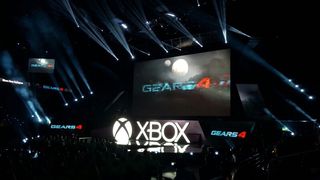 While the first three primary installments of the Gears of War franchise saw gamers step into the massive boots of Marcus Fenix, Gears of War 4 will introduce us to new characters when it launches on Xbox One later this year. In addition to these new characters, Game Informer also revealed that Gears of War 4 will support local cooperative play for two players.
The new game, set 25 years after the original Gears trilogy, sees players take on the role of JD Fenix, Marcus' son. Fenix ran away from home when he was young, joining the COG militia before going AWOL following a mysterious incident, and is voiced by actor Liam McIntyre, who played the title role in the Starz series Spartacus.
JD Fenix will be joined in this game by two compatriots. The first is Kait Diaz, a young woman raised outside of Sera's walled city-states, and who is played by veteran voice actress Laura Bailey. There's also Delmont "Del" Walker, JD's best friend who goes on the run with him after that incident. Del is played by actor Eugene Byrd.
Gears of War 4 is being developed by The Coalition, who took over the franchise after Microsoft purchased the rights from original developer Epic Games. The Coalition previously developed the Gears of War: Ultimate Edition for Xbox One.
Windows Central Newsletter
Get the best of Windows Central in in your inbox, every day!
Can't wait. Gonna have to sell my soul to buy all these games out there. Posted from Windows Central for Windows 10

Local multiplayer is great.

When in India? I mean, when on the PC?

It's raining new characters!

2016 is the yeast I buy too many shooters. GOW4, Crackdown 3, The Division, Overwatch....i need more time!

What, are you making bread with your shooters? If you need more shooters, you can pick up DOOM, Quantum Break, and Battleborn.

Doom no, QB yes. Battleborn I know nothing about. Need to resist the urge to get anything other than what I plan on so far.

So people freaked out about Halo 5 putting Master Chief in the back seat. Will they be okay with Gears of War 4 doing the same thing with Fenix?

Change is good. Can't have Marcus and Chief forever.

I'm the biggest Gears fan around and I'm ok with it. Marcus's story was wrapped up fairly well... where else can it go? With JD being his son, we still have the opportunity for a little Marcus here and there as well. Can't wait!!!

Those aren't even close to the same. Halo built up Master Chief as THE GUY. He's the face of Xbox, too. Marcus was one in a group of soldiers, and he wasn't an especially interesting character. Oh, and then there's the part where Locke was a worthless character, though that can be said about all of Halo 5's campaign. The entire story of Halo 5 could be condensed into 1-2 levels, and the game was incredibly short. There was limited progression beyond Cortana, who just sucked as well. Warden was a pile of trash character, and he ruins Warzone with his very presence. As for Gears, there's some reasonable progression. The conflict ended in Gears 3. There's reason to push the timeline forward to find a new conflict. What I will say, though, is that going with Marcus' son is pretty weak pandering to the past. I really hope the 'D' in "JD" isn't a tribute to Dom, because he was such a dumb character, mainly because of his terrible role in Gears 3.

Hey. As a player two I dislike your comment about Dom. As an individual.... U rit Posted via the Windows Central App for Android

But this is 20yrs later Marcus is old has kids now, his story was finished now its the next generations turn just like Marcus and his dad. No problems here no sense in beating a horse to death. That and if it's Marcus kid u no he's not far behind

This will be the game to finally buy an xbix one for. Really looking forward to a new, traditional gears campaign ( not like judgement). Hoping Fenix junior is a chip off the old block personality- wise.

Without looking, I'm betting we get a load of more women to keep the feminists happy.

Looks like just one, but don't worry, I'm sure they'll make sure to hit the politically correct checkboxes. You'll get the obligatory woman, and as I expected, the third named character is black. These things are required for many games now, and few can get away with it. Take a look at Halo, Assassin's Creed, Borderlands, Fallout, and Dishonored, if you need a few examples. Final Fantasy XV is kind of the rare exception, and it receiveda bunch of backlash for being all-male.

Hoping for 4 player online campaign big time.

Can't wait for this game!
Windows Central Newsletter
Thank you for signing up to Windows Central. You will receive a verification email shortly.
There was a problem. Please refresh the page and try again.