The Gears of War 4 team celebrates 'going gold' with Microsoft CEO Satya Nadella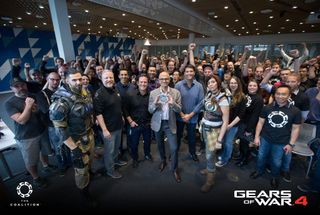 The Coalition development team in Vancouver celebrated the milestone of its upcoming Xbox One-Windows 10 game Gears of War 4 "going gold" with Microsoft CEO Satya Nadella, among other execs.
In case you were unaware, "going gold" is the term that's used when a software product like a video or PC game is completed and the gold master disc copy is made so it can be replicated for shipping. In an Xbox Wire post (opens in new tab). Microsoft stated:
Microsoft's Windows and Devices head Terry Myerson and Yusuf Mehdi, the Corporate VP of the division, also joined in the "gone gold" ceremonies. Gears of War 4 is due for release on October 11, and people who purchase the Ultimate Edition will be able to play the game a few days earlier on October 7. Gears of War 4 will also be an Xbox Play Anywhere title, which means that people who purchase the digital version of the game on the Xbox One will get the Windows 10 PC version for free, and vice versa.
See at Microsoft Store (opens in new tab)
Need more? Don't miss our other coverage of Gears of War 4 including:
Get the Windows Central Newsletter
All the latest news, reviews, and guides for Windows and Xbox diehards.
This looks so awesome. I hope one day I can get a job at Microsoft.

My dream from years ago...

Same here buddy. Same here... If it takes any longer, I'm gonna make my own Microsoft, with blackjack and hookers.

Where do I apply? I'm interested in the hooker bit.

sadly many do not get the awesome reference lol.

Its not sad, it just means that person doesn't watch Futurama or participate in meme littered message boards online.

You can try and apply for one their internship programs if you're a student. My friend's husband got his job in Azure division in Redmond this way.
As for me I only can dream of becoming MVP one day. :)

I'm gonna be in college next year. I definitely have that planned.

Good luck! Just keep working hard for your dream! :)

Be careful what you wish for....

Me too in my childhood but now i'm trying commerce side of microsoft side instead of software

Knowing Satya Nadella he'll probably lay off half of them tomorrow.

"Hey look, people are celebrating a huge accomplishment...lemme try to ruin the moment in comments!" - The Internet

I tried celebrating HP Elite x3 running out of stock of 10, but you were offended by it.

I think most people on this site are very offended by the horrendous failure of Windows Phone.

Most people here think Windows Phone / Mobile is a great success.

ummm...no. Most people recognize the market and app store failure. However, they do not consider the software to be bad. There is a difference. Nobody here is going around saying windows has a better market share than it really does or that it is winning mindshare more than it really is.

Nope you were being a dick and got called out.

Epic !! BTW, dan I'm waiting for the complete review of elite x3 by windows central....please publish the review asap Posted via the Windows Central App for Android

"Thanks for finishing the game guys, don't come in tomorrow. In fact don't ever come back." Btw I'm jk.

It doesn't play into his enterprise strategy, reads as no strategy.

It's good to fire everybody and reboot with new team from time to time.

Came here to say this. First thought that went through my mind and im historically NOT a pessimist

Oh no, Nadella noticed them! Just kidding, I don't even play Gears of War.

Nutella then proceeds to shutter the XBox division. Later on he was quoted - 'it wasn't enterprsie enough'.

Nutella presence there is very alarming. They should be worried. I'm serious.

Ooooh, you made a joke about his name. How clever. Or were you making fun of how Nutella is brown and how he is brown? I see, it was a racist joke. Good for you, you have shown just what a pathetic person you are.

No u guys... their just retrenching and preparing to go all in on gears of war 5. Posted via the Windows Central App for Android

Or maybe gears of wars surface. Lol Posted via the Windows Central App for Android

Some of you people are messed up. Congrats to Xbox and the team at Coalition. Can't wait to play Gears 4.

Well done. Can't wait. Thanks to all the team.

Couldn't help but remember the no mans sky going gold group photo. Lol

You guys are not funny, just stupid / they made this game for near 2.5 years and hundreds work on it every day / satya is there is a huge for the studio it shows this game is so important to microsoft Posted via the Windows Central App for Android

They worked on Microsoft band for over 2.5 years too. Matter of fact, thats just a stupid thing to say

Except the band carried neither the history or the market coverage/profitability that GOW typically does. So your point is moot.

The band discontinue is just a rumor , you guys must undrestand the meaning of rumor Posted via the Windows Central App for Android

Can't wait to get my hands on this game, will probably pre order to get the extra content, why Oh why are they still doing this DLC rubbish!!!!

if you buy a physical copy of an Xbox Play Anywhere title, then put it into a PC. What will be the outcome?

There is no such thing as a physical copy of an Xbox Play Anywhere title. Play Anywhere is only for digital copies.

true, but if I buy the disc version of Gears of War 4, then I want to place it into my PC, what will be the outcome? will I be prompted for a link for the store download? or do we get a digital code inside the box to get it over in the windows store if we want?

I personally really like this game when I first saw. Grease of war 4 is a successful game.