Gears of War 4 PC system requirements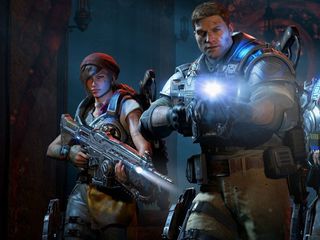 If you're wondering whether your Windows 10 PC will be up to snuff for Gears of War 4, the finalized recommended specs are now available. Brace yourself, however, as those planning to play on older hardware may want to consider some upgrades to get the best experience. Here's the official look (opens in new tab) at the minimum, recommended, and ideal specs for both AMD and NVIDIA systems:
Of particular note is the massive 80GB of free hard drive space required for the game. While that's likely not a huge deal to most gamers who have a dedicated drive for games, it's still a significant chunk of space — especially if you're wanting to run the game off of an SSD. The "Ideal" specs themselves are pretty hefty, but that's likely to support gamers that will be running their Gears action in 4K.
Aside from revealing the recommended specs, Gears developers The Coalition are currently at Gamescom showing off the 4K visuals of the game running on PC with a short gameplay demo. For those not at the show, however, don't fret: you can check out the ten-minute demo via the video embed below.
Dan Thorp-Lancaster is the former Editor-in-Chief of Windows Central. He began working with Windows Central, Android Central, and iMore as a news writer in 2014 and is obsessed with tech of all sorts. You can follow Dan on Twitter @DthorpL and Instagram @heyitsdtl.
Can't click the picture on Android app.

You can neither do it on the universal windows app.
I really don't know why haven't they added a photo viewer for articles.

So difficult to read the specs in the app because we can't save pictures anymore or zoom them like in the old WC (8.1) app.

Turn your phone landscape.

While this is a workaround, it isn't the ideal way to make this work.

Its a landscape picture, why wouldn't turning your phone to LANDSCAPE be the best way?

So the **** who thinks its totally out of the question to turn their phone around to match the aspect of the picture, do you wipe your ass sideways too?

No support for windows xp

Damn I'm upset I can't play this on my Windows 95 setup..

Nah consoles are better than your DOS PC! I want Gears of War 4 for my Atari 2600 console!

Forget that, when are Microsoft going update the Xerox Alto!!!! :P :P.

Wait... does that means my pocket calculator can't run this?!?

Hey guys the gtx 1060 zotac gfx card is
on amazon for $249 in stock right now if interested.

Horrible card with the 480 in existence.

Ah, my current gaming machine should be able to max it without a sweat.... Love it :)

Wow, 80GB free? I am wondering... If I do order it and choose the floppy media option, how many floppies will it come on?

A lot more actually. With 80 * 1024 = 81,920MB in total, and 1.44MB per floppy, it yields 81,920/1.44 = 56,889 floppies. I wonder if there are that many still available, lol.

You're right of course. I inadvertently left off a zero for the estimate (oops!). In real calculated terms it's 58929.5 disks.

And if a single one of those has a read error the whole lot have to be replaced. I wonder if you'll get a code wheel for the copy protection with them.

Maybe I can reuse the code wheel I have from my 5.25" Starflight set.

In actuallity, how many tera floppies is this?

So what will happen if I try to run this with my GTX 690? It's a high end GPU, a long time ago, but I believe it still performs comparably well to the minimum specs.

A Tseng Labs ET4000 was a high end card if you go back far enough...

Is this also recomended for future cross xbox one-pc games? Someone please answer. :) Posted via the Windows Central App for Android

I don't exactly know what you're asking. If what you're asking is if you can play with people on the XBOX One and Vice Versa, the answer is yes. I have seen this be adverstised, but can't remember where. But maybe the following link can answer your question: http://www.xbox.com/en-US/games/xbox-play-anywhere?xr=shellnav

I think its more like are these the kinds of specs that the cross buy games are likely to need going forward. That would depends on the game. Forza apex requires fairly modest specs, horizon 3 will need a LOT more for example.

Microsoft needs to do something about backing up facility like steam. What if I download 80 gb over 10 days (low speed in my region) and then the very next day something corrupt happens to my system and i have to format my pc. thats it, i lose the entire download. or is there a way to avoid this catastrophe?

In general, you should have an OS hard drive (C:) and a a separate DATA hard drive (D:). Store your files (downloads, etc.) on the DATA drive. So if you ever need to reformat your OS, you an do so without losing your personal files.

Guess it is really coming to the time where I need to upgrade my PC. Was hoping to hold out for one more year, but all the games I'm looking at getting are above the specs that I had at the time of the build.

That min Nvidia Spec is amongst the most common on PC Gaming rigs. I, unfortunately, do not currently have an i5, but an i3 skylake which will hopefully suffice. I wished they had a PC Beta for this game. Oh well, guess I'll be waiting til someone plays it on a PC similar to mine's. Game-debate will be my friend.

Here I was hoping to make a unraid box with my xeon e5-2670 sr0kx... I might very well end up making a pc for myself lol.
Windows Central Newsletter
Thank you for signing up to Windows Central. You will receive a verification email shortly.
There was a problem. Please refresh the page and try again.