German retailer Handytick listing HTC 8X for pre-order and Nokia Lumia 920 coming October 17th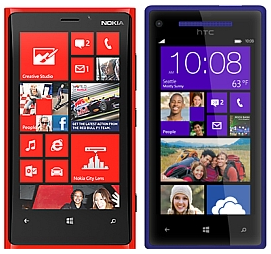 German electronics retailer, Handytick, has updated their website in anticipation of offering the flagship Windows Phone 8 devices by HTC and Nokia. The HTC 8X is already available for pre-order for €549.00 ($711.00) straight up, or at varying prices on-contract. Choose from two colors, California Blue or Graphite Black, on five different carriers: Telekom, Vodaphone, O2, e-plus and BASE.
Handytick is also advertising that they will be offering the Nokia Lumia 920 starting October 17. It is expected to fetch €749.00 ($970.00) unlocked and without a contract. No carriers are listed yet, but colors include black, white, yellow and red.
Source: Handytick; Via: Ubergizmo
Windows Central Newsletter
Get the best of Windows Central in in your inbox, every day!
Almost $1000 for a phone is too much might as well buy a lap top

Someone who clearly doesn't get it.

$900?! I hope this isn't true.

Please dont take the price of the 920 serious! There are no information about the pricing yet and the shops must take the phones in to their system and take reference prices.. look at our german shop -> http://bit.ly/SvTrDl we offer the lumia 920 for 599€ ;) The Prices are just speculations based on the experiences of our Product Managers :)

cheers

+1

People just need to wait until they officially come out.

Love how you respond to more people and not just stick to your post which most don't bother reading. No homo but you rock =) hope we get accurate dates and prices soon tho !

I understand that these prices are just guesses since official pricing hasn't been announced, but why would I pay almost $1000 for a phone? I might as well buy a really good laptop for that price.

1,174.21NZD yikes, maybe time to look for a new type of phone

Ikr! I hate how expensive the nzd makes everything!

€749 (incl VAT) would be about £499 ex VAT (or $799) for an unlocked Lumia 920, does not sound to far off to me. It's the same SIM free UK price as the 32GB iPhone5 so you pay the same for a much better phone.
I somehow think the actual street price will be the same as above but including VAT though.

Austrian retailer Cyberport lists:
- the 920 for 604€ (incl VAT) with availibility at 15.10.2012
- the 820 for 453€ (incl VAT) with availibility at 15.9.2012
- the 8X for 564€ (incl VAT) with availibility at 11.10.2012
- the 8S for 302,9€ (incl VAT)
http://geizhals.at/?cat=umtsover&xf=148_Windows+Phone+8#xf_top


I am from Cyberport ;) look at my post :)

Oh... U were faster than me ;) what about the dates??

Hopefully that is just a placeholder price.

You people, yu don't get it do you?
To compare european price to US does not make sens. For instance, in the US the iphoen costs 600 or 700 $ ? No? Here in Europe the iphone costs 600 or 700 € ?

Is all clear now?

Correct. Most people forget that the € price includes VAT. You have to remove VAT before you convert. Plus everything in Europe is more expensive.

These are most likely preset prices, not the actual amount but only a figure created to give the buyer an idea. Usually the customer is not charged the amount, it only secures the device be sold to them on the day of release. The price is usually adjusted as well. (So I am hoping!) :s

i really hope this is true, it would make the oct 21st launch on ATT more plausable.

i want that camera!

Hoh.de and cyberport.de are much more reliable sources here in Germany as they are widely known online resellers.
Prices from hoh.de:
820: 449€
920: 599€
Ativ S: 599€

That's why they have contract pricing. Plus art does a deal for early upgrades: $ of contract + 250$ I believe. All depending how soon your contract matures ( at least a yr in I think). So if the 920 is that much you can still get it for around 500$, but though I can afford to I won't pay more than 200$ for any smartphone even if it is WP8 ;-). Hope everyone gets their desired device.

The good thing is that after 3 to 4 months these phones will be sold for 250€ anyways :)
Windows Central Newsletter
Thank you for signing up to Windows Central. You will receive a verification email shortly.
There was a problem. Please refresh the page and try again.