Get a dose of Bollywood with the Filmfare app for Windows Phone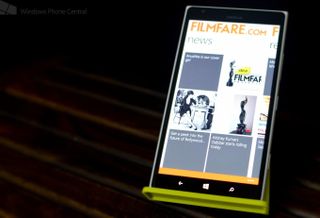 If you are a Bollywood fan, you would know Filmfare as almost a companion handbook for Hindi films for over six decades. The popular magazine is now available as a neat app on Windows Phone, and brings you all the exclusive interviews, classy photo-shoots, insider stories, Bollywood fashion coverage, movie reviews, and special features.
The app has a clean and modern UI, and you can swipe through to move from one category to the other. You can share the articles and photos on your social networks, via email, and using other apps through the usual sharing protocol of Windows Phone.
For some reason, the app features only news stories and short pieces and not the long features and articles like in the magazine. Also, the photo gallery only displays the title of the gallery and not the individual photo captions, so several times I could not get who was in the photo or its context.
The app also allows you to change the lockscreen to the image from the article you are reading. If you are a movies fan, and prefer photos of your favorite actors or film personalities as your lockscreen wallpaper, this is a handy app.
The app is developed and published by Popup Technologies, and although specified that it is owned by the magazine company, I did check with Filmfare.com, and confirmed that this indeed is a licensed app. I wonder why the app wasn't published under Filmfare's name.
The app is available free for Windows Phone 7.x and Windows Phone 8 devices from the Windows Phone Store. It's not region restricted, so Hindi film fans all over the world can grab it and read about their favorite movies and stars. It's not a perfect app, but good enough for a quick glance when you have a few minutes. Check it out, and let us know how you like it.
Windows Central Newsletter
Get the best of Windows Central in your inbox, every day!
Yeah,just what we needed :(( now I can finally sleep well.

Don't knock 'em until you've watched a few films. Glad my Indian-born coworkers have freely shared their culture with the rest of us. We've even had Benny Lava (on YouTube, not G-rated) make the rounds more than once. Not a dry eye in the office during that.

This is good news for us Bollywood fans. For those who don't watch Hindi films, I'm sorry for your loss.

Abhishek sorry for being off the topic here, but when can we get major apps like citibank, ICICI to wp. Also you work for microsoft right, so do you have your phone email client setup, in our case outlook in phone to recieve official emails , appointments and meeting requests ? When will this support come to Windows phone ?????

The two and few others like the ones you mention are missing, but several major apps are on WP already, including exclusives like IRCTC. Secondly, I don't work for Microsoft now. I used to, till 2011, before I quit to go independent. But anyway, while at Microsoft and now with my Office365 account, it's all good on WP. What are you missing?

Great! Had been waiting for this... Let them coming!

Firstly, thanks for replying to my concern. That in itself means, I was heard. Secondly, I work for a company called ADTRAN networks, Hunstville, Albama, and I have been forcing our IT guys to install certificates in there server, so that we can get emails, webex and goto meetings done directly via mobile. And they have been unsuccessful in doing that. So I was wondering as what is that is so difficult that is causing them this problem. I think I need to ask them to work out office 365.