Get your Android apps back with BlueStacks for Windows 8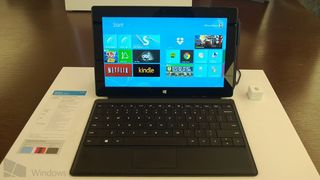 There is and has been elephant in the room among Windows Phone and Windows 8 users, the app gap. I'm not talking about numbers here, but the difference in high quality apps. Don't get me wrong, we have our fair share of kickass applications, but if you're a startup and you're developing an app – it's aimed at iOS or Android first. That's ok, things will change as both Windows 8 and Windows Phone gain market share and mindshare. However until then you might not get to try out the latest fadapp (an app that's a fad – like Words with Friends or Snapchat).
So what's a tech nerd to do? Well, if you've got a Surface Pro, you can run some Android apps using BlueStacks software. Read on to find out how.
Last time we heard from BlueStacks they were working on a partnership with AMD, since then they've been busy working on their Windows 8 application and optimizing it for the Surface Pro. A quick primer for those that aren't picking up on what's going on here. BlueStacks is a Windows program that allows users to run Android apps and games on their PC. The software first came out in alpha form back in October 2011, so at the time the focus was on Windows 7. The company has been busy ever since, developing a Mac desktop app and getting an undisclosed investment from Qualcomm. Now the team has updated their software for Windows 8, optimizing the experience for a device like the Surface Pro. What's new?
The latest version includes their special Charms menu that they've been able to integrate with Windows 8. BlueStacks was also able to overcome some hurdles they had in the past. For example, BlueStacks is able to tell the orientation of the tablet and relay that information to the Android environment, making the overall experience feel a little more native.
They said they've optimized for the Surface Pro, but we don't have one just yet to play with (stupid supply chain). In the meantime we'll fire it up on our Intel-based Acer device and let you know about performance for Windows 8 in general.
The company is also running a small campaign to educate users about their software. It's called "Get Your Apps Back" and is aimed at letting users bring over their Android apps when they pick up a Windows 8 device. Here is the video they plan on running:
You can download their latest Windows 8 software by heading on over here.
What do you guys think? Is this some software you'd be interested to try out the latest Android only app?
Get the Windows Central Newsletter
All the latest news, reviews, and guides for Windows and Xbox diehards.