Get your exercise on with Aukey's Bluetooth Sport Headphones
Meet the headphones that hold up to an active lifestyle without wearing out your ears.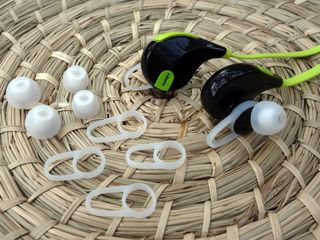 Aukey's Bluetooth Sport Headphones (opens in new tab) are basic in design, but manage to pack a punch with excellent audio quality for both music and hands-free calls. Using Bluetooth v4.1 and AptX technology you get a solid connection with a great mix of highs and lows for any genre of music you put through them. The headphones themselves don't sport much of a low-profile when sitting in your ears, but they are lightweight, which I'm a big fan of — especially when I'm tackling my morning workout.
Included with these wireless headphones is a 7-inch flat microUSB charging cable, along with 2 extra sets of ear buds and ear hooks. Fully extended the headphones reach approximately 25-inches, which should be enough length for anyone's comfort. While charging, the Aukey logo lights up red and turns to blue when completely charged. Even though the headset comes partially charged, it only takes around 2 hours to fully charge from 0%, which would be impressive if they provided more talk/playback time than 4.5 hours. Still, it's enough time to get sufficient use out of them — no matter the activity. Once battery life gets critical, the headset provides an audible "battery low" message.
Pairing is as easy as it gets: hold down the power button (Aukey logo on right headphone) for about 5 seconds or until you see it flash red and blue. Jump into the Bluetooth settings on your mobile device and find it listed as Aukey EP-B4. Generally a pairing code isn't required on more current devices, but if it does ask for one, use 0000. They're also capable of pairing to 2 different devices simultaneously, if you prefer to switch things up on the fly. I was really impressed with the wireless range on these headphones, staying connected up to 33-feet and without interference through every wall in my house.
There are a series of controls on the Aukey Sport Bluetooth Headphones aside from the volume up/down and play/pause buttons on the right headphone. You can redial the last number on your call log by double-tapping the multifunction button, or switch from the headphones to your mobile device by holding the multifunction button for a couple seconds. Other unique features can be found in the included user guide if you're interested in learning more. Voice notifications have a say during your listening experience as well, announcing the number of incoming calls, when Bluetooth has been disconnected, and when the headset is turned on and off.
Since these Bluetooth headphones are sweat-proof, they're ideal for extended workouts. The ergonomic design maximizes on overall comfort — around your neck and in your ear. I've never been much of a fan of ear buds, but thankfully Aukey includes a few sets of ear hooks you can attach to enhance the fit inside your ear — helping to stay put during most activities. My experience with managing calls was just OK; call quality was great on my end, but those I talked to admitted I sounded a bit muffled and distant. Nothing horrible enough to label them a bad choice for casual use, though.
Image 1 of 3
The verdict
Overall, the Aukey Bluetooth Sport Headphones (opens in new tab) are well worth the $30 price tag. They're super-simple to utilize and provide acceptable sound quality for music and calls. If you're after a new pair of lightweight wireless headphones that are great for outdoor use, consider giving these a try before you drop buku-bucks on one of the bigger names.
Buy now (opens in new tab)
Windows Central Newsletter
Get the best of Windows Central in in your inbox, every day!