Glance menu in Windows 10 Mobile updated with new UI [Update: Motion Data as well]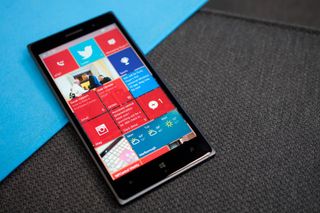 Update: We have also received tips the Motion Data menu in Windows 10 Mobile has been updated with the new UI design.
Original story: It may be Thanksgiving Day in the US, but Microsoft seems to be working 24/7 on Windows 10 Mobile. The company has pushed out an update for the US that offers a refreshed Glance menu screen.
As the screenshots above show, the Glance menu options now have the more modern looking sliders that have been added to other parts of Windows 10 Mobile. such as the Touch screen menus that were updated earlier this week.
Thanks to Bryce for the screeenshots and everyone else for the tips!
Windows Central Newsletter
Get the best of Windows Central in your inbox, every day!
Prefer the older one with interval or peek.

Same. I picked up my 950 xl last night and it took a while for me to understand the new layout of glance options

No 24h format for galnce ;(

Peek :( I hope they get it back!

i though I heard Daniel say Peek is default.

I Don't understand you . 30 seconds mode is the same peek mode with only 15 seconds longer display time :| 15 minutes is exactly the same as interval mode. Though I think 15 seconds for peek mode is better. But if you put the device in your pocket or put your hand in front of light sensore the glance will be turned of imeddiatly and wouldn't wait for 30 seconds. So I don't think its a big change. Sorry 4 bad English.

The peek option is there by default. It can display for 30 seconds or 15 minutes after hovering on the screen.
I don't like the new glance though. The clock has become too small. Like the date addition though, but the whole text looks weird with multi-colour pixel noise.

Im waiting fot my led notification being activated by ms.waiting forever now......

I don't have the background photo option. Is it just me? L640XL.

Change ur locksreen to my pictures. it works !!

The 640XL doesn't have glance background

Does that mean although we have glance, a special hardware is required to get glance background???

Peek is default now. If you set the to interval 30s, it will display glance for 30s, and repeat everytime you peek your phone

I Don't understand you . 30 seconds mode is the same peek mode with only 15 seconds longer display time :| 15 minutes is exactly the same as interval mode. though I think 15 seconds for peek mode is better. but if you put the device in your pocket or put your hand in front of light sensore the glance will be turned of imeddiatly and wouldnt wait for 30 seconds. So I dont think its a big change. sorry 4 bad English

Windows 10 Mobile is even more rocking...

I want it really soon...( officially)

I ain't seeing any possibilities for that

It's already available. Not US only.

No it's not officially available. Only for insiders(build number in Lumia 950 and insider preview are different)

Not that hard to do right

In fact they messed up Glance Background Beta with this update!

Totally.
It shouldn't even be a seperated app. The glance should let us use a custom photo to show with the same editing options the Glance Background app has

Yes, the background option is greyed out in my 1020! Even after uninstalling the Glance Background Beta app.

You have to choose your own image in lock screen settings to use glance background

Thanks for the workaround... it's a shame that it doesn't work with the Bing image!

Glance Background Beta has never been supported in Windows 10 Mobile so it was just luck if it worked previously. If that app was important to you then you should never have upgraded to an OS that didn't support it.

930 users can only look n pass

can you imagine, the super lowest WP lumia 521 supports glance screen but Lumia 930...and they say hardware issue..

They didn't think it was an appreciated feature, not so much at least, so the bought an even cheaper OLED (if possible) for that top phone

It's funny you think OLED is cheap. I guess you must be living in the future.

Glance option missed in Lumia 730

Lumia 730 doesn't have Glance screen

The funny thing is even my 532 has the feature.

Motion data had the update too. New Win10 UI EDIT : The glance update fixed the date Before my glance was showing "Thursday"
Now it's really the FULL Date "Thursday 26 november" (I'm french and mad with dates, I know it's not the right format. But you know what I mean.)

It did not fix mine :( help

This update fix the exact same problem i had before.

Finally! Next appointment details also fixed along with date. Would only show part of it before, no time of appointment for example.

Fixed the date...but now the Glance Background app no longer works.

Just go to the store and check for updates and it'll show up Posted via the Windows Central App for Android

I was hoping for a Black Friday sale. Bummer.

Nice just updated my glance and now it is broken. I only get a black screen when opening glance...

Same problem on my 1520. After the updated glance installed I opened glance screen and I saw the various options for about 2 second before it just went to a black screen.

I don't know why since I upgraded to W10M, the glance screen doesn't show the date. It only shows the day. Even a hard reset didn't work.
And also waiting for Microsoft to incorporate these extra settings in the main Settings list.

This update just fixed it. (Really!)

Yes, it just got updated and it did fix that :)

Try turning everything off in the glance settings, restart, and again set it according to your liking. Just a TV banging kind of fix ;D

The "Date" option shows "Thursday, November 26" instead of just "Thursday."
It wouldn't do that before the update.

Any one there to help me?I got only 10166 update in my L730..not the 10581 or 10586.. Any solution?

Leave the Insider program from the Windows Insider app and re-enter. That might fix it.

You need to roll back to 8.1.

If you are really interested & able to spend some data then try these steps..
1. Uninstall Windows Insider & Install it again & Re-enter the program .. If above step doesn't fix your problem then., 2. Do Hard Reset and Use New Outlook mail Id for both Phone & Insider program..
Select Fast Ring & Check for updates..
If above step doesn't fix your problem then., 3. Use " Windows Device Recovery Tool " and Don't perform Back-up
Just update your apps & Install " Windows Insider "
Enter the program select Fast Ring - Check for updates
& for sure now you'll get the latest build..
( But as said above in the step 2 : Use New Email Id for both Phone & Insider program.. )

Can't change background photo (Lumia 1020, latest WM10 build).

Are you trying to do this through Settings or Photo app..?
And what you are seeing - Means any error message..?

If we have something like this i expect the article to say - changed settings - or no changed settings. So i know if i should bother looking into the app

lumia 535 does not support glance screen from the start.

But it will run autocad with windows 10, right?

Motion data too was updated and now it's Lumia Motion Data

Yeah. And also don't know why there's always an update available for the Photos plugin.

True, I have no idea why it does that

Blocked the glance background beta app was using it till I updated glance. Miss the photo on my glance screen now. As well as the peek option.

Oh gosh..
We won the full date, we lost the ability to use the Glance Background app... Microsoft please

Yes, lost it too... Hope they take this chance to improve it and bring it back!

I feel glance is a unique feature of windows phone,they should try to innovate it,at least users should be able to download the glance background beta app until an alternative is provided

Just change your background image to my pictures n there u have it !!

On my 950 I have a glance option to use the background photo of my start screen on my glance screen. You have to have the start screen pic your own picture. It gives you a black and white or color. This is the latest glance update

Thanks for the tip !! It works fine now.

Mine got the date fix and I still can see the background image. Lumia 830 on build 10586.11

For me , the glance option ia crushing! Did you get any issue before using it?

its workin perfectly fine !!

It now has the background integrated. At least on my L925.

Glance background is here, just put a static photo on the background, not bing or some auto changing ones, and there should be an option to show lock wallpaper on glance screen, on my 920 there is.

30 seconds mode is the same peek mode with only 15 seconds longer display time :| 15 minutes is exactly the same as interval mode. though I think 15 seconds for peek mode is better. but if you put the device in your pocket or put your hand in front of light sensore the glance will be turned of imeddiatly and wouldnt wait for 30 seconds. So I dont think its a big change. sorry 4 bad English

Not only in the US . It's also in belgium.

Hey John, it's available outside US also. Just now updated it in India.

I wonder why such simple menus take so long to upgrade to the new UI design.

They don't take a long to time to change but don't you think that there have probably been higher priorities before now? If they had previously allocated someone to work on these extras then it would have been one fewer people working on the important parts of Windows 10 Mobile. That should be obvious but I should not be surprised how little thought some people apply to such things by now.

Its crashing after the update.. Did a restart too :(

Same for me. It opens, and I toggle any switch and it crashes.

Same here. It crashes immediately. L820

Ok, So the #20 series lumia are the one who are having this kind of problem.. 920,820,720 are having this problem.. I did a hard reset and tried to reinstall bt does not work.. Where can we report this?

If the update is public or insider preview

Just updated motion data too. Audio and the other lower case letter settings will be updated too shortly

Using a 950 on AT&T now. No such update available for me

I have the 950 too. I think it came preloaded. When I looked at the image in the article it looked the same as it did before the article.

We already have it. No update needed. If you check our glance matches the new one but we have the background picture glance screen option

I thought that might be the case but the Glance Screen config screen looked different from the one pictured so I assumed we didn't get it yet. I'll have to look again. Thanks!

My glance screen is closing when i open it. After update

Same here on Lumia 920...

Any fix? Can we get Glance screen store link?

https://www.microsoft.com/en-us/store/apps/glance-screen/9wzdncrfj3ds?tduid=(f8580924a44dce7ac719d7867a4b217b)(263915)(2775081)()()

The new flagship devices have amoled displays and still they support glance...then why not Lumia 730??

To keep it under midrange.. 730 got 1gb ram,quad core, ppi, big display over 720.. removed Qi and glance.. If they would've added Qi and glance that would increase the price of 730.. And 730 was a Nokia made device & nokia was shit for pricing and giving features at that price.. MS is nice.. that is why 640/640xl has these settings ;)

Please help with glance and 830!! Blank screen.

The panel technology has nothing to do with the glance capability, the display needs a dedicated memory for it to work

No background photo and detailed app status option on my Lumia 640 LTE :"

Those options never existed on the Lumia 640 (XL) (due to a limited screen memory, I suppose). However, this update adds an option for the date, which wasn't there previously on the L640.

Background photo option here on my Lumia 950 and it works.

Nice to see a bit more consistency

Showing error to update glance screen

Its not updating in lumia 640

For strange reasons, double tap to wake is not working on my 950XL. Is anybody having similar experience on the 950 XL?

I think it doesn't have that feature. Look for it under settings > extras > touch.

It's not implemented on the 950s (yet).

It's never going to be implemented.

Logic and microsoft update history. It's more likely you'll lose another feature than it is they reintroduce something that was already present

So, logic and update history will tell me that some missing features can actually come (back). My 920 didn't have Glance at release and now it's present.. Try again.

Daniel wrote am article on it few days back

Do you have all the touch options or just the toggle for the vibration of the on screen buttons? I still only have the one, but using the 950.

Motion data update caused my Lumia 830 on cyclic reboot after 2 mins only. Just got opportunity somehow to uninstall motion data to recover

OT - would be nice if MS fixed Cortana commands for music control with Band 1 - works great with W8 not so with W10 build 10586.11

Cortana with dark theme next please!!!!

What about the rest? US is not the whole world...

Had the update, I'm not from the US.

Update also download in Belgium

The Lumia 640 can now show the date on the Glance Screen!

Simple and delicious...W10M is gettin' better and better in it's way of becoming best...User since 2011 or WP 7.

Love this update, the resolution is fixed on my lumia 1520. Its looks apt on my screen. Earlier it was big and ugly....ps-i am from N9 nokia ex user

I just hope Motion Data works on my Icon with this update!

Before the update I got a black screen when going to the Motion Data settings, not anymore. Microsoft Health still not counting my steps. Lumia 930

Yup Microsoft Health does not count steps on Icon after this update (or before) and I see no way of using Motion Data on the FitBit app.

A step in the right direction.

finally, my 640XL is now showing the date in the glance screen...gj microsoft

works exactly as advertised here in Canada on my 1520.3 :)

They have today also fixed other app errors have i see

Now i hope that outlook mail and callendar receive back the update with combined inbox and other options from last version from a few days ago

We're getting closer. Display and audio settings next?

No download links to the actual apps?

Its still broken, I get blank page when I open glance screen settings. Manual brightness levels not working too! and also can't connect to PC, says USB device not recognized.

I hate it bc I need peek. Posted via the Windows Central App for Android

Peek still works on every settings

Peek is the only option now.

Interval was actually a 15-minute peek setting.

Can I get official windows 10 mobile update on my Lumia 730?

After restart now just crashes on opening, Lumia 925. Seems to have wiped previous settings and disabled completely now. Great update.

The glance option is still not available on my Lumia 730 even though it has beeb updated

I really don't know what happened to my Lumia 925 ever since the last build to this current one10586 11 I have been having issues with my glance, with this update I thought its all fixed but it's worst, my glance does not work again. When ever I opened the app it closes itself

Ditto. Seems specific to device judging by comments. Wish I hadn't updated.

Yeah me too, i thought this update would fix it.

Works great on my 925. I has preformed an upgrade from 8.1 then that's reset. I have the new WM10 equalizer and glance settings and both are working great as on my 830 and 640, all on 10586.11.

When did you get the new equalizer? I haven't got it on my L640 yet.

Read on wmpoweruser, surur actually extracted all WM10 apps from his 950 and posted it to be used in other phones. Check it out, it's a link to a reddit thread.

Same here with 720.. Had glance written on top and there was everthing blank.. After this update it got w10 ui bt its crashing..

Got that update, but background photo is grayed out. Hope the 950 brings it back. Glance screen beta now doesn't work anymore on my 1520, so actually no picture on glance :(

It's baked in to the background photo functionality for sometime now. In glance settings select your background app as your photo and it shows up as the background. You can also configure to show it in color or black n white.

Not working for me. Had my own picture for ages on both glance via glance beta and on lock screen via settings. Selected another one and still grayed out in glance settings :(

Strange, but now it works fine - even on my 1020 :o maybe it needs some time to work for the first time.

They improved the performance too

Has anyone noticed how fast and flawless it is now? The turning on of the screen after you start seeing the glance screen? It is absolutely perfect now.

What about the lumia 535..

I have 2 huge gripes: "Always on" mode still not working No option for Weather on Lock Screen Background Running latest Fast Ring build on Lumia 1520. Any suggestions appreciated!

ll it compatible with Lumia 535..

Glance screen beta now doesn't work anymore on my 920 Apps Glance Background ==> !Failed To initialize Glance

Added problem on Windows Feedback app. Feel free to upvote.

There are no updates (XL)

I like how smaller the clock is

Apps Glance Backgroubd beta now doesn't work anymore on my 920

Why the hell did they not add glance to 730 (display memory bla bla)

I can't update any of the system apps..lumia 730 here..

Set apps dwld to thus device.. Cancel all downlds in store.. Check for updates n dwnld.. This should install now..

Am I the only one whose glance screen on the phone (820) isn't working ? , since 10581 the app opens and shows Black screen , just nothing except the name of the app , anyone got this issue ? A fix ( if available) ?

Yes i had this issue.. Shows only glance on top and nothing else.. After updating yesterday got the 10 UI bt its crashing..

Hardreset or reinstall doesnt fix this.. All the 20 series lumia have this problem. 720,820,920.. Report the problem to gabe or feedback app..

Characters are not as smooth as the old one. This one looks like 8-bit character.

I miss interval and peek but just glad glance works on my 1520 now. I haven't had it since I've been running Windows 10

I love how the glance screen looks with the picture background. Anyone know if this uses up battery life versus just having the text? I remember Panos saying that glance uses no battery life.

I am using Lumia 532. I am not seeing glance screen option after build 10581. I am currently in 10586.11

After update the Glance Background Bata app no longer works.

In 8.1 I used to have weather info's on the glance. Now not

When i open glance it crashes..any fix on this?thanks guys..

Same here.. Did everthing.. Reinstalled n hard reset doesnt fix this

Motion data showing error.glance screen update but showing black screen.m using l630

Hi Guys! I'm struggling a lot using win 8.1 denim! I'm eagerly expecting the win 10 update officially! I can't wait!

Guys! I have adoubt in using Insider Preview! Shall I use Insider Preview? Since Im not a developer or some coders, Im just a User! So if I install window 10 latest build usind insider will I get any issues to my phone? Why means I wanted upgrade my lumia 730! Denim S**ks, while considering Ease of Usage and App support! Im in a Location called India! Useless!

Please some guide me to Use Insider Preview!

Download insider preview app, register, follow instructions. After reboot wait for some minutes and check for phone updates.

Since you are asking these questions, no, you shouldn't.

Anyways on. Where did that go?

The option to switch on glance background photo is greyed out in my Lumia 830

How about fixing constant freezing and laggy responses in store and settings for Lumia 1020? W10M runs like an absolute pig on it. Rest and wiped several times wp8.1 runs just fine however. What gives?

Did anyone notice the smaller font now on glance?

Would b gud t shows us a pic of the glance screen pls!

Good thing is they have sent update so that, it could appear in the settings->Extra menu atleast. Now appreciate about the full format date is now on glance screen, but they should also display the remaining battery percentage also on the glance screen.

Also option to set background on glance screen is not available in my Lumia 820.

Not updating its show error

Glance & Motion updated, Extras menu now contains nothing when I open on 640XL with 10586.11 so can't open anything in there

I updated glance & motion data and my Extras settings menu now shows nothing - 640XL on 10586.11 Anyone else having this problem?

Mine crashes at launch. I'm using 1520

I updated. it will show and disappears any Solution

I awoke to the update. I dream I will awake to an update to a real phonebook some day.

Anybody know if Microsoft is intending on restoring the ability to have the Weather app be the background for the lockscreen? I appreciated using Glance and seeing a detailed look at the weather. (:

The battery icon is too small now, its a little bit hard to see if the battery saver is on or not in just a moment. it shouldnt be like that.

Nope, didn't work before and didn't work now... Just show menu for a brief moment and then go blank... Lumia 1520

Can anyone help me out here once.. New to tech and wanna ask yall suggestion whether to update and upgrade it to w10 .. Using Lumia 640Xl

Motion data is still not working aaaa hell I need it

Is there any way to turn the feature back on where you double-tap the screen to get into the phone? It doesn't seem to work anymore on the Lumia 950XL.