Glowforge's crowdfunded 3D laser printer now available to the public
Coming off of a massive crowdfunding campaign, Glowforge is now selling its home 3D laser printer to the public.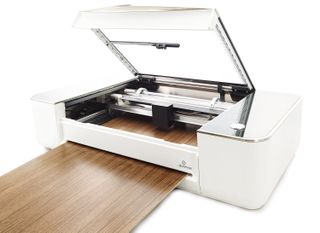 Glowforge today launched its 3D laser printer to the public, just under three years after setting a crowdfunding record by raising $27.9 million in 30 days. The printer, which can create 3D objects out of a variety of materials, is now available to order (opens in new tab) directly from Glowforge. Just be prepared to spend a pretty penny: Glowforge's basic offering starts at $2,495.
Glowforge works by using a subtractive process to print on leather, wood, acrylic, paper, fabric, cardboard, metal, glass, ceramic, stone, and a number of other materials. You can even use the machine to print your designs on laptops and chocolate. Working over Wi-Fi, Glowforge is controlled via a browser from any device. You can also import designs created in Adobe Illustrator, Inkscape, CorelDraw, Adobe Photoshop, GIMP, Autodesk 360, and Sketchup to be printed. A pair of cameras on the device itself can also be used to scan a drawing and print it on any variety of materials.
"From the very start, we designed the Glowforge 3D laser printer to unlock people's creativity," said Dan Shapiro, CEO of Glowforge. "We set out to re-invent the idea of 'homemade.' What if you could print what you wanted, when you needed it? What if you could sketch a design, then turn it into something real you could use, without complicated software? What if your gifts were personal instead of purchased? What if it was easy to print your ideas a hundred times, so you could launch a business?"
Glowforge is up for grabs in three configurations, each of which is fairly pricey and targeted at different markets. They include:
Glowforge Basic ($2,495) is perfect for home, hobby, and craft use, and can print beautiful products on dozens of materials.
Glowforge Plus ($3,995) offers upgraded components and a more powerful laser to print up to 20% faster, plus a double warranty.
Glowforge Pro ($5,995) is for serious makers, home entrepreneurs, and small businesses. It is designed for all-day use. The Pro Passthrough allows printing large projects, including home décor and furniture.
If you're crafty or run a small business, Glowforge looks like a fun way to bring your ideas to life. And while it's fairly expensive to get started, it's interesting to see laser cutting technology normally reserved for big design shops and factories make its way to a home product.
See at Glowforge (opens in new tab)
Dan Thorp-Lancaster is the former Editor-in-Chief of Windows Central. He began working with Windows Central, Android Central, and iMore as a news writer in 2014 and is obsessed with tech of all sorts. You can follow Dan on Twitter @DthorpL and Instagram @heyitsdtl.
It's 3D because you can adjust the laser to cut, engrave, or shade based on its depth.

More like laser cutting than actual printing. Still pretty cool tho.

They should be straightforward with what this is. It's not 3D anything. It's a laser printer that can be used to cut pieces that can be assembled into a structure...or not.

If you don't like it, don't buy it. I am placing my order for one soon! I guess the inmates here are salty that it picked up 27 million dollars in 30 days where the Greatest phone ever, the "MOMENT" could not make 30,000 in 30 days.

Or, we just know the difference between a 3D printer and a laser engraver/cutter. If it auto-stacked and glued individual sheets, I would give it a pass using that terminology. The "salty" inmates here know marketing BS when we see it, being hosed by MS enough times on W10M, lol
And not many people here would agree with the Cerulean bowel movement being the greatest phone ever. That's just being silly. Mid-ranger on a platform killed my MS before their crowdfunding? Yeah, sounds great. Like I mention below, I think it's great that they've released it. But it's not a 3D printer.

I think it's cool, but it is NOT a 3D printer. It's a laser cutter/engraver. Again, not knocking it for what it is, I think making these things more publicly available is awesome. Glad to see they finally released a product!

It's nice to see laser cutters reaching home consumers and hobbyists, but calling these 3D printers is misleading. I guess inkjet and laserjet printers manufacturers can also advertise their paper printers as 3D, since we've always been making 3D crumpled paper balls out of failed prints. Now if you'll excuse me, I have to work on some origami templates PDFs to be sold for a premium on the Microsoft Store as "3D printing software upgrade kit (compatible with any paper printer)" :D

Visit the website and see why they call it 3D. Instead of ******** about semantics here.

Calm down douchey McStickInButt.

Ha ha nah, fanboyey mcwhinyface.

@Steve Adams or anyone else who wants to order use this link https://glowforge.us/BQxnEU
I have a pro and with the referral link you get a discount at checkout
Windows Central Newsletter
Thank you for signing up to Windows Central. You will receive a verification email shortly.
There was a problem. Please refresh the page and try again.