Go behind the scenes of the James Corden Windows Phone commercial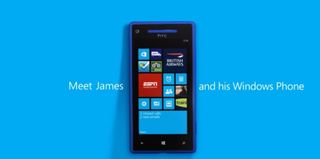 Microsoft enlisted the likes of Holly Willoughby and James Corden to promote Windows Phone in a handful of advertisements. In the above video we can see Corden running through the HTC 8X he just unwrapped. MSN reports that this is an unscripted walkthrough, which would make Corden a fairly experienced fan of the platform.
The team has done a solid job ensuring those who are picked for the job are well informed of all the features presently available on Windows Phone. We'll look forward to see more work from both Microsoft and OEM partners in 2013.
Source: MSN
Rich Edmonds is Senior Editor of PC hardware at Windows Central, covering everything related to PC components and NAS. He's been involved in technology for more than a decade and knows a thing or two about the magic inside a PC chassis. You can follow him over on Twitter at @RichEdmonds.
man the 8x is such a beautiful phone. HTC you got it so right. i like my lumia but that 8x calls to me design wise.

I agree with you 100%... I love my Lumia 920, but the 8X is just spectacular, and if not for the bad/slow software support from my previous HTC phones, I'd have stuck with them this time around.

yeah darn you htc for making me not want htc!! :D

Yep. Lumia 920's camera is such a killer feature, though, so I'm completely happy with my 920. But otherwise, the tennis-ball yellow 8X would've been my choice by a longshot.

I agree. I want a nice Jumbo screen HTC. If they can squeeze one out in the next few months, my 920 will be collecting dust.

While I find the 8x also very beautiful, I really don´t find it any better looking than my lumia 920. That said I have yet to see one in person but I doubt It will change my mind. My yellow 920 just makes me go "uau" every time I look at it.

I don't know him. Is he well known in the UK?

He was in Gavin and Stacey
You must be a moron not to know this hero

Lewish, you sound like someone from his fanbase with your language.

No need for the snobbery Sharp.

Sorry, i cant get over the way he insulted Patrick Stewart still lol

Patrick Stewart is a pr*ck

Moron? Is everyone supposed to know who this guy is if they live outside of the UK?

I've never heard of him, and won't remember him even if he does use a Windows Phone.

Not knowing this guy makes yours an enviable position.

Yes he is more famous in the UK but he did win the Leading actor Tony award (2012) for his work on Broadway so he has a degree of fame that transcends the UK. He has also been in a handful of Hollywood movies. No he is not the Govenor of California but a little googleing (binging) goes a long way.

I guess I'm a moron then for not knowing some random guy...

Yes, he is massive in the UK

Kind of, he was in a popular comedy with Rob Brydon.

Also the host of 'A League of Their Own' on Sky TV, recently won a Tony award for some show on Broadway also...

There is wierd text in the article. Using the app.

He's a moron. I'm with Sharp on this one. This guy advertising WP makes me want an iPhone. Marketing poison.

Wasn't he also in a few episodes of Doctor Who? Good ad though.

Yes he did a couple episode of Doctor Who.

That was actually a really good commercial, seemed pretty realistic

Vheissu, theat wasn't a commercial. It was an unrehearsed run through before they started filming the commercial, as the article says. That why it looks realistic.

I actually enjoyed his advert but this was better and you certainly felt like it was his passion and not for the phone and not all just market bunkum.

His phone makes calls through time and space but back to the new tile sizes

Where's the scene in which his Other folder reaches 10 GBs and he can't listen to music anymore?

I particularly enjoyed how he unwrapped a brand new phone and then minutes later he's telling us how much music he's been downloading..

Yep, that's a little awkward. As is his ability to take a picture from a concert he went to with the phone he's just unwrapped! :S

Video Like. Phone not so much.

The embedded flash video drops a huge stinking pile of mess into the WPCentral app. Also, it obviously doesn't play in IE on Windows Phone.
Maybe keep using YouTube unless there is a viable alternative?
http://www.youtube.com/watch?v=F3F-Bh9QIN0


I think Microsoft have chosen the people they use really well. Both James Corden and the (oh so lovely) Holly Willoughby have a broad appeal. They come across as genuinely nice people.
Obviously those outside the UK won't really know them and that's the point. You want to use people who are known in their specific country. It makes the consumer feel more in touch with the product, like MS are making an effort (not just producing a generic, trendy but cold, play anywhere ad - *cough* Apple *cough*).
Windows Central Newsletter
Thank you for signing up to Windows Central. You will receive a verification email shortly.
There was a problem. Please refresh the page and try again.