Go To for Windows Phone 8, voice commands for your favorite destinations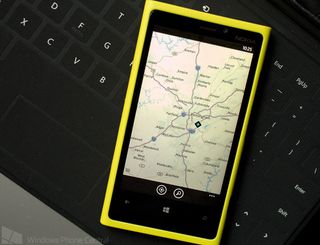 Go To is a new navigation app for our Windows Phone 8 devices that lets you look up addresses and create voice commands to generate travel directions to that address.
The app is in it's infancy but the foundation present in Go To's initial release is nice. The app supports both Nokia and Google maps with directions generated through the navigation apps installed on your Windows Phone (HERE, NAVIGON, etc.).
The layout is simple, you have your map view with two control buttons at the bottom; your current location and a search button. Up under the three-dot menu you'll find access to the voice commands, a switch to go from Nokia and Google maps, access to the settings, and access to a help section.
When you find a location, tapping on the address banner will pull up an About screen that offers options to generate driving or transit directions, save the address in your voice commands, and pull up more information (through Nokia's HERE maps) on that address.
When you save an address to voice commands by default the voice command will be the street address but you can edit that to whatever fits. For example, if it's an address to a restaurant you can have the voice command be the name of the restaurant.
Once save you have three voice commands available through your Windows Phone's voice command feature (press/hold the Start button). You can say "Go to (name)" to send you to an options screen where you choose between driving or transit directions. You can also say "Go to (name) by car" to pull up Nokia Drive directions or "Go To (name) by transit" to pull up HERE maps and transit routes.
Additionally, if you go into the app's settings you can create a default action for the "Go to (name)" command that will automatically launch driving directions or transit.
Initial impressions with Go To are nice and the ability to use voice commands to access saved destinations can come in handy. The app could use a little polishing which should come with future updates. According to the developer future improvements include an option to view saved locations as well as the map view, multiple language support (only supports English at the moment) and more dynamic voice commands. Having the ability to pin locations to your Start Menu wouldn't hurt either.
Go To is a free app for your Windows Phone 8 device that you can find here (opens in new tab) in the Windows Phone Store. Go To went live just a while ago and it may take some time before it pops up in the Store.
George is the Reviews Editor at Windows Central, concentrating on Windows 10 PC and Mobile apps. He's been a supporter of the platform since the days of Windows CE and uses his current Windows 10 Mobile phone daily to keep up with life and enjoy a game during down time.
Just tried it and while a little cumbersome, it works well. Very cool app and something I thought would've been available natively.

Needs improvement but certainly a nice initiative. I wonder why Nokia did not provide this by default!

I'm the dev behind the app. Thanks for trying it out and am very interested in any feedback you have!

Reading the article above it seems you can launch nokia drive(+) from your app? How do you accomplish that? ;-)
Btw: is the app limited to certain regions? Here in Germany, I cannot search for places -- it ends up with an error :/

Thanks for the feedback. I'll try to reproduce that, because I can search in Germany just fine...however I am using English.

I cannot search in Serbia as well.
I get following message - Network error

Did you limit it to some contries or is it something else_

Thanks for letting me know, definitely unexpected. I'll look into it definitely!

I have found the issue that some non-English phones are having. Would you like to be in my beta program and get the update today? Otherwise I am submitting to certification today and typically it takes a week.

Hi it should work in Serbia now with the update (1.0.0.1)

I have found the issue that some non-English phones are having. Would you like to be in my beta program and get the update today? Otherwise I am submitting to certification today and typically it takes a week.

Hi it should work in Germany now! I hope you'll be able to try it out.

Much respect Quincy. I'll be checking this one out for sure.

Awesome. Just what I was looking for!

Thank you very much for this. It sounds awesome. I'll be downloading it now.

I think navigate to or navigate me to would be a better name...

Very easy to use and handy, shame it doesn't work on my phone 920. Voice recog recognises the location and name I've added "Drive home" but doesn't launch Here Drive (as set as default in settings). No support feature which is a shame as I would have used this.

Hi, I am not sure I understand. You should be able to say "go to home" if you've only typed "home" as the name of your saved place. Could you explain more? sounds like you've typed "drive home" as the name. Therefore the voice command you have is "go to drive home"

Sorry. Yes i have saved home as "home". The app responds and repeats go to home. But that's all, maps don't open. Nothing.

Ah thanks, there are two bugs I uncovered. One is if you don't have HERE Drive installed. (plz install it). Second bug is handling the voice command while on the map view. Try the voice command from the start screen. Do either of those help? Did you encounter the app asking you to send an error report? If so, did you send it?

Hi Quincy. Thanks for the support. Here Drive is installed that's why I downloaded the app I use it a lot. All I'm getting from any screen (Here open or not, Go To open or not) is "Cannot find contact" after the instruction "Go to home". No error report appears.

Hm, my application doesn't have that message "Cannot find contact". Typically I get that message if I say "Call blahblahblah" then the phone can't find a contact for "blahblahblah" :) , but glad to hear you've got it working somehow :)

Hi buddy :

Updated daily shoes : in order to thank everyone, characteristic, novel style, varieties, low price and good quality, and the low sale price Thank everyone http://fff.to/gh0 http://al.ly/3pN http://al.ly/3pN sdfwefgwe

All sorted Quincy, working well, very cool. Thanks again!

Thanks for continuing to try it out even though you encountered bugs. Looking into what you've described and I'll be submitting an update for certification today.

Just tried out this app. Very bright idea. Makes my phone so much more useful than before!
Some criticisms:
If it weren't for this post I would have no idea on how to use this app. Please add some sort of UI hints that tell you how to properly use the app.
Secondly, are you limited to saving only three voice commands? If so is there a way to expand this?

But overall the app is phenomenal and would definitely purchase a fully fleshed out paid version...for $0.99

Thanks so much! What kind of voice command would you rather have? WP8 is rather limited on voice command launching. Any voice command must have the same prefix - e.g. "Go to..." I am feeling also that I'll need to add a tips kind of workflow that you can dismiss to never see again. E.g. Start app for first time and it says "Tip, to add voice command 'Go to home' search for your address. Tap the pin and save it." After that tip is dismissed and search is pressed show a tip to search "bakery" and create "go to bakery near home". After that tip suggest to create "Go to (person)" by going to the voice command list and search for a person. After adding a voice command it will suggest to use the command anytime you are outside of the application. (can't use a voice command to launch a app in foreground) What do you think about this? Feedback is extremely important to me because I think it's great how it is but obviously many others think differently.

Hi! Thanks for the app, it seems pretty cool, but have not tried it yet,. Does it work offline like here drive?
Also does it pull up here maps? So you can see step by step direction list? Reason I ask that part, that's the only problem I have with here drive beta so far is you have to go through maps first. So I was just wondering if it would show an overview of directions because that would be awesome!

Hi holyace2k2
It doesn't work offline, but once you've saved voice commands, then it does! Searching for places and adding new locations requires data connection.
Currently the focus of the app isn't for directions. It leverages the existing apps for that functionality. I will consider it though for future versions. Thanks! Hope you try it out!
HUGE update coming in a week or less time!

Glad to hear an is update coming. I provided some feedback a few months ago- maybe I'll be pleasantly surprised to see it implemented. Either way, I'll be sure to go back and update my review on the store.
Windows Central Newsletter
Get the best of Windows Central in in your inbox, every day!
Thank you for signing up to Windows Central. You will receive a verification email shortly.
There was a problem. Please refresh the page and try again.