Goal Live, phriz.be, and InNote now available for Windows Phone 8
Announced at Nokia World, three new popular titles land for Windows Phone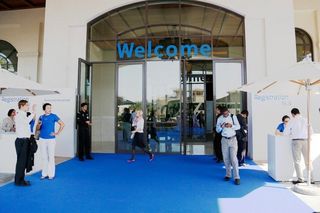 While Nokia World was highlighted with the Lumia 1320, 1520, and 2520 announcements there was a few new apps revealed as well.
Three of such are now available in the Windows Phone Store. All three are freebies and all three are for our Windows Phone 8 devices. All three apps make a very nice first impression and we'll take a closer look at each in the coming days. In the meantime, here's a short description on each.
Goal Live (free): Goal Live is an easy way to keep you to date with real-time football (soccer to us Yanks) scores from your Windows Phone 8 devices. The app includes scoring update notifications, live events, League tables, and the ability to track individual games.
Goal Live covers matches from over 750 Leagues and has a "Predict the Result" feature where you can try your hand at prognostication.
Goal Live is a free app that you can pick up here in the (opens in new tab) Windows Phone Store.
phriz.be (free): phriz.be is a mobile sharing app for your Windows Phone 8 device that lets you discover other members who are nearby and share photos to the network.
The app supports high resolutions images and can be shared to one friend as well as large groups. If you don't want to be seen, phriz.be will let you hide your location using the privacy feature on your profile page.
Phriz.be is a cross platform photo sharing app being available on both iOS and Android platforms. This should provide a decent membership base to share your photos with. Phriz.be is a free app and you can find it here (opens in new tab) in the Windows Phone Store.
InNote (free): InNote is a note taking app for your Windows Phone 8 device that features natural digital ink along with a healthy set of tools to compliment the smooth user interface.
It is touted as being the easiest finger writing app for taking notes, memos and annotations. It can come in handy for jotting down notes in a meeting, creating a grocery list or just writing random thoughts.
InNote includes a full set of ballpoint pens, brushes, markers, highlighters and quill pens to provide a lifelike handwriting experience. Notes can be shared in image and PDF format.
InNote is a free app that you can pick up here in the (opens in new tab) Windows Phone Store.
George is the Reviews Editor at Windows Central, concentrating on Windows 10 PC and Mobile apps. He's been a supporter of the platform since the days of Windows CE and uses his current Windows 10 Mobile phone daily to keep up with life and enjoy a game during down time.
Going to give phriz.be a try. I like the name of the app lol

Go get it, man❕❕❕
You know what❔❔❔ When people move over from other platforms, to WP, they are going to be able to find the apps they need, and are used to❕❕❗❗.. That's right❕

Tried it... No one near me... Can't get it to work for nothing... Will try again later. I shared some photos, can't seem to see anyone else.

I used it and I don't get it other than sending someone a link to download a hi res picture. Not exactly what I was looking for. I'm still investigating the best method to share pics. Facebook, twitter with yfrog or twitpic, tumblr, instagram. Who has the least compression? Facebook seems to really mess with my beautiful pics from my 1020.

Isn't Flickr a good alternative. Instagram compresses pics too much

Flickr is more to save full res photos and is used more by top photographers to share their photos, but this doesn't mean the average joe can't so go ahead if you want to. I find the best is Facebook. yeah it reduces the res and size of your photo but obviously it's done to make it easier to upload and download. plus you can share to very easily on WP. twitter is not really meant for sharing photos as such as it goes to the world but again, if you want to, go for it. and finaly instagram is all about sharing photos but i refuse to use it because all photos must be cropped into a square. personally I think that's lame. therefore I find FB is the best.

Use sky drive! Allows high res images to be stored and shared with absolute ease. Make separate microsoft account that you manage via desktop to host older images :). Works for me

The download link only sends when the recipient is not a phriz.be user. It also allows that recipient to download the app, then giving them the ability to receive the Full hi res file on their mobile devices moving fwd. If you share the hi res file to another phriz.be user, using nearby or even through contacts(this requires a contact within your phone to have phriz.be tied to that email address but not be nearby) then the hi res file will transfer completely to that other users device. At the moment, phriz.be is the ONLY application that allows Lumia 1020 users to offload their beautiful Hi Res photos. We hope this clears up any confustion!

Tried it once at work and once at home, no joy... No one else is using this, or its not working....

That was quick. Goal live for me.

Goal Live is good but notifications wont set

When is the lumia 1520 coming out?

Are these WP exclusives or are they coming over from iOS and Android?

Phriz.be and InNote are from iOS and Android if memory serves me.

Coming over from others. Left overs basically.

Digital leftovers are better than digital starvation...

Good food is always better as leftovers
Just giving InNote a shot - its is a nice App!

Smh. Lmfao. I guess windows phone is damned if they do and damned if they don't when it comes to apps.

Correction, MS is damned if they do, damned if they don't when it comes to anything.

I think most developers simply want to get their products in as many hands as possible. Except for those paid by google to not write for this platform, I don't think developers much care as long as their work is respected and used. Its basic capitalism: "Expand or Die". Its as simple as that.

these are wp exculsive , I downoaded yesterday & tip on news (1ST TIME) to wpcentral today & it posted approx around 2-3 hours later.

They are not WP exclusive. They are left overs from Android and iOS.

What exactly do you mean by 'left over'? How is a software ported to windows left over!!?! They are popular in other platforms and have come to wp which in my opinion is great!
By your logic all games and apps including Skype are left overs! And it would also mean everything over at android are left overs from apple!!

I means it is offical apps not exculsive

No they are not exclusive. Goal live may be, but not the other 2

What is the compelling reason to use InNote over OneNote? Maybe the obvious reason is irrelevant to people without phablets.

One note doesn't allow you to draw with your finger as far as I can see.

That's not professional. Doodling isn't note taking! I got told off in school for that.

Picasso doodled. Ask your teacher who Picasso was.

I want to know why all the apps announced, except by Oggl, in the 1020 announcement still isn't available...

They wanna keep announcing them.

Just like what they did with Flipboard and Vine, right??

had the same question in mind? any idea anyone? i am waiting for it!

Waiting is boring.
But, thats why I like windowsphone, it's full of surprises, And hope...

George....Just noticed that after GDR3 update one is allowed to run only 15 apps in the background at a time in order to save battery and memory. one needs to block one app in order to enable the other after 15 apps.

I thought it was 21 , but don't really remember Since I go there that often.

InNote is the best note taking app I've EVER used on a phone. The pen tool works SO well.

Strange thing is I had this app yesterday already after another guy told me he had it for a long time. Why is WPC coming with this now amazes me.

It was available on the 22nd

I think the doodling tool is too laggy on my 920 :( can't quite write using it...

The Football App >>> Goal Live

How does Phriz.be work? Does it only show activity by my contacts or everyone on the network? I tried to search nearby and it said no one nearby. I tried to search "all activities" and it said "no activities". I don't see the point of this app if there is no activity that I can see at all. How does it work?

GoalLive won't load and fetch data when on mobile network (very strong 3G) but works instantly when connected on my home wi-fi, anyone else has the same problem?

Yup, same issue. Also wont save fav team due to it unable to connect to Microsoft server

Phrinz.be has a great name but what the app does best is force close. I select a pic to share and 2 seconds, boom, back to the app list. Rebooted my Lumia 920. Same thing. I feel like I'm back on my HTC Hero with this app. Looks great but it needs further testing.

Same thing happened with me but now it is working.

InNote is fantastic. import photo and doodle notes all over it. Great for explaining some points in a photo or rendering. direct share too. exceeded my expectations this is brilliant.

Where is Templerun 2. But Goal Live rocks!

InNote and Phriz.be were available on the day of announcement.
InNote is a nice handy app but don't have option to write titles of notes. It will be hard to find a specific note when we will have lot of notes.
There is nobody near me on phriz.be :(.
GoaLive is nice ap. The option to add leagues and teams to favourites is great but no live tile :(

Tried InNote. I guess I'm not understanding it. You start writing a note with your finger...it doesn't convert what you write into type...within a few seconds your little phone screen is all filled up with a few handwritten words...then what? What's the value vs. typing a note into, say, OneNote?

InNote is a great and quick/easy art/doodling activity with your kids. import photos, doodle them up, message them to someone, start over...or just start with a blank screen and draw. lots of fun! similar to some of the drawing pad apps we have used on Kindle. i'm sure there are comparable iPad apps. cant speak to the professional value vs OneNote etc for actual "note" taking. i agree with uopjo6 - fantastic!
Windows Central Newsletter
Thank you for signing up to Windows Central. You will receive a verification email shortly.
There was a problem. Please refresh the page and try again.