Gods of Rome launch on Windows Phone and Windows 10 Mobile to engage in fisticuffs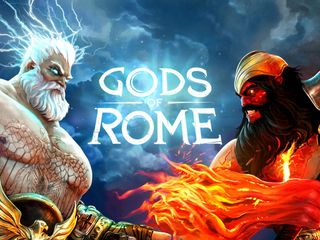 Publisher Gameloft has now offered a version of its recent free-to-play fighting game Gods of War for Windows Phone and Windows 10 Mobile devices. The mythology-themed game was previously released for Windows PCs:
Once again, here's a quick summary of Gods of Rome:
SUMMON THE WORLD'S GREATEST WARRIORS! Join the lofty ranks of THE ASCENDERS – the supreme summoners of ancient legend! As an Ascender, you can summon, upgrade, and manage gods, monsters, heroes and other mythical warriors in the fight against a dark force that threatens to enslave them all!
Zeus, Hades, Vulcan, Atlas, Spartacus, Medusa, and many more form the most powerful gathering of fighters the world has ever seen!
Undertake your journey through the ancient world's most incredible locations – Mount Olympus, the ruins of Pompeii, the Coliseum, and many more! - Discover the unique Bonds shared by your fighters to unlock powerful bonuses.
Be aware that while the game is free to download and play, it does contain in-game purchases.
Thanks to everyone for the tips!
Download Gods of Rome from the Windows Store (opens in new tab)
Windows Central Newsletter
Get the best of Windows Central in in your inbox, every day!
Everything launching in windows 10 and m still sitting with a dead 8.1 :-/. Now please stop suggesting me to be an insider.

Windows Device Recovery Tool mate.

Or you can get a new phone. What's wrong with being an insider? We are actually on the same build as the released to the general public 950 & XL.

Be an insider, buy a 950, or... well I do not want to get banned.

Join the Insider side ! *thunder sounds in the background* + *evil laugh*

Dead? You say that like you've played everything there is on offer already.

Never heard of this one. Which game is this a copy of, for reference?

know any touch-screen fighters? that's what it's cloning. a simple fighter, but still decent. been playing the PC forsion for a bit, curious what the mobile version looks like.

Clone of Contest of Champions by Kabam but I actually don't mind as Kabam screwed us over when they reneged on their promise support for the platform.

Typo in the first sentence... Should say "Gods of Rome", not "Gods of War".

Unless it really has a different name on PC, it's still wrong?

It's a soul calibur swipe friendly fighting game.

I'm LOVING that there are so many great games and apps launching or getting revamped for Windows 10. The UWP strategy is working. It'll be months before it gains momentum but so far so good!

Gameloft has always been a supporter of windows phone.z so this one doesn't count. But yes, apps are coming. :)

Gameloft is the best it was asphalt now this......

It would be nice to start seeing games from someone other than Gameloft. Microsoft convincing the same old big developer to continue producing games for Windows isn't really a sign of progress. That said, it's nice to see a different kind of game for a change.

Let the money collecting begin!

They were doing a great job by implementing Xbox achievements. Not anymore

Windows may don't have all apps like snapchat, but it really have some awesome games in store!!

Not sure why Zeus is here thought, he's Greek.

greek and roman mythology is very similar, down to renaming gods to "differenciate" them. http://www.infoplease.com/ipa/A0197622.html (yes, I know the link isn't a 100% reference on the similarities, but, it's been years since i have had to bother explaining the fact that they are similar/the same)

It's the Greco-Roman religion. The Romans had their own separate religion but then adopted the Greek religion upon conquering them. There are minor differences, like Hades was the god of the underworld, while Pluto was the god of the underworld and of gold. Even the heroes were adopted; Heracles became Hercules. So it's basically the same. Posted via the Windows Central App for Android

Where is the download link...???

Why must I view the page in browser in order to find the link to store? I know the answer already: Greed. They want to make more pageviews, even by crippling their own app.

Hmmm Anyone Knows How much mb required after download this game

Download it and find out. If it takes too much space then Uninstaller it. Posted via the Windows Central App for Android

They need to change the title to God's of Mythology, as their mixing both Greek and Roman gods.

It's actually the same religion, the Romans adopted it from the Greeks. The name for it is Hellenism. There are minor differences, but not enough to call it a different religion. Posted via the Windows Central App for Android

Atleast now this fills a gap for a game like injustice. Gods among us. But surely injustice has better characters

If anyone finds this laggy on S3 Dan's tutorial on intel graphics max performance registry hack on S pro 3-4 works on S3 and makes the game more playable.
Windows Central Newsletter
Thank you for signing up to Windows Central. You will receive a verification email shortly.
There was a problem. Please refresh the page and try again.