Gods of Rome smash their way onto the Windows Store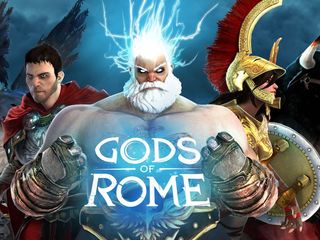 As promised earlier this month, publisher Gameloft has released its latest title, Gods of Rome, in the Windows Store. The free-to-play fighting game is currently just available for Windows PCs, but it's likely to be coming to mobile in the near future.
Here's a quick look at the mythology-based game:
SUMMON THE WORLD'S GREATEST WARRIORS! Join the lofty ranks of THE ASCENDERS – the supreme summoners of ancient legend! As an Ascender, you can summon, upgrade, and manage gods, monsters, heroes and other mythical warriors in the fight against a dark force that threatens to enslave them all!
Zeus, Hades, Vulcan, Atlas, Spartacus, Medusa, and many more form the most powerful gathering of fighters the world has ever seen!
Undertake your journey through the ancient world's most incredible locations – Mount Olympus, the ruins of Pompeii, the Coliseum, and many more! - Discover the unique Bonds shared by your fighters to unlock powerful bonuses.
Be aware that while the game is free to download and play, it does contain in-game purchases.
Thanks to "M578Fury" for the tip!
Download Gods of Rome from the Windows Store (opens in new tab)
And new apps & games are smashing its way to Windows store

But since Comedy Central is leaving it's all doom and gloom by some around these parts... I'm excited that some major devs are bringing their wares. It's up to us to partake to make it worthwhile though. Give them a go to show our support, and purchase where you feel it's warranted!

comedy central had an app? who knew/cared :)

Some apps enter and some others leave...WP still has a long way to go

Νο. Wm10 will be perfect. It's a strategic move. And you will understand it

Just need clash of clans and snapchat... This is far we've come :) there is basically no app gap anymore!

Snap chat that enough. Age of empires is way better then clash of clans

It IS way better, but MANY kids want CoC. I've even seen UserVoice requests asking for it to be added to the store.

Not sure if you call millions of users playing everyday kids. It's been on the Top 10 charts in the app and play store for more than a year.
I play both AoE:CS and CoC.
Not saying it's better than AoE (because I hate the fact you can't control/direct your army in CoC, however, the graphics of AoE:CS, as compared to CoC, sucks. At least on FHD and higher displays. And the servers too.

Let's be honest here , clash of clans the by far the best war game to be ever made , if age of empires was better then it would have gone crazy like coc , be realistic guys , and if you add the universal instagram app and fb messenger (as they said on the 6th of October ) that would be great , and retrica on their website posted that windows app is coming soon , the app gap might really be doomed after all

Totally agree with you.
Tired of seeing this blind-folded defending. It only hurts the platform on the long run.

The whole game is made to ensure you become a slave to it and keep checking it everyday or keep being online. Some people I've seen constantly empty their data/balance playing that game. I dislike these games.

To each their own.
Yeah, these are kinda addicting (that's what games are made for, anyway).
On the positive side, it improves your strategy planning, presence of mind, time management, collaboration skills etc. I learn a lot from these games ;)

mobile version pleaseeeeeee

I can't wait for this to hit the phones.

God of war is a ps exclusive. Dont think Gameloft has the money and rights for such a port or version of that game.

This isn't god of war. And anything that has to do with the roman/greek mythology doesn't always mean it's a copy of GoW.

Also it doesn't mean the people who made God of War have exclusive rights to the mythology used in the game

Love it when people say things like this.... then I fear for humanity's future. Sony doesn't own the rights to Greek/Roman Mythology or the gameplay style used in God of War. So anyone can make a game using Greek/Roman Mythological characters with no problem.... unless it looks and plays too much like God of War. Beyond that, it's all fair game!

Even me that I am a Greek I don't have the rights ;P

Does it requires internet to play

I'd be happy with kingdom rush

did someone say Smash? oh, nevermind, false alarm. :P

I can't understand what's the point of universal apps. When they are releasing the app separately. Universal app means you release it on just the windows store and that's it.

there was a great story on universal apps earlier this week on Windows Central that you should probably read. Despite being universal, it doesn't always mean you can launch on all platforms without a tweak here and there.

Unable to Locate the Game on Windows store...!!! When i try to open Link ...just blank windows store page appears in app... Is it available for specific Region?? Or any one from India are able to download it?

at the moment. the store does show for PC and Mobile, dspite mobile not able to download it yet. so my guess, either mobile isn't ready yet or just not made available yet.

I'm loving this game! Can't wait to push it on my 1520!

Since Kabam won't give us Marvel Contest of Champions, Gameloft filled the void. Cant wait...

Nice game !!!
P.S. Can s1explain why i cant download subway surfers???

blatent copy of marvels champions

When I open store link in mobile, I got two option " PC |Mobile" Is this store bug or they are landing it to mobile also?
Windows Central Newsletter
Thank you for signing up to Windows Central. You will receive a verification email shortly.
There was a problem. Please refresh the page and try again.