Kick some mythical butt with Gods of Rome for Windows PC and Mobile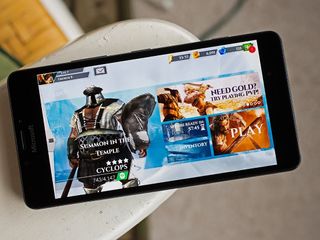 Gameloft has an excellent collection of games in the Windows 10 and Windows Phone Stores. From raising and battling dragons in Dragon Mania Legends to filling your need for speed in Asphalt 8: Airborne, these games are addictive ways to pass the time. You can now add the fighting game Gods of Rome as another addictive Gameloft title.
Gods of Rome has you summoning both mythical and historical warriors to battle a dark force that threatens to enslave them. You control the likes of Julius Caesar, Spartacus, Zeus, Athena and more. Graphics and animations are fantastic and gameplay challenging. You will also find daily challenges to compete in and player vs. player battles to test your fighting skills against other gamers.
We took the Windows Phone version of Gods of Rome out for a test drive and found it to be a marvelous title to have in your gaming library.
The backstory for Gods of Rome has you playing the role of an Ascender with the ability to summon the souls of the most powerful gods and historical warriors to wage war against that unnamed dark force that's bent on world domination. What Gods of Rome offers is a combat game for Windows PC and Mobile that has stunning graphics and plenty of action to take in.
When you first launch the game, Gods of Rome will summon Zeus, who will walk you through a brief tutorial of the game. In the tutorial, you will earn a sphere that will allow you to summon your first warrior. From there, you manage your warriors with healing potions and upgrades, add more warriors to your team as you earn orbs and battle your way through the main story mode, daily events and a player vs. player mode.
The main menu has your gaming stats running across the top of the screen, including your current warrior's status, access to the game's message center, your gaming energy levels and your gold and gem count. You will also find navigational tiles that will send you to your gaming inventory, to a page where you can claim free daily spheres, and jump into gameplay.
There is a pull-out menu to the left side of the main menu that has several navigational and gaming options that including quick jumps to the main menu, battle menu, the temple of sphere storage, team management, gaming inventory, the in-app game store, settings, and Gameloft Connect. For those unfamiliar with Gameloft Connect, it is a series of options to read up on the news about the game, access to forums on the game and access to customer care.
Settings for Gods of Rome cover sound and music levels, graphics level, notifications and the option to log into the game with your Microsoft or Facebook accounts. You do not have to log into the game with either account but in doing so, your gaming progress transfers between devices.
There is a lot to Gods of Rome beyond the battles you will face. Breaking it down by area you will find:
Gameplay: You have three options here. You can play the main story line that offers a series of battles where you will face multiple opponents, special events that are time sensitive and a player vs. player mode. You start out with access to the story mode with the other modes becoming available as you progress in the game.
Temple: Here is where you claim your spheres that unlock additional warriors for your team, health potions and upgrade items. You can buy spheres in the gaming store and earn them as you are victorious in combat.
Team Management: The team management screens are where you manage your active team, upgrade your team members and manage their skills and abilities. You can also sell your warriors should you need an emergency supply of gold.
Gods of Rome will require an energy unit to jump into gameplay. You have twenty units to begin with that will replenish over time or you can refill your energy units using Thunder currency that is available in the gaming store.
Gaming mechanics are universal regardless of your gaming mode as is the combat screen layout. Your combatant's health meters are displayed across the top of the screen with a pause button positioned between them. Across the bottom of the screen is a power-attack meter that will build up as you strike your opponent. When full, you can tap the meter and launch your warriors special attack. Defensive and offensive moves are controlled by a series of on-screen gestures. For example, to defend against an attack you will tap/hold the left side of the screen. A regular attack strike against your opponent is done by tapping the right side of the screen.
Battles are laid out in quest format, i.e. you have a series of fights to win in order to win the battle. You do have some path choices as you move along in your quest that may allow you an easier path to the final fight.
The goal of combat is to knock out your opponent before they knock you out. When your warriors become injured, you can heal them with potions before the next round of battle, but you can't make use of the healing potions during battle. Should your team member fall in battle, the next warrior will pick up the fight.
Potions are earned during gameplay or you can buy them in the gaming store. You also have the option to switch team members prior to battle to create a more favorable match-up based on their skills and abilities.
The first several battles did come across on the easy side, but will help get you acclimated to the gaming controls. It takes getting past the first three chapters of the story mode before the game gets challenging.
As you complete the fights in the quest, as well as the quest itself, you will earn supplies, gold, gems and spheres. Your warriors will also earn experience that will advance their gaming level that increases their strength, health and attack abilities. Upgrades will give these attributes a boost as well.
We should note that the rewards differ between the Special Events and Player vs. Player modes. The Special Events have three difficulty levels of quests (easy, medium and hard) to tackle. As you move up in difficulty, the greater the rewards when victorious. The Player vs. Player mode includes Divine Keys in its rewards package that can be used to purchase Honor spheres in the Temple. Both modes are slightly more challenging than the story mode and a fun way to earn some additional treasure.
One of the Best Fighting Games Around
First, let me get my biggest gripe about Gods of Rome out of the way. Gameloft lists the game size as being 87-881MB. The initial download doesn't take long and is in the neighborhood of 88MB. Once you launch the game, you will have to download over 500MB before you can play the game. I'm not a big fan of this set-up and would rather see the full game installed from the start. Sure, this allows Gameloft to make updates to the game without having to update it through the store, but it also means you have to deal with the interrupted gratification. You open your just-downloaded game, ready to play, only to find that you're going to have to wait several minutes for the rest of the game to download and install.
Aside from having to sit on my hands while the game fully installs, I cannot think of anything bad to say about Gods of Rome. Graphics and animations are impressive and allow the characters to have a little swagger and personality. While gameplay does take a little time to pick up steam, it offers nonetheless offers challenging but not insurmountable gameplay.
Controls are simple and with the three gaming modes to chose from Gods of Rome will not grow stale too quickly. At last check, the game scores a 4.7-star rating in the Stores and we would go ahead and bump it up to the full 5-star level. If you like fighting games, Gods of Rome is a must-have title to add to in your gaming library. It is available from both the Windows 10 and Windows Phone Stores as a free game with plenty of in-app purchase opportunities. It does not, however, support low-memory Windows Phones.
If you have given Gods of Rome a try, let us know what you think of things in the comments below.
Download Gods of Rome for Windows and Windows Phone (opens in new tab)
George is the Reviews Editor at Windows Central, concentrating on Windows 10 PC and Mobile apps. He's been a supporter of the platform since the days of Windows CE and uses his current Windows 10 Mobile phone daily to keep up with life and enjoy a game during down time.
playing for past two days. graphics is nice but you need very good 3g/wifi signal to play

No offline support?,that's bad.I heard GTA Liberty City Stories is out for IOS and will be released for Android and Kindle devices in near future but not for windows phone.

Gta sucks on mobile phones.

Yeah, without moga controllers, it does suck.

Well if MS built in Xbox one controller support for windows and you could play it on the dock, it would be sweeter than french toast dipped in maple syrup.

Playing it for 3 days, but repetitions kill my desire to continue.

Same here. Loved the graphics and gameplay. But at some point it gets boring, due to repetition. I found the controls too basic. Maybe, a bunch of combos could make it interesting.
On the plus side, it doesn't force you into paying real money to continue the game.

Microsoft should allow Xbox controller to paired via Bluetooth on Windows devices. Playing games would be fun then.

They don't seem too keen on allowing anything to work with their phones. The controllers, xbox smart glass doesn't allow you to remotely play on the phone screen like Sony does for ps4, etc. It's ashame, there's so much potential here for gamers and they really need to find something to attract people to their phones.

Until now i still cant play it. Cuase it take so long to download the other 500mb file . Thats sucks. Its ok its downloadable in the background but its not!!

Look http://www.protoolsxx.com/gods-of-rome-hack-cheat-download/

Playing from past 1 week.. Got addicted..

"Kick some mythical ****"

Been playing good several days.... Great game!

Its a great fighting game.. I'm playing the **** outta this game at the moment. Wished it had Xbox Live achievement though.. But a solid game still.. Audio is great, graphics are good, combat smooth and responsive. Online pvp fights etc.. its really good.

Yes, it originally released as windows 10 mobile only but has since been open to Windows 8.1 users.

@serotoxin v1 , I am talking about windows phone, not windows PC. I don't have it shown in my windows phone app store

I'm talking about windows phone 8.1 I have it on my phone which was 8.1 until I did the beta of 10 yesterday. Go to the actual windows store on the web and it will link you to the it in the store app, thats the only way I was able to find it. For some reason it doesnt show up in the store that's on the phone. Not yet at least

im using windows 8.1 in my mobile & playing the game

Thanks guys...i found it...i had to scan the QR code...it didn't appear on my store immediately

Does it support continuum mode?

Its great but not that addictive

it is ideal to keep the files lower than 100MB so we can download thru cellular. Then the in-app no matter the file size can be downloaded thru data connection. Unlike when its 500MB upfront, I have to connect to a WI-FI.

Which I feel is utter bs, android phones can download any file size over cellular data, only windows phone bs forces u to connect to WiFi, which some people don't have...

Game looks OK on Windows mobile. When I installed it on my Galaxy S6 I saw a nice upgrade in visuals that aren't available on my HTC M8 One for Windows which is really disappointing. Would be nice for Windows mobile to get the full visual effects that the iPhone and Galaxy phones have.

Ill have to compare with my brother. He has the S6 so ill see if there is any great difference with my 950XL.

Please let me know. I'd be interested in seeing if it's just my older htc one m8 phone or windows in general not giving the full graphical capabilities. My gf has an iPhone 6 and like I said, I also have a Galaxy S6, both of those show much better image quality, better shading, more water effects, etc than my htc one m8 - even when in options I set to "best graphics". If your phone has the effects, then it must just be a hardware issue for my older phone and not a lazy port job, which would be good to know. Hate to see windows continue getting shafted.

Update.... So I compared with the S6 and I can say that the colours on the S6 seem more vivid(darker) but graphically differently not better than my 950XL. Even my brother was impressed by how the game looked.

Playing it since its been released for Win10Mob. Really good game, great graphics. Only gripe is that the controls seem to 'stick'. Swipes turn in to charge attacks, blocks don't happen and sometimes taps aren't recognised. Update needed I think.

Agreed, the controls don't always respond.

Is great. I am playing this game with an XBox360 wired controller. No complaints just yet :)

What other fighting games are around?

In game data download always stuck@474.62Mb/501.08 Mb. Anyone else with the problem?! Reinstalled a dozen times, still the same issue.... :(

force out of the game when it gets stuck and go back to your home screen, open it again, it should finish the download

I tried your steps... It just moves back 2Mb i.e. 472.62, and again stops at 474.62Mb. :( thanx for replying though.. :))) ohh...and there's also that Connection failed, do u want to retry pop up... even though the connection is pretty good. :'(

@benjos, had the same issue with DH5 when trying to play it on my 950XL. As Serotoxin says, just keep trying, it will get there.

Aargh! Even Gameloft isn't responding to my complaint.... :| Thanx DreadVenom. :) I'll keep on trying then... ;)

Did you resolve this issue yet? i am facing issue of same sort.. it is driving me mad. Please help.

MOre gold gems http://www.protoolsxx.com/gods-of-rome-hack-cheat-download/

For this great game i use this online trainer on a daily basis, it helps me a lot to explore the game: http://nlhacks.com/godsofromehack/

I initialy thought this was a really great game but no game is com[plete without good support and a decent guide for every platform, let me just say that playing this on a custom desktop is pretty nice but there are some major things that i have tried to get info on but so far have not been successful. No access to ambrosia via a keyboard, if its possible it is at least not noted in any guide i have found yet. I tried to register with the game forum site to put this question to other players but apparently that system would not accept or send the needed confirmation to any of my email clients so after 3 attempts i gave up. On to customer support and try to submit a ticket through the in game form,,,guess what no acceptable category for desktop PCs and of course its a required entry,,,I have contacted gameloft through at least 2 forms for just some simple info and despite liking gameplay if you hit on a play issue dont expect to find many answers. How to use game items and simple instructions should never be hard to get answers for but so far even my small questions have gone unanswered. Its a fun game but lacks support in key ways,,,Im not sure there will ever be any based on other comments ive seen. Your gonna like this game until you need answers,,,good luck with that one ! For the record just like the reviewer I too thought it might deserve a 5 star rating but my experience with information has since ruined any subjective view i once had without support and informative guides for troubleshooting or answers to problems then on desktop gaming PC it falls well short of best fighter around for sure. Mobil players might get a different experience and I hope their info or guides are better.

Same problem with me!! Awesome game and gameplay.. but it fils to answer simple questions like what to do with diffferent-different nectors.... and it took me hell lot of efforts to to ing guide for this game..! there is no good guide..! somene needs to create one...! otherwise awesome game. 4/5 stars !

vraiment énorme regarde plutot ca mon ami <a href='http://skillcheats.com/cheats-dbz-dokkan-battle-dragonstone-illimites-do... Dokkan Battle</a>

is the multiplayer real time or we are just fighting bots
Windows Central Newsletter
Thank you for signing up to Windows Central. You will receive a verification email shortly.