Kick some mythical butt with Gods of Rome for Windows PC and Mobile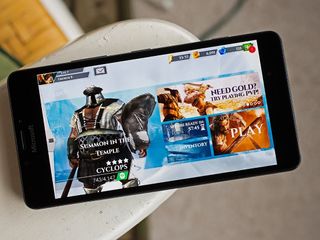 Gameloft has an excellent collection of games in the Windows 10 and Windows Phone Stores. From raising and battling dragons in Dragon Mania Legends to filling your need for speed in Asphalt 8: Airborne, these games are addictive ways to pass the time. You can now add the fighting game Gods of Rome as another addictive Gameloft title.
Gods of Rome has you summoning both mythical and historical warriors to battle a dark force that threatens to enslave them. You control the likes of Julius Caesar, Spartacus, Zeus, Athena and more. Graphics and animations are fantastic and gameplay challenging. You will also find daily challenges to compete in and player vs. player battles to test your fighting skills against other gamers.
We took the Windows Phone version of Gods of Rome out for a test drive and found it to be a marvelous title to have in your gaming library.
The backstory for Gods of Rome has you playing the role of an Ascender with the ability to summon the souls of the most powerful gods and historical warriors to wage war against that unnamed dark force that's bent on world domination. What Gods of Rome offers is a combat game for Windows PC and Mobile that has stunning graphics and plenty of action to take in.
When you first launch the game, Gods of Rome will summon Zeus, who will walk you through a brief tutorial of the game. In the tutorial, you will earn a sphere that will allow you to summon your first warrior. From there, you manage your warriors with healing potions and upgrades, add more warriors to your team as you earn orbs and battle your way through the main story mode, daily events and a player vs. player mode.
The main menu has your gaming stats running across the top of the screen, including your current warrior's status, access to the game's message center, your gaming energy levels and your gold and gem count. You will also find navigational tiles that will send you to your gaming inventory, to a page where you can claim free daily spheres, and jump into gameplay.
There is a pull-out menu to the left side of the main menu that has several navigational and gaming options that including quick jumps to the main menu, battle menu, the temple of sphere storage, team management, gaming inventory, the in-app game store, settings, and Gameloft Connect. For those unfamiliar with Gameloft Connect, it is a series of options to read up on the news about the game, access to forums on the game and access to customer care.
Settings for Gods of Rome cover sound and music levels, graphics level, notifications and the option to log into the game with your Microsoft or Facebook accounts. You do not have to log into the game with either account but in doing so, your gaming progress transfers between devices.
There is a lot to Gods of Rome beyond the battles you will face. Breaking it down by area you will find:
Gameplay: You have three options here. You can play the main story line that offers a series of battles where you will face multiple opponents, special events that are time sensitive and a player vs. player mode. You start out with access to the story mode with the other modes becoming available as you progress in the game.
Temple: Here is where you claim your spheres that unlock additional warriors for your team, health potions and upgrade items. You can buy spheres in the gaming store and earn them as you are victorious in combat.
Team Management: The team management screens are where you manage your active team, upgrade your team members and manage their skills and abilities. You can also sell your warriors should you need an emergency supply of gold.
Gods of Rome will require an energy unit to jump into gameplay. You have twenty units to begin with that will replenish over time or you can refill your energy units using Thunder currency that is available in the gaming store.
Gaming mechanics are universal regardless of your gaming mode as is the combat screen layout. Your combatant's health meters are displayed across the top of the screen with a pause button positioned between them. Across the bottom of the screen is a power-attack meter that will build up as you strike your opponent. When full, you can tap the meter and launch your warriors special attack. Defensive and offensive moves are controlled by a series of on-screen gestures. For example, to defend against an attack you will tap/hold the left side of the screen. A regular attack strike against your opponent is done by tapping the right side of the screen.
Battles are laid out in quest format, i.e. you have a series of fights to win in order to win the battle. You do have some path choices as you move along in your quest that may allow you an easier path to the final fight.
The goal of combat is to knock out your opponent before they knock you out. When your warriors become injured, you can heal them with potions before the next round of battle, but you can't make use of the healing potions during battle. Should your team member fall in battle, the next warrior will pick up the fight.
Potions are earned during gameplay or you can buy them in the gaming store. You also have the option to switch team members prior to battle to create a more favorable match-up based on their skills and abilities.
The first several battles did come across on the easy side, but will help get you acclimated to the gaming controls. It takes getting past the first three chapters of the story mode before the game gets challenging.
As you complete the fights in the quest, as well as the quest itself, you will earn supplies, gold, gems and spheres. Your warriors will also earn experience that will advance their gaming level that increases their strength, health and attack abilities. Upgrades will give these attributes a boost as well.
We should note that the rewards differ between the Special Events and Player vs. Player modes. The Special Events have three difficulty levels of quests (easy, medium and hard) to tackle. As you move up in difficulty, the greater the rewards when victorious. The Player vs. Player mode includes Divine Keys in its rewards package that can be used to purchase Honor spheres in the Temple. Both modes are slightly more challenging than the story mode and a fun way to earn some additional treasure.
One of the Best Fighting Games Around
First, let me get my biggest gripe about Gods of Rome out of the way. Gameloft lists the game size as being 87-881MB. The initial download doesn't take long and is in the neighborhood of 88MB. Once you launch the game, you will have to download over 500MB before you can play the game. I'm not a big fan of this set-up and would rather see the full game installed from the start. Sure, this allows Gameloft to make updates to the game without having to update it through the store, but it also means you have to deal with the interrupted gratification. You open your just-downloaded game, ready to play, only to find that you're going to have to wait several minutes for the rest of the game to download and install.
Aside from having to sit on my hands while the game fully installs, I cannot think of anything bad to say about Gods of Rome. Graphics and animations are impressive and allow the characters to have a little swagger and personality. While gameplay does take a little time to pick up steam, it offers nonetheless offers challenging but not insurmountable gameplay.
Controls are simple and with the three gaming modes to chose from Gods of Rome will not grow stale too quickly. At last check, the game scores a 4.7-star rating in the Stores and we would go ahead and bump it up to the full 5-star level. If you like fighting games, Gods of Rome is a must-have title to add to in your gaming library. It is available from both the Windows 10 and Windows Phone Stores as a free game with plenty of in-app purchase opportunities. It does not, however, support low-memory Windows Phones.
If you have given Gods of Rome a try, let us know what you think of things in the comments below.
Download Gods of Rome for Windows and Windows Phone
Get the Windows Central Newsletter
All the latest news, reviews, and guides for Windows and Xbox diehards.
George is the Reviews Editor at Windows Central, concentrating on Windows 10 PC and Mobile apps. He's been a supporter of the platform since the days of Windows CE and uses his current Windows 10 Mobile phone daily to keep up with life and enjoy a game during down time.