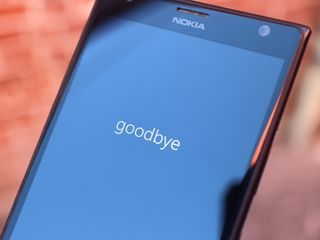 Over two years ago I met Daniel at Build 2012 on Microsoft's campus in Redmond. Little did I know that meeting would lead to an incredible journey at Windows Central and now a new chapter back on Microsoft's campus.
I'm beyond grateful for Daniel giving me a chance to share my passion for Windows Phone with a larger audience. An audience that was under 1 million unique visitors per month when I joined to one that today sees over 4 million visitors a month.
At the time, I was running a little site dedicated to Windows Phone by myself and had been faithfully sharing my knowledge for Windows Phone (to a nonexistent audience) for a few years. It was a labor of love and something I did because I was so in zealous with Windows Phone. A weird thing to say about a mobile operating system right? But I'm sure a few of you can relate when it comes to Windows Phone.
At Build 2012, I asked if Dan would be interested in having another writer on the site. And I'm so thankful he said yes. He took a chance on me, and I like to think it turned out well for everyone.
I've learned so much from the team here at Windows Central and Mobile Nations. Everyone here pushes one another to do more and do better. Mobile Nations is a big family of sites dedicated to all things mobile. I'm grateful for Kevin, Rene, Phil Adam and everyone else in the extended Mobile Nations family for helping make me a better writer and editor.
And I'll, of course, tremendously miss the immediate Windows Central team. Having the opportunity to work with Daniel, Richard, Mark, George, Seth, Paul, Jon, John, Abby and Rich. This site has a very bright future since these guys are so passionate and knowledgeable about Windows Phone, Windows, Xbox and all things Microsoft.
This team works hard to bring our passion of phones, tablets, and PCs to you. Looking ahead, I think this site is in the best position to capitalize on the future of Windows and Microsoft.
Windows 10 will be the biggest thing for Windows Phone fans in 2015. Phone, tablets, PCs and Xbox are all on a collision course. We're rapidly approaching the future where apps made for Windows can run on any device within arm's reach. Microsoft has made strides over the past year to make it easier for developers to "code once, run anywhere" with Windows. But Windows 10 should improve further on those principles. I can't wait to see the platform one year from now.
And to everyone reading this, thank you.
The Windows Central community is a diverse and incredible place. I've always appreciated the feedback from all the readers in the comments and forums. You're amazing at sending in hot tips, new apps, games and more. You're the biggest source of inspiration and ideas for how-tos, tutorials, guides and everything else informative. Without you, this site wouldn't be what it is today. So many thanks for helping us get where we're at today and where the site heads in the future.
Don't worry, I won't be a stranger. You'll still see find me in the comments or forums here at Windows Central. I'm still a big cheerleader for this site and the work done here by the team.
What's next for me? I'm moving to Seattle in two weeks and will be joining Ben Rudolph's team at Microsoft. I'm so excited for this new chapter and to share my passion for technology.
You can keep up with me on Twitter (@samsabri), Instagram (@samsabri) or find me on Xbox Live as GeneralSham if you're up for some matchmaking in Halo.
Thank you!
Sam
Get the Windows Central Newsletter
All the latest news, reviews, and guides for Windows and Xbox diehards.