May the wind be always at your back...
As they say, "All good things must come to an end" and as enjoyable as my years with Windows Central has been, it is time for me to call it a day.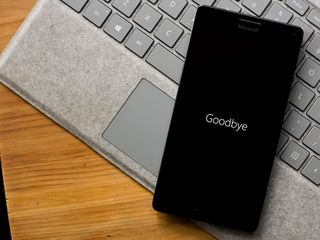 Since 2008 I have had the fortune to be a part of a fantastic and talented team here at Windows Central. It was an unexpected journey that began with a fledgling website, and is ending with the foremost authority on the Windows ecosystem. While I have enjoyed every second of this experience, it is time that I call it a day.
Over the years I have reviewed thousands of apps and games for Microsoft's mobile platform, gobs of accessories and even looked at a few phones along the way. I watched Windows Mobile transform into Windows Phone and back to Windows Mobile. From the days of cooking ROMs to nowadays, just hoping we have a Windows phone system available, it has been a fun and fascinating journey.
The journey began early on with my first Palm Pilot which transitioned to my first Windows Mobile phone, the Palm Treo 750. It's been fun watching the evolution of our Windows Phones move from the likes of the HTC Fuze to the current crop of Windows 10 Mobile phones.
While it's been fun to watch the technology advance, I've had the pleasure of meeting and working with amazing individuals and learned more about web publishing than I ever imagined I would. I need to thank Dieter Bohn, who is now leading the charge over at The Verge, for recruiting me to the website back when it was known as WMExperts.
As the sun sets on this amazing experience, I cannot say enough good things about the talented staff here at Windows Central and Mobile Nations. It has been an honor to have worked with Jez Corden, Richard Devine, Rich Edmonds, Mark Guim, Paul Acevedo, Zac Bowden and the countless others who have contributed to the site over the years. From the debates to the collaborations, I want to thank you guys for letting this old fart speak his mind and teaching him a few things along the way.
I want to thank Daniel Rubino for his friendship and guidance over the years. I have always appreciated Dan's skill at speaking his mind. It helped get me back on track and motivated me to do better. Kevin Michaluk, Phil Nickinson, Derek Kessler and Rene Ritchie also deserve big thanks for the guidance they have offered and for putting up with all my grumblings over the years. Our Managing Editor, Al Sacco hasn't been around for long but has done a great job managing the site and juggling the various personalities involved. His insight in technology and managing chaos will serve the site well. I'd also like to thank Marcus Adolfsson for bringing all of this together and his persistence to create what Mobile Nations is today.
I've covered Windows phones from the beginning and feel the need to share some parting thoughts on the state of Microsoft's mobile environment. Windows Mobile always felt like a constant work in progress, but Microsoft started hitting the nail on the head with Windows 10 Mobile. It is easily the best mobile operating system, but Microsoft struggled to compete with the trendiness of iOS and the open source of Android.
I truly hope that after putting Windows 10 Mobile on the back-burner Microsoft finds a way to breathe new life into the OS later this year. Windows 10 Mobile completes the three-screen concept, and it's just too good of a design to let die on the vine. I'm in it for the long haul, but if Microsoft abandons phones, it may be the biggest mistake the company has ever made, with only the Kin or Windows Me coming in as second.
Working for the website has been a wild ride, and I would be remiss if I did not thank the readers. Windows Central has some of the most passionate, insane and dedicated readers around. Through your comments and tips, you guys also have taught me plenty over the years. I'm just hoping there aren't any typos in this lost post.
Again, it has been a pleasure to have been associated with this incredible website and with this talented group. It is going to take some time to get accustomed to not facing any deadlines, and you'll still find me lurking in the forums. I think the hardest thing I have to figure out is what to do with all these phones.
See you in the Funny Papers!
George is the Reviews Editor at Windows Central, concentrating on Windows 10 PC and Mobile apps. He's been a supporter of the platform since the days of Windows CE and uses his current Windows 10 Mobile phone daily to keep up with life and enjoy a game during down time.
Thank you for the good times George. Wish you all the best.

I am horribly upset right now. He is really leaving, isn't he? Shall always love you George. Always. All the best for your next venture in life.

And as for your phones, you can send a few to me. :D please make sure elite x3 or Alcatel idol is in it. XD

I hoped for the same! A Lumia 950XL of you ever feel like parting with one you might have George
:P
But really, iy is both sad and exciting to see you off, and I wish you all the best for your next journey, I can say it's been our honour to have such a great voice talking about something we both love. Sincerely, thank you :)

George... Before you leave, just remember one thing... Marketing. It's all about marketing.😏

Thank you for everything you have done for us! Wish you all the best George! You will be missed.

Damn George, you just made me tear. All the best man, may the success always follow you where ever you go, thanks for your time. #ProudOfYou

George Ponder best wishes for future from all the Windows Phone fans community. May the force be with you.

About that phones in the background, I would say a Giveaway?

Wishing you the best in your future adventures.

Just as Windows Mobile finally got GATT server running properly on Garmin and Fitbit devices, you're leaving?!? ;-) Thanks for the guidance you've provided all this time, and best of luck.

Still not working correctly on mine (fast ring with Vivoactive HR)

Just waiting for the update to push out to production. Looking forward to a properly working Garmin device!

Wish you all the best! The store will be a little more dead now without you to tell us what's with checking out.

Using that goodbye picture is a subtle way of signing off. I remember Sam Sabri using it. All the best for your next journey!

We'll miss you, George. Good luck in the future, and don't be a stranger.

Sad to see you go, George! Thanks for taking us along on the ride! Best wishes for whatever the future holds. May your best days of the past be your worst days of the future.

Good luck George, So Long and Thanks for All the Fish! 😜

I giggled out loud reading this :D

Hey George.... we'll want you here. I know it's gonna be a great loss for all the reader here. If you still have your options open..... why don't you ponder?

Good luck Mr. Ponder in your endevours. Sometimes it's important to an organization to have people who can remember the history of the field and of the history of the organization, the institutional memory. I am not sure websites are any different from businesses in that way. have fun

Farewell, George. And thanks for having me playing Dragon Mania Legends for over 2 years, daily. Gameloft should be giving you a retirement bonus for that alone ;)

Ha i play that game too. But only like two people on my friends side there. And i haven't seen there name anywhere before hahaha

One door closes, another always opens.

. You've build a great platform for me... For us... Thank you

It was my pleasure to read your informative reviews and articles. You will be missed. All the best to you in your future endeavors!

All the best in your next endeavors

It was crazy nostalgic reading this article and seeing the evolution and devolution of Microsoft's mobile presence. You wrote many solid reviews of many games and apps that otherwise would've gone unnoticed, so thanks for that.

Best wishes George. This certainly marks the end of an era.

...but what will he do now..? 😅💖🗽

I wish you all the best on your new journey.
I will miss your thoroughness in your blog writings.
Thank you.

Best wishes George, thank you for all your hard work over the years! Also, I wanted to thank you personally for reviewing my apps in the past!

Thank you George.
You have been a good friend of WC.

Thank you so much and best wishes George. I loved the plethora of hidden app gems you brought to our attention. You did a great job of showing us that we should always give apps a chance.

Thanks for all you've done with us over the years. I can always tell your articles by your writing style. I'll certainly miss your reviews and articles. Maybe I'll see you around Birmingham when I visit my sister and brother in law who live in Homewood. Best wishes for the future.

Ah, this is a sad day. I have always enjoyed your video reviews George. I hope you'll be happy with your future endeavors!

Good luck 🍀 George. As for all those phones, keep'em because in 5 or ten years they could be very collectable.

Best of lucks, and thank you😊

I've always looked out for your articles. Love what you've written and how you write. Will miss you so much. All the best for the future and hopefully I'll find you writing again somewhere sometime soon.

Goodbye George and thank you for your contributions to this community.

I hope all your future endeavors are as rewarding as the past ones.

Fare thee well good sir! All the very best for the future! A great lost* post by the way 😉

Say it ain't so, Thank you George.

Good luck Sir! We hope for the best. I will buy an Nokia Android phone till end of this year just because of my defective Lumia.

Good luck in your future endevours. The world needs more Windows mobile fullbreeds like yourself.

Never seen a KIN until I clicked the link. What an awful thing that looked like! I did like Windows Me though

Good luck George and all the best for the future. Thank you for taking the time to review my first app many years ago (Hyper Defence XT), my first public app review and one i will remember.

Hey, what's wrong with Windows Me? That brought us System Restore, which made my life as tech support so much easier! Good luck, George! Oh, and there is a typo... lost should be last. Lol!!

Thanks for all the game reviews, good luck going forward.

Thank You George, hope you get loads of sucess in your future endeveours.

George is a huge source of inspiration, and always took the best phone pictures. All the best man.

Aw this is sad. I remember finding Windows Central when it was Windows Phone Central, and you have introduced SO many apps to us, and I still use a good number of those til this day. Good luck with your next steps George, you'll be missed.

I'll take some of those phones off your hands for you. lol

Good tidings in the next part of your journey :)

Thank you for bring with us. All the best for the future.

Best of luck in any future ventures, now's the time to relax! Over and out, +1520 ;)

cheers, thanks for all the articles I have enjoyed.

Thanks for everything George. Best of luck with everything.

Thank you, George. Your byline always indicated a well-written article.

All the best to you George. You have always been a good an informative read. We will miss you!

Holy **** Cingular. I feel old

All the best George. Here's to MS and yourself
For a bright future to you both.

Hey can i have that black phone that says "goodbye" if ur not gonna need em anymore. ☺

Will miss you & your wonderful views,reviews, thoughts on all matters pertaining to Windows. Wish you the best for your future.

It's been a pleasure reading your material, George. And an honor being a fellow enthusiast along with you. Take care and see you around in the comments.