Google announces Android 12L taking aim at foldables and dual-screen devices like Surface Duo 2
By Sean Endicott published
Google is working on a feature update to Android that focuses on large screens and foldables.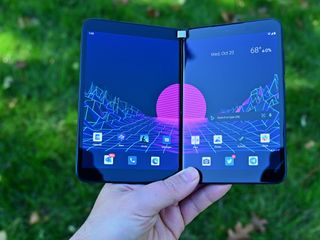 (Image credit: Daniel Rubino / Windows Central)
What you need to know
Google announced Android 12L at its Android Dev Summit today.
Android 12L is built for devices with large screens, such as tablets and foldable phones.
Devices running Android 12L will better handle multitasking and spanning content across large screens.
At its Android Dev Summit, Google announced Android 12L. It's a feature update built for devices with large screens, including Android tablets, devices with folding screens like the Samsung Galaxy Z Fold 3, and foldables like the Surface Duo 2. Alongside Android 12L, Google announced new APIs, tools, and guidance to better utilize the large screens of devices.
Android 12L makes multitasking more powerful and intuitive, according to Google. The feature update refines the overall UI on large screens, including notifications, quick settings, the lockscreen, overview, the home screen, and more. For example, the notification shade and lockscreen face each other on screens above 600dp.
Google also introduced a taskbar as part of Android 12L. This makes it simple to switch apps quickly. It also makes it easier to launch apps in split-screen mode. Dragging and dropping an item from the taskbar will make an app run in split-screen mode. Google has also automatically enabled all apps to enter split screen mode, even if the apps aren't resizable.
Image 1 of 3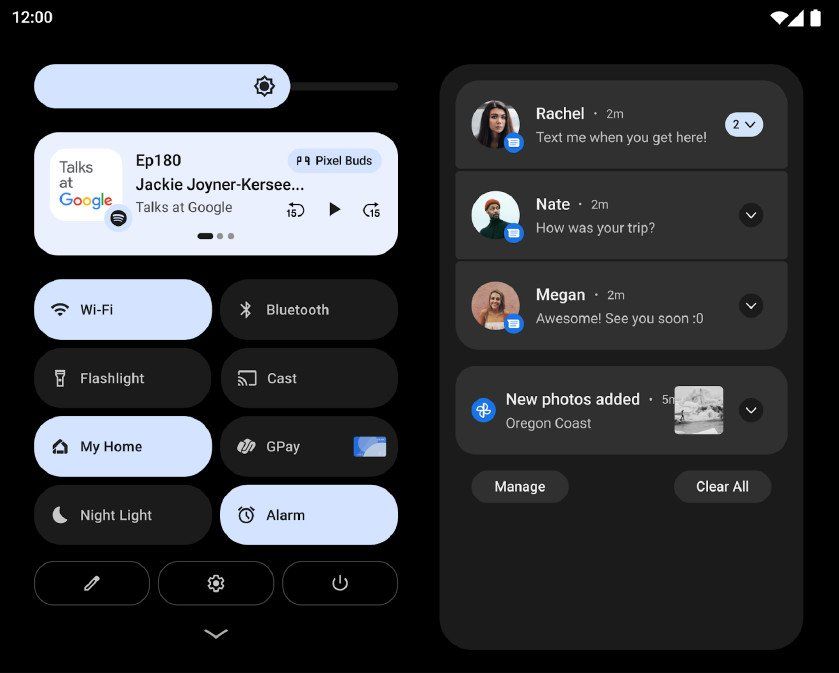 Image 2 of 3
Image 3 of 3
Many of these features will look familiar to those that have used the Surface Duo 2. Microsoft took a similar approach when adapting Android to its foldable device with two screens. The Surface Duo 2 features a taskbar, emphasizes split-screen mode, and is geared towards productivity. Now, we get to see those ideas implemented by Google on an OS level in Android 12L.
Google plans to release Android 12L early in 2022. The company highlighted that this is before the next wave of Android 12 tablets. Google is also working with OEMs to bring Android 12L to existing devices.
A developer preview of Android 12L is available starting today.
What about Surface Duo 1 & 2?
While Surface Duo 1 is still waiting on Android 11 (now due "before the end of the year," according to Microsoft), some may wonder about Android 12.
It seems safe at this time to assume that Microsoft is going to pass on Android 12.0 and head right to 12L (aka 12.1). That version of Android is the first to really take into account foldables and dual-screen devices (even Google is rumored to be doing its own foldables), and Microsoft would likely benefit from it instead of pushing 12.0 only to get rush 12L out so soon after.
Going by the testing and release schedule, Microsoft could have Android 12L on devices sometime in summer 2022, should they deliver on rapid deployment. We'll have to wait and see if that happens as, so far, the company does not have a great track record.
Sean Endicott is the news writer for Windows Central. If it runs Windows, is made by Microsoft, or has anything to do with either, he's on it. Sean's been with Windows Central since 2017 and is also our resident app expert. If you have a news tip or an app to review, hit him up at sean.endicott@futurenet.com.
This is cool. Hopefully it fixes a lot of the software issues since Microsoft shouldn't have to do as much modification to the OS

Yeah, if you think it long-term, this saves a lot of work/investment by MS into "hacking" Android to fit the vision. They did some of that for Android 10 and had to undo a lot of it for Android 11. MS has the hardware nailed for Duo in terms of quality/experience (it can always improve, of course), but 12L could go a long way to making the OS match that hardware. The next 9 months should be very interesting. There are even bits here like the Play Store showing/highlighting apps optimized for these types of devices.

Whilst this may help Microsoft in short term, you can also see how it may undercut them somewhat. One of the beauties of Duo (2) is how multi-tasking is baked into the device, through the use of 2 screens. If Google builds that feature into the OS, then foldables made by other OEM (or Google itself) could be able to offer something very similar. Convergence to a useful and practical expandable form factor may well be great for the consumer. But Microsoft, one of the first onto the scene, may not be the ultimate winner.

" If Google builds that feature into the OS, then foldables made by other OEM (or Google itself) could be able to offer something very similar."

But this is literally what Microsoft

wants

and is the #1 reason why MS has not customized Android to do dual-screen things (or why calls for MS to "fork" Android was never realistic). It's also the reason why MS has published SDKs for

all

OEMs to optimize Android apps for dual-screen devices. It knows for this form factor to catch on it can't do it all itself with one device. It also has Android SDKs for inking, too. MS releases the kernel source and factory image for these reasons. It's open about what it does on Duo so others can crib. Microsofts

wants

more foldable, more dual-screen devices. It's confident it can do the hardware but wants Google to do the software so it doesn't have to. All MS wants is to focus on the hardware, making good MS Android apps, and making Duo a "Microsoft 365" device. That seems to be starting to happen.

Fair point Dan, thanks for reply. Put like that, you can see Microsoft and Google in a fairly symbiotic relationship here. Google provides the optimised OS for this form factor and Microsoft makes (one of) the hero devices that make it attractive to consumers (high end & business initially). If the common "enemy" is Apple developing something similar, can see that being an effective strategy. Very interesting times.

Yup, but I also agree, we have to wait and see how much this actually helps Microsoft. But we know MS/Google talk on this and Duo had Google's blessing.

I'll happily wait for 12.1 if they use that time to make Launcher feature complete.

By the time Google finishes 12L next year, MS will probably decide to focus on Duo 3 instead, lol.

"By the time Google finishes 12L next year"

This

year. It's finishing dev work this year with a release for early 2022.

"We plan to release the 12L feature drop early next year, in time for the next wave of Android 12 tablets and foldables. We're already working with our OEM partners to bring these features to their large screen devices - watch for the developer preview of 12L coming soon to the Lenovo P12 Pro. With the features coming to devices in the few months ahead, now is a great time to optimize your apps for large screens."

The 12L emulator is already live for developers.

As a Duo owner, I'm glad for this. As a Windows user and MS fan, this also looks like it will put more pressure on Windows from Android devices. I never oppose competition (as consumers, we win), but this could erode MS Windows market share, so potentially not good for MS shareholders.

Not sure how this will erode Windows from this, at least not for a while. Android isn't really trying to be a desktop OS so far, that is what ChromeOS is for. Since Microsoft does not have an OS for smartphone-like devices, there is no conflict of interest from them as well. Actually if there is where Android is competing more directly to Microsoft is on tablets from 10 inches. There I would say Android is gaining advantage, unless you only care using Desktop UX on a tablet and don't care about more Android tablet apps, not a Tablet UX on a tablet. Thing is, currently Microsoft seems only interest on making Desktop UX to work somehow on a tablet form-factor and usage, not making more tablet-optimized user experience like what Tablet Mode was supposed to do with Windows 10 but never improved further. Windows 11 have nicer touch gestures that makes it more usable on a tablet, but not necessarily the best or more optimal way. Once you go 11 inches and lower, the desktop-first UX for tablets start to have compromises.

aXross, yeah, I'm not talking near term. I'm referring to longer term implications to those form factors in that gray zone you reference -- 9-11" (bigger eventually, but that's a whole other move), mainly tablet or hybrid tablet-laptop systems. Chrome OS hasn't done well (though it is gaining some share), but Android is a massive success for them. If you're Google, and looking to build on your success to expand your market share, the next logical step would be to incrementally chip away at those bridge users, further blurring the differences between Chrome OS and Android. One of their motivations (beyond the most obvious of supporting folding devices) is clearly to make Android become more capable in the Chrome OS area, then steal the smaller-screen Windows users over to Android devices. That's what any decent strategist would do with the hand Google has.

MS is a cloud company now. The Duo means almost nothing to their bottom line.

The Duo is their way to provide and ensure a positive experience for subscribers to those cloud services. It's clearly not a profit center in and of itself, but it serves an important strategic role to MS by keeping their fingers in mobile and providing ecosystem support for mobile users, even if not running their OS. As long is it supports Office users, it's a win for MS.

Good grief, that is the ugliest device I've ever seen.

Not so certain android 12 L is for dual screens like the Duo. Duo 1 and 2 user should "wait and see" on this. Android 12 L are for larger "Single and Foldable Screens", not necessarily dual screens. Keep in mind the rumored Pixel Foldable is a Foldable Screen, not a dual screen. Until Google makes a dual screen device (themselves)...I wouldn't hold my breath.

I'm 100% certain it is for dual screens like Duo and I'll explain it in a separate article soon. Google sees dual screen as a foldable and that is how Android "sees" the dual screens on Duo.

https://developer.android.com/about/versions/12/12L/summary I just keep going by this (above)....Other than that...Let's wait and see. Because right now when you run an app on the Duo...it runs on one of the 2 screens. Microsoft Launcher helps with the spanning, etc. To me Android 12L (as described in the above link) is right up the Z Fold 3 Alley, not the Duo...but one can hope.

There is no "wait and see." Google defines foldable as including dual-screen. There is no debate, there is no hedging, there is no question. If you want to go by the summary, but then ignore the actual Android developer docs and Material Design 3 guidelines, then you're just being dishonest at this point. And you know this per our earlier convo on Reddit.
Windows Central Newsletter
Get the best of Windows Central in in your inbox, every day!
Thank you for signing up to Windows Central. You will receive a verification email shortly.
There was a problem. Please refresh the page and try again.