Google is supporting Windows 8: Update for Search shows they care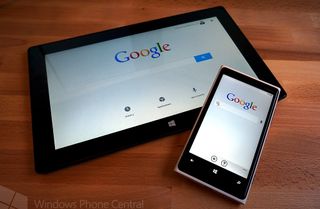 It seems like only last week we were writing a little editorial about Google and its lack of support for Windows Phone and Windows 8. In short they said they didn't see the audience for these operating systems as being big enough to invest in. Here we are a week on and talking about an update.
Of course they had already invested in the Google search app and this is no sign they will commit to any further projects. Google Search on Windows 8 does actually give you basic access to much of their web offerings and makes us consider if this is perhaps all they need. Read on past the break for the low down.
What we have here is a fairly minor set of updates and normally that wouldn't be such a big deal. The app was recently changed to make it compatible with Windows RT running on ARM based systems. While the previous update brought with it the capability to work on ARM the actual performance wasn't very good. The first thing you'll notice about the app after the update is that it races along without any nasty pauses or lag-like behaviour. Voice search is present and works very well. There are even some graphical flourishes when switching between 'Apps' and search.
For whatever reason, Microsoft left out deeply integrated speech using TellMe in Windows 8 even though the OS was designed to be mobile. As Windows Phone users we have had voice features for a long time, having it on a tablet saves on typing everything. Having it baked into Google Search will please many and of course you can log in to the app and get your Google access in one place, email, Google+ will just stay logged in. I have been running the app on the Surface and it's actually really nice to use now with performance being much improved.
Speech search works well
Here are the improvements that are said to be included in this release.
Added support for printing
Voice search improvements
Added ability to launch all results in default browser
Speed improvements
Bug fixes
When I spoke on Google and its decision to wait and see on Windows 8 and Windows Phone 8 I argued that the Microsoft eco system didn't rely on Google or its apps and services. Google simply doesn't have the space to stand out on a fully rounded eco system but it does have this single app in the Store. On the Surface (pun intended) it is simply a search app but looking further the first screen gives you options for their apps also. Of course this is just a web browser view at present but could be a sign of things to come to make the app a better portal onto such things.
How long before these get "rich" experiences?
In the absence of a foothold and in the quiet Google can update this app to provide increasingly better experiences with its web products. In its present form it looks harmless enough but that is exactly the way Chrome developed and took its place. If they are so intent on non-support of Windows 8 then why would they push out an app at all?
Simple answer is they are hedging their bets while at the same time keeping the market mostly free of their full line up of products. Unlike Amazon who endeavours to make their apps and services work on all platforms, Google is holding things back for its own reasons. It is only a week after their announcement on not supporting Windows 8 and yet they are releasing a nicely crafted update for their key app. Are they already eating humble pie as predicted?
We'd like to know what you think of the Google App for Windows 8, how does it run on your device? Also it would be great if you could let us know about Google maintaining a presence on Microsoft's newest platform.
In the meantime you can download the app from the Windows Store here (opens in new tab).
Windows Central Newsletter
Get the best of Windows Central in your inbox, every day!
I love the Didn't Get That response... I use Tell Me for Bing Search pretty often (surprisingly), and unless I'm in a crappy signal area, it's pretty spot on.

It certainly seems to have gotten better for me. I can mumble commands for SMS dictation and it picks them up just fine.

Ha, you're on it. Notice what was on the Surface as a search? :)

Maybe that should have been mumble pie? :)

But no update to the WP8 app...

Using Bing instead...
It's more accurate in search...

I don't know why people can't realize how powerful Bing (and other MS services) are. The only Google product that I use is YouTube.

Name one company that says that their competition is a true competitor . It doesn't happen until it has to ,which is why google maps is back on the iPhone.

You can use Google on IE10 as your default search engine.

exactly! which is why I don't get why I'd need an app for google search.. just using the charm-bar and click IE.. I don't need voice control for searching the web..
unfortunately I can't use bing as my default search provider because here in Germany the results are just not satisfying.

Search apps are totally pointless. Look at Bing search app, it makes it harder for me to research something since the results are listed on the app and clicking on them will open in IE. So to go back to the results I cannot just click back on the browser, I have to switch back to the bing app.
Why do we need an app to do something so easy, just go to google.com or set it as default search on IE/firefox and on chrome you can just search by entering on the address bar.

I would not know how good the app is because I use Bing exclusively now. I would not touch anything from Google.

they can keep it to them selves... lesson learned you can't trust google and you can't depend on them

Rob's having a laugh....google cares about Windows 8, yeah right.

No really! 'They care' :)

I work @ Google, and this went a bit out of context. we love windows and love windows phone, our core business gets lots of traffic from those devices.
For windows phone specifically we saw lots of web traffic and there was indeed an increase with the recent windows phone 8, this got us to go ahead and update the applications and offersings, but it doesnt mean windows phone is our core traffic platform.

You don't work @Google. Photo or you're a liar just like Google. And if you do work @Google, then your comment is completely contradictory to their statement about Windows 8/Windows Phone not having enough users for them to care.

really? I've not seen any Windows Phone updates of your apps. I realize you are pretty low on the totem from whoever is making these decisions, but it would not hurt your company at all to make proper Google Voice and Gmail apps....otherwise it DOES look like your company is waging war on Microsoft.

@sandy what inteller said

This seems like a better way to go for them on W8 tablets, why would i want 30 different apps for all their crap. They have to do something for W8 it's already sold millions of coppies and new devices, unlike WP8 which they can stand to ignore because of it's tiny market share, by this time next year W8 will have a bigger market share than OSX.

Bing might be a really good search engine in the US but in Switzerland it is quite bad, no currency conversion, no weather forecast etc etc. whereas google has all that.
That's the only reason I prefer using Google, otherwise really like Bing with its new Picture everyday (eventhough it changes at a random time during the day and not at midnight)

I would rather the Bing image changed in the middle of the day rather than midnight so I get two pictures per day instead of just one.

Now there're weather forecast and much more on Bing, check it out!

If we could only get Google Maps!

I have never had any desire to go back to Google after switching to Bing.

I use Bing on my Lumia 900, but on the desktop I stick to Google due to the lack of adanced search features.

Nope, migrated off of google. I am even more dissapointed that google stealth changed the youtube APIs and broke MetroTube.

http://www.theverge.com/2012/12/19/3783520/metrotube-windows-phone-broke...

MetroTube works just fine on my 920. Just tested it right now.

Mr. Brand,
You're description of wp8 as a "fully rounded eco system" seems highly appropriate and I've found little use for Google products since switching over to the windows platform. I don't even use the search engine much (preferring to "Bing it " rather than "Google it") A nice gesture on Google's part for those who still want or need it but I suspect most of us will get along just fine. ;o)

Bing all the way. Bing image and shopping results are superior to Google imo

the chrome browser will die because of windows 8, they just don't know it yet

Mabye they've seen all of the comments saying that we don't need their services anymore?

Can you please stop promoting this companies useless products? Sure they have a large number of users but it's time to move on, their services are 2nd rate at best and the have privacy practices that are disgusting. Please stop promoting Google garbage and let them go into irrelevancy. If they dont want to properly support this platform, then they should not get free promotion for their garbage wares no matter how many times they add useless updates to get free publicity.

Have no plans on using anything google

Google is just like Fredo, they are dead to me.

Is that a sign of support, sluggish antipathy, or mockery?

Im over Google and their lame search. Why don't they make a YouTube app instead?

Lazyworm apps metrotube its all the YouTube you need

Well, this is nice. I couldn't care less.

You've gotta realize that Google doesn't need to invest into windows when Microsoft already has more established services that rival google like maps Hotmail SkyDrive Skype Facebook and so on and so forth but search is obviously gonna be a strong point of there's over Bing

Microsoft has already said it best, "Don't get Scroogled". Its nice to see the app get an update, but its of no use to me.