Google is supporting Windows 8: Update for Search shows they care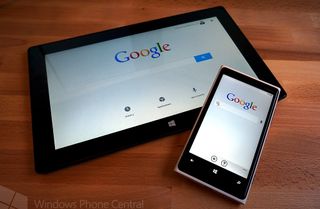 It seems like only last week we were writing a little editorial about Google and its lack of support for Windows Phone and Windows 8. In short they said they didn't see the audience for these operating systems as being big enough to invest in. Here we are a week on and talking about an update.
Of course they had already invested in the Google search app and this is no sign they will commit to any further projects. Google Search on Windows 8 does actually give you basic access to much of their web offerings and makes us consider if this is perhaps all they need. Read on past the break for the low down.
What we have here is a fairly minor set of updates and normally that wouldn't be such a big deal. The app was recently changed to make it compatible with Windows RT running on ARM based systems. While the previous update brought with it the capability to work on ARM the actual performance wasn't very good. The first thing you'll notice about the app after the update is that it races along without any nasty pauses or lag-like behaviour. Voice search is present and works very well. There are even some graphical flourishes when switching between 'Apps' and search.
For whatever reason, Microsoft left out deeply integrated speech using TellMe in Windows 8 even though the OS was designed to be mobile. As Windows Phone users we have had voice features for a long time, having it on a tablet saves on typing everything. Having it baked into Google Search will please many and of course you can log in to the app and get your Google access in one place, email, Google+ will just stay logged in. I have been running the app on the Surface and it's actually really nice to use now with performance being much improved.
Speech search works well
Here are the improvements that are said to be included in this release.
Added support for printing
Voice search improvements
Added ability to launch all results in default browser
Speed improvements
Bug fixes
When I spoke on Google and its decision to wait and see on Windows 8 and Windows Phone 8 I argued that the Microsoft eco system didn't rely on Google or its apps and services. Google simply doesn't have the space to stand out on a fully rounded eco system but it does have this single app in the Store. On the Surface (pun intended) it is simply a search app but looking further the first screen gives you options for their apps also. Of course this is just a web browser view at present but could be a sign of things to come to make the app a better portal onto such things.
How long before these get "rich" experiences?
In the absence of a foothold and in the quiet Google can update this app to provide increasingly better experiences with its web products. In its present form it looks harmless enough but that is exactly the way Chrome developed and took its place. If they are so intent on non-support of Windows 8 then why would they push out an app at all?
Simple answer is they are hedging their bets while at the same time keeping the market mostly free of their full line up of products. Unlike Amazon who endeavours to make their apps and services work on all platforms, Google is holding things back for its own reasons. It is only a week after their announcement on not supporting Windows 8 and yet they are releasing a nicely crafted update for their key app. Are they already eating humble pie as predicted?
We'd like to know what you think of the Google App for Windows 8, how does it run on your device? Also it would be great if you could let us know about Google maintaining a presence on Microsoft's newest platform.
In the meantime you can download the app from the Windows Store here.
Get the Windows Central Newsletter
All the latest news, reviews, and guides for Windows and Xbox diehards.