GoPro channel comes to Xbox 360, YouTube sharing improvements to Xbox One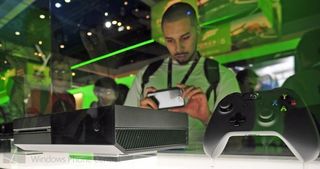 Microsoft is not resting on their laurels when it comes to gaming as new features have been announced for the Xbox 360 and Xbox One. Ironically, they're unique features to each system, so hopefully you still have both of them.
First up is the Xbox 360, which is gaining an official GoPro app to view a curated channel of GoPro videos. GoPro has become the defacto source of stomach nauseating point-of-view videos, often featuring extreme sports. It's hard to fathom how much the mini-camera system has changed our experience in watching people perform wild and crazy stunts in such a short time. Now, you'll be able to watch all the latest right on your Xbox 360.
The app will need an Xbox Gold subscription, so technically it's not free. Having said that, we're sure a lot of you use the Gold subsidy already, so this is just another bonus.
The app is due to land this week with bonus exclusive videos to kick off the launch. In addition, you'll be able to purchase GoPro cameras and accessories directly through the app with orders fulfilled by the Microsoft online store (for US orders).
Want it on the Xbox One? No worries, as that app is still slated for a summer release.
For Xbox One users, you'll get a new YouTube app tomorrow. This update has one main feature: the ability to upload Game DVR clips from your account to your YouTube channel. Considering YouTube is the go-to service for sharing a video these days that opens up a whole new playing field for gamers who've achieved some remarkable gaming conquests.
Users will be able to capture their wins via Game DVR, which can then be edited using Upload Studio. In the YouTube app, simply head to the new My Uploads where you can then pull up those clips for quick and easy sharing.
But wait, there's more!
The new YouTube app also gets the following new (and overdue) features starting tomorrow:
Watch YouTube videos in Snap Mode
Add individual YouTube videos to your Pins
Earn Media Achievements
Add your YouTube channels to OneGuide for instant access to YouTube videos right next to your favorite TV listings or App Channels
It's kind of hard to believe the YouTube app doesn't already rock those options, so it's nice to see them finally arrive.
Look for the new Xbox One YouTube update tomorrow and the GoPro app for the Xbox 360 sometime this week.
Source: Xbox Wire (opens in new tab)
Daniel Rubino is the Executive Editor of Windows Central, head reviewer, podcast co-host, and analyst. He has been covering Microsoft here since 2007, back when this site was called WMExperts (and later Windows Phone Central). His interests include Windows, Microsoft Surface, laptops, next-gen computing, and arguing with people on the internet.
Hope you can control youtube app with a remote now...

YES PLEASE! Seriously, I'll be really disappointed if this isn't the case, in fact, I purchased the media remote for YouTube because that's probably my most used X1 feature and the controller isn't anywhere near as convenient as the light, easy to use one handed remote that's always on. Seriously Microsoft, this is such an essential feature that I didn't even consider that it wouldn't work!

Whoa so much of kool story bro, ima put a gopro on my head and record my gaming sessions for a first person view of me playing first person shooters

If you upload a first-person view of you uploading your recorded first-person gaming session, I will record a first-person view of me watching it.

Out of topic : There are two games named under Fruit Ninja , both Xbox Live integrated, it may be a pirated game so try to spread the message

one got the old xbox and the other got the new...wp7 and wp8 maybe? weird

One is old version which supports both wp7 and wp8... And other one is wp8 version with better graphics... Older one was removed but don't know how it came back...

Satya's influence to work faster in Microsoft..maybe?

I hope the YouTube app will now stay as the logged in user when you open it. Currently if I am watching a video and my wife walks into the room, Kinect will log her in and Youtube will automatically switch to her profile stopping my video in the process. Then the only way to get back to my profile is to close Youtube. Annoying

I have noticed this too, but in the menu screen. All of a sudden I get a screen saying I need to login to be able to do certain tasks in YouTube. I manually select myself and it works again. Never had playback stop but usually she is doing something away from the XBox if I'm watching YouTube. She hates the channels I watch.

I have Xbox Live Gold so it is irrelevant to me, but why are so many Xbox apps behind the Xbox Live Gold paywall? I hear many Sony fanboys deride Microsoft for doing this and praising Sony for keeping PS3/PS4 apps free. Why doesn't Microsoft do the same? Unless these are exclusive apps, it just looks bad to charge for access to apps that are free everywhere else (e.g. Netflix).

I have no problem with gold being required. I don't think MS should change to be like Sony and I think the whole issue is overblown. I'd bet the majority of xbox owners, and PS owners too for that matter, already pay for online services so the point is moot, or at most only impacts a very small percentage of users. Gold is the premier online console service and really, why buy an xbox if you're not going to use gold? To me this is just Sony fans nit-picking to find anything they can to bad mouth the competition about. Sorta like the 1080p drama. I say do your research, choose the console you like best and have fun with it. Doesn't mean you have to bash people who choose to go with something different.

I was taken aback when I was waiting for Titanfall to be delivered and felt like checking out the rest of the system. We thought we'd be able to watch our Netflix and Hulu subscriptions until then. We were wrong. I totally get the gripe. But I researched and found discounts so I paid half of the regular cost and I will do so again when my year is up.

You may get your wish. http://www.forbes.com/sites/insertcoin/2014/04/07/microsofts-phil-spence...

The upload directly to YouTube is nice. Its the only Google service I have to use.
On a related note when the hell is GoPro going to update the WP app? I need it updated more than an app for my X1.

I like the upload to youtube option, but would like a copy to usb or network option as well, so video could be edited...

Now add Smartglass support to the YT app, and I'm all set. :)

Also a way to pin YouTube channels would be nice as well. Hopefully in the next update.

Nice! Now I can finally upload directly to YouTube from my Xbox One instead of uploading to OneDrive, then downloading to PC, then uploading again to YouTube.
Now that it's that easy, YouTube is going to get FLOODED with crappy game videos, most of which will almost never be seen. I know this isn't how it works, but in my mind I see it as Microsoft saying, "Oh, we can't have a Youtube app on our phones? Well, here's millions upon millions of crappy video game clips you can let sit there collecting dust on your servers."

The OneGuide bit is a great addition. Now if they would only support using shoulder bumpers for navigation.

Now if the can update upload studio so you can actually do dicent edits i would really enjoy simply just editing on consul and uploading, maybe able to add music to your videos will also oneday come to upload studio... how about letting me configure the amount my xbox will record when i tell it to record that so that when your xbox dont pick you up the first few times you dont miss out on your clip

Why not add "upload to YouTube" in upload studio as well?
Windows Central Newsletter
Get the best of Windows Central in in your inbox, every day!
Thank you for signing up to Windows Central. You will receive a verification email shortly.
There was a problem. Please refresh the page and try again.