Grand Theft Auto V PC launch date gets delayed until March 24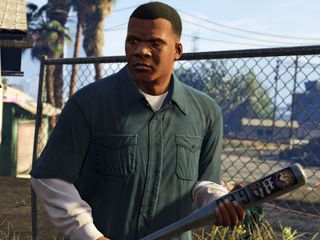 PC gamers who have been waiting patiently for Rockstar Games to release Grand Theft Auto V for their platform will have to wait a little longer. Rockstar now plans to launch the PC version of the open world crime action game on March 24, rather than the previously announced date of January 27.
Rockstar stated:
The PC version will get all of the graphical upgrades that were put into the recently launched Xbox One and PlayStation 4 versions of GTA 5. In addition, the PC port will get an added feature: the Rockstar Editor, "which gives players a full suite of editing tools to create and publish gameplay clips direct to both Social Club and YouTube."
Rockstar also announced the minimal and recommended PC hardware specifications for GTA 5:
Minimum specifications:
OS: Windows 8.1 64 Bit, Windows 8 64 Bit, Windows 7 64 Bit Service Pack 1, Windows Vista 64 Bit Service Pack 2* (*NVIDIA video card recommended if running Vista OS)
Processor: Intel Core 2 Quad CPU Q6600 @ 2.40GHz (4 CPUs) / AMD Phenom 9850 Quad-Core Processor (4 CPUs) @ 2.5GHz
Memory: 4GB
Video Card: NVIDIA 9800 GT 1GB / AMD HD 4870 1GB (DX 10, 10.1, 11)
Sound Card: 100% DirectX 10 compatible
HDD Space: 65GB
DVD Drive
Recommended specifications:
OS: Windows 8.1 64 Bit, Windows 8 64 Bit, Windows 7 64 Bit Service Pack 1
Processor: Intel Core i5 3470 @ 3.2GHZ (4 CPUs) / AMD X8 FX-8350 @ 4GHZ (8 CPUs)
Memory: 8GB
Video Card: NVIDIA GTX 660 2GB / AMD HD7870 2GB
Sound Card: 100% DirectX 10 compatible
HDD Space: 65GB
DVD Drive
Source: Rockstar Games
Windows Central Newsletter
Get the best of Windows Central in in your inbox, every day!
How is Microsoft to blame?

I knew it, I knew somehow Microsoft was to blame for this. You could probably throw EA and Apple somewhere in there too.

Dont Worry - EA doesnt mind releasing unfinshed products

Build 2015 is in 22 and gta in 24.. Suspicious...

There goes my post wedding lol...thought I would finish it up before I get married by end of Feb lol...now I am..in true trouble lol

Are u gonna get married? Fo real? Are you crazy dude?

What's wrong with marriage? Are you 12 dude?

Whuh? What's wrong with getting married to the girl who gave GTA V as a gift lol...??

Most stupid comment of the day Posted via the Windows Central App for Android

This game is gona be modded in the first 10 minutes lmao.

#PCMasterRace, yea PCMasterRace of fcking games up.

Yeah, with Lamborghinis roaming around, Goku, Vegeta and Future trunks as protagonists, and a new island with Burj khalifa :P

Yeah, kinda how it is these days with games. I really just hope it is not download only for PC, cuz that'll suck. NBA 2K15 was a 50 GB, 24-hour download and I feel like I can't do Windows 10 previews and such just because I don't want to have to reinstall these huge download-only games.

For Steam-games you could use the backup functionality.

Veeeeery eeenteresting, I'll have to look into this, thank you.

65 GB Space. I've 80 GB HDD :'(

Those things still exist ?:O

Why not.... He might use it for storing files not media

I think he forgot to say "left" .... Lol.

Maybe it's and SSD. Usually you add a second drive for storage, but maybe he didn't.

Wow.. Gonna shrink it some more around that time don't you think?

There's gonna be some awesome videos as a result of this version

There already are... See YouTube

What's so special about this game that it requires such high end specifications to work?

Huge open world full of details, things to do, complex AI, etc...?

And will still be badly optimized regardless..

Yup. Last time Rockstar Leeds handled the port...and I heard they have the duty again! It was getting done in house but then they got to work on the next gen consoles and dlc! If PC games couldn't be pirated so easily...PC version would be out simultaneously imo :'(

The evil within minimum specs are higher than GTA V recommended specs.

How are those considered high end specs? Considering its GTA V, I would say these specs requirements are lower than most people expected.

I bet most of the audience can't afford even the minimum requirements of the game. If the game wants to be successful just like San Andreas, more people should be able to play it, at least.

Not sure how they could have gotten lower minimum specs than 6-7 year old hardware. Heck, those video cards are $60-80 new these days. Can probably find it even cheaper. Can't expect a AAA title like this to run on integrated graphics. Also, San Andreas is almost 10 years old. It was no light-weight for its day.

Better delay than release a buggy game like Assassins Creed Unity...

Can a Surface Pro 3 run it on maximim specs?

Umm not even close maybe in a few years but not anytime soon

cpu matters very little when it comes to gaming, games are all about the video card, which a integrated chipset like the surface uses will NEVER handle games decently

sure - especially with this awesome graphics card on board

No, because there isn't a dedicated video card. Sure, the i7 helps, but don't expect it to play on maximum.

No. The lack of a dedicated video card and a proper graphics card for this kind of gaming will make your experience very bad. Also, if GTA IV for PC is anything to go by, the game will be awfully optimized for PC and lag terribly even on the most advanced PC hardware, let alone a SP3.

If Max Payne 3, made by the same company, released in 2010, runing on DirectX9, 10 and 11 and having one of the best optimizations of all time is anything to go by, GTA V will run terrific on PC.

Yea, rockstar admitted that GTA IV was their first attempt using the rage engine, and they didnt really know what they were doing, and they failed miserably.It's not just the PC version that was fucked, even the console versions had horrible framerates and consistant lag spikes, GTA IV was the result of porting an unoptimized game, not completely optimized for the platform it was being ported to. rockstar has made a lot of very well optimized games recently, as noted, max payne 3 was beautiful, I have high hopes that GTA V will be in good shape Also, is GTA V the first game to do away with 32 bit Operating systems? I havent been paying attention to the requirements of current gen games much, so I'm curious.

No, a lot of games this year and some games last year required 64 bit. Cod Ghosts /Advanced Warfare, AC Unity, Watch Dogs, Far Cry 4, Dragon Age Inquisition, Lord of the Fallen.

Well, how well goes GTA IV, patched up, runs on a Surface 3? And which one. The Intel 5000 is substantially faster than the 4400.

Man those minimum specs. When I look at my old desktop computer I had 3 years ago, it would get OWNED today. Man...maybe that's why I gave up on owning a desktop.

Ehm, what? A PC from 2006 can play this game.

Not my laptop, from last year.

Did you expect your budget laptop to run games at max settings? Why do people even game on their basic laptops, they're not meant for gaming...

You just automatically assumed it was a budgt laptop

Because his laptop supposedly was weaker than a PC from 2006, that's why.

I don't wanna play as a black dude, WTF. Where are our custom character?

This is a bad joke right? None of the 3D GTAs have allowed us to create custom characters. You play as three characters, one of them is the black character, not that it should matter.

GTA3 allows to edit the character model. You just have to edit a picture file e.g. http://media.moddb.com/images/downloads/1/22/21505/hdclaude1024v2.0.JPG

Lmao.... You forget there is two other non-black characters in the game that you play as? Lmao custom character, what is this Saints Row?

Three characters for single player play through. You don't have to be that guy. Online play you fully customize your own character.

So I guess you hated San Andreas too, right?

but san andreas was the best )=

The black dude iz the best... Micheal is boring with he's suits and crazy family and money....trevor is phsycho you wouldnt enjoy him much...but all the characters are playable and some missions will require u to play as black dude the gang banger you have no choice otherwise your will be 17% progess

Starting to hate rockstar games, sometimes I think they're doing it on purpose so that PC gamers would shift to consoles.

I'm the other way around, last year was the year of buggy games, but Rockstar had it polished. Let them take another 5 weeks if there's no bugs in the end.

The delay is aweful but those specifications *.* Now thats what i call a well optimized game!
The GPUs and CPUs of the minimum specification are around 7 years old and you can build a new PC with the recommended specifications for a few hundred bucks(Probably less than what a console costs). Well done, Rockstar!

it'll be very bad optimized, and as for the hardware, it would certainly cost quite a bit more than a console, my previous pc was around 6-700 euros, and it wasn't even high end, and it won't run this game on medium

Ok, I just looked for the parts online and a complete PC will cost a bit more than a console. BUT you can get an AMD FX 8350, a Radeon R9 270 and 8GB RAM for 400$ on Amazon.com and I'm sure there are online shops which are cheaper. A harddrive, case, motherboard and power supply would probably add another 150$ to that, but you can can do a lot more things with a PC than with a console, the games are generally also cheaper and you don't have to pay for multiplayer features.

8+ years old*. You could buy those specs in 2006.

Not sure of buying gta 5 for pc or pc for gta 5...

I wonder if I would need extra graphics card to play tha in my i5 pavillion dv6 ?

Can anyone help bout how can I check my built-it graphics or video card?

http://tinyurl.com/kxkrry7

ahahaha, i was wondering when the bing equivilent would pop up

if you graphics card is built in and you don't know what it is, chances are its not good.

Go to start menu. Go to run type dxdiag and then check in one of the tabs.

Am I the only one whose Windows Central app settings constantly reset itself??? It's annoying, and I have sent emails to know avail! I know it's off topic, but I figured I'd garner attention somehow!

Reported your comment, maybe that will give you the attention your craving for :P.

Hope Microsoft doesn't disappoint us Windows phone users by not releasing or delaying Windows 10 mobile preview on 21 January.

As much as I agree, this is an article about a game that has nothing to do with the January 21st announcement. Did you even read the title?

I wonder why they are not courting more hardcore games like this to the windows store? Seems like a perfect killer app.

Yeah. Hope MS support there own store for games. And Xbox live for Windows 10 with achievements and more. Overall performance wise this is s good game I got an AMD 7870'TI it's running AC unity pretty decent, not great but come over.

March?? The delay is getting long in the tooth... by then people would have moved onto something else. I guess the majority of people who would buy this would be modders as most will already have played this on the previous gen consoles. Current gen? Not so much, my older bro signed on with the PS4 version several times and it was litterally a ghost town. Also maybe the heist machines will inject life back into GTA V Online but who knows, they better be good if they delayed that for so darn long.

I'd suggest moving on to something else anyway. This game is overrated.

I haven't played this for a few months now, my older bro got it for the ps4 on black Friday for £10 otherwise he wouldn't have considered it as we already have it for the ps3.

I'm not a huge gamer, but I love GTA. I'm waiting specifically for this game, not really into or distracted by other games. Makes the delay worse though.

Wow, the Rockstar editor, cool!

Long stopped playing GTA since the times of vice city. Yea sure gta is nice, but it just doesn't cut it for me.

Close to the witcher 3 release date! Game overload!!! ;)

Cpu these days only coming with 2gz how can we play???

by not buying cheap cpu's?

still pre-order.. nothing changed

Hmm.. AMD E2-1800 clocked at 1.7 GHz, dual core, ATi 7340(?) HD Radeon graphics and 4gb ram. Will that even run this game at all?

poorly possibly, wouldnt be a very pleasent experience.

No, it most probably won't. The CPU is weak, and the graphics card is very slow.

gta v for pc is what im am waiting for. love this game only to play on pcs or laptops.

Are they sure about specs? Quite low for a game releasing in 2015.

Trust me its not low specs the game has heavy graphics just like assasins creed black flag i bought the game i ddnt check the specs i installed it my machine has core i3 nvidia gt620 2GB 4 of ram and guess what the thing was lagy so for this game u gna need like i7 processor 4 gen and 8 GB of ram

Get an i5 and a decent video card. (r7 260x or GTX 770Ti) Doesnt have to be 8gb of ram.

The problem is here in SA a processor costs more than a console can u belive it.

No. The entry level i5 costs only a third of the xone/ps4. The v-cards only half of the i5. And u can go amd to go lower. The pcs from the master race are ultra high end. You dont have to go that far to enjoy a game.

Il see if i can get an entry level i5 and a more decent graphics card than gt 620

Well I have a 2gb amd 7730m with i5 and 4gb of ram. While I was able to play Black flag on medium settings, I have no hopes with Unity, even on low settings, It barely ran Watch dogs.

7730m? Are you using a laptop? Desktop models are alot more faster than their counterparts. By a lot. I used to own a 7750 and I finished Watch dogs with 60-75fps start to end on the highest setting. 1600x900 res.

Yeah, a laptop. But have a desktop with GTX 650 Ti too, even that couldn't run watch dogs max out at 1080p.

My laptop has an I5+840M, 8GB Ram. I play Watch Dogs at 1080 with most settings at high, and no lag. Pc runs cool. So could probably increase the settings.

Watch dogs has an 8GB RAM requirement I guess. It had to lag on your setup.

Yeah, that may have been the thing. It was okay with hbao(low), but had to low the textures quality down to play.

Yeah its always best to increase your ram and processor most graphics card do well even a 512MB graphics card does well in most games

Why core 2 quad? Must be heavy graphics in this game... M buying a ps4 whats the use in buying a 5 grand processor where as u can get a console that amount of money

The base i3 desktop cpu is more powerful then a Core2Quad Q6600. Also an i3 costs a quarter of the price of a ps4.. If you cant understand pc specs, you belong with a console..

I do have an i3 processor in my machine 2nd gen pushing 3.30GHz nvidia graphics Gt 620 2GB DDR3 4 gb of ram.....assasins creed black flag has the same requirements as gta 5 bt guess what the game was lagy turned down everything from resolution to shadows still the game was too heavy

GT 620 Does not cut it. It's the from the lowest end of the gt 6xx series. Go get atleast a 650. Geez.

2 months is not a slight delay!

Good, gooooooood... Turn the heat down, let it simmer...
I want that tender meat to just fall off the bone...

Oh motherf-----. I knew this was going to happen. Glad I hadn't pre-ordered yet.

I'm not buying it now. Forget it.

1Gb ddr5 graphics is enough?

So looking at the recommended specs, my work PC will run this like a dream.
My home PC... just died when I read the minimum specs.

happily enjoying it on my xbox one, and xbox 360 last year. I hope PC ''master race'' gets pissed about this.

I hope your 360 red rings

Why would they be pissed? Sounds like someone's bitter.
"I h-hope they're m-mad! Th..thatll show em!"
What are you so mad about?

Ouch, them specs to high, at least my laptop isn't good enough to play it, i got an AMD HD Radeon 1ghz, 4gb ram (3.5 to be precise), 500 gb hdd running W8.1, sadly it's at the average rating, but these specs are for high end pcs, and why does it say we need a dvd drive? Its bot as if they won't be digital copies, but with that size it gets a bit scary.

The phone doesn't have this na
Windows Central Newsletter
Thank you for signing up to Windows Central. You will receive a verification email shortly.
There was a problem. Please refresh the page and try again.