Feeling grey? Order up a Lumia 920 genuine housing replacement for a weekend project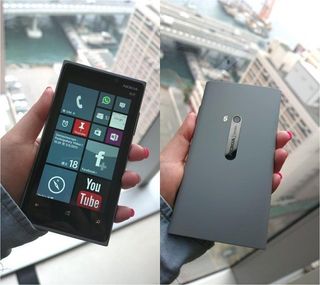 Although we're kind of in love with yellow for our Lumia 920, there's one even more elusive color out there that's kind of hard to find depending on your geo-location: Grey.
Yup, Nokia does make an all matte grey Lumia 920 and while it's difficult to find, you can now order the original housing for that device on eBay from a UK seller. The price of the housing (which may not include the SIM tray, so contact the seller first!) is going for £39.95 (~$60 USD), which isn't cheap but for an accessory that will literally make you feel like you have a brand new phone? That's not too bad.
Of course you can also find replacement chassis for the 920 in yellow, red and black online too but the grey is what has our interest piqued…we're mighty tempted to try the DIY replacement method ourselves.
We recently covered the topic in our forums, where user Lemmiwinkles walked us through the process. We hear a full on video with a red conversion is in the works for even more detail, should you want to pursue such a project. You can also check out this post on how to disassemble a 920 in all its glory.
So, any takers? Or do you want us to be the guinea pig? (Note: we won't be changing our lovely yellow to grey, we're not masochists. But we do have a matte black one here that is desperate for some life.)
Source: eBay (opens in new tab); Thanks, Owen S., for the heads up!
Windows Central Newsletter
Get the best of Windows Central in your inbox, every day!
Daniel Rubino is the Editor-in-chief of Windows Central, head reviewer, podcast co-host, and analyst. He has been covering Microsoft since 2007 when this site was called WMExperts (and later Windows Phone Central). His interests include Windows, laptops, next-gen computing, and for some reason, watches. Before all this tech stuff, he worked on a Ph.D. in linguistics, watched people sleep (for medical purposes!), and ran the projectors at movie theaters because it was fun.
Me too.. As soon as a cyan housing shows up on eBay I'm going to order it..

There is a spanish shop offering the cyan one on ebay and on their webshop. Hope to get mine tomorrow :D
http://www.eurosatonline.com/

It looks like there is no sim tray included in this offer :(

Here is the SIM tray:
http://www.eurosatonline.com/store/tapa-sim-nokia-lumia-920-nokia-920-az...

I decided to just order a cyan Nokia CC-1043 because it's much cheaper and I don't have to take my phone apart :)

I do like the CC1043 case. Fits perfectly and looks like a new phone. And at only around £5 I could have the set. If only Nokia would produce the white one!

I have a red, cyan and grey CC-1043 but it just isn't the same thing

I wonder how much I'd get on eBay if I sold my cyan body.

I desperately wanted my L920 in grey. Looks so sexy

Me too, i use steel as my accent colour and have wanted a grey one since the 920 announced. There's something executive about grey. You get black, white, red and blue phones, you even get the odd yellow. But not seen a grey one since the 90s.

Sure does! I need this color in my life! Grey is my 2nd favorite color.

Yes, all I have wanted since it was announced is a grey 920.

Agree, I was lucky the get mine in grey during a trip to Hong Kong! Love it!

Looks nice, metalic is my favorite accent colour.

I've got a black body with a grey cover and a grey theme.

How does the grey cover look?

I'm using the same combo and love it. I purchased a yellow cover at the same time but it's paler than the phone color and the sides quickly discolored. There's a smooth, subtle beauty in the grey's appearance. I'd recommend trying it first if you don't want to take your phone apart.

Ok. I was going to wait for cyan to pop up on eBay before doing this swap...but... damn gray is awesome!

Cyan is also available ;)

Will void warranty.. If it didn't, then definitely would do this!

Personally I think if you're brave enough to attempt this, you're brave enough to void your warranty, lol

Haha, lol :D True.. Maybe after I go and get my ffc dust cleaned..

I swapped out my white housing for yellow. Its really high quality and removed all the squeaks the old housing had. Overall im very satisfied and don't have regrets voiding my warranty. My phone is perfect!

What they don't know won't hurt! ;)

Darn. I bought this phone outright for $692.. I think I'll stick with the warranty thanks.

There is a cyan one on eBay already for $46

As tempting as this is i Don't want to risk Voiding my Warranty as i would have loved the Red 920 but ill stick with my Black one.

But good luck to those that do try this and I hope all goes well for you :)

you and me are on the same boat lol, i was trying to order mine red on ebay but the order never completed, so i tested with a black l920 and voila here I am lol. but ive beggined to love my black lumia just the same lmao

Where can I get a Lumia 920 screen replacement? I have a long gnarly scratch/crack on mine from dropping it on the floor

There are several available on eBay. I replaced mine about a month ago. It had a shattered screen. I was able to get a refurb GS3 for $30. After a few weeks I hated it so much . I said screw it, ordered the screen, watched a handy video, and it's as good as new. Very happy to have my red L920 back.

I replaced one and the phone bricked. Sucks cause there was no insurance on that phone so.....

Because it is a UK seller and the item is listed on ebay.co.uk?

Because the dollar is not the only currency in the world?

Guh.( the only thing keeping me from spending money I don't have on a Lumia 920 was the lack of Grey and a desire for next Gen specs.( this is going to be so much harder to wait for my contract to expire.(

Just get the Nokia official case CC-1043 as seen here:
http://www.wpcentral.com/nokia-lumia-920-cc-1043-shell-case
It completely conceals the original chassis color except for tiny parts at the top and bottom.

Going to wait until my white cover is ruined, then change it. I may it before I come to sell it.

I ordered my Grey Lumia about two months ago, and while it might not be the eye popping Yellow, Red, Cyan etc. ; It's definitely professional and stylish. <3 my grey Lumia, definately worth the premium cost.
I recommend people buy the case, you will not be dissapointed. :D

The question we should all be asking is the seller legit? How is he the only one selling the gray casing?

One benefit of getting this case would be that we would no longer have to see the pic of the tiny Hong Kong girl who makes the L920 looks absolutely massive in her hands. Someone get the Grey plz and and send WPCentral a pic!!

Damnnn I just ordered a yellow housing for my phone and swapped it out. It was $32, good deal. But damn i want that grey. Oh well. I don't want to swap my housing out again, it was not the easiest getting the headphone jack and wireless coil to transfer only. That shit is glued in there good

I just bought one but don't think I have the balls to do this myself. I'll take it to a local shop and let them do it. I've always wanted grey and my white is dinged up.

That's exactly what I did. Got a white 920 and 3 of those cases.. Cyan, yellow and grey.. Still cost me less than one of these housings.

I had a cyan replacement after I replaced my black Lumia about 4 times. Damn, the cyan is very sexy. I cannot stop staring at the phone.

Look sweet!
I feel as if I'm the only one who actually loves the black 920 as it is though. :S

I liked my black 920 very much, and I find myself missin my white 920 often too. But the cyan, is tha shit! But grey was my 1st pick of color when I went to get mine

Oh good, sorta deformed my 920 and its sim tray when it flew out of my pocket and bounced + slid down the driveway while I was swinging on a tree.

I've tried the grey Nokia case for a while. The colour doesn't match any of the possible theme colours, which I found very annoying. You can see in the article photo that the tiles are blue-grey and not the same.
I might switch out my black housing for cyan at some point though.


Same, I've always wanted the Cyan one. :D

Indeed, i chose mine as white but my wish was this grey one, perfect! guys,if anyone can help me, just did my Lumia 920 White Unboxing, hope you glad: http://www.youtube.com/watch?v=xUBvC-ORzwY&feature=em-upload_owner

Am I the only one that wants to replace the Carl Zeiss camera strip on the red 920 to gold? Also, is that possible?

You all went with yellow, eh? I'd be happy to test this thing out for you guys. You just have to buy me a 920 first.