How to make your black Lumia 920 snap necks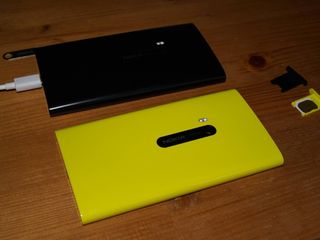 When you picked up your Nokia Lumia 920 a few months back you probably had a color in mind before heading to the store. Maybe you wanted Cyan or Yellow to stand out from the crowd. But you get to the store only to have your selection limited to whatever was on hand. You could have waited for more colors to come in, but you said screw it and took black because you wanted that Windows Phone 8 goodness right then and there. You could throw on a case and get a new color, but you'll lose out on the beautiful industrial design of that high-end Lumia.
Why not just swap the shell?
Reddit user lego_hobbit did just that. He took his stoic black Lumia 920 and turned it into head-snapping yellow. He took to eBay and found a replacement shell in a variety of colors: black, yellow, red, and white. Opting for a slightly more expensive one that included ceramic buttons and camera lens. This item on eBay is the one he went with. It only costs $36 and included the tools needed for the job. Edit: Since posting this the price has gone up to $49. Supply and demand baby.
The process was fairly straight forward, at least if you're somewhat comfortable/familiar with taking apart electronic devices like smartphones. If not, check out this 33 minute video taking apart a Lumia 920. The yellow replacement pieces were identical to the black ones on his Lumia 920. The only difference was the lack of a code insight the SIM slot. The kit from eBay included everything he needed for the swap. The wireless charging coil and headphone port were the only two pieces that needed to be swapped over.
The final result is a yellow Lumia 920 that is indistinguishable from an official one. He even reports that the phone no longer creaks and the volume button doesn't "snap". Now he just needs to adjust to the glossy finish versus the matte black. Check out more photos at the Imgur link below and his follow up answers at Reddit.
I'd do it in a heartbeat for cyan or gray, but those two colors don't appear to be showing up on eBay at the moment. What do you guys think? Any MacGyver's out there thinking of doing this?
Source: Imgur, Via: Reddit, Windows Phone Central Forums
Get the Windows Central Newsletter
All the latest news, reviews, and guides for Windows and Xbox diehards.