Groove Music adds an equalizer for Fast ring Insiders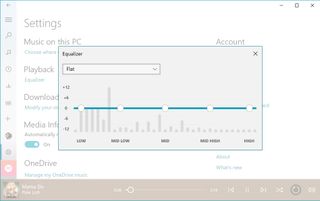 Groove Music's streaming service may no longer be available, but the app is still a solid option for playing your own local files and Microsoft is continuing to tailor the experience with new features. The latest example is an update now available for Fast ring Insiders, which brings an equalizer to the app's settings.
The equalizer operates much as you'd expect, allowing you to tweak frequency responses to your liking. Aside from being able to tweak five individual bands, the equalizer also includes pre-set settings for quick changes.
While it's only just now available to Fast ring Insiders, the equalizer was part of a range of new features for Groove that Microsoft was said to be working on as of August of last year. Other tidbits revealed at the time included new visualizations and personalization features, but it's unclear if or when we may see those arrive.
Still, if you're a Fast ring Insider, you should be able to check out the new equalizer settings with Groove Music version 10.18011.1141.0. Keep in mind that the update may not be available to everyone right away, but it's rolling out now.
See at Microsoft Store (opens in new tab)
Dan Thorp-Lancaster is the Editor in Chief for Windows Central. He began working with Windows Central as a news writer in 2014 and is obsessed with tech of all sorts. You can follow Dan on Twitter @DthorpL and Instagram @heyitsdtl. Got a hot tip? Send it to daniel.thorp-lancaster@futurenet.com.
Yep. I'm still hoping they're working on adding proper integration with third party streaming services like Spotify and Deezer, perhaps even Amazon Music, but I doubt it would fit with enterprise requirements so my expectations are low.

I asked for this feature for years!!! Sigh. Damn.... The best thing for MS to do is to open up Groove so that developers (and other services) can use it as a "skin", or "control" for their apps. I'm not sure how this would work, but MS needs to open Groove, and develop a "Groove SDK".... That would make it easy for services like Spotify to provide a decent experience, and it certainly would appease users, and us Windows fans... To me, this is a no brainer.

now how do you get groove to access local files on android?

It automatically does it on my OnePlus 5 phone.
.
The problem for me is that I sort my music by folders and Groove on Android just dumps everything in one really long list!

The only way for Groove on Android to read your local files is if you use the app to download them from OneDrive. As RohanRonQM points out though, it does not download your folder hierarchy, but only a long list of individual files. Moreover, it can only download the files to the phone's internal storage - not an SD card. Sadly (and mind-bogglingly), Groove on Android is not currently capable of reading local music files added manually to your device's internal memory or SD storage. All this is especially problematic for users like myself who have very large music collections.

You don't. I use Google Play music on Android to access my local library from an SD card. It organizes them according to album (folder) or all songs. I like to shuffle all songs to get a good mix. If Groove is no longer is attached to MS services (streaming) then I see no reason to use it on Android because it is just a player now.

I ask for this about year and a half ago. For me is now pointless but is good tho know that still on works.

Yeah this is something that should have been added way back in Threshold 2 or even Redstone 1 updates.

I agree it's good (but of limited use now, like Groove in general) though I wonder who needs it. I mean, it's been a long time since I saw a PC which didn't already have an equaliser for the sound card built in, and the phones already have one, so I'm a bit puzzled.

This seems almost pointless now but still a nice addition.

It's about time that Microsoft started making Major improvements on their old products, first Cortana & now this nice one 2018 👊 🤙

About time? They didn't manage to add this feature for 2.5 years. Let alone before the official W10 RTM.

Groove taking way too long to get features. Another failure of UWP. But glad its finally here.

Groove was adding features quite rapidly. At some point they stopped, and now we know why.... I don't think it's really fair to say that it's been slow to get features, looking at the circumstances

So maybe Groove is intended to become a replacement for the old Windows Media Player...?

Maybe. I use to stream my 22,000 songs on OneDrive. Works great!

Sounds about right! I just seen media player in my apps list yesterday and was surprised its still around, lol.

It first need optical media support (play and rip CDs). And a right sidepanel wit the current playlist like in WMP can be oustanding, along with smaller covert art icons, to more easily manage large collections.

I'm still waiting for something to handle music and video clips in the same playlist.

I thought everyone was touting Kodi as THE ultimate player.

I finally got the update. And the EQ, while very basic, is still nice to have. It works fine.

Maybe this is a precursor to the NEW Groove...one that has music composition functionality. Hmm...

Both feeder and Spotify apps lame by comparison. Would love this to be able to stream from those services....

Exactly! Even if Groove streaming is done, if I could stream Spotify through the Groove app I'd be a happy man. Spotify app is brutal.

Yeah! Groove is a fantastic music player! I love it and I'm happy that Microsoft continues to develop it even after killing Music Pass (which, in fact, I never used).

Same feeling here. Now they need to bring back playlist personalization option and last FM scrobbler

I would rather see automatic, criteria based playlists.

Shouldn't Equalizer be available for the system instead of Groove?

I have about 1800 songs in my music library on my PC and Groove only finds around 300. If it worked properly then I would use it more often.

It's found over 6000 of mine no problem

Groove fails to see my OneDrive music now on PC and Windows Phone so it can't be streamed.

Why should I give any sh*ts about this feature at this point. What a waste of time and money.

And we still can't rip CDs with Groove. What the hell MS?

It's really hard for me to care about any improvements they make to Groove now that the streaming side of it is killed off. For local files I'd rather use something like MusicBee.

Not had this update. Let me guess, it's US only?

Is the Music Maker app that Microsoft showed about a year ago a dead project or will it be released one day?
We need something like garageband on Windows :( What about a new Movie Maker version? The Photos Windows Apps has nice video features, I wonder why it is not available as a dedicate app.

You're telling me that a audio file player release more than 3 years ago didn't have an EQ, as basic as it could, for all that time....

MS doesn't add the important features to a product until it is either "too late" or "until it finally becomes popular" rather than having it at first to make their product desirable.

I still haven't seen this to download. Anyone else?
Windows Central Newsletter
Get the best of Windows Central in in your inbox, every day!
Thank you for signing up to Windows Central. You will receive a verification email shortly.
There was a problem. Please refresh the page and try again.