Microsoft working on visualizations, equalizer, and new personalization options for Groove Music
Take an early look at some of the features Microsoft is working on for Groove Music.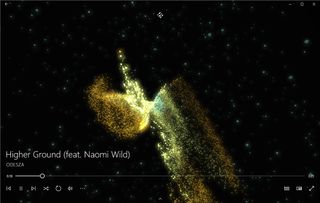 Microsoft is always working on and testing new features with its apps, but a new report has given us an interesting look at some new stuff that's in the pipeline for Groove Music. Rafael Rivera at Thurrott.com has dug into Groove's code, enabling him to get a look at some interesting new features that are currently being worked on, such as visualizations, an equalizer, and more.
Thanks to the appearance of an inactive setting in a recent Groove update, we already knew Microsoft was working to bring visualizers to the app in some form. But while there was some speculation that these might operate like the artist-centric visualizations from the Zune days, Rivera's digging has unearthed visualizations that are more in line with the abstract Windows Media Player visualizations of the past.
There are two types of visualizations, says Rivera. The first creates "paper-like ribbons" and the second "fills the screen with particles that fly around a central but moving point." Both types of visualization change and react to the music that's being played, with ribbons, for example, responding individually based on their corresponding frequency band.
In addition to visualizations, another big feature on the way is an equalizer. Much as you'd expect, you can use the equalizer to adjust five frequency band groupings to your preferred configuration.
Other notable bits spotted relate to various personalization features. Recommended Spotlight, for example, will work in a similar manner to Spotify's "Discover Weekly," offering up playlists customized to your listening habits. You'll also be able to customize playlists with a title, short description, and custom cover art before sharing with others. The ability for Groove to create automatic playlists based on parameters you set is also in the works.
It's impossible to know when or if all of these features will make it into Groove for everyone, but it's an interesting look at what Microsoft is experimenting with nonetheless. For now, if you want to give Groove a shot, Microsoft is running a pretty good promotion through Microsoft rewards through which you can get a three-month subscription for just 200 rewards points.
Download Groove Music from the Windows Store (opens in new tab)
Windows Central Newsletter
Get the best of Windows Central in your inbox, every day!
Dan Thorp-Lancaster is the former Editor-in-Chief of Windows Central. He began working with Windows Central, Android Central, and iMore as a news writer in 2014 and is obsessed with tech of all sorts. You can follow Dan on Twitter @DthorpL and Instagram @heyitsdtl.
Fingers crossed on the equalizer. Sucks for non Lumia devices that don't have this feature.

What does this have to do with Lumia at all?

The equalizer feature is located in Extras section in Settings, which is usually only available in Lumia devices. This causes W10M non-Lumia devices, such as Xiaomi Mi 4 LTE, to not have an equalizer. With this feature embedded to Groove, W10M non-Lumia devices will be able to enjoy equalization.

Anyone can get groove to read and display embedded album art from mp3 files?

I don't have issues with most of my music. I edited all the metadata in WMP and Groove just picked up the changes and filled in whatever was wrong/missing.

Think album art isn't editable as metadata

Try an App called MediaMonkey to tag the album art to each individual file. Im not sure Groove reads this information though, i haven't tried it in a while.

You can now edit mp3 files drectly in the Groove app. Also, MP3 Tag is a great Tag Editor

No problems here on RS2 RP

I don't see the ms rewards offer is valid anymore, even with the links provided.

It look like it gone must have done to well :)

Great way to modernize the OS. Notice how little anyone speaks of WMP. I actually uninstall it from my Win10 machines now since Groove has gotten pretty good.

At Last! About a year I send feedback sugestion to bring that feature.

But why, who uses groove on laptops? I mean seriously do you often use apple music or spotify on laptop? Winodws phone would have been Justifiable reason but it is almost extinct. Sometime i wonder if Microsoft realizes that they are spending their resources in wrong directions?

Not sure what you're trying to say here, Groove is part of Windows 10 regardless of the form factor. Desktop, Laptop, 2 in1 Games Console and Phone and yes people DO use Groove, Apple Music/iTunes and/or Spotify on those devices as well!!!!

I think you're out of touch with who uses what on laptops.

Old is new again, I suppose. I need to fire up WinAMP.

They should work on shuffling playlists with more than 1,000 songs... Still not fixed in years since it was Xbox Music.

Try splitting the playlist in two Then add the second one to "now playing" then shuffle a few more steps but should work

Very nice! Hopefully they add in some of those now playing screen visualizations from the Xbox Music on 360 days with the different shapes and arrows over the artist photos, those looked pretty cool!

Will we ever be able to buy music in Groove? Why is that so hard to add a buy option?

Music is bought via the Store, where it should be. Why split up where you buy content from into separate apps, I know lets have a separate Store for Games, another one for Apps and another one for Movies and TV. When you think of buying content from one of those categories, music for example, do you think of opening Groove to buy music or buying music from the Store? Honestly this idea would be as bad as clicking Start to Shutdown your computer!!!

I would be more than happy with more useful design, like with ability to change volume without many click's. I'm still in awe how they could do that into one button without active slider.

Please look good, please look good, please look good... 🤞🤞🤞

I always like when Microsoft brings back things that they should have never gotten rid of. I like it!

Maybe they can focus on the garbage Android app. This is the single reason I don't use Groove. It's. Horrible.

There's a fix for that and it's called Play Music. Why should Microsoft spend time and resources making the Android version better, more to the point you're basing your opinion of Groove off an app on it's non native platform

No, the fix is any player with built-in codecs, because Play Music, in devices that only have the stock Android codecs, cannot play WMA files.

Fluent Design! No more title bar! Love it! 😍💗

I play music on my Desktop PC and use Microsoft's trusty old MEDIA PLAYER instead of GROOVE MUSIC because IT HAS 2 features I love and need to enjoy music which are 1=BALANCE CONTROL. Unfortunatly I hear better on my LEFT EAR THAN MY RIGHT EAR so I NEED a balance control to MAKE THE RIGHT SPEAKER/EARPHONE SOUND LOADER. 2=I want an EQUALIZER because Groove music's frequency responce is set too flat. in Microsoft's media player i can ramp up the sounds levels of different frequecies to have a louder better sound. Also does this new Grove music play FLACK digital music which is a better sounding more accurate digital music recording technology

An equalizer is a must. I'd really like to be able to save files in FLAC also.