Groove Music and Movies & TV updated on Windows 10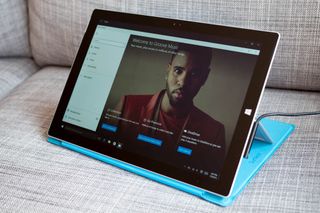 Following up on updates to Windows Alarms & Clock and Maps today, Microsoft is pushing out updates to two more Windows 10 core apps, this time pushing new versions of Groove Music and Movies & TV.
Groove Music and Movies & TV are both now at version 3.6.1239.0 with today's updates. For Groove Music, the now has a Live Tile on Windows Phone, which you can see in action below. The Windows Store also lists the following changes, though we're uncertain if the changelog is new:
On PC

Gave parents the ability to control what content their kids can access
Added visual indicators for playlists that are local only

On phone

Minor fixes and improvements
Movies & TV on the other hand appears to have added new sections to each title showing similar movies and TV shows you may be interested in:
Movie and TV pages now include similar movies and TV shows so you can easily find new favorites right in the app.
Minor fixes and improvements throughout the app.
Since the apps are universal, you'll be able to nab these on both Windows 10 and Windows 10 Mobile. To grab the updates, you can hit up the Windows Store links below. And, as always, if you happen to spot anything new that we missed, be sure to let us know in the comments below!
Thanks to Kavi for the tip!
Dan Thorp-Lancaster is the Editor in Chief for Windows Central. He began working with Windows Central as a news writer in 2014 and is obsessed with tech of all sorts. You can follow Dan on Twitter @DthorpL and Instagram @heyitsdtl. Got a hot tip? Send it to daniel.thorp-lancaster@futurenet.com.
Anybody no what the bit rate is for groove music?

Purchased music is mp3 320kb/s, for streaming your purchased music I don't have the answer.Also, I don't have a Music Pass, so I don't know how that music works, I think it's similar than Spotify, in the way you can only listen to it inside the Groove App.

Streamed is mp3 320, no idea if upconverted or actually good quality. Purchased music has many reports of not being actually 320kbps even though advertised as such. Music from OneDrive is streamed as is. So lossless for WAV and FLAC.

"Purchased music has many reports of not being actually 320kbps even though advertised as such" I confirm it is 320kpbs since I purchased albums before Groove was launched (using Xbox Music) and when you download using Groove you get 320kbps. How to check? Easy, open your purchased music from your local machine using a program like VLC, go to codec information and you can see it is actually 320kbps.

Of course the file is 320kbps. I meant there are reports that it's just upconverted from 256 or 192. Big difference, you can't just make better audio from a bad file.

It's not actually 320 or 256. Use spekto to check for bit rate. I think its actually a 192 upconverted....

Sorry I meant spek. I felt ripped off the last time I bought music from MS. No longer buy tracks from them.

Ah, but is it 192 kbps WMA to 320 kbps MP3? If that's the case, that's very different. WMA is much more efficient, using about half the storage for equivalent quality. That said, I would download 192 kbps WMA instead of 320 kbps MP3.

Live tile on groove now available with latest update!

Read the article...sllooowllyy

We need an update for the phone version for WP10. Can't use the music pass

It is updated. Please read the article first! ;)

Still needs an update for the music pass! :(

My music pass works just fine. Are you sure you haven't reached your device limit?

The mobile app doesn't let you explore and search for music to stream with music pass.

Thank you. I feel like people keep complaining about lack of small features, but the lack of the ability to get new tracks is a major issue to me. The explore feature is one of the main reasons I even have a music pass. Otherwise I'd just use an mp3 downloader? I don't know how Groove expects to survive without this function. There is no reason to pay for the service.

Considering Windows 10 Mobile is only in preview right now, some might say Microsoft has time to finish things off ;-)

Glad to hear it works for someone, but Music Pass, OneDrive streaming and playlist sync is either nit working at all or partially working for many, as evident in the forums and Insider feedback.

You can't search for music still from the phone except in the store

XBox Music used 192K WMA. I have not heard of any changes since the rebranding, and it sounds the same to me...

Really? I suspected that once I checked a purchased track with spek. Definitely not 320 nor 256.

More evidence here: https://www.reddit.com/r/Windows10/comments/3e8pqj/groove_music_uses_low... Definately 192K WMA. Doesn't sound great on good gear, but OK for out and about with earbuds. Much better than our local Digital radio stations in Australia...

In win10 64 bit pc while playing music in groove I am listening cracking sound like alien.. Pls help me.. I think there is a problem with media feature pack

Quick question (that kinda has nothing to do with the article). When windows 10 is finally running on all devices i.e. Xbox, computer & phone. Is it going to be an easy process to bring apps that exist on one platform to the others. Because, my Xbox has a TON of video streaming apps that would be amazing to have on my windows phone (e.g. HBO go, Amazon instant video, FXNOW, encore etc!!!)

Apps made for Xbox are Windows 8 apps and are only compatible with PC if the permission is given by the developer, as far as I know. If these apps are updated to Windows 10 then they would definitely be Universal, since it's just stupid not to make a universal app considering the support and tools being given by Microsoft.

We have update for phones as well. I can confirm we now have live tile for Groove.

I guess Outlook Mail is next to end a day of updates... fingersCrossed

They need to launch it first. I'm sure the mail app isn't Outlook. 1) it's super crappy 2) it doesn't have the Outlook logo

But it does have the outlook name: Outlook Mail and Outlook Calendar.

Where? Where does it say that? Mine just says Mail. Honestly, I don't think it is Outlook branded. Maybe because it is so poor.

The Mail and Calendar apps on the PC are labeled with the Outlook prefix, mobile apps aren't. I believe this was mentioned by Microsoft before

Apps on mobile ARE labeled Outlook!!! Obviously you are not using W10 Mobile.

They are both outlook in windows 10 both say Outlook Mail and Outlook Calendar. I don't think you are informed

http://i.imgur.com/UrMMIoA.jpg

Ok. So here's the thing. That screenshot is from Windows 10 Mobile. In Windows 10 on PC Mail is just called mail. ;Outlook confirmed for me today via official, twitter account that it is technically just Mail. So does that mean we can expect Outlook mail to roll out separately later as a Universal app, to replace the garbage Mail app? I think so. Can anyone confirm if Win 10Mobile Outlook Mail has unified Inbox and swipe gestures? If so then I think that's the real one and PC "Mail" is just a temporary stand in.

It's launched on Windows 10 Mobile Technical Preview.

The basics of the Groove app seem solid to me, time for long overdue features like gapless playback to be implemented.

Can Groove Music download podcasts?

No, that's what the podcast app is for.

They're too busy reimplementing features we had in the Music+Videos Hub 5 years ago.

Have they fixed the artist image on lock screen issue yet. I swear with every update we lose features already previously available and then they're added again.

It's unbelievable that it is 2015 and still no gapless playback... Actually the better word is embarrassing.

Hear, hear. Also, no curated playlists, no playlist sharing, no social integration, no likes, no proper radio, no family sharing or family subscriptions. On this point, I don't understand what the parental controls are doing here. I'm not going to pay a whole new subscription for each family member.

Tell me about it. Even worse, the playback controls timeout from the volume bar after being paused for a few minutes. Who the hell asked for that? I've been using the service for 5 years now and every iteration they continue to take steps back. The only reason why I stick with them is because the competition doesn't have a good enough selection for the genre (caribbean) of music I listen to. iTunes and Google Play actually have a superior selection with the genre but I don't think I have to explain that situation.

....had downloaded an app to clear it immediately. Now there is no need for the app. :)

If they incorporated the stop button into the now playing bar there would be no need for that app and the auto removal the now playing bar when paused. The lack of the stop button is one of THE pet peeves of WP for me. Call me old school or whatever but I find it ridiculous that we have to pin an app for a function that should be a no brainer.

thousands of people whined for that =/

Okay, you stated you don't understand what parental controls are doing here. I think you misunderstand what they are. Parental controls aren't about managing a families content/subscriptions. Parental controls are all about a parent being able to block objectionable content for their children and that is all. As a parent, I am very happy to see this. Should family subscriptions be available? I think they should be. However, that has nothing to do with parental controls.

But if my son logs in he can't sign into Groove and stream at all because he isn't a subscriber. So why bother?

I don't get why gapless playback is so important. The gap is so tiny, barely noticeable, but noticeable enough that you know you're now on the next track.

If you were at a venue and the DJ kept leaving gaps between every song you would find it real annoying real quick. Same thing if you're listening to dance music, compilation/mash-up or anything else where the continuity is broke by moments of silence.

Wrong. Try listening to the B side The Beatle's Abbey Road. Or the seque from Bungalow Bill to While my Guitar Gently Weeps on the White Album. I also have symphonic works and opera on my oneDrive and moving between movements etc. requires gapless playback. These are the way these albums were intended by the artists. Now, I do understand if you are only creating playlists of unrelated tracks or listening to shuffled tunes. But it is quite important and certainly not barely noticable when missing.

Completely agree. I am a musician. The gaps between tracks were immediately noticeable to me. This is so irritating. If the artist did not intend for a gap, don't put one, unless the user enables it by preference. It's like those old video games that had to pause to load at random times.

Madonna's Confessions on a Dancefloor
Pink Floyd too (the wall? Not really sure, it's my sister's)
At least one album by Argentinian band "Babasónicos"
Not sure, but "Monkey business" by the Black Eyed Peas.

I thought Groove Music App was good at first but the past week it just won't even open on my PC at all. Absolutely useless

you need to run system update & store updates if you havent already

How do you run store updates in Windows 10....how do you know what needs updating? I have automatic update and install running so thought this would cover everything?

@2tomtom. Not sure if your serious or being sarcastic lol.

Being serious.....I thought it was done automatically as on the Windows Phone? If not, do I need to be checking for updates on all apps every day?

Groove already comes with dark theme, just go to settings and change the background.

Movies & TV doesn't have that preference.

Yes, I NEED dark mode In Movies and TV.

Until they offer like/unlike track and create playlist based on that, I will stick with Zune.

Too hard to manually create a playlist of your favorite tracks?

Yes. And if eveybody think like you, nothing will evolve or get better.


I thought 2015 should have smart playlist?

Hated the new live tile! Please bring back the old one! I cant believe that after months they cant simple make Music Pass work (Explore)!!! Is a shame!!

They don't care. The music and movies apps exist just so they can say they have one. They will never be competitive or feature complete. The end of Zune marked Microsoft's attempt to compete in those spaces.

Needs a way to Play To Xbox.

PC- When you point over a music file(located anywhere), it shows available offline.

I really wanted to use Groove. I really do. I love the Black+Accent interface. But unfortunately it's still AGES away from being as good as good old Windows Media Player. Which is kinda ridiculous when you think about it... Maybe Microsoft should just stop it and simply replace the stores in WMP with the new Windows Store and be done with it. Add the new UI to WMP skins and done. It would be easier than constantly trying to build a new music player. Because they've constantly failed in doing it.

I know right! Maybe WMP can be ported with a UWP bridge ;)

Groove Music crashing on mobile

You need to restart your phone after the update. It was mentioned in the bug list when this build was released.

Can't play Music Pass music after update and restart.

yup, tried that right after i posted the comment. works fine now!

Even after multiple restarts, I can't play any Music Pass songs. It worked fine before the update.

After update keeps crashing for me on my L640

THE MUSIC APP IS USELESS GARBAGE, MS HAS PROMISED US FEATURES FOR THE LAST 4 YEARS AND AS OF THIS WRITING WE HAVE 0 NEW FEATURES. EVERY UPDATE IS BUG FIXES, BUG FIXES ARENT FEATURES. STUPID JOE BELIFORE.....AGAIN FOR THE BILLIONITH TIME , TAKE EVERY FEATURE OF ZUNE AS A FEATURE INTO WHATEVER THE FUCK YOU WANNA CALL YOUR MUSIC APP AND HIT ENTER, FUCKING LAME ASS IDIOTS. I STUCK WITH A POS APP WHILE EVERY OTHER MUSIC SERVICE COPIES ZUNE ECZCEPT FOR THE MAKERS OF ZUNE!!?? WTF, BEATS EVEN STOLE ZUNES COLOR SCHEME. WTF, MIGHT AS WELL GO ITUNES AND SAY FUCK IT....

Man all caps you must be serious

All jokes aside he 's got a point

Actually no he doesn't. Microsoft needs to fire whoever is in charge of this and scrap it till it's fixed. It's been way too long for music to be this screwed up. Why is it that they can't find a way to fix this once in for all? Posted via the Windows Central App for Android

Agreed....the entire music app shenanigans has to stop on MS's end. It's so sad that this is 2015 and they still can't get this right. I'm starting to think no one on the music team even owns a Windows Phone. If anyone wants to know the Android music team seems competent enough. Just sideload the Groove app from Astoria. You'll see... Posted via the Windows Central App for Android

So he doesn't have a point, but you agree with him non the less?

No he doesn't need a nap..... Posted via the Windows Central App for Android

@ricrocks12 @MDMcAtee I wholeheartedly agree.

Why don't you tell us what you really think?

Open mouth...insert bar of soap hahaha

Calm down, save your heart and keyboard. But man, you have a point! I actually surpirse that no one noticed that Beats Music design is heavily inspired or similar to Zune. That's my first reaction when I saw it I was like, that's Zune a baby! Design alone I honestly want to use Beats than Groove Music.

Unable to play videos on full screen/landscape mode is not happening on Music and TV for me, I want to know its only me or full screen video playback function is not added till on Music and TV???

Movie and TV app is really simple and I like it but no subtitles? Really Microsoft? Dealbreaker.

The comments lmfao I really hope Microsoft listens to these guys because man these guys are REALLY upset. Here's to hoping in the big fall update they add at least one new feature to Music to soothe the pain.

I mean how hard is this? Give a new feature every month, or even at least every quarter that was not previously had in the last three (four) iterations.....

I actually see them giving us a new feature or function... Or whatever...every so often. Then when the app eventually gets "decent enough", they'll scrap the project and rebrand. You'll see a cycle. I guarantee....the same exact thing happened ever since they decide to scrap Zune. Yet then when they developed XBM, we still didn't get back all of Zune's features. Simply ridiculous IMO. Posted via the Windows Central App for Android

What you've just said is a fact!!! Sadly. :(

They finally fixed the filter option. It correctly displays only offline music or only streaming music as well as "all" with the playlists for each. All of my album art seems to display correctly... took a few minutes to update though. Interesting that the Artist pics are not all displayed. Scrubbing is not real time.

It always correctly displayed Offline and Streaming music when I select the filter.

Maybe for you but my playlists were always displayed from onedrive, SD Card and the phone regardless of the filter settings. The filter worked for displaying the music files correctly but not for playlists.

It still dosent recognize my Annual music pass...

Does anybody have problems with their Groove Music? Mine's can't detect the audio files (even after including the folder into watch list)

Hopefully my album arts will show up now... :)

Until this app supports 5 star ratings and smart playlists, it will always be a sub par music experience compared to the competition. Please help vote these features in at the link below: http://xboxmusic.uservoice.com/forums/209733-groove-feature-suggestions/... Btw... My OneDrive playlists are STILL not showing up in the app.

Second the motion. Added feedback too. Guess I'll have to continue suffering with iTunes

Although it's no longer developed, I recommend Zune, if you're on Windows. It's a really great piece of software.

I use SmartDJ everyday. It gets me so angry that this is not a thing anymore in their music apps. Posted via the Windows Central App for Android

My audio is dead since I update de app. Won't play any song and says "can't read the file type" but its mp3 WTF.

Oh my goodness, can it be? The Live Tile... It STAYS with last-played Artist Artwork even when music isn't currently playing?! So I can have cool artist art on the tile instead of just a logo?! I could kiss someone on the Groove Music team. Finally. Making the tile nice and big now. Finally brought this nice aesthetic touch back from, ya know, Windows Phone 7.

Yeah even i wanted to have this. But again i also want the huge scroll text of the song name and artist name on the tile and the album art faded in the backkground, and when nothings playing, the last played album art displayed, or a mix mash of album arts like it comes on Mix radio.

They really need to bring back this Live Tile animation which looks lightyears better than what we have. Not just in mobile for also for desktops too! MixRadio Live Tile when nothing is also looks nice too! Even its Live Tile looks nicer than Groove Music.
https://www.youtube.com/watch?v=RrEe6PNTqm4


In win10 64 bit pc while playing music in groove I am listening cracking sound like alien.. Pls help me.. I think there is a problem with media feature pack

Try a Reboot. Happened to me also. Hasn't happened since.

Standard way to fix most Windows issues. Shutting down and leaving it that way fixes the rest

Hey wait a minute...the tile now shows album/artist on mobile!

Is the Live Tile in W10M is same sort from WP8.1? Or is it now just a generic Live Tile template like from W8?

Can't play any song on groove from day one(after installing windows10 on July 29th)

does this mean that the video player an play video now?

Sad that it still doesn't support folder.jpg album art... Really can't be bothered to tag the images into thousands of audio files.

Unfortunately there's not another music service than Groove on the Xbox one. That's one reason why I continue using Groove. I really feel like Microsoft doesn't care anymore about entertainment on Windows

So when do we get access to stuff like Radio and Music Pass on the phone?

I can't update these apps?
no update is shown in update block. Even after latest build i'm not able to update store, the Store ui is still the old one ...
Guild me to solve this issue

You should perform a factory reset after each W10TP update. It fixes lots of problems.

I did... pure factory reset

I don't understand why they'd take a big step forward with a new interface and take a even bigger step backwards in the app's ability. They gotta stop doing this.. I mean I'm not gonna switch platforms but it annoying and inconvenient, no reason the "explore" and "radio" sections aren't working yet... None at all, no one's even mentioning it. Been rocking a Windows Phone since the HTC Surround... It's time for that patience to pay off [sigh]

Must be for Windows 10 mobile because the 8.1 phone store is saying Xbox music and xbox video

Yes it is!!!! Did you read the article?

I seriously doubt whether there is a dedicated team working for Groove or Film & Tv apps. It seems the OS developers do this development in part time. Come to think of it. They are taking lot more time than VLC and most of us bashed VLC for being slow!!??? That's one open source developer working hard and made VLC pretty decent while a team of Microsoft professionals working on Groove and still they are keeping on fixing bugs. When will these Groove and Film& Tv apps are going to be feature parity with Zune? This is still an advantage of my old, unsupported Lumia 900 have over my 920 or 640XL.

This is logically sound seeing how Music has been a constant disappointment on WP since Zune. Though MS does indeed have a team working on these entertainment apps. There is even an Android dev team. - Unfortunately, no one knows why they are so incompetent at developing a good music app. -my theory is that, no one on the team uses a WP for a primary device or no one listens to music on their WP to just see how god awful the app is. The other theory is that MS reorganizes so much that people come and go like flies on these entertainment teams...and no one really can create a decent app anymore because of this. Or there's my drunk theory where everyone on the entertainment team smokes peyote while they code, inhibiting their ability to make rational decisions or do good quality testing of their app. (Which to be honest doesn't sound too far fetched given why they had finally had a decent Xbox Music app on 8.1 ...and an amazing Zune app ....and yet they STILL scraped everything and started from scratch)! I mean com'on I want to know the decision maker who decided that the music team was competent to create ANOTHER app from the bottom up and it'd be better than what they had before. Posted via the Windows Central App for Android

It seems like they really need to hire new team for entertainment especially for Music and Movies & TV. The problem isn't really just because they started from scratch, but its been several years since the discontinuation of Zune and developement on WMP and still we don't have anything worthy replacement of those. It even feels like Zune team isn't there anymore. The spirit of Zune and its creators are gone since Xbox Music days. They gradually not reimplementing features they removed from the former, they actually forget about them. Design is also something they completely killed in these days. I don't feel the art, creativity, pop, excitment, coolness, uniqueness, forward-thinking, and trendsetting we used to have on Zune that now in Groove Music those don't exist. It doesn't look being designed by a designer. Groove Music app looks unispired, corporate, amaturish, bland, cold and soulless. It doesn't have a character at all. Groove Music doesn't even meant to be utilitarian as WMP, it lacks so many features from gapless playback to CD features. WMP looks dated but in comparison to Groove Music, WMP feels like from the future...far future. You can do many things in WMP to help you enjoy your massive collection, Groove Music is just a too simple music player that you can forget when you find better alternatives. This is current unfortunate status of Groove Music, it's neither beautiful or utilitarian. No character and can't do much. Only useful for users have Groove Music Pass subscription or for users of OneDrive, which not alot of people do. Remove streaming features, Groove Music is forgettable music player, something you forget in the App List when you got better alternatives. We can just buy music from Windows Store without a need to use Groove Music app, so what's left with it?

Same here for my TP device, may be this bug is present in 512 MB RAM Devices...

Don't know if anyone else feels the same but the only thing that frustrates me with Xbox music and groove (I think basically any music app on windows phone) is that when you play music and browse the web if you get any video advert on a webpage it stops music playing and the only way to start music again is by opening the app. It makes sense if you are going to YouTube to watch videos I guess but for it to happen because of a stupid advert really annoys me! I submitted some feedback via the app this morning so hopefully something will be done about it. As for the all the other comments and complaints, I agree in the most part, first party music on Windows Phone has always been lacking in features and abundant with bugs and poor performance and every time they start from scratch I.e. 8 - 8.1 and now 8.1 - 10 they drop a lot of basic functionality and then very slowly update to add it back in. The best music experience I ever had on a phone was with a Sony Ericsson, it had all the basic functionality I would expect including song ratings and auto playlists etc,I really do miss that phone!

Actually extremely surprised (and disappointed) that I cannot play music on my phone now. I have a monthly music pass in the UK (anyone know how to get an annual subscription in the UK please shout up!!) and listened to all of my music that way. Groove Music on windows 10 mobile is atrocious. Some of my downloaded music (via the pass) has sync'd (no playlists and not all of it) but it won't play anything at all. The explore feature isn't enabled yet so how exactly am I supposed to enjoy my music via the pass? Quite a large feature to be missing. The new build of Windows 10 mobile is fantastic but MS seem to be moving backwards with the media offerings - specifically the music side. Getting very frustrating - I'll just have a rant then move back to Windows Phone 8.1 :-)

Try looking in your MS account, payments/subscription. You may need to cancel your current monthly unless an upgrade to yearly exists.

@mbrdev - completely agree on that point too! Very irritating!

These windows 10 and it's shop updates are to much of a data hog. They're just releasing too many updates in so little time, I barely have enough data to use. It would be much better if they released the updates monthly.

I'm afraid that is the nature of the beast these days - I'd suggest you get used to it without trying to sound too blunt! (unfortunately for those with data limits)...

Are you in the US? Is WiFi hard to come by for you? I have 77gb of data on ATT (paying for 10...but received a free promo to upgrade to 40...and rollover data exists). - I am on WiFi all the time that it's impossible for me to use 3 gb of data in a month. Posted via the Windows Central App for Android

Groove Music now has a Live tile ... It shows The name of whats playing , and a pic of The artist

Mobile version crashing 5 seconds after opening the app

No music pass in India... Hope it'll come soon... Also no local songs

Language selection is back on videos

Smart playlist....editing metadata...adding DVD and movie posters...blah, blah, blah...when is whatever the hell we are calling this now, going to catch up to Zune?

You cannot edit metadata yet? Wow.

There is so much missing in the Groove music player on both PC and Phone, can't believe MS can't get their shit togheter.... If this isn't sorted out soon, I am afraid I must jump ship and go back to Android again, a music player with basic features is a must for me.

I just wish they would fix the damn Photos app on Windows 10 mobile so I can actually see my pictures folders. All it shows are the Camera Roll, Screenshots and Saved Pictures folders. None of the other folders I put on my phone from my PC show up in the Photos app in Windows 10 mobile. This is causing crash issues with other apps that need to go find pictures, probably because they can't find the folders the pictures are located in. MS needs to put a PRIORITY on fixing this app!

AND THE REASON FOR ALL CAPS IS BECAUSE OBVIOUSLY MS IS EITHER STUPID OR DEAF BECAUSE MYSELF AND OTHERS HAVE BEEN TELLING THEM THIS SINCE 2010 AND THEY STILL WONT LISTEN. AND FUCK THE USER VOICE, WHY MUST WE TELL YOU HOW TO FIX YOUR SOFTWARE?? THATS WHAT IS SO FRUSTRATING ABOUT THE MUSIC APP.....ACTUALLY ITS JUST A PLAYER BECAUSE AN APP WOULD HAVE FEATURES! I HAVE BEEN A MUSIC PASS SUBSCRIBER FOR ABOUT 7 YEARS AND I HAVE WATCHED MS TAKE MY BELOVED ZUNE SOFTWARE AND REDUCE IT TO A PILE OF DOO DOO. I MEAN MUSIC SUGGESTING, SMART DJ, BUYING MULTIPLE TRACKS AT ONCE, SORTING BY WHAT I OWN AND WHAT I SUBSCRIBE TOO....EVERY OTHER SERVICE HAS COPIED IT FROM ZUNE AND YOU GUYS JUST SIT THERE DIGGING IN YOUR ASS AND ROLLING OUT BUG FIXES EVERY 3 MONTHS.....AT THIS POINT MS IS ACTUALLY FORCING ME TO INSTALL ITUNES WHICH TO A LOYAL WINDOWS GUY IS BLASPHEMY. BUT DOES MS CARE NO, NO THEY DONT...SO LETS SEE...I HAVE HAD OR HAVE RIGHT NOW...EVERY SURFACE MODEL, BOTH XBOX'S, MANY WINDOWS PHONES, ZUNE HD, MANY, MANY PCS. WHAT I HAVE NEVER OWNED IS ANY APPLE PRODUCT BUT I MAY HAVE TO JOIN THE DARK SIDE. MS YOU ARE APPLES BEST SALESMAN DUMBASS IDIOTS, YES A DOUBLE NEGATIVE BECAUSE THATS HOW STIPID YOU ARE......

You need to calm down buddy, I think Groove is just like Xbox Music, a purchase and cloud music application which still doesn't have the features of other players like Winamp, Windows Media Player, VLC, iTunes, etc. But I think it's good to have an app where you can download your purchased music on Windows 7 or Windows 8.1 and be able to download it on Windows 10 from the cloud at 320kbps. Other online music services don't have that level of fidelity (320kbps mp3), so you have to thank Microsoft about that. And now, in case you haven't read Windows Central lately, you can upload your music to OneDrive and with Groove you can download it an all your devices for free (smartphone, tablet, web, PC, etc)

He's mad (and so am I) because we had things like auto playlists, and they killed it when they shut down the zune desktop app. Without it, how do you manage Gbs of music on onedrive? They had the solution, a much better player, and threw it away.

Yeah, though caps lock comment like that is uncessary but there are number of people who are annoyed with the state of the music app ever since they decided to discontinue Zune and WMP and start from scratch. I forgive that Windows 8 Music app wasn't that great but in Windows 8.1 and now in Windows 10, its still abysmal at best. Also the first Music app in Windows 8 is at least got a way nicer Now Playing view than what we have now in Groove Music app which is pretty useless and boring, not to mention that artist images doesn't seem to work. Microsoft should really just need to take a look at Zune and WMP and compare what they have done and needed to be done, even without a need for uservoice/feedbacks. Most of the feedbacks are not even new, revolutionary features, most are requesting features existed from WMP and Zune.

The Groove App on the Xbox one cannot Stream Flac or Alac from One Drive, Only WMA Lossless will stream I'm wondering if this will change with the Update to Windows 10 core on the Xbox One, since Windows 10 and WMP supports and rips in FLac now

This update is bad, is anyone else having a problem signing in? Not being able to sign in means i can't listen to anything from my library.

This update still hasn't fixed the "Not available offline" bug and still won't let you add album art and edit ID3 tags.

Still no auto playlists, like we used to with the zune desktop app. No need for competition if you throw away features users liked. Vote here: http://xboxmusic.uservoice.com/forums/209733-groove-feature-suggestions/...

What's the purpose? They clearly are not following user suggestions, otherwise we would already have all the features from Zune.

I still don't understand how they can't add sorting albums by year and an option to show albums cover on live tile. I think it's not complicated at all, and the app crashes all the time.

The Update of Groove Music and Movies and TV does not appear to me, appears only updates from Maps and Xbox, I'm looking for updates all day and nothing, I read that the Store received updates and also didn't show up for me. Anyone can tell me if these updates are only being released for who's on Build 10512? I'm using the Build 10166 in a Lumia 535

I wished that the Live Tile is similar to what we got from WP8.1 which looks nice and start improving from there.
Windows Central Newsletter
Get the best of Windows Central in in your inbox, every day!
Thank you for signing up to Windows Central. You will receive a verification email shortly.
There was a problem. Please refresh the page and try again.