Groove Music brings equalizer and artist art for wallpaper toggles to Release Preview Insiders
Release Preview Windows Insiders can get their hands on some handy new Groove Music features, including an equalizer and interesting wallpaper settings.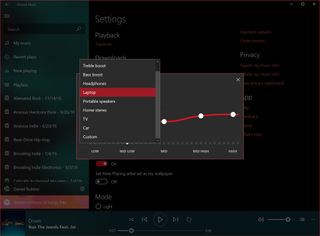 Despite the retirement of its streaming service, Groove Music continues to add new features for those using it to play back their local files. One of the latest is a new equalizer that made its way to Insiders on the Fast ring, earlier this month, and now that same feature is rolling out to Insiders on the Release Preview ring.
Working much as you'd expect it to, the equalizer allows you to tweak frequency responses as you see fit. In addition to the five available bands that you can adjust manually, the equalizer also includes presets for quick changes.
Digging further into the settings, however, this build includes a couple of new toggles that should come as a nice surprise. Just above the options to switch between light and dark modes, you'll now find toggles for using the artist art for whatever you're currently playing as your wallpaper and lock screen. Each can be toggled independently and, given the quality of the art Groove uses, it should look pretty good.
These features are currently available for Release Preview Insiders with Groove Music version 10.18011.71.10, and we'd expect them to roll out for everyone relatively soon. If you're on the Release Preview ring ,you should be able to grab the latest update on the Microsoft Store now.
See at Microsoft Store (opens in new tab)
Windows Central Newsletter
Get the best of Windows Central in your inbox, every day!
Dan Thorp-Lancaster is the former Editor-in-Chief of Windows Central. He began working with Windows Central, Android Central, and iMore as a news writer in 2014 and is obsessed with tech of all sorts. You can follow Dan on Twitter @DthorpL and Instagram @heyitsdtl.
Because Microsoft is great at wasting resources

What he said.... @EliteMikes

That is like asking why would they have updated Windows Media Player back on Windows 7. It is still the default music player for the OS. Streaming services was a "nice to have"

I think you're remembering the pre-streaming days. Non-streaming audio players are swiftly becoming the VHS of the computing audio world. Streaming is no longer 'nice to have' and has instead become the core music source. It's like removing the streaming library from Netflix and instead investing in making the Netflix player play local video files only. What would be the point?

This streams your local music from OneDrive though, which is still really great.

OneDrive streaming was a nice extra, but on its own? I don't think it can compete with an app that can stream from a full service, like Deezer. Anyway, I can stream my own files from my PC or NAS without paying a subscription for enough Onedrive space to do similar. Seems like an unnecessary extra cost to me. It was a nice extra when we got a lump of Onedrive space with our streaming subscriptions but now that's been cut, to pay for the space without the main streaming service is not a great replacement.

"OneDrive streaming was a nice extra, but on its own? I don't think it can compete with an app that can stream from a full service, like Deezer."

lol, I mean, it's not meant to compete with anything anymore. It's a default MP3 player for Windows because Windows has always had a default way to play music, movies, and show photos. Don't read too much into this.

There's something to be said about that. The 100 GB that Microsoft provided for users when they purchased Groove Music is what differentiated it from the competition. We should have known that Groove Music, as a streaming service, was going away when Microsoft discontinued that benefit. I still don't see why Microsoft can't purchase eMusic or one of these other stores out here and offer the ability to listen to purchases that way (sort of like what Canonical was doing through Ubuntu One) but then again I don't understand a lot of the decisions Microsoft makes these days. This is why I moved to Android. I still use Microsoft Launcher for the Bing wallpaper but I am not signed into my Microsoft account.

Yes it is Daniel, that is why it is my main music player on my Windows 10 PC's, and my Lumia 950xl, and my Honor 6x. Works great, looks a lot better than other music apps out there.

I know what he means, it's like why are they bringing these features that were already there on zune now after they shut down a big part of the program. This is frustrating. That lock screen feature was there since WP7 and they still can't get the live tile on par with it. That was the best live tile ever.

Yep, as usual bringing back old features dressed up as "new", always going in circles.

"Why are they doing this?"

Part of it was things that were already planned/being worked on. The other is like any modern OS Windows needs a default music player. I use this app all the time whether on Windows or Android for that reason (and streaming my music from OneDrive).

On one side I agree with you, the OS needs a default music player with good features, but the days of privately owned music is coming to an end. Even though you can stream your music from cloud storage, the industry made it so, that more and more user see the medium of Movies and Music very short lived and get less and less attached to any particular song and more attached to an artist, no matter the song he/she produced.
Lyrics are getting less and less important; it is fire and forget these days. Personally, in recent years, only independent artists produced memorable art. Once they signed up with major labels, most of them just merged into the same flatness of all the other mainstream.

"but the days of privately owned music is coming to an end."

Sure, but that doesn't mean Microsoft should just pull the app because of a trend. I'd be pissed, I'm sure others would be too. If Fax Machine is still in Windows, I want an MP3 player, damnit lol

I thought Spotify was supposed to be the new and MS approved by 'default' recommended player? I'm sure I saw one or two banners in Windows to that effect...

...for streaming. Try buying music through Spotify?

It the default player for music in Windows 10 and people still buying /have local music on their devices and it can't hurt to make it look nicer or add helpful features

I find it quite interesting that articles about features being added to now defunct hardware and services...Dont you? Its like lets see what kind of reaction we can get, good or bad and use that infomation for our own purposes. Like the mad scientist from those the old 50's horror B movies...lol

Groove is/will be still your default MP3 player on Windows 10. They need something there even if the service is EOL. Plus, for us with music on OneDrive this still works very well. I use it every day even on Android for that.

I wish Groove on Android would allow the music to be stored on the SD card

The app is pretty and they're not murdering your family. I think we'll be fine.

I'm hoping for Spotify integration by the end of the year 😊

Wouldn't it be great if you could link whatever streaming service you have and make Groove the default player for that!

Best. Idea. Ever. No, really!

Update: Microsoft will now have Groove music run on Zune players!!

The bottom bar looks remarkably similar to Spotify's.

I love Groove Music to play my own local music! And I'm glad to see Microsoft is making it better. I never had a Music Pass, so for me nothing has changed since it was killed a few weeks ago.

I've said it once, I'll say it again: If I could use Groove to play my spotify library, I'd be the happiest of campers.

This they should have a plugin for groove to add Spotify even if it was a paid feature ppl would use it.

I wish they never killed the ability to buy music. I don't stream, I buy.

Well, you could buy from like Amazon/ iTunes etc and then play it on Groove. that what I do

So, port it to work with Spotify please. We got zilch from the MS Spotify thing so far. Spotify mobile and desktop on all platforms is such a POS

Interesting. couldn't get into comments and see the article images for windows central in Edge unless I turned off adblock. No problems in internet explorer. So article images and comments are linked to ads? Anyways, nice to have an equalizer in the app. It's just about the only native uwp app to go to in windows to listen to your own music files. It's a pity microsoft hasn't gone the extra mile to integrate podcast listening in groove. Might as well do it. Microsoft had their own podcast app on windows 10 mobile. There are other choices in the microsoft store, but it makes the whole windows experience fragmented. I have to use two seperate apps to listen to music and podcasts. fortunately groove does scan your computer for all audio files which does kind of make it possible to listen to audio files in one app, but it remains a two app job. Without one you can't have the other...messy. Would be nice compromise after shutting out the streaming service. Shouldn't be too difficult to add GLOBAL market podcast support for Groove. Woudl at least be a more holistic experience in windows that the growing fragmentation. fingers crossed.

I have adblock on my router and can comment ok, perhaps whichever adblocker you're using is flagging a false positive?

Artist art update? Really. And why only on insider and not everywhere. If you remove a feature and reactivate it two years later... Is it still an update.

It gets tested on different rings before making it to production user. Should make it way to production in about a week or so.
If you want it now, you can always move to the release ring get then drop out and go back to production.

I will continue to use Winamp until Groove Music catches up to it.

I don't like that they took the album covers away. Now all I see is a BLURRY picture in the background(which bothers my eyes) when no artist pic are available. This is suck. But yes, there are still some of us that still use this app. It's my goto to play my local music. I don't subscribe to any service...I actually purchase my music. The rest I listen to on the radio....🎶oh oh oh oh oh..on the radio🎶

if you checked eclipse menu you can turn on album art

Glad the W10M still gets some love from MS.

Yeay finaly they are bringing back the lockscreen artist art :)

Wish there was a way to play audio CDs and rip the music from said CDs to MP3/FLAC/whatever in Groove.

If this is the default music/mp3 player, why can't it play local music? Only the Massively Screwed-up dys-Functional Team would have you put Groove on a device and upload the music on that device to the cloud so that you can stream it back to the same device!!! You seriously cannot play music that isn't in the Cloud/OneDrive?!?! If you tried to make this stuff up, no one would believe you!