Groove Music gets much requested gapless audio feature for Windows 10 Mobile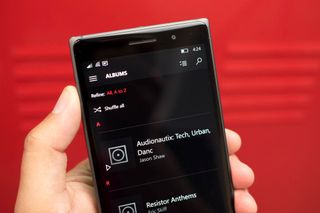 Groove Music has snagged a pretty notable update on Windows 10 Mobile this evening. While it may not be the biggest update, it does contain one new feature that people have been clamoring for: Gapless playback. That's right, you can now enjoy listening to an album or playlist without any break in between songs. This is especially handy if you happen to be listening to a full album that was recorded with the intention of songs melding together.
This has been a long requested feature on the Groove Music feedback page for a while now, so it's great to see that Microsoft has listened and brought it out in full force. To grab the latest Groove Music update and start slinging some tunes sans-gaps, be sure to hit up the link to the Windows Store below.
Thanks for the tips, Darren and Kyle!
Download Groove Music on the Windows Store (opens in new tab)
Dan Thorp-Lancaster is the Editor in Chief for Windows Central. He began working with Windows Central as a news writer in 2014 and is obsessed with tech of all sorts. You can follow Dan on Twitter @DthorpL and Instagram @heyitsdtl. Got a hot tip? Send it to daniel.thorp-lancaster@futurenet.com.
My thoughts. One of the most missed items until now. Thank you Microsoft!

gapless buns.. mmm... Posted via the Windows Central App for Android

"YESSSS!!" *80s-style fist pump thrown in for good measure* Finally indeed.

Indeed. FINALLY people will stop complaining. So glad, cuz I'm sick and tired of those DAMN emails!

They emailed you about it? Posted via the Windows Central App for Android

People should complain. $5 MP3 players have gapless playback

Except no one has Win10 mobile yet. Well, aside from inside builds. There's also a PC app, iOS app, Android app, and a web app. And none of those have gapless. Yet.

Does anyone know if they got rid of the bonus audio click in between normal tracks?! 8-)

Am I the only one on build 10536 that can't get it? I'm not gonna update to the new build until they release a direct upgrade. Any ideas?

Well guess im upgrading back to windows 10 tonight lol

Just when I thought I was out... they pull me back in

Lol they always pull you back in. Posted via the Windows Central App for Android

Nice. I will do the same this weekend.

Also since there was a new fast ring build...

I spent all day rolling back from that mess. Nonetheless, I love 10, but its not ready right now...

Duh, silly. Only a few people operate under the assumption that Technical Preview actually means RTM, the rest of us know this is test stuff.

Build 10549 is running like butter on my 1520....

Tell me when it's as buttery as 8.1 lol

My wife and I both have 1520s. She has 8.1 and I have 10 with 10549. Before there was a huge difference in speed. Now, except for an occasional loading they are close to the same. My transitions are much faster. What's nice is I have Lumia Camera back since Microsoft Camera isn't quite ready for prime.

i still dont see why they dont let us get it from the store? i upgraded but lost it after a hard reset on Lumia 1020!

if you go to my library in the store, you should be able to see lumia camera and lumia camera beta in the list if you had already downloaded them on 8.1.

but you still cant download them? the install button is greyed out

I was actually able to download it after I performed a hard reset. I have it on my phone atm.

I notice that Win 10 actually improves apps' background ability.

I can't seem to find this update for Groove Music. I'm stuck on version 3.6.1326.0

the key to understanding microsoft is dont expect what you expect when you want it, but wait till android gives something then we make noise and it comes. so it will always be that relationship that is hard to leave

This was the one feature holding your back?

Was literally so happy when I saw this! Gapless playback even on streaming as well which is nice!

What the heck took them so long??

Even when you get what you want, you continue to complain. Wtf?

That's not complaining. Posted via the Windows Central App for Android because it's superior to the Windows Phone one

Nitpicking, or however you want to classify it. Be happy for once, jeesh.

Im starting to like the new android tag. Its funny Coz its true.

Why don't you just use the tag on android central and stay outta this forum.

Actually, there are some things I like better in the WP version over the Android version. In fact I like the overall look of the WP version over the Android version. So I wouldn't say the Android version is better, but it is strange that they aren't the same. Posted via the Windows Central App for Android

Even Android with their 6.0 version has gapless playback issues, while Win10 Mobile has done this problem 3 months ago...

It's an implicit bitch. Why not stop at "finally" rather than continue with a question that is moot.

It's a perfectly justified one.

It took them several OS generations; a completely legit remark! Yours, on the other hand, is rather... sheepish.

Nope not sheepish, just don't understand why some just can't be happy. This should have been a moment of excitement like it was for many people. I feel sad for any person that automatically goes to the negative regardless of this situation. It doesn't always have to be negative.

We've stopped asking that question, haven't you heard?

Just checked, not for desktop yet :(

Desktop a has had gapless playback for a while in Groove

Only on insider preview ? Cause if i stream The Wall from my onedrive there is no gapless playback.

Streaming isn't gapless yet on Groove desktop, only locally stored music. Will hopefully change soon!

Nope, you've been misinformed, or maybe have an insider build. Gapless hasn't been implemented on the desktop app (yet). My local collection still has gaps with both mp3 and wma, using the latest version as of 11-22-2015.

Really? I don't know but mine isn't at all. Maybe in Insider Build only? I'm current using RTM, I might try switching to Insider Build partition.

They're universal apps. It'll show up for PC eventually.

Groove isn't so universal.

Yes, it is. The UI is forked in a couple of notable places, but the app itself is fully Universal.

It's not just the UI, the features also.

"Universal" - It's really cool how on W(P)8.1 it was already "Universal" (buy on one device get in all others) and now, W10(M), it's again "Universal" (same code runs everywhere).

"Buy on one device and get it in all others" was Unified, not Universal. Universal has always referred to shared code. Windows Central always got that wrong.

To based the desktop and mobile apps have different features though, that's a great example of "shared code".

you can enable certain features based off the APIs you want.​ If you make a feature that uses a desktop API, you can choose to only make that a desktop feature and not use the mobile API, thus the mobile version wont have the feature. (or mobile just doesnt support the API you want) its not like all the code has to be used on every device, a desktop experience with a modified UI might not be good for mobile and so on. Say I write a program for Xbox, Band, and PC. Of course for Xbox I would intergrate Kinect, Band doesnt have that API so I couldnt use it, PCs arnt likely to have a kinect attatched to it so I wouldnt use the PC API that whatever kinect feature I would want has. If I use the galvonic skin response receptors or the optical heart rate monitor for a band app, I wouldnt want those used on an Xbox or PC, it doesnt make sense, so I can not use the API and have those options dissappear, even though those apps could be installed on all platforms. (of course in the real world, the Band wouldnt be powerful enough to run most apps anyway)

Windows Central never got it wrong. "Universal" apps for 8.1 also had shared code; I know, I make apps. The new Universal ones are all (for the most part unless you want to specify a different XAML page for the mobile version) the exact same code.

Well if you make apps, you should know that in 8.1 the apps had compiler flags and produced different executables depending on the compilation target. In WIn10, they're runtime control statements and only one executable is produced to be published to the store. At this point the store will compile to native when deployed to the target. 8.x used MDIL on the device, which is why apps built for Win10 seem faster than Modern 1.0 apps. the 8.x era was painful to manage large projects across device form factors. The Win10 approach is far more elegant.

Yeah, I'm still confused about "universal". If this is universal, why dont all form factors get the same features? Arent they sharing the same code and just laying out on the screen differently? Its seems to me that we really have two different OSes running two different apps. There may be code shared between them, but they arent the same app, or at least, to the user, its doesnt seem like it.

Because not all form factors are created equal. The way Windows 10 approaches the device problem is this: 1. Provide a base set of functionality (called Windows) across all form factors. 2. For specific form factors, add Extension Software Development Kits, that contain the API surface specific to that device classification. (ie: Xbox Controller vs HoloLens display vs Phone back button) 3. In code, add reference to the platform you wish to light up with functionality specific to that device and keep coding. 4. In store deployments, click some check boxes about which form factors your Universal app will support, then that build will be available to all selected. AppDevs need to think differently about how they build apps and it could very well result in different devices using different revisions of apps, and also that the same app will behave differently depending on the form factor running it. While they're the same code-base delivered to all devices, the execution path is device specific.

just release GDR 2 for WP 8.1(Lumia 930) please

That is not up to Microsoft. Complain to your carrier.

Still Microsoft's fault Posted via the Windows Central App for Android because it's superior to the Windows Phone one

Er...no, it isn't. Windows Phone 8.1 isn't exactly a priority for the carriers. Windows 10 is giving Microsoft some pushing power but both the mobile and PC versions of Windows 8 sort of failed commercially so they can't do anything to make the carriers push updates out.

Yes it is. You cant even download it from preview for developers or windowsd insider. So microsoft is blocking it for those phones.

Then the update simply isn't for your phone. For example denim is only available for a group of phones which it had effect on

But my Phone is Country Variant. It doesn't belong to any carrier. lol

That's why buy unlocked! Straight from Microsoft

That's the best route. Unlocked!

I did. My 930 is unlocked and I still can't get past beyond denim

The difference if it was still locked to a carrier and you unlocked it, the update still has to go through the carrier. If it was factory unlocked, then that is different.

Yaaassss. I've wanted this feature for quite some time. Glad it's here. Now to go update.

*Instantly throws Master Ball*

*shakes head* Didn't even talk to your lawyer first.

Haha good one Dan. Hey Sam.

The Windows Central time machine is up and running!!

Look what the cat dragged in! Welcome back Sam!

They finely let you out, huh...

Who let the dog out? Woof woof woof woof woofffff..

Well... I better get back to Earth before the Stargate closes

Indeed, Daniel Jackson! I miss that show/universe so much. Yes, that includes SGU. F the haters, it was a really good show.

Rodney McKay is still my favorite.

SGU was my favourite of the 3, Atlantis came last. Damn them for cancelling them all though, was the best scifi show on TV for generations!

amazon prime. watching all 10seasons again... but now my kids are old enough to understand it.

I agree 100% my wife and i loved that show even Atlantis .

Thought it was already. In a basic form

I think it is, at least on Desktop does. Still its not fully implemented, in my case album art doesn't come up on Groove but fine on iTunes, VLC and WMP.

First Denim for the 830 and now now this... has hell frozen over? It it the Apocalipse?

No, that only happens once they manage to make the start menu, edge, and every other app built on XAML not be a laggy POS that just sits there doing nothing for a couple seconds every time a new piece of UI is displayed.

then i guess its happened because i havent had the start screen lag or show a loading screen once on this new build, not even once.

Aren't 90% of people on Windows phone 8.1?

Well...Windows 10 Mobile hasn't been released yet...so probably...

And will stay until March 2016 (it starts to release in December 2015, but everyone know how long it takes, right 830 without Denim owners?)

Sh don't remind me. I'm still recovering from the shock of finally getting Lumia Denim! Rich Capture never felt so good. Maybe it was all a marketing ploy to make Rich Capture and Dynamic Flash seem way nicer.

No. You also have a chunk on 8.0 and then 7.8 etc Posted via the Windows Central App for Android because it's superior to the Windows Phone one

Microsoft doesn't care about 8.1 any more.

Finally, Dark Side of the Moon as it was meant to be enjoyed!

One does not need to be high to listen to Pink Floyd.

It certainly doesn't hurt...

The Wall as well :) I'M SO HAPPY!!

This! Cant wait for Win10 to be released now.

Good point. I hope it works.

And The Lamb Lies Down on Broadway.

Good job, Groove devs.
I'll give credit where it's due.

Am I only one who didn't care about it? Is that little pause such a big deal?

If you listen to playlists and radio, probably not. But if you listen to whole albums, it's huge.

Now you can listen to your Dark Side Of The Moon and shut up!

Pink Floyd brah, Pink Floyd!!!!!

This also especially a big deal for listening to mixtapes, freestyle and electronic where the DJ transitions from one beat to the next. When you listen to that with gaps.... it's just bad. Posted via the Windows Central App for Android because I am unfortunately with Sprint

It's just a one second of pause...

Listening to albums, it's quite annoying. Just the other day I was listening to the "Flash Gordon" soundtrack by Queen, and it is highly irritating there, because there is continuous sounds and dialog from the movie in and between the tracks.

Every time I hear that i can't help but think of Blades of Glory!

Queen did the whole soundtrack? I thought they only did the one song. I know what I'm listening to on my commute tomorrow!

It is a big deal. There are number albums are meant to be played gapless, and that's not rare.

Like ANY live album for example...

Is this only on the newest build? I'm not getting the update.

Yes, the min OS build is 10538.

Me neither; guess it's not global... :-/

Not getting it here in canada either

Now allow me to use it to sync my collection from pc to phone and I'll have pretty much all I need from the ecosystem. Oh yeah, "recently added" songs too.

I use OneDrive's Music folder now. Makes things easier. I have all the music I own available at any time.

I do this too. I think what OP means is without OneDrive. But the Groove team already made it clear they think OneDrive syncing is enough for this issue

Local music is much better than streaming and relying on a data connection

Installed the new build yesterday and Groove won't play any of my local music :(

It happened to me both with local and OneDrive music, but after the app update, I rebooted and started Groove up again, and just waited until the app finally played the music I wanted. It got fixed after 10-15 seconds and never happened again ever since.

Well.... Adding nearly 3k songs available on my phone might be a bad idea...

My collection synced just fine.

Wait, what?
You can't sync music from a PC to your phone, like a normal drive, when you plug a USB into your PC?
That'd be......crazy.

Week you're right. That is there

Awesome! This can hold me over until we get Foobar2000 mobile! Gotta have the gapless!

Will Foobar2000 be launched for WIndows 10 Mobile? I would find that awesome since Foobar would definately include a last.fm scrobbler, I find foobar2000 on desktop very fast and responsive for long playlists.

What I really want is an am radio streaming app, found one once in the store but it didn't have many US stations

Unfortunately, iHeartRadio and TuneIn apps are the only ones that pull in "select" am stations. Wish the FM tuner on the phone also recieved AM band...

I'm hoping it happens. Until then, I just visit this website on occasion and drool a little. http://mobile.foobar2000.com/

Foobar2000 is already available. Wmpu reported about it a few days back.

Hey windows central have you notice that you can zoom in the text in this article, exactly as the photos apps.

This person seriously deserves a prize... I haven't laughed so hard in ages. The best kind of random. :)

Banana Jesus helicopter. Increpid silly unicorn. Deficated taco man. Oh...you wanted the best kind of random...I'll just go.

Everyone can stop crying now! Yay!

There are plenty of other things to cry about lol

Sweetness! Posted via the Windows Central App for Android

The screenshot says "MP3s". Does it really only apply to MP3 or does it apply to other file types as well?

All, it just refers to MP3 because MP3 is the most used format.

can you turn gapeless play back off

Why the hell would you want to turn it off? If there's an intended break between songs on your chosen album it will still be there...but if not, like, say, Pink Floyd's Dark Side of The Moon, or any one of the thousands of live shows available for download, there won't be any interruptions.

Or DJ mixes. You forgot DJ mixes

Do you want to turn the pop/click noise back on too? ;)

How about the much requested smart playlist and the metadata editing????

Well looks like we need to wait another few months for that. (I'm just exaggerating) :( In my case they need to reimplement features like Bio, Related Artist, Buzz, Album Review, Rating (Star or Heart), Smart Playlist, Metadata Editing (including artist images), Lockscreen UI (with artist images and playback controls) and Wi-Fi Syncing. Also I wish the UI to be more lively and give some nice aesthetic elements from Zune, especially the cool looking Now Playing which is very unique and awesome even today.

Also how about playing multidisc albums in the correct order!?!

Oh yeah this one too! Its annoying that its currently messed up in Groove.

I wish Microsoft could put Windows Media Player in Windows 10 mobile with all the features of the desktop version but in mobile version Equalizer, SRS Sound effects, track cross-fading, audio speed. I know is too much to ask, but that's the main reason I would spend more time listening on my Windows 8.1 tablet than on a Lumia 950XL I would purchase when it arrives to Mexico.

Cross fade feature would be great, many never had/tried it to realise how good it is.

Also, the app runs SO much faster and smoother in Build 10549 than it did before. It needs some work still, but at least now it's usable.

When in India? When getting denim? When w10 rtm? When at&t 930xl?

930xl, ain't gonna happen...

Next: Pre-adolescent Music blocking in the Explore page. They have my age and my listenin history on record... Why do I have to endure al the menu drilling to get to my fav genres?

Thank almighty Zeus and Hades! Finally its here!

Cool!
Now please let music play on my PC even when I minimize the Groove app. I have been using other apps for this sole reason, it's so annoying

They just added that, you might have to be on the preview or whatever it's called for pc

Interesting that my 521 on the current TP got it, but my 640 on the prior TP hasn't. I wonder if the gapless feature requires the current TP build to work...

I did, it doesn't mention anything about what build of W10M is required to get the update... (At least not that I can see.)

Does it actually work though? I cant imagine So that groove likes to take ages to load freaking songs that are even ON the phone.

Finally, a lot of people can now... find something else to complain about.

Well 1 down! There is still like dozens of things left to do, especially on aesthetic and UI. At least for now the long requested important feature is finally implemented (Still weird they take this too long to implement since WP days).

It's a welcome feature for sure, but as a musc player, it's still pretty.....bare bones, compared to even the stock players on other platforms. The fonts (blech!) and the UI also need a refresh.

If only they'd increase the bitrate to compete with spotify, I would instantly switch

My 1020 just ate/did away with my bands mp3's for like the 800th time. I can't use my WP as a music player anymore. It isn't on W10. I can not believe that my keeps getting rid of mp3's I load on it.
I just hate this... it's nearly driven me crazy.
I need a separate music player to protect my music so gapless playback (if actually implemented, I'm still skeptical) is way too little and way too late. Got rid of the pass a few months ago. Too bad Plex has its own issues SIGH. I'm trying to practice right now and discovered the songs were missing and then this headline caught my attention. I still HATE the people running the music player. It. Is. Hideous. My 1020 is as useful as an 8-track player is to play back music. It's unconscionable really, to be this bad. Yet no one has ever responded to my questions and requests for help from MS, at any point about this particular issue.
SIGH...

finally catching up to zune!!!

Still more way to go but this is a nice start.

I think my head might explode the next time I see article about an ask without an in app download link.
OMG
SMH
WTF
GTFO
BS

Yep it's works. Verified it by trying The Wall album . Finally will enjoy listening to Pink Floyd's The Wall.

Thanks for the suggestion. I'm a fan of Pink Floyd and will try it on "Groove".

Nice, this keeps getting better and better!

I wish Groove Music will turn into something like this: http://i.imgur.com/FueAxw7.jpg

i use my own albums alot and one of the things i like about grove and it is the main thing i like is that i see 4-5 albums on my screen at one time, personally id rather have a full 5ich screen of 30ish tiles of albums to choose from but your link shows the xbox model for albums where we only see 2 albums at one time, If they go down that road im gone its just that simple so i hope not.

Well the concept is quite old which is based off from old Microsoft mockup of Groove Music during early days of Insider Preview. Generally its based off from general Groove Music UI but added the Pivtos and larger imagery (but scrollable and responsive). This mockup is assumed on 4 incher phones, which is why the is generally big. Even my old 820 even have bigger UI than this from old Xbox Music app. This concept just shows the possibility on how it will look like on smaller screens, we have to start small, restricted scenarios. The main showcase here is how the Pivot works together with Hamburger for navigation and the incorporation of Zune UI to Groove Music and Windows 10 UI. I haven't updated the concept with features like Explore and I forgot to even add Social feature. The Home section is just old concept where you pin albums and artist (not a maximum) with Recommendations and other stuff possible isn't shown.

Now if i could only get back my 10 song credits i lost once i upgraded to 10!

Finally! Been waiting for years for this.

I can't see the update? Only People app.

I believe this is something that we've been waiting for since the Zune days. It only took like 8 years to get it...pretty ridiculous. Or was it included somewhere in between? Also: My nomination for a gapless album is Pack Up the Cats by Local H. Really solid alternative rock.

Wow. Nice work, Team! I'm personally seeing a whole lot of progress with the Win10M experience this week! Credit where credit is due!!!

10 second rewind and fast forward for both music and video please...

Here at Windows Central people are so negative minded.... And are restricting the growth for windows mobile... 950/950 xl received lots of praises even from writers who were always negative about windows phone.... U need to understand to sustain they have to target those 97% people using ios or android not those 3% who already on windows.... Win 10 is under development... nd adding features be happy instead of crying.... Coz they are listening to user votes....

We don't know how many tech journalist have written paid reviews. But here we windows central clearly know what they want. Feedback provided here is really needed.

agreed mostly but to be fair we are missing some key features that windows 8.1 mobile users had and now dont. Things like linked email accounts, a weekly calender view or even the fantastic gestures beta is still missing from windows 10, I think half the problem some people have is that they and this includes me expect to recieve new features not loose old ones. When they put insiders ahead with a flash light but leave out these features then maybe they need to stop listening to insiders all the time. I mean i had a 1 button flash light back in windows 8.1 mobile lol. Personally i love 8.1 mobile, i think 10 is ok well enough for me to stay with windows a little longer but its no 8.1 mobile at this time. I hope it will be but i dont want to wai another 12 months to get back features they should never have taken away.

I honestly didn't know what gapless playback was until this article. Now that I know what it is, I'm confused as to why people were so concerned about it. Shoot, I care MUCH more about how they took out the Song view within an artist in the app. It was the primary manner in which I listened to music (wanting to play an artist's library on my phone from a specific song I wanted to hear). You mean to tell me that people were worked up over a one-second gap between songs? I mean, glad they got their feature, but I honestly didn't even know this was a problem, and having it changed doesn't make me feel an ounce better about Groove Music. Then again, if there's one thing society keeps pointing out to me with this kind of stuff, it's that I'm the minority.

Yeah it was quite traded, particularly when there was an easy workaround.

Maybe you don't love music as the next guy/girl? Like the article said, some albums are made to be listen to in one long session and the cut out was like scratching the fork on a plate. Listen to FSOL, Pink Floyed and just sit down and relax and really experience a album and you know how annoying this can be. Or how about that remix record with individual tracks that's mixed together. Like I said, I believe your not a music fan on the level on others, and that's ok. Because any who enjoys music on a certain lvl have noticed this and been very annoyed by this.

Yeah, that comment's worth its weight in dog turds. "You don't want your music like I want mine, so you're not a REAL fan of music." Be more of a pretentious tool. I listen to music much more than most, and I 100% admit that part of why I don't listen to it as much recently is how horrendous the music player is now. But I guess since I don't listen to whatever "FSOL" is, and I don't clench my buthhole over a total of 5-10 seconds of dead air in 45-60 minutes, instead worrying about not being able to listen to the song I want, I'm just some dummy who doesn't know what he likes.

It matters... Heading to town to get a new WP...

Am i the only one not getting the update? :(

Im not getting the update too :( check my thread

I'm running htc m8 and I too am not getting the update. Do you need the latest version of W10 mobile?

Yes, the min OS build for this app update is 10538.

Hey Ellen, I've been looking a going nuts -- where is the setting to switch this feature on?

Is this meant only for those songs that are downloaded onto your phone. I tried streaming an album that meant to melt together and there's still a gap after updating the music app.

This is why I loved Spotify. Finally this is the last....gap. And OneDrive matches Google and voice search passes them all. And what a good looking app!!

There there, get all the bad feelings out of that system.

This build (10549), this app update, this device (1520)......Starting to find it an excellent package for my music! Especially in the car, truck, bike.
Oh, and just verified gapless works as advertised. Once they get Cortana all straightened out, it'll be almost effortless to just fetch my musical whim any time anywhere!

My wife and I both have 1520s. She has 8.1 and I have 10 with 10549. Before there was a huge difference in speed. Now, except for an occasional loading they are close to the same. My transitions are much faster. What's nice is I have Lumia Camera back since Microsoft Camera isn't quite ready for prime.
Update: Just checked Facebook, Twitter, Phone, Messaging, and Notifications. All were at most half a second slower on version 10.10549 versus 8.1. Even more surprising is the animation made it feel quicker on 10 because the app she'll came up first. It felt like instead of a slow phone you were waiting on a data refresh. Hoping it stays this way. Keyboard still feels a bit laggy though compared to 8.1. That's the biggest compromise so far but at least it's not like my wife's were she launches apps and if says too many background tasks.

Do you have Cortana on? And if you do, have you tried to see the dif with her off?

Gee. Again, Microsoft catching up with itself. A feature that I had on my Lumia 900 running WP7.

WP7 wasn't truly gapless either. Zune and Zune HD were though.

It's always nice to see Zune HD in print.. I still use my Zune HD to listen to HD radio channels here in Indy while I'm on a walkabout.

I'm not receiving the update!!! I'm using windows phone 10, 10536

Min OS build to get this update is 10538.

Everyone were clear about why. Read the release notes for Windows 10 Mobile 10549.

It only took them a life! Well done. Ironically, the software giant is the one lagging in terms of mobile software and is providing hardware that the software can't optimally utilize.

I heard its not available in India is that true??

I didn't receive the update, I'm from India

Yeah its true... we in India reject gapless...to match with the gaps in our roads and in some cases intellect too....
You serious bro? Its a simple feature...no regionalisation required like Cortana, ofc it's there for us too... :P

He probably meant Groove Music Pass which is afaik not available in that region.

Ye of little faith. Nice to see MS working on improving the 1st party apps.

Nice addition. Keep on improving that Groove thang.

How about fixing the app reliability.. It will skip songs or just refuse to play songs offline.. Lumia635

Wow. One more feature from ZUNE implemented, that we had years ago with ZUNE and took it for granted. We didn't even know how good we had it. Good going Groove, now pick another ZUNE feature to implement. How about songs played, play lists, social, or sync?
I am a long time ZUNE Pass subscriber, but I'm not an "I" idiot about it. When MS screws up (ZUNE), I know it and don't like it.
The new programmers at "Groove" seem to be learning from the past.
I can't wait to see it for myself. I hope it works as good as ZUNE.
Best wishes.

Most of our engineering team has been around since the Zune days. ;)

Are you perhaps, then, a PM?

Very well then. Are we ever going to have the Recently added feature?

I updated my Lumia 625 few days ago through Insider Slow Ring. in About, it says that my build is 10166 and I'm not getting any core app updates!?!?! What should I do?

Go back to 8.1 with the recovery tool switch to fast and you will the the last update

You know what's even cooler? This came FIRST to Windows Mobile 10 and not iOS/Android! You W10 Mobile fans got some love tonight...

I hope its better than the player on current Windows phones. This player does not list all of the artists. I have to go find the album or song.

Pink Floyd's Dark Side of the Moon can be listened to properly without that jarring. Nice.

We should just call gapless playback....Pink Floyd playback... :) the Wall is the way it should be now.

Hey, it's not just Pink Flyod who will benefit from this... now we can play Eruption and Girl You Really Got Me back-to-back and it will sound right with out having to splice together our own single MP3 file. And then there's The Cars' Bye Bye Love/Moving In Stereo.

better late than never, i always say.

Ooooh Yes!!!!!!! That's a very very good news!!! I hope it will come soon on Windows 10 too!!! Next step is bringing back "Play to" or "Cast to" (like in "Movies & TV" app), to stream music from the PC to a network speaker (smart TV, Xbox One, netwerk hi-fi, etc.): if you need this, vote here : http://groove.uservoice.com/forums/209733-microsoft-groove-feature-suggestions/suggestions/9079087-groove-music-application-playto-and-dlna-support

Yes! FSOL -Lifeforms, here I come!

Windows Central app need a Change, a new image like w10 style

Now make Family pass available

YES!! This is so necessary. I can finally rid the rest of the family of iTunes if we can get this.

Is there any option like auto music start when i connect my earphone

Doesn't work for me after update. Still the pause

i can't believe it! incredible!!!

would like a couple of album view options in particular a full screen full of album artwork would be nice instead of the generic 4-5 album view. Like a option to pill all your albums all at once to a folder on the start menu with albums inside all live tiles.

I guess we might receive the *Recently added* feature next

Does not show up for me in store with 10536 build. Hope not limited to 10549.

It's not working for Me! I checked the store, and I have no update... I'm using a L920 with the 10536 build...

Probably need latest build.

Fr. Its working well in current build 10549

Now I can listen to my Mike Oldfield collection.

Very nice. Thanks Microsoft!

That took way too long. People have been requesting this since WP7. Well, I'm glad it's here, so I'm not going to complain.

What happened to me ... I don't get this update. m using windows 10 mobile build 10536 .

I think you may need latest build.

I was worried that even though it's gapless there would still be some stutter between tracks like how Play Music was when gapless was first introduced. So far it's been working flawlessly.

Please bring Now playing section of Zune.

Now I can listen to Weld... Cortez the killllllaaaaaaarrr !!

Closing the (music) app gap!

Nice. You win the internets for today.

What happened to the redesigned Groove icon that was going to ship a few weeks before and acutally was given to some builds? How are they planning to get some attention to this music service with this lame generic icon?

Doesn't install/update on latest build (10549 ) on L1020. ( Plus Ms people/Photos as well).

Ok! Woohoo! Happy day! Well, now we need folder browsing, choosing a font size, and some other interesting features in settings so we can't start to use this great peace of app.

300 comments! Holy guacamole!

Does Groove have social playlists/playlist searching yet?

I don't believe this is available in Canada yet, I've tried multiple times to get the update, but not finding it.

Not finding it here in New England yet either.

Today, i install windows 10 mobile build 10549; its really amazing; almost all features r working well except windows central app open late and Cortana App is missing. Excellent work MS. Hope final version released soon. From my side I give 90 marks out of 100.

I'd so much like to see EQ being done next.....a pretty please MS !

Good. Now they just need to fix everything else that is wrong with Groove. Such as incorrect metadata or none at all for well-known albums and artists; buggy softwate that restarts songs in the middle of playing or just crashes; auto-duplicating playlists several times; not syncing playlist so songs continually reappear after deleting them from one device to the other; playing by genre on the desktop app (why is this still not an option?); etc. MS should get no praise for adding features back that were available on Zune and Windows Phone 7. And to quite down the reaction here, yes, I;ve contacted MS on this. Several. Flipping. times.

This makes me feel ecstatic! I've been asking for gapless playback since Windows Phone 7.0.

Tried "O", then "A Sky Full of Stars" :D

i am using window 10 mobile 10536 .. i didn't get update of groove music .. any one have any idea ?? this update was region specific ??

I'm on 10536 as well.... An i didn't receive the update either... Maybe its because we didn't update to the latest preview build: 10549

Recent plays option also appeared in the hamburger menu but doesn't seem to work yet for me

FINALLY the whiners who constantly complain about people complaining about the lack of gapless playback can stfu.

i hope groove can some day help retire windows media player much like edge did for explorer as i still need to use media player to get cd´s to my phone in a good way if groove could do that it would truly be something special i love the ui so it could be the new thing for all that

.. but still not on Windows 10 desktop (regular version) sigh.... and being gapless on Win10 mobile is useless, Win 10 mobile hasn't been rolled out to us normal people yet :(
Windows Central Newsletter
Get the best of Windows Central in in your inbox, every day!
Thank you for signing up to Windows Central. You will receive a verification email shortly.
There was a problem. Please refresh the page and try again.