Groove Music gets much requested gapless audio feature for Windows 10 Mobile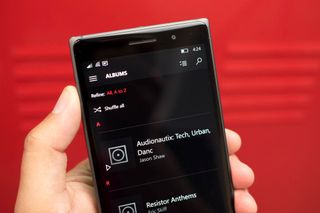 Groove Music has snagged a pretty notable update on Windows 10 Mobile this evening. While it may not be the biggest update, it does contain one new feature that people have been clamoring for: Gapless playback. That's right, you can now enjoy listening to an album or playlist without any break in between songs. This is especially handy if you happen to be listening to a full album that was recorded with the intention of songs melding together.
This has been a long requested feature on the Groove Music feedback page for a while now, so it's great to see that Microsoft has listened and brought it out in full force. To grab the latest Groove Music update and start slinging some tunes sans-gaps, be sure to hit up the link to the Windows Store below.
Thanks for the tips, Darren and Kyle!
Download Groove Music on the Windows Store (opens in new tab)
Dan Thorp-Lancaster is the former Editor-in-Chief of Windows Central. He began working with Windows Central, Android Central, and iMore as a news writer in 2014 and is obsessed with tech of all sorts. You can follow Dan on Twitter @DthorpL and Instagram @heyitsdtl.
My thoughts. One of the most missed items until now. Thank you Microsoft!

gapless buns.. mmm... Posted via the Windows Central App for Android

"YESSSS!!" *80s-style fist pump thrown in for good measure* Finally indeed.

Indeed. FINALLY people will stop complaining. So glad, cuz I'm sick and tired of those DAMN emails!

They emailed you about it? Posted via the Windows Central App for Android

People should complain. $5 MP3 players have gapless playback

Except no one has Win10 mobile yet. Well, aside from inside builds. There's also a PC app, iOS app, Android app, and a web app. And none of those have gapless. Yet.

Does anyone know if they got rid of the bonus audio click in between normal tracks?! 8-)

Am I the only one on build 10536 that can't get it? I'm not gonna update to the new build until they release a direct upgrade. Any ideas?

Well guess im upgrading back to windows 10 tonight lol

Just when I thought I was out... they pull me back in

Lol they always pull you back in. Posted via the Windows Central App for Android

Nice. I will do the same this weekend.

Also since there was a new fast ring build...

I spent all day rolling back from that mess. Nonetheless, I love 10, but its not ready right now...

Duh, silly. Only a few people operate under the assumption that Technical Preview actually means RTM, the rest of us know this is test stuff.

Build 10549 is running like butter on my 1520....

Tell me when it's as buttery as 8.1 lol

My wife and I both have 1520s. She has 8.1 and I have 10 with 10549. Before there was a huge difference in speed. Now, except for an occasional loading they are close to the same. My transitions are much faster. What's nice is I have Lumia Camera back since Microsoft Camera isn't quite ready for prime.

i still dont see why they dont let us get it from the store? i upgraded but lost it after a hard reset on Lumia 1020!

if you go to my library in the store, you should be able to see lumia camera and lumia camera beta in the list if you had already downloaded them on 8.1.

but you still cant download them? the install button is greyed out

I was actually able to download it after I performed a hard reset. I have it on my phone atm.

I notice that Win 10 actually improves apps' background ability.

I can't seem to find this update for Groove Music. I'm stuck on version 3.6.1326.0

the key to understanding microsoft is dont expect what you expect when you want it, but wait till android gives something then we make noise and it comes. so it will always be that relationship that is hard to leave

This was the one feature holding your back?

Was literally so happy when I saw this! Gapless playback even on streaming as well which is nice!

What the heck took them so long??

Even when you get what you want, you continue to complain. Wtf?

That's not complaining. Posted via the Windows Central App for Android because it's superior to the Windows Phone one

Nitpicking, or however you want to classify it. Be happy for once, jeesh.

Im starting to like the new android tag. Its funny Coz its true.

Why don't you just use the tag on android central and stay outta this forum.

Actually, there are some things I like better in the WP version over the Android version. In fact I like the overall look of the WP version over the Android version. So I wouldn't say the Android version is better, but it is strange that they aren't the same. Posted via the Windows Central App for Android

Even Android with their 6.0 version has gapless playback issues, while Win10 Mobile has done this problem 3 months ago...

It's an implicit bitch. Why not stop at "finally" rather than continue with a question that is moot.

It's a perfectly justified one.

It took them several OS generations; a completely legit remark! Yours, on the other hand, is rather... sheepish.

Nope not sheepish, just don't understand why some just can't be happy. This should have been a moment of excitement like it was for many people. I feel sad for any person that automatically goes to the negative regardless of this situation. It doesn't always have to be negative.

We've stopped asking that question, haven't you heard?

Just checked, not for desktop yet :(

Desktop a has had gapless playback for a while in Groove

Only on insider preview ? Cause if i stream The Wall from my onedrive there is no gapless playback.

Streaming isn't gapless yet on Groove desktop, only locally stored music. Will hopefully change soon!

Nope, you've been misinformed, or maybe have an insider build. Gapless hasn't been implemented on the desktop app (yet). My local collection still has gaps with both mp3 and wma, using the latest version as of 11-22-2015.

Really? I don't know but mine isn't at all. Maybe in Insider Build only? I'm current using RTM, I might try switching to Insider Build partition.

They're universal apps. It'll show up for PC eventually.

Groove isn't so universal.

Yes, it is. The UI is forked in a couple of notable places, but the app itself is fully Universal.

It's not just the UI, the features also.

"Universal" - It's really cool how on W(P)8.1 it was already "Universal" (buy on one device get in all others) and now, W10(M), it's again "Universal" (same code runs everywhere).

"Buy on one device and get it in all others" was Unified, not Universal. Universal has always referred to shared code. Windows Central always got that wrong.

To based the desktop and mobile apps have different features though, that's a great example of "shared code".

you can enable certain features based off the APIs you want.​ If you make a feature that uses a desktop API, you can choose to only make that a desktop feature and not use the mobile API, thus the mobile version wont have the feature. (or mobile just doesnt support the API you want) its not like all the code has to be used on every device, a desktop experience with a modified UI might not be good for mobile and so on. Say I write a program for Xbox, Band, and PC. Of course for Xbox I would intergrate Kinect, Band doesnt have that API so I couldnt use it, PCs arnt likely to have a kinect attatched to it so I wouldnt use the PC API that whatever kinect feature I would want has. If I use the galvonic skin response receptors or the optical heart rate monitor for a band app, I wouldnt want those used on an Xbox or PC, it doesnt make sense, so I can not use the API and have those options dissappear, even though those apps could be installed on all platforms. (of course in the real world, the Band wouldnt be powerful enough to run most apps anyway)

Windows Central never got it wrong. "Universal" apps for 8.1 also had shared code; I know, I make apps. The new Universal ones are all (for the most part unless you want to specify a different XAML page for the mobile version) the exact same code.

Well if you make apps, you should know that in 8.1 the apps had compiler flags and produced different executables depending on the compilation target. In WIn10, they're runtime control statements and only one executable is produced to be published to the store. At this point the store will compile to native when deployed to the target. 8.x used MDIL on the device, which is why apps built for Win10 seem faster than Modern 1.0 apps. the 8.x era was painful to manage large projects across device form factors. The Win10 approach is far more elegant.

Yeah, I'm still confused about "universal". If this is universal, why dont all form factors get the same features? Arent they sharing the same code and just laying out on the screen differently? Its seems to me that we really have two different OSes running two different apps. There may be code shared between them, but they arent the same app, or at least, to the user, its doesnt seem like it.

Because not all form factors are created equal. The way Windows 10 approaches the device problem is this: 1. Provide a base set of functionality (called Windows) across all form factors. 2. For specific form factors, add Extension Software Development Kits, that contain the API surface specific to that device classification. (ie: Xbox Controller vs HoloLens display vs Phone back button) 3. In code, add reference to the platform you wish to light up with functionality specific to that device and keep coding. 4. In store deployments, click some check boxes about which form factors your Universal app will support, then that build will be available to all selected. AppDevs need to think differently about how they build apps and it could very well result in different devices using different revisions of apps, and also that the same app will behave differently depending on the form factor running it. While they're the same code-base delivered to all devices, the execution path is device specific.

just release GDR 2 for WP 8.1(Lumia 930) please

That is not up to Microsoft. Complain to your carrier.

Still Microsoft's fault Posted via the Windows Central App for Android because it's superior to the Windows Phone one

Er...no, it isn't. Windows Phone 8.1 isn't exactly a priority for the carriers. Windows 10 is giving Microsoft some pushing power but both the mobile and PC versions of Windows 8 sort of failed commercially so they can't do anything to make the carriers push updates out.

Yes it is. You cant even download it from preview for developers or windowsd insider. So microsoft is blocking it for those phones.

Then the update simply isn't for your phone. For example denim is only available for a group of phones which it had effect on

But my Phone is Country Variant. It doesn't belong to any carrier. lol

That's why buy unlocked! Straight from Microsoft

That's the best route. Unlocked!

I did. My 930 is unlocked and I still can't get past beyond denim

The difference if it was still locked to a carrier and you unlocked it, the update still has to go through the carrier. If it was factory unlocked, then that is different.

Yaaassss. I've wanted this feature for quite some time. Glad it's here. Now to go update.

*Instantly throws Master Ball*

*shakes head* Didn't even talk to your lawyer first.

Haha good one Dan. Hey Sam.

The Windows Central time machine is up and running!!

Look what the cat dragged in! Welcome back Sam!

They finely let you out, huh...

Who let the dog out? Woof woof woof woof woofffff..

Well... I better get back to Earth before the Stargate closes

Indeed, Daniel Jackson! I miss that show/universe so much. Yes, that includes SGU. F the haters, it was a really good show.

Rodney McKay is still my favorite.

SGU was my favourite of the 3, Atlantis came last. Damn them for cancelling them all though, was the best scifi show on TV for generations!

amazon prime. watching all 10seasons again... but now my kids are old enough to understand it.

I agree 100% my wife and i loved that show even Atlantis .

Thought it was already. In a basic form

I think it is, at least on Desktop does. Still its not fully implemented, in my case album art doesn't come up on Groove but fine on iTunes, VLC and WMP.