Groove Music gets new exploration features on Android and iOS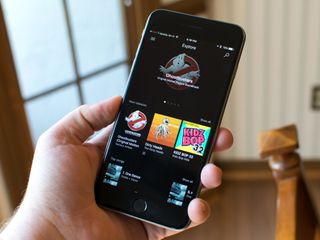 Groove Music users on iPhone and Android might have an easier time finding some new tracks thanks to the app's latest update. Included in the update are new exploration features that should make it easier to find new artists, albums and songs based on a specific genre of your choosing.
Here's a look at what's new for Groove Music on both Android and iOS:
For a given music genre, explore the relevant artists, albums, and songs
On a genre's page, play radio based on that genre
See and hear playlists shared by others
Various bug fixes
Groove may have a smaller following than the Spotifys of the world, but its users live on all platforms, so it's good to see Microsoft is keeping the app freshly updated with new features everywhere. You should be able to hit up your respective app store to grab the update and check out the new features now. If you're listening on iOS, you'll want to look for app version number 11.0131.1439, while Android users will see 11.0208.1513.
Dan Thorp-Lancaster is the former Editor-in-Chief of Windows Central. He began working with Windows Central, Android Central, and iMore as a news writer in 2014 and is obsessed with tech of all sorts. You can follow Dan on Twitter @DthorpL and Instagram @heyitsdtl.
Just imagine if they still had the $14.99 plan that would be much better! The good ole days. :)

Is that a Windows device or app you refer to?

Do people who use Windows 10 also use Android and iOS? You bet. Is Groove a core Microsoft service that's also pretty good now on those platforms? You better believe it.

Does Groove for iDroid have the "Your Groove" feature❓

Yes. I think it came with previous update but anyway it's there now

I use it on my LG G5 after switching to android this year. I think the wm app is better but it works well on android. The one thing it is missing is SD card storage which I hope they put in ASAP.

Do ios users even use groove? It's really a big question to me?

More than you might think. I know a couple of people that do. Basically hard core xboxers that have subscribed since the zune days. A good percentage of the ex-WP users that have gone to iOS and or Android may have kept their subs active too.

I like Microsoft services so I have groove on my work iPhone. I mainly use it on my personal phone 650 but not always :).

I use Grove and prefer it over iMusic because I can listen to it on any device, even my work computer using a browser.

I sure as hell do. Exclusively, in fact.

I do. It's usable but there are issues like album art not appearing if its from onedrive etc. I like it but wished they'd fix this...

If you add a folder.jpg image to your folder on OneDrive the Album Art will magically appear. It's an old Windows File Explorer Trick that exists in OneDrive as well.

folder.jpg? Like a blank image, or the album art as "folder". Pls explain, I need to fix

I've actually just put album art in the folder and it pulls it in. I did a search for the album art for Metallica's latest album, added it to my OneDrive folder (in the music section) and Groove sees it and pulls it in.

Just give me user defined smart playlists and star ratings and I will be a paying customer.

Got 4 months free, and I am growing to like it. If they had a family plan, they may hook me.

They need a family plan! Microsoft, if you are reading this in the slightest, please, give a Groove Family plan! If you really want to make a honey pot of goodness let us combine family plans we have like Office 365 into xbox gold, into groove family plans at a discounted, convenient rate so we can just buy everything custom that we need/want at once.

Or you could do what my wife and I do.......i just log into the app with my account, and she has access to all of our music

I don't think anybody outside windows uses groove. There is plenty better apps around, i used it when it first came out and found no good reason to continue using it. Would be nice if I could delete it from my phone.

You could delete your Windows central account...

Still waiting for those band replacement rumors you told us about...

Not a rumor. You know this and WC concurred.

It's has gotten WAY better than when it was first launched. I actually really like it now.

I've been a Zune/XBM/Groove subscriber for years and when I switched to iPhone last year the app left a lot to be desired. It's still lacking compared to W10 but at least they're working on it slowly but surely. If we could just show album art instead of artist picks on now playing already.

Does that on the Android version, still missing on iPhone? https://twitter.com/Ricker666/status/829747545777852416

Queue the, "Microsoft cares more about iOS and Android" comments.

The issue I have with Groove are the custom/discovery playlists. I'm not sure if its the metadata, algorithms or lack of user data but if you have unorthodox taste in music the service just fails. Its not granular enough.

Nothing for Windows Phone users? How about just fixing the Groove app crashing if I try to pick by "Artist"? Up yours Microsoft.

Did you submit the bug to the Feedback hub?

I did here: https://aka.ms/lxwtnh

yep. they'll fix it for you now.

I have tried to stay within the MS ecosystem, but recently gave up on my Icon (yes I am VZW), somewhat because of apps but mostly because the camera was to darn slow. Now on Android, and while not a fan, I am also slowly moving away from MS system. Groove went as they don't need a family plan. And because I am one of the few who still have not been upgraded on Outlook.com, I have other sync issues. MS just doesn't focus on consumers right now.

I wish they had a voting system for their radio portion of the service. It is nice to be able to get the radio stations a little more tailored to yourself, rather than what is similar to the selected artist.

Wish the android version of Groove wouldn't freeze when I try to open it offline -- makes offline useless which killed the experience for me :(

Open the groove music app from widget. It will open without connecting. And will stil connect later. So use the widget.

Not available in my country? What the hell...? (Android)

Loved Groove, but left for Spotify when their $14.99 family plan came out and after waiting longer than I should have honestly. Much preferred the Groove UI over Spotify...but the kids are finding more music on Spotify.

Can I hear to my personal music that I have stored in my SD card? Can someone confirm this please? Thanks

I have access to all my music through groove.

access as in by cloud access or access via SD card?

The thing that irritates me about Groove for Android is that the widget is complete junk: album art almost never displays and the text is too small and in the wrong color (it blends in with the widget background). It would also be nice to save offline music to the SD card instead of storage. Oops, this is WC, not AC. LOL…

I feel like the album art on the widget is fixed now. It used to only work once in a blue moon for me, but now it seems to consistently work. The artist name is still white, which does still blend in a bit, and not sure on the SD card (I don't use an SD card).

What phone/OS are you using?

I have a Google Pixel. It's on the latest public version (7.1.1 I think).

I wonder if the issue is the O'S or the launcher. I'm on a Note 4 MM 6.0.1, but the issue has always been there.

Yeah, I'm not sure. I did notice that when I was switching a track from the widget, I would see the "downloading" icon on the status bar of the phone now. So maybe they changed the way it handles the album art download.

The lack of SD access killed it for me on this app for Android. I didn't want to RE-download music I already had. That and it was depressingly slow. I'd try it again of they fixed those issues though.

Agreed, but the ease-of-use spanks itunes and google play music. If I want to play-all from an artist, I click on the icon. If i want to selectively play music from an artist, I click their name.

They need to compete with Spotify. Microsoft giving student discounts on surface, techs, office, but not groove. Meanwhile Spotify has student discount that drops the price to 4.99/month.

Just got the update on Android...the thing that kills me is how "black" the music is. And urban. And jungle. Also don't recognize any of the "artists". I guess I don't spend enough time in the "hip" places.

Sorry guys, but about me theese kind of artcles are just spam, don't care if groove for ios or android update.. Thanks

Hey MS! please fix Windows Mobile app instead of releasing lagroid & apple phones...

All I want is for a way to remove a single song from the now playing queue, please add this!!
Windows Central Newsletter
Thank you for signing up to Windows Central. You will receive a verification email shortly.
There was a problem. Please refresh the page and try again.