Groove Music grabs patch to fix crashing on sign in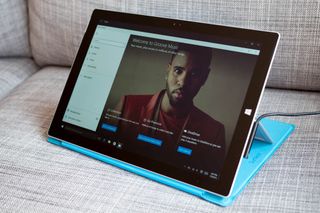 If you are on Windows 10, you'll want to grab the latest Groove Music update. Version 3.6.1383.0 is live in the Store and no, there are no new features. However, it does fix a rather nasty bug for some users.
The last update to Groove worked for most people but for a small group the app would crash when they tried to sign into their Groove account. Microsoft spent the last few days trying to fix and patch it up, and it is now available.
Early reports suggest that the update is working well, so let us know if it fixed your sign in issue.
Download Groove for Windows 10 (opens in new tab)
Windows Central Newsletter
Get the best of Windows Central in your inbox, every day!
Daniel Rubino is the Editor-in-chief of Windows Central, head reviewer, podcast co-host, and analyst. He has been covering Microsoft since 2007 when this site was called WMExperts (and later Windows Phone Central). His interests include Windows, laptops, next-gen computing, and for some reason, watches. Before all this tech stuff, he worked on a Ph.D. in linguistics, watched people sleep (for medical purposes!), and ran the projectors at movie theaters because it was fun.
Yes Windows 10 (mobile too)
Edit: now that I checked no.

" Sign In not supported in your region" it says now !!

Groove music isn't available in India. That's why the message.

It isn't supported in a lot of places sadly :(

Oh god I thought it was just me I tried everything reset logs, changed region like 20 times and uninstalled groove and reinstalled it. Thank god I noticed this was going to format on the weekend.

U uninstalled groove!!!!!!!; Oh. Hooowww can you pls. Eleborate

(To remove Groove Music app from current account only)
Open PowerShell (as admin)
Type: Get-AppxPackage *zunemusic* | Remove-AppxPackage

Its quite funny that internally its still called Zune but its nothing like it.

Yeah, what's up with that?

Here in sunny South Africa Microsoft calls it Groove. I just wish it could play music without the constant DRM interference. Posted via the Windows Central App for Android

Thought it was just me!!!! I'm glad I saw this too...

For the most part when I hit the "Play" button on my keyboard, the small window in the upper left corner of my screen representing will show that it is playing but music will not play. I have to open up Groove and hit "Play" through there. Does anyone else experience this?

Yes I have this problem often but not always

It's a problem to this day.

Yes. Same thing on mobile a lot.

So it doesn't play music, just a minor bug -MS, probably

Why do I have to sign each time I open Groove on phone? Xbox Music used to play immediately when an album was selected from start, for example. Now, tracks slip by until it confirms, it gives an error that it can't be played.

That's my biggest pet peeve. Why does it have to sign in every single time?????? Just terrible, especially when in a car and the app won't play cuz it didn't log in properly

Or I lose my song and place in the song after a few minutes. That's frustrating too. I just keep telling myself I'm running a beta is ;)

I wish we could have gotten an update for Outlook mail on mobile too. That thing is unusable, it crashes every single time I open it. Patiently waiting. :)

Hasn't been crashing for me

Me neither. Mail finally works good.

Wow, that's weird. Outlook has been golden for me - working great.

After many years I decided to cut my subscription Microsoft music services. They always attempt to reinvent something without completing the circle. Groove just lost it for me.

Reinventing ZUNE. Sadly, Groove has a long way to go.

I'm considering ditching groove now too, just an additional monthly cost that I can no longer justify against his good it is. They should have done work and play bundle for £120 not £119 and included groove - an extra £ may not sound much for it but would have been an amazing deal that I'd have gone for.

BS player is awesome! Its light weight.

Thats sort of how I feel about WP as a whole

Still no automatic/smart playlists...

Album art would have been nicer...

Album art is there but they tend to have bit different way of showing it. On Mobile, it only shows big Album Art when you got an artist which doesn't exist in their Groove database. On Desktop/Tablet its quite similar but the album image shows as an animated (its just normal zoom animation) album image as a background of Now Playing. There is no consistency of UI and aesthetics. It would be really great to have similar UI from WP8, it was perfect. It shows both Album art and artist image in the background.

Album art in place of artist for Now Playing background is full screen in portrait and a dot on a black background in landscape.

Wonder when they'll cut OneDrive support lol

Man, don't say that. But after what just happened, anything is possible. I should really start looking at GPMAA for my storage option.

Well, they are making money on office and Cloud storage is important for that. So I'm fairly sure (not 100% anymore) OneDrive as we are it now is the minimums of the service... I hope ;)

Theirs so few apps that are relevant their can be an article for each one everyday lol

still no "Play to"... My network hi-fi system is useless since I upgraded to Windows 10 ...

No Bluetooth on your hi fi?

So rubbish that groove isn't included in work and play bundle

No one works are plays with music on. Oh, wait...

I hope they have to implement several features at least from like Artist Bio, Related Artist and Album Reviews. Groove is really have an abysmal experience and its even bit worse than Xbox Music, though the new gapless playback makes it little more usable right now. Still sadly its still a long way before it even par with Zune and WMP.

Agree... Name is terrible, and it's even worst in spanish: "Música de Groove"... Doesn't make sense and doesn't fit the live tile... MS, please change that

Why is there still no gapless playback in the PC version?

Really need FLAC streaming to improve sq

MICROSOFT SUCKS. I support them but they get worse and worse If they did Nothing at all, it would be better than the crap they pull.

Microsoft fixes a major bug: ​The whole world is ending and Microsoft is the worst company of all time. Cause LOGIC.

Album arts still don't show up...

They fixed a bug in the last version where the Microsoft Account picture was always outdated. It was the only app that didn't pull the right one. Probably introduced the bug for some people in that fix ;)

I'd be happy if Groove stopped declaring my music removed by the copyright holder, even the albums I bought through Microsoft and are available for purchase right now through Groove. Come on Groove team, get it together.

Well mine wasn't crashing but now it takes nearly 10 minutes to start streaming music where it originally took seconds.

Good! This had been very annoying!