Groove now lets you share playlists, and Movies & TV gets video overlay for Creators Update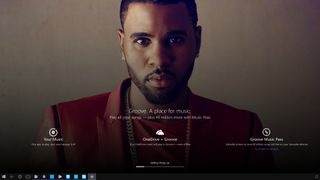 Microsoft is pushing out a few new updates today for its core media apps including Groove music and Movies & TV. The latter's app update mostly affects those on the Creators Update via the Insider program, but the Groove update is super exciting as it is for everyone. Both updates apply for PC and Mobile and are now live.
What's new in Groove Music
Starting today with version 10.17012.1030 (up from 10.16122.1027.0) users can now share their personalized and recommended playlists to Facebook, Twitter, email, and more using the universal Share picker (including that new icon, natch). The feature works quite well, and when someone clicks the link, it opens Groove on their PC or phone and populates it with the shared playlist.
Other features with the Groove update include:
Not decided on Groove Music Pass? Previews for millions of songs let you hear what you're missing
Text yourself links to install the Groove app on iOS and Android
Minor fixes and improvements
Please note, not all features are available in all markets
What's new in Movies & TV
Turning to the Movies & TV app update, which starting hitting users late last night we can see a lot of new features for the forthcoming Windows 10 Creators Update expected in April. Those on the Insider program running "Redstone 2", however, can start to use the features today.
Those features, found in version 10.17012.1030, include:
Now your videos always stay on top while multitasking with mini mode (Windows 10 Creators Update required)
Play a broader range of video formats. For MPEG-2 videos, you'll be prompted to download an extension containing the codecs you need. (Windows 10 Creators Update required)
Minor fixes and improvements
We'll try to get a video up in a bit demoing the new "mini mode." The addition of more video codecs is always welcomed too as it lets consumers rely on Movies & TV as their primary video playback app to streamline the media experience in Windows 10.
Windows Central Newsletter
Get the best of Windows Central in in your inbox, every day!
Daniel Rubino is the Editor-in-chief of Windows Central, head reviewer, podcast co-host, and analyst. He has been covering Microsoft since 2007 when this site was called WMExperts (and later Windows Phone Central). His interests include Windows, laptops, next-gen computing, and for some reason, watches. Before all this tech stuff, he worked on a Ph.D. in linguistics, watched people sleep (for medical purposes!), and ran the projectors at movie theaters because it was fun.
Films & TV still lacks h265 codecs. It's taking over h264 and we needs it, we wants it.

HEVC is working on desktop. Are you talking about phone?

How? I only get sound with no video. Have to use PowerDVD to play those files. Phone does the same thing. Recently I've bought Vikings Season 4 which is recorded with MKV (DD5.1 & H265) with 1080p res.

Maybe the fact I played files on Skylake's iGPU on Surface Pro 4 helped because of native hardware encoders and decoders? Dunno.

Hm.. Don't know XD as I said PowerDVD plays it smoothly, native app does not. Thanks for the response anyway ;)

You "bought" a show and it was delivered in an MKV container? I find that... unlikely.

Not from an online store, but from the City Store, not in digital form but on a DVD.

Given that DVDs purchased from reputable merchants do not contain 1080p HD content, I would advise you to consider shopping for your DVDs somewhere else.

Uh, I play H.265/X265 content just fine with the "Movies & TV" app on my Surface Pro 3. H.265 encoded video can be decoded just fine with an H.264 video codec. What you can't do is encode H.265/X265 video without an H.265/X265 encoder. GPU offload is just now arriving from AMD, NVidia and Intel.

HEVC is a dying format, relegated to DivX status (used only by pirates). HEVC is definitely not taking over. AV1/VP9 are the defacto Internet media codecs for the next 10 years.

Last we heard is they are setting that up, but don't expect it until at least RS3. Ties into Home Hub initiative and we're not clear on that project's timing.

At least it's coming. This makes me a little happier

I've been clamoring for a family plan for years but with being able to sign in with the account we have a plan for we are using it on all 3 phones as well as PC with no issues.

I have said this before, but the one feature that I really want added to Groove is thumbs up/down on radio stations. I hate getting a station where I keep getting music I absolutely do not like based off of music I really do like, and not being able to do anything about it.

That used to be such a nice feature on Zune..

Couldn't agree more. This is why I refuse to pay for a MusicPass when Deezer and Slotify do this very well. Groove is great as a player for my ripped CDs stored on OneDrive though.

Family Plan?....no? Oh well. Maybe next time.. Few things that are starting to bug me in the Explore section. I can browse New Music or Top Albums but I can't browse New Albums. This is a basic for me and something readily available on other music apps. Another bug for me is that when I do browse Albums, many of them are actually single songs FROM an album. Again this is another basic feature that shouldn't be happening.

Looks like an interesting playlist chosen for the sharing screenshot.

Daniel. Any news on a family share for Groove music pass? Has MS given any indication?

K but if they need a pass to listen to the playlists you send it's pretty useless.

Yeha this is what I hoped they'd answer in this article. I saw the update this morning and your post is the first thing that came to mind. Hope ANYBODY can listen to what I share

It would be nice if part of a song or select tracks from artists could be played for those who are shared music from Groove. Gone are the days of people spending time to make a mix tape or its equivalent just to share a new band they think their friend may have a shared interest. I don't know anything about the business between music streaming services, artists and record (heh) labels. But, if multiple existing streaming services can provide sharing and radio services for free between platforms those services will have more users, unless there are other incentives at the premium service price point.
Edit: Shared a playlist with myself via email. Opened link in email, was given option to open using Groove or Edge on phone. Chose Edge, opened with Groove instead, no problem. Playlist displayed identical to the actual playlist in Groove with exception of all songs being greyed out and a message stating "...why listen to only 30 seconds...", a link to get a music pass. Selecting a song it played and eventually tracks turned from grey to white as my account opened and tracks were found in OneDrive. I'm satisfied. Now just need a thumbs up and down option in the Radio service, which I'll never know if it exists since Radio is paid only, unless the news comes from WC or other source.

Why in the bloody earth MS has put that dumbass to Groove frontpage? Not all adores that shi*

I don't even know who that is.

Seriously, who shares a playlist? Who cares what you are listening to?

I have a pretty eclectic taste in music and I always have my ear out for anything new. i've had many people for years... I mena sicne college 8 years ago, ask for a copy of my playlists. A lot of people also dont have a subscription service (I had zune back in the day which was one of a kind before competitors came and kicked Microsoft's ass at their own game, as usual), so they cant just download anything they want to listne to without paying for it

Me and my close group of friends since childhood do it all the time

I like to share playlists of semi-obscure music to show friends there is much more out there than top 40 garbage, Grammy nominated artists and whatever the same music is they've been listening for years.

I heard Daniels playlist. Horrible music 🤢 . But the feature is nice. 💘

Who doesn't like the Interpols??

You've never heard of a mixtape?

Surely you must remember 'mix-tapes' from days of yore. It's a tradition!

I have friends who ask me for workout music. A girl asked me for a modern version of a mixtape. She's not on Groove so I had to use Playlist Converter to replicate it in Spotify, so she can listen. So, those are some examples of who cares from one who shares.

Hmmm. I do not see the new Groove (yet) in the Store on 1520.3 running Fast Ring 15031. Patience is a virtue, but.....

me too... exactly the same

The Emperor has the new Groove though.

Hmmm the store isn't showing the updated version has this rolled out to everybody?

I'm not on any Insider build anymore and received both updates, Groove and Movies & TV on my L650 today, US.

Is it available for mobile also? Not showing up in store

Bummer, 2 months of silence from the Groove team and the only real feature we get is the ability to share playlists. I hope they're working on more in the background..

I think the entire team works part time or something lol

Well...I hope the Groove team are working secretly on bigger projects since there are still lots of features missing

No kidding. Almost a decade later and still doesn't have all the features Zune had. How this team hasn't been fired yet is astounding.

Collaboration on playlists like in spotify? Public personal playlists like in all the other services? It's sooo old school to actually share a link for a playlist... why can't I just type in the username/connect via Facebook, and see my friends public playlists?!? I've gone back to spotify after changing to android, and loving it! :)

Helpful, but would be 100x more helpful would be to restore the ability to REMOVE SONGS FROM THE NOW PLAYING LIST.

Hmmm, I received these updates a week ago. I guess I'm lucky haha. 😄

Mine has 17012.10302.0
Recieved it a week ago.

I cannot believe the movies and TV app is still a mess. We still cannot remove free pilots that we tried and hated. They keep showing back up. I stopped trying them because they just end up all over the place. We still cant organize our own tv shows and movies. They all end up in a giant piled up mess in "personal". As much as everyone complains about iOS and iTunes, it is killing Windoes Phone in media now. They have the TV app, we have nothing like it. They can have their personally owned TV and movies organized properly with the right artwork. On and on and on. This app flat out sucks and should be canned along with the team and started over with someone that has some sort of vision.

Agreed, I actually went back to iTunes recently just to organize and edit my media.

Its insane that there is no way for orginization. I was hoping eventually to get a more artistic look with backgrounds and artwork for our personally owned tv shows and movies..now I would just take being able to separate my shows from my movies. Remember when we had tv shows on Zune? As we watched an episode, it greyed them out. Where the hell is stuff like this now? Does anyone know who is working on this app? Because they have done nothing but sit on their ass for two and a half years. This app is complete garbage.

Mmmm, Pepperidge farm remembers....

Dont make me cry. We went from great and amazing with Zune, to this crap were we are still crossing our fingers a decade later. Instead of new and great stuff, we are still praying to get back the old stuff. Ugh. Ugh. Ugh.

Dont make me cry. We went from great and amazing with Zune, to this crap were we are still crossing our fingers a decade later. Instead of new and great stuff, we are still praying to get back the old stuff. Ugh. Ugh. Ugh.

The update has broken basic track playback on Groove for me. Microsoft really has to improve the quality of their updates and fixes. It's always one step forward, one step back.

Yeah what about hevc format

I want to be able to 'play to' from groove. Is that possible?

Unfortunately I don't get the update of Groove (yet). Can someone post an example link of a shared playlist (share with email and copy the link in the email) so I can implement an import function of Groove playlists in my app Playlist Converter?

Darn. I'm still not seeing this on my Lumia 1520.3 now running Fast Ring 15043. Anyone else? Is this solely a non-Insider Release?

Got it last night. Probably three days previously, I switched from Fast to Slow Ring, thinking that would help. Maybe it did, but two or three days after switching is strange. Regardless, I got it and I'm happy.

Am I the only one that still can't use compact overlay? For some reason it doesn't work. Do I need to turn it on from an obscure settings menu or something?

For starters, what is compact overlay?
Windows Central Newsletter
Thank you for signing up to Windows Central. You will receive a verification email shortly.
There was a problem. Please refresh the page and try again.