Groove for Xbox One once again supports music videos
Groove on Xbox One has been updated with music video support!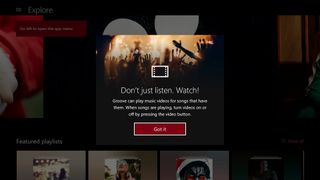 Groove is currently the best way to listen to music on Xbox One, boasting millions of tracks, OneDrive MP3 stream storage, and background music support on Xbox One. The service is even integrated into Forza Horizon 3, replacing the in-game music with your own library.
Since making the jump to the Universal Windows Platform, Groove for Xbox One lost a key feature — music videos. After promising to bring the feature back, Microsoft has now delivered! Here's a quick look.
To make sure your Groove app is fully up to date, head to the Games & Apps section in the top right-hand side of the main dashboard, then select the update tab on the left.
Groove Music doesn't list which songs or albums have music videos available, so you just have to go through and hope for the best. Metallica's self-titled album (opens in new tab) has lots of examples if you want to give it a try with a Groove Music Pass (opens in new tab).
You can toggle music videos on and off on the right side of the menu. Background music will no longer function with music videos enabled, so take note of that if you're planning on using the feature.
Groove Music has improved by leaps and bounds on Xbox One and Windows 10 devices since its debut as Xbox Music. We can only guess as to what features the Groove team are cooking up for the future.
Will you use Groove's music videos feature? Let us know in the comments!
Windows Central Newsletter
Get the best of Windows Central in in your inbox, every day!
Jez Corden a Managing Editor at Windows Central, focusing primarily on all things Xbox and gaming. Jez is known for breaking exclusive news and analysis as relates to the Microsoft ecosystem while being powered by caffeine. Follow on Twitter @JezCorden and listen to his Xbox Two podcast, all about, you guessed it, Xbox!
I for one love it when the give us back features they have removed! Like you don't know you like it until they've taken it away for a bit amirite? ... amirite?

Agreed. I used both for awhile and was a vocal advocate to bring back the videos. Especially since the Xbox app was the only one that had this feature. Hoping they bring it to phone and pc eventually

Aye, I didn't use this feature much but it was nice when hanging out at a friend's houes or something. Now they just need to make it easier to find music videos so we can create visual playlists.

Yeah I use this a few times a year maybe.....But it's really good for those times. If people are over at our house before a night out for example it's good to have on in the background. Just glad to see they haven't dropped the feature forever. I don't see a reason not to bring this feature to PC (less so, but still applicable to Mobile) unless there is some terms in their licensing of the videos that only allows it for Xbox.

One feature I would like to see for locally storted media is the ability to filter music by source location. I suggested it through the feedback hub here: http://aka.ms/r0icix ​If you think you might like the idea, give it an upvote :)

Until they rename it next year😂😂😂

yeah it's been Microsoft tradition to rename it every 1-2 years.
> Windows Media
> Microsoft Zune Music
> Xbox Music
> Groove Music

Windows Media - 1991 - 2012
Zune Media - 2006 - 2012
Xbox Music - 2012 - 2015

Hold on.
Music - 2013 - 2014

Has it been called just "Music"?

Yeah, the last updated app on Windows 8.1

Can't, no 8.1 device left.

Can confirm, it was simply called Music back in Windows 8.x days (not WP, the full desktop Windows)

I wonder if they will ever bring this feature to the desktop/mobile versions?

I wondered that myself, would be a cool feature for media PCs at the least.

For All W10 Groove needs a lyrics section for each song.. Or lyric view.
.....
We need access to Lyrics, Audio Control, Processing, Effects, and Music Video, right in the app. That would make Groove the ultimate music machine.

Nice. Groove is really shaping up nicely. A bit late though. We really need it in more countries and more importantly with family account subscription tier.

I use Spotify for the time being since they provide a low student discount and a family plan :)

Can I download my music from Groove onto my Zune HD player?

Sigh, don't think so. But I could be wrong

I couldn't even get it to 8.1.
Zune will be a stretch for Nadella
I don't think he's heard of it.

I couldn't even get it to 8.1.
Zune will be a stretch for Nadella
I don't think he's heard of it.

Nadella has heard of Hotmail and Napster so I'm sure he has heard of Zune. Alas it will not come back and support for Zune devices only work on Windows 8 and 8.1

Makes sense to not have Zune support in Groove. It was discontinued ages ago

I can't find much Metallica related stuff in the store from the actual band

Really? Their entire catalog is available in the UK... might be restricted by region.

This is true. Metallica's music is restricted in the U.S. on Groove.

In sure they're banned in India.

Appears on Groove in Australia.

Hey, did you receive the Groove update in Australia? I can't get it yet :-(

Have always been amazed this didn't just become the norm for digital music years ago.
Currently, it seems like videos are promotional rather than something actually monetized. Had expected Pandora/Groove/etc to offer a dual-format option for a small upgrade price for forever though.

Would be nice for desktop/continuum too

Finally! My groove app hasn't been working the last few days.

Not a feature that I used a whole lot, but when I wanted to, I really missed it.

How about offering a family-bundled holiday discount to keep us around?? I got a wife and five kids who would love to use this but $700 is a little much...

Is there a way to listen songs offline on Groove for Xbox One?

Yes you can download to your device.

Do you travel with your Xbox One?

Nice! Good stuff! Now more and better playlists and a family sharing subscription would be perfect! As well as a discount for college students like the other music services do.

Too funny about the family plan requests. MSFT has tried it, it was successful and of course since it was consumer related they dropped it. Once upon a time there was the Zune software that would allow you to have the service on multiple phones and PC's. I had my two kids phones and their PCs on it along with my phone, PC and XBOX360. At the same time, they had an XBOX Live Gold family pass. It made me buy multiple XBOX360s too! Those two went by the way of the Dodo bird. Probably because MSFT realized that they had a consumer hit on their hands and someone on the Enterprise side of MSFT got jealous. Well, apparently in MSFT you can't have a jealous person on the Enterprise side of things so both plans were killed. I really shouldn't complain because I now pay less but of course I'm getting less and would gladly pay more. But even though MSFT is getting into quantum computing, they can't seem to figure out the economics of my last sentence. What's the over/under of MSFT changing the name of their entertainment offering in the next 12 months? Zune to Xbox Music to Groove to ??? Please don't talk about any feature that you really like in Groove because MSFT will nerf that in their next offering.

Oh Microsoft. Next maybe windows phone and circle icons will be making a return ?

This is great! Just need the hearts back to help make your fav playlist!

About time, I cancelled Groove mostly because of this, I used this all the time for a "music TV" option with friends over.

Is there any way to get Groove on Xbox One to play music from a network location? I have all of my music stored on my PC, and I'd like to point the app to look there. I currently use Plex to do this, but I'm not a fan of Plex for music (moves, it's great)

Using Groove? No, not to my knowledge. I think you can use the generic Media Player app to play music on a local network drive, but you lose all of the cloud features (artist info, playlists, etc.). There's also a Simple Background Music Player app, but that may only work with local storage (i.e., plugged directly into the Xbox). Honestly, Groove is just the best music experience on Xbox. Plex is pretty excellent, too.

Groove on Xbox One only plays about twenty of my songs on shuffle then repeats from the start, it's really freaking annoying.

Alternatively if anyone knows of another music app for Xbox One with OneDrive support that would be amazing.

Bloom music player works on xbox one. It's in beta though.

Not seeing it yet on my Xbox One. Do you have to be in the preview program?

Same here and I'm not in the preview

Me neither. I even uninstalled it and reinstalled and still nothing.

Agreed. Slightly important part of the article.

I'm not seeing this feature on my Xbox One S either. I'm in the U.S. and am not in the Insider program.

Excited about music videos return to Groove! Excited Metallica changed their minds and is putting out music digitally!... Until I read the comments and saw how the article wasn't from the US...well.... Hooray for music videos on Groove. These days I'll take a victory wherever I can.

Says u can turn them on or of in thee right side of the menu....what menu are u talking about?? Is this for Insiders or everyone im not seeing a option for videos

Seems that this feature is for insiders only, as I do not even see this feature on my Xbox one, even uninstalling and reinstalling groove couldn't get it to turn up. Wish that could've been noted in this article.

Totally agree. This should have been noted in the article. :-( :-(

Has anyone seen the update in Australia??? Can't get it :-(

I just tried myself. Uninstalled and reinstalled... No joy.

I cancelled Groove Music because of the terrible sound on Xbox One volume is low and tinny no EQ and doesn't show all my music unless I load it to OneDrive and pay more. I have a very large music collection and Groove Music just doesn't work smooth enough for my needs. I will use Plex, my music shows up and audio is better, less hoops to jump through.

Windows Central Newsletter
Thank you for signing up to Windows Central. You will receive a verification email shortly.
There was a problem. Please refresh the page and try again.