GroupMe beta for Windows 10 Mobile nabs GIF and Image search to spice up your messages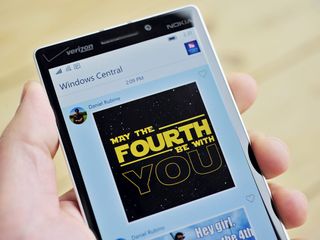 The Skype owned GroupMe app has been getting a steady flow of updates every other week and today's update for 1.9.2.0 (beta) up from 1.8.16.0 (beta) brings a nifty new feature: JPG and GIF search.
When users now post a new message to an existing conversation besides Media and Calendar options there is a new one for Media Search. The search area lets you browse an external repository for static images or animated GIFs within the app itself and embed them within the message.
Users can also type in phrases or words to search for GIFs or JPGs for something specific. Once embedded, a copy of the animated GIF or JPG is saved to a users Photo gallery for later use.
Currently, there are two versions of GroupMe for Windows 10 Mobile including a beta one found on Insider rings and the non-beta for Release builds. If you are on Windows 10 Mobile build 10586.218 or 242 you will be on GroupMe version 1.8.17.0 and won't yet have this new feature.
Download GroupMe from the Windows Store
Daniel Rubino is the Executive Editor of Windows Central, head reviewer, podcast co-host, and analyst. He has been covering Microsoft here since 2007, back when this site was called WMExperts (and later Windows Phone Central). His interests include Windows, Microsoft Surface, laptops, next-gen computing, and arguing with people on the internet.
This app is sooo good. Just wish I had more use for it (too much competition in messaging).

Surely this needs to merge with Skype. What features does it have that wouldn't make sense in Skype? Or vice versa?

Merging GroupMe with Skype doesn't make much sense. What would make a lot more sense is taking what used to be Rooms in Windows Phone 8 and merging it with GroupMe. Rooms was amazing but Microsoft killed it when they should've been expanding it. The multiplatform GroupMe gives them a way to do that: group messaging, shared Outlook calendar, shared OneNote, shared OneDrive, etc, across all platforms, all conveniently tied together in a single app. That's what GroupMe should be. In its current form, it's just one in a sea of other messaging apps. It can't stand out. It needs to do more. Rooms did more. Merge them.

I really miss Rooms! Listening to you describe the features I'm actually reminded of Office 365 Groups. We have this at work for project/team collaboration. https://support.office.com/en-us/article/Learn-about-Office-365-groups-b565caa1-5c40-40ef-9915-60fdb2d97fa2?ui=en-US&rs=en-US&ad=US

Yeah, should concentrate on making an "uber l337" Skype app, instead of being a multi-headed hydra. Curious why they feel the need to dev. so heavily on a completely sep. app, why not converge resources & roll it into Skype (or at least a "flavour" of Skype better suited)?

Different dev teams, however. The GroupMe bunch are in NY and do their own thing. Skype is in UK I believe and does theirs. GroupMe is still like a separate mini-company within Skype.

I'm sure, just not sure it's really in line with their whole consistency/distill/minimalise/purify/unify approach of recent yore. Would much prefer to see the best elements of this (or all if practical) come to Skype; a far bigger name/brand, maybe they'll get to it eventually, in MS time-scale.

I've been submitting feedback to Microsoft to integrate GroupMe group conversations into the universal Messaging + Skype hub (as well as Xbox app conversations, too!)

Yeah you're right. For anything groupy, I always want my android and iOS friends to come on but it's just on Windows phone. That has also limited the usage. Buy it's really a great app use. It just offers a lot of workaround and UI specialty I've never seen on any other windows app.

GroupMe is on Android and iOS too, has been for a long time IIRC. In fact, on Android it has 5M+ downloads, so evidently still popular. Rated highly on both iOS and Android, which is also interesting. I think it surely has its fans.

Yep, this was my go-to app when I got my first Lumia; it was the best way for me to do messaging with friends who had iOS and Android.

I've noticed people at my university tend to be rather fond of using this app for collaboration on group projects. The majority do not want to use FB messenger, Skype, group texting, or other methods. GroupMe, however, is frequently used.

Interesting; I was just commenting above that this reminds me of Office 365 Groups. I may have to revisit Group Me, but I'm not sure I'd be able to get critical mass.

Additionally, people who don't have data can still be included in the group, group messages just show as sms.

I mean, the third screenshot you shared is a perfect example of the app/service. I, too, would be talking to myself if I had it cause there's no one else on there to talk to..

Really hope this comes to PC soon! :D

In the meantime, there is a GroupMe web app you can use on PC.

I'm sure MS knows what they're doing. I just wonder why they are keeping Skype AND GroupMe. There must be a logical reason. To me, they should champion Skype and load up on it with all the features that GroupMe has to offer, and then fade GroupMe out. That way, MS can keep pushing Skype as a BRAND and have Skype's services to backup the name.

No idea. I was just ranting on Twitter that they should make GroupMe for desktop, OS X, UWP for Windows 10 PC and add Cortana/bots and they'd have a killer Slack competitor.

They have really nice web apps for GroupMe to be used on desktop and OS X. Sent from my HP Spectre running Windows 10

Alright, I think I'm going to have to go back and check this out again.

OSX? Nah. Posted from Windows Central for Windows 10

I use GroupMe countless times every day. Every group/club on my college campus uses it for quick communication. It is nearly as universal as fb messenger in that sense. Daniel Rubino, as far as desktop and OS X clients go, they do have a very handy and well-featured web app that works great. Sent from my HP Spectre running Windows 10

The app in the Dutch store says: chat is only possible in the US......... Cheese .....

The Dutch store is wrong. This is one beautiful app. But nobody i know is using it. Damn. Greetings from my orange Lumia 930 W10M .218 non-insider in The Netherlands.

I just linked this article and told my android group me friends that this new feature will prob come to their phones later. ONLY to be told they've had it for months now. Lol smh @ microsoft. Its rly comical how they treat their own platform as a red headed stepchild

If the gif feature had been around when i tried it that would have made me used the app but telegram came out with it first and i'm really not gonna make my friends move over to another messaging app.

I never realized this is a beta app. No where it is mentioned in the store listing.

Why can't the gif feature be anywhere else in wm10 Posted via the Windows Central App for Android

WhatsApp should look like this. WOW. Greetings from my orange Lumia 930 W10M .218 non-insider in The Netherlands.

Doesn't make sense. App is great but I don't want to have my 10 friends download an app just so I can experience .gifs when they can already do it on their androids and iPhones. Id rather just use the messaging app for group texts and deal with WM10 until they figure it out.

Me and some of my friends use GroupMe extensively for its calendar feature. But if WhatsApp introduces that feature then we may switch.

nice to see the app gap is shrinking. now its time to let people know win mobile got it and hope they will use it

Dark theme would be awesome
Windows Central Newsletter
Get the best of Windows Central in in your inbox, every day!
Thank you for signing up to Windows Central. You will receive a verification email shortly.
There was a problem. Please refresh the page and try again.