GroupMe bumped to include cute new emoji; fixes some issues from previous update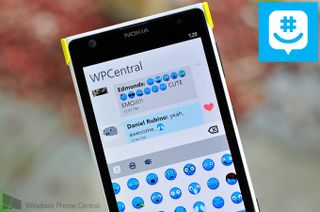 GroupMe (www.groupme.com) is a popular app from Microsoft that enables teams (or simply groups of friends) to collaborate and enjoy the transfer of photos, while making use of both data or SMS for messages. It's available on iOS, Android and even has a web version.
The team has pushed out second, rapid update for the app this week, introducing new emoji support (also available in the GroupMe apps on other platforms) as well as fixing some lingering issues.
The reason the GroupMe team decided on adding their own emoji was due to other apps offering emoji that don't feel as natural as entering text to compose a message. Instead of showing the actual emote in the message compose box, a ":)" or "[smile]" may be present until the message has actually been sent. With any GroupMe app, the emoji will be displayed correctly and shall be fired across the world to the recipient with style.
Utilising the same idea as a WYSIWYG (What You See Is What You Get) editor, you'll effectively be able to edit the message, knowing it'll be rendered exactly as is on the recipient device. Neat.
Version 4.6.1.0 was just released today bringing back text prediction as that feature was temporarily removed due to a conflict with the new emoji system. With this latest update, those who were experiencing crashes or missed the autocorrect feature, you should be on better grounds with this release.
You can download GroupMe from the Windows Phone Store (available for Windows Phone 7 and 8).
Windows Central Newsletter
Get the best of Windows Central in in your inbox, every day!
Rich Edmonds was formerly a Senior Editor of PC hardware at Windows Central, covering everything related to PC components and NAS. He's been involved in technology for more than a decade and knows a thing or two about the magic inside a PC chassis. You can follow him on Twitter at @RichEdmonds.
This looks good, I'm going to try, thanks for sharing.

Haven't heard of this app till now

Not available for win 7.8 :(:(

I feel your pain I'd say grab a 520 if you can not having the new apps and updates will drive you crazy as ur waiting for your upgrade or the next cool new phone

It is available as charm for all WP7 devices and not lagging at all, check again!

It's definitely available for 7.x. I've been using it for several months.

Its not available in all regions. I have a WP 7.8 but its not available in my region: India.

Yes! Thank the Lord. I loved the new emojis, but I was making so many mistakes since the text prediction was taken out.

Same here! It was driving me nuts!!!

I once had a steering wheel attached to my groin that did the same thing.

That was my problem too! Glad it got fixed

I love this app my family and I can keep in touch easily as a group this way

Ever since the last two updates, my push wouldn't work. Also my pinned chats will unpin themselves.

Yep. My pins don't stick either. I don't think they even test pinned groups... They're perpetually bugged and not working right.

Pinned groups also a disaster for me as they become unpinned

Hi there! Just wanted to let you know that we are currently working on these two issues (push messages and pinning groups) within the new release. We are sorry for the inconvenience. Hang in there and feel free to reach out to support@Groupme.com with any other questions or feedback.

How is this different from just sending texts by using Groups in the People Hub?

GroupMe is on various platforms (iOS, Android) and even has a web version, so being platform agnostic with the same universal feature set is a selling point. It was an independent company that was bought by Skype. Then Microsoft bought Skype (ergo they own GroupMe) and current thought is that eventually GroupMe may be folded into Skype, like Lync. For now, it operates as a separate company and is continuing to be developed.

I've been using it for a cross-platform group for several months now. It works well for Android, iOS and desktop too.

Agreed. We use it for Mobile Nations events since it's the only app we can almost agree on to use! Well, except for Kev on Crackberry, there's no app there right now for BB10, though it's in the works.

Daniel is it better than Whatsapp to you? Whatsapp has some strange delays. I will get messages really late like hours late or a day later. Its crazy. I was hoping to find an even better one.

I don't like them, I wish they just used the default ones from the WP keyboard.

I think the benefit here is that they can introduce new themed sets at random. Like the back to school set they just released. It's kind of fun.

Looks like it needs some more updates.
When making a group, it selected people I didn't select and then it took several clicks to get them off.
I gave up.

do the people you are talking to also need group me?

No. Just head to their site (www.gropume.com) to learn more.

Just curious. How does this app differ than just using the Groups feature in the People tile?

Your friends don't have to have a Windows Phone to use GroupMe, since GroupMe is available on different devices. The Groups feature in the Peoples tile only works well if everyone else has a Windows Phone (maybe that'll change in the future!).

But I can't be seen using emoticons this cute. It will ruin my life.

Meanwhile Mr. Daniel Rubino crying on the screenshot (or shut eyes?) #sorryenglish

i dont get it, why not just send group texts? what am i missing?

The groups are easier to manage in groupme than simple sending out group texts. You can also send messages and attachments to GroupMe from the web on your PC, its like group text on steroids. Plus, you can mute specific or all groups at night or when you are busy. Really great way to communicate with a team of people.

People use GroupMe a lot to communicate and coordinate attacks in QONQR. It helps a lot compared the basic 1 to 1 messaging in the game. (use LoneWanderer as a referrer if you want to check out that game because you get stuff with using a referral and I get stuff if you play for a while) It is a fun game, and GroupMe helps a lot..

WHERE CAN I PURCHASE THAT CASE/BUMPER CRAP THING??..carry on..

This needs a PC version too not just web. Sticking with Kakaotalk for now.

So why don't we have all the features present on android and iOS

Curious to know what's missing?

Android shows when people are typing, auto updates the feed, doesn't have issues looking at photos just attached, and has working notifications. I know they work for some, but they have been broke on my 920 for a couple weeks now.

Is it me or do the live tiles still don't work and pinned groups get un-pinned. I've got a 1020 and it drives me crazy!

I am unable to get notifications through the app, even after the update. When I open the app I get an error which says cannot connect to Microsoft. Is anyone else getting this??

GroupMe on WP8 is so poor compared to e.g. Android version. We actually stopped using it due to its UI and features. We were quite surprised and disappointed.
Windows Central Newsletter
Thank you for signing up to Windows Central. You will receive a verification email shortly.
There was a problem. Please refresh the page and try again.