GTA Online for Xbox One adds snowball fights and gingerbread man masks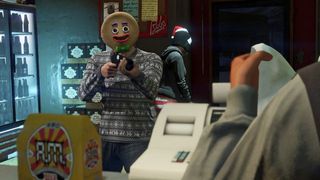 Grand Theft Auto Online has a ton of free holiday content available for all Xbox One owners. Most of the new items, including new cars and weapons, are available permanently, while some of the more festive things, like snowfall in San Andreas and holiday masks, are only around until January 5. On top of the new items, Rockstar is also kicking off a #FestiveSurprise holiday photo contest with a big $1 million prize in in-game cash.
The update also includes the ability to own a third property and a handful of other new features. Here's all of the holiday goodies you'll be getting in the latest update.
Homing Missile Launcher and Proximity Mines
San Andreas snowfall
A friendly snowball fight
Holiday pajamas
'Ugly' Christmas sweaters
New scarves, hats, masks
Hot Rod Christmas Ratloader
Slam Van
Massacro and Jester sports cars
Holiday Special Crate Drops
Firework Launcher and Firework rocket ammo
How many of you guys are playing GTA Online? Are you going to give the photo contest a try?
Source: Rockstar
Welp, expect a new Vanoss video ;D

Awesome!! Can't wait to get some of the new clothes items for my online character :D

That gingerbread mask is hilarious.

Can't catch me... Posted via the Windows Phone Central App for Android

Still waiting for that house property with a beach view.

Can anyone confirm this also available for previous gen consoles?

It will be available for all four consoles as will heists.

Android GINGERBREAD 2.3 killed by an other man with an other mask #GTA #XBOXONE #MICROSOFT #ANDROID #GINGERBREAD #BAKERY #WINDOWSCENTRAL

Headed to Los Santos in just a few minutes.

The user handset in GTA V looks like a Windows phone
Windows Central Newsletter
Get the best of Windows Central in in your inbox, every day!
Thank you for signing up to Windows Central. You will receive a verification email shortly.
There was a problem. Please refresh the page and try again.