Master air combat with Guardians of the Skies for Windows 10 Mobile
Guardians of the Skies is an air combat game for Windows 10 Mobile that places you in the cockpit of an assortment of jet fighters and helicopters to tackle both combat and rescue missions.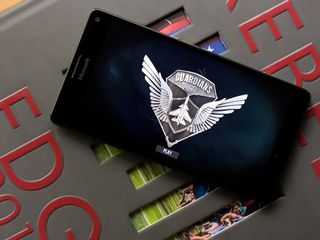 This free app is the official game of the Indian Air Force and your fleet of aircraft range from the SU-30 high-performance jet to the C130 Hercules. Graphics are nicely drawn up with fluid animations. Controls could use a little fine-tuning, but nothing mission critical. Overall, Guardians of the Skies is an entertaining air combat game when you need a little help passing the time.
Gearing up for combat
The main menu for Guardians of the Skies is modestly laid out with options to view your game profile, view the developer's credits, launch a training mission and jump into straight into gameplay. The profile screen has the option to enter a custom screen name and view your game ranking.
Training missions cover the basics of flight control, alongside tutorials for take-off and navigation, armament training, landing and free flight. Each tutorial is progressively unlocked as you complete the courses, before moving onto the main missions. Guardians of the Skies includes ten operational missions that include both "rescue" and "seek and destroy" assignments. If you feel the missions are too easy, there's also a setting at the bottom of the mission screen to increase difficulty.
The heads-up display provides a radar in the upper left of the screen, throttle and weapon control in the lower left and weapon selection in the lower right corner. Guardians of the Skies also has a point of view joystick that positioned on the left side of the display, should you have a need to look around.
While there are several on-screen controls for your aircraft, you also have the option to use tilt sensors or an on-screen joystick to steer your aircraft. These options can be enabled via the pause menu, alongside calibration and sound options. From my experience the tilt sensor seems to work best in most situations and feels more responsive than the on-screen joystick.
Don't let the rescue missions lull you into a sense of safety – missions can often be surprisingly challenging. You can draw enemy fire while rescuing workers from a deep-sea oil rig or stumble on heat seeking missiles while coming to a dignitary's aid. Campaign ribbons and gallantry awards are handed out based on your performance each mission and as you earn these achievements, you'll move up in rank.
Overall Impressions
For the most part, Guardians of the Skies is an enjoyable Windows 10 Mobile game to spend a little down time with. Its graphics are noteworthy and the overall challenge of the game offers a nice blend of complexities to handle.
However, even with its enjoyable gameplay, the game's controls can be a somewhat mixed bad. The point of view joystick is essentially useless and throttle controls sit tightly against the edge, resulting in accidental swipes to open the Action Center. There are also times when the aircraft veers off course, straying randomly across the sky. I experienced this mostly with the helicopters unexpectedly increasing their altitude to a point oxygen masks are required. This bug didn't occur frequently enough to be a deal-breaker, but did ruin any hopes of mission success at times.
While there is room for improvement, Guardians of the Skies has potential. While this free mobile game could do with some minor adjustments, I can see why our readers recommended we give it a try.
Download Guardians of the Skies from the Windows Store (opens in new tab)
George is the Reviews Editor at Windows Central, concentrating on Windows 10 PC and Mobile apps. He's been a supporter of the platform since the days of Windows CE and uses his current Windows 10 Mobile phone daily to keep up with life and enjoy a game during down time.
According to the store, it's a Windows Phone 8 app

I wish these games supported the Xbox Bluetooth controllers

I think some do, most UWP games do.

A list would make for a good review article. Something to entice developers to include support or add support to existing games.

I second this. Is there a "10 Games to play on your Windows Phone with an XBox Controller" article? If not, there needs to be.

I tried connecting my one controller to my phone, and the only game I was able to play with it was Minecraft. So yeah, I would love a list of them.

I enjoyed this game quite a lot.

I almost hate this kind of gameplay (air combat) because of hard to control the plane (frustrating). Right now I'm enjoying playing Asphalt 8 and Zynga Poker (no new update)... Candy Crush series and Asphalt Xtreme are ON HOLD.

my favorite air combat game. Very nice graphics and background music.

I wish it was windows 10 uwp

So it can be played on more than just his phone. It's a windows phone 8 app per the store

I've had this game for years, though a good game it seems odd that its only just been reviewed, whereas Warhammer 40000 free blade is pretty new and brilliant. More of the same please games workshop.

Yes, please list all games I can use an Xbox controller.

Controls are a big problem. It gets to a point of frustration sometimes, when you know your run was ruined with no fault of your own.
Windows Central Newsletter
Thank you for signing up to Windows Central. You will receive a verification email shortly.
There was a problem. Please refresh the page and try again.