Guess That, three trivia games in one for your Windows Phone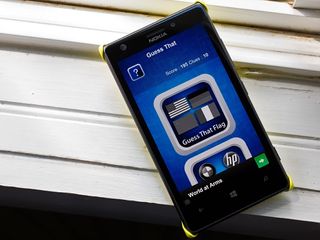 Guess That is a collection of three trivia games that calls upon you to identify flags from various countries, corporate logos and celebrities. The Windows Phone 8 game has 21 level packets that total 420 trivia levels of play.
The game has a nice, clean layout with plenty of challenging trivia levels. A slight spacing issue is present with the game screen but nothing ruins the gaming experience. After playing Guess That for a few days, it comes across as a nice collection of trivia images that will test your knowledge and is a fun way to pass the time.
Game Layout
Guess That's layout is straightforward with options to play one of the three trivia games and at the bottom of the screen links to view the 'How to Play' screen, view your stats and standings, view the online leaderboard and view the About page.
The three trivia games for Guess That include:
Guess That Flag: This game includes 140 flags from various countries around the world.
Guess That Logo: A collection of 140 corporate logos that you have to identify.
Guess That VIP: Here you are presented a photo of a celebrity, politician or dignitary that you have to identify. The game also includes 140 trivia levels.
Each game mode starts out relatively easy and as you would suspect becomes more challenging as you advance through the level packs.
Game Play
Game play with Guess That is as equally straightforward as the main menu is. Tap on the game you want to tackle, choose your level pack and then choose which item/level you want to identify.
When the picture of the flag, logo or VIP appears on the screen you will have one hundred seconds to correctly identify the item. Tap the 'Your Answer Here' box and type out your answer.
When you think you have the correct answer, just tap the Guess tile at the bottom of the screen. Keep in mind that spelling does count with Guess That and if you are close, a yellow icon will appear indicating you are close to the correct answer. Red icon means you're wrong and the green icon means your spot on with the answer.
Scoring is based on how quickly you identify the picture. You lose one point for every two seconds that pass and one point for every wrong answer. There is a slight pause before the timer starts so if you are type quick enough and get the answer correct on the first guess, you could walk away with 100 points.
If you need a little help in finding the correct answer, clues are available. You earn one clue for every two correct answers and your clue count is displayed at the top of the gaming screen.
Here's a quick gaming tip. Guess That does have predictive text, which does help, but if you tap on the predictive text to enter your word it will automatically place a space behind that word. If you have everything spelled correctly and are certain that your guess is right but Guess That won't accept it... make sure you don't have an extra space behind a word. Guess That will see the space as a spelling error and toss up the yellow icon when you submit a guess.
Overall Impression
Guess That brings together three popular trivia games under one umbrella and has plenty of trivia levels to keep you busy for a while. The variety of images you have to identify range from the very simple to those you have to burn a few clues before the light bulb goes off.
The app is very clean and easy to navigate but it felt as if the game was drawn-up for a taller screen. I don't mind having to scroll down the main menu to see all the options but you have to scroll down slightly on the gaming screen to expose the Guess and Clue button. That slight scroll can detracts from the overall gaming experience slightly and could cost you a second or two on the clock.
The ad-banner doesn't help the cause and an easy fix would be to remove the ad-banner from the gaming screen or reposition/resize the gaming screen elements.
Overall, Guess That is an entertaining and challenging trivia game for your Windows Phone 8 device. The game has plenty of trivia levels to test your knowledge and with scoring points dependent on how quickly you enter the correct answer, the game will also test your typing skills.
Windows Central Newsletter
Get the best of Windows Central in your inbox, every day!
George is the Reviews Editor at Windows Central, concentrating on Windows 10 PC and Mobile apps. He's been a supporter of the platform since the days of Windows CE and uses his current Windows 10 Mobile phone daily to keep up with life and enjoy a game during down time.
Is it just me, or does everything works allot slower after the last phone update? UPDATE: I got told to swap SD card. I did, and everything is smooth again. Yay! Thanks to a long wait for a WP support tweet, its fixed :P (2 hours later)

Not me, its fine in my 720. What issue(s) are you facing?

On my 1020. Love how fast it was. Now for example. Pages/apps get stuck. Cannot hold back button so I can close them. Have to lock/unlock to make them work again. Overall app experience is slower. On twitter, I have to press everything twice before it applies. Things like that. Did a soft and hard reset. Nothing changed. :S

My 8X us much quicker now. App resume especially. I'm loving it

I had a random battery drain today. Ran at -30% an hour despite multiple restart. Seem to have stopped now. Weird since the last update.

Yeah, I'm not sure if this is supposed to happen but every time I turn my phone on I immediately lose 17% of battery

icons of apps in the start screen and app list loads a lot slower while scrolling fast after the update :(

Having issues playing videos in browser. Flickering and jerking pages and random phone locks.

a next button would be nice

We are thinking about that. Thanks for the tip!

This game needs to be multiple choice, e.g. USA or United States of America isn't right but America is. Options or it's too open for mistakes if it isn't the answer the dev decided.

USA worked for me. Maybe a stray space, see below

It actualy is multiple choice for most of the levels. Just carefull with the spaces. Will fix this in the next release! :)

Bit of a clunky interface. Tapping between selections, there's a white screen displayed. Almost feels like it is opening a web link. Could be a lot smoother. The word recognition is a bit off too. I typed China with a space at the end in error and it was incorrect.

If feels like a webpage because it is build based on Web Technologies. The project dates 2 years ago as a Windows 8 project but we could not submit the app based on the Windows Store policies! :)

A search for guess that didnt return this app. I had to use the qr code. Come on, Bing.

We tried to make it come up with the "Guess That" query. I think its gonna need some time until the results are updated! :)

Any news about quizup from Daniel?

The official QuizUp app may come before QuizIt by Daniel.

Space at the end makes it not work. A fail for or me, 2 stars.
Wish wpcentral would give a rating, game play is quite poor.
This is where allaboutwindowsphone.com beats wpcentral, stop turning out all the articles, write more words and give better opinions. This game is max 40/100 and not worth looking at.

We will fix that in the next release. Thanks for the opinion! :)

It's not swift.. :( . Bit clunky interface. The white screen feels like opening of web link. :| Disappointed. Hope the developers updates it soon.

If feels like a webpage because it is build based on Web Technologies. The project dates 2 years ago as a Windows 8 project but we could not submit the app based on the Windows Store policies! :)

Hey guys. Im am the main developer of the game! We ported the game for widnows phone when we could from Android. We plan to make the updates especialy the one with the spaces witch has been planned for the next release. For more opinions and review tell me so we could make it even better! Thanks for all the good words, impressions and suggestions!

Always good to see a developer actively responding to comments made by users, as well as looking for feedback :D.

It is very nice listening to everyones opinion even when they are harsh! We as a team like the reviews a lot and like to look at things from everyone's point of view even tho we are very few in number. Wish you a good day! :D

We submited the update of the app contining the small fix for the white space before and after the answer. It should resolve most of the torubles of you guys. On the next release we are planning a daily hint bonus. For more suggestions feel free to contact us!