Guess which country has the second-highest markup for the GTX 1080 and 1070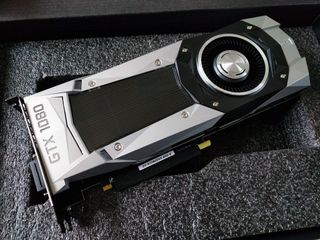 NVIDIA cards carry a significant premium in India (I paid around $600 for my Zotac GTX 970), and the situation hasn't changed much for the GTX 1000 series. The vendor's Pascal-based cards made their debut in India, with the GTX 1080 set to retail for an astounding ₹63,500 ($950), and the GTX 1070 for ₹40,800 ($610). The pricing is for the Founders Edition, and as of now there's no indication as to how much the regular variant would cost, or if they'll be made available in the country.
The Indian pricing for the GTX 1080 is $250 more than the $699 retail price of the GTX 1080 in the U.S., and $160 more than what the GTX 1070 goes for. The only country where the cards are even costlier is Turkey, where the GTX 1080 retails for TRY 2,850, which comes out to $974.
NVIDIA has also mentioned that the pricing of the cards will remaing intact, and while you may be able to get a minor discount at retail stores, you'll still have to pay a significant markup when compared to other regions.
What do you guys think of the pricing of the GTX 1000 series in India? Anyone interested?
Windows Central Newsletter
Get the best of Windows Central in your inbox, every day!
Harish Jonnalagadda is a Senior Editor overseeing Asia for Android Central, Windows Central's sister site. When not reviewing phones, he's testing PC hardware, including video cards, motherboards, gaming accessories, and keyboards.
i should compel my friend in US to carry two 1070s to India for me in future.
wait, can I do that?

Can't see any reason why you couldn't. Posted via the Windows Central App for Android

Wouldn't he be charged customs when he lands back?

I'm not an expert cause I'm English, but no, it's a personal item pure and simple. If he buys one from abroad sure, but an American visiting a friend in India is totally allowed to give them a gift. As far as I know, of course. Posted via the Windows Central App for Android

Yeah, u can ! Sent from my Lumia 650 via the Windows Central app ;)

The UK ain't too far behind. Here the 1080 is just over $880 US.

Australia is looking to be about $880-900 US as well.

We always get ripped off and pay an inflated outrageous markup, no matter what it is...

Sadly, yes. :( Sent from Turing Machine

Yeah, it's definitely expensive here, but if you take average wages into account the Indian price is literally insane! Posted via the Windows Central App for Android

Titans are priced over 100,000 inr, so it's expensive but comparatively cheaper, though I buy AMD only.

Buy now then before Brexit which will NOT make things cheaper for you!

In Malaysia leak pricing for 1070 is bout $588, 1080 is bout $858 Posted via the Windows Central App for Android

well, you have to check that prices ranking, here in Brazil the 1080 costs R$3999, about US$1169.

Unfortunately, we Brazilians have the highest price for any tech related stuff (console, mobile, pc, gadget, game, software....)

But you guys get to win every third World Cup so that evens things out ;-)

strange, I didn't recieve any golden cup or cash here in my house, you might be confusing us citzens with national team players who earn lots of money. I don't even like football.

I was only joking Marcos... I have a few Brazilian friends and I know life in Brazil can be difficult...

I know, me too, I was just being sarcastic to run with the joke. zueira never ends as we say here. don't worry.

Huh. Brazilian prices weren't mentioned in the press release. Will take a look at that.

the sugested price by Nvidia was R$3699, which is still US$1079, but I couldn't find it in any online store at that price, and online is always cheaper than in real stores, so, it only goes up from there.
Brazil is known for the most expensive iPhone and PS4 in the planet, among other products, nothing new.
it's part import taxes and part market pratices, because high end eletronics are treated like luxury items here, firstly because of said taxes that limit the target market to the very rich.

I remember PS3 release here in Brazil at R$ 7999 (that time it was something around US$ 4000) ... PS4 also was released in Brazil at R$ 4000 ... Both got the prices reduced few months later because anyone would buy it at that price

Russia. ₽60000 for 1080 is high cost in its north-eastern cities. In the center cities, GTX 1080 requires ₽53000, still expensive. Thanks ruble, shi**y value.

Taxes my dear friends is playing the spoil sport

Agreed. Do your homework. This isn't simply NVIDIA marking these up. VAT and other import taxes are a large part of this. Free trade pacts and an average of 5-7% sales tax here in the USA keeps these things cheaper

I know we're not a big country, but the 1080 in Croatia costs over 1000$ as well as in some other countries... So yeah :S

Well, if you guys would have loved yourselves more, you could have had a better deal with a bigger South Slavic Republic.

Canada = ~$975
It's all about exchange rates.

Maybe this is why we want global currency. Sent from Turing Machine

All the best if you can make uncle Sam agree to it From MS Lumia 435

No, that exchange rate doesn't make sense. Our dollar is only 15-20 cents (or percent) below the US dollar but we see closer to a 30% markup/exchange rate. A proper exchange would make it like $800-850.

For which & is that with taxes?
Checking ncix an asus 1070 is 619.99 & a asus 1080 is 919.99(though the msi non-founder is 999.99)

In canada, the price is $950 for the 1080. Our dollar is around 15-20 points below the US dollar yet we see like a 30% markup

All depends on OEM & reseller here. National retailers tend to shake down their customers for low quality cards id stay away from bb & newegg

I think I'll be better off with r9 390, I wanted Gtx 1070 but the price is to much! Posted via the Windows Central App for Android

I just got the r9 380 for $150 on newegg and it runs everything very high or max at 1080p, I also have the FX 8350 and 16gb ram so that all helps, but its all together cost less then that NVidia card... So im happy with my price per performance.

Why you dont wait for the 480?

Well, there goes my dream of getting a 970...

Do AMD cards have similar mark ups? Posted via the Windows Central App for Android

Typically no, if any not so much

The high-end cards do, but the budget cards are reasonably priced. It'll be interesting to see how much the RX 480 debuts at.

Exactly, India is a potential market for AMD, if RX480 is priced well AMD will get good market share here, all of my cards are from AMD, proud red team member.

Lol their ati r&d is still done in T O yet their non-reference cards cost us Canadians more. Some of the newer firepro's look tempting but devs are likely not to support them

I think I'll make do with the Raspberry Pi Zero if I am able to source one at all.

How much different is GTX 1070 & GTX 1080...?

In terms of..? Lumia 640XL LTE DS

Colors and aesthetics, obvi. Sent from 5 Sim Lane, in Neighborhood 1.

Does AMD suffer the same mark ups?

Typically no, if any not as much

If you live in the country they still do r&d yes

The rx480 or what ever the new one is called will be 200 bucks and as powerfull as a 960 overclocked. So i dont think they will suffer Posted via the Windows Central App for Android

These companies rob us! Posted via the Windows Central App for Android

It's better to shift to US Posted via the Windows Central App for Android

There are guys claiming on http://Amazon.in?tag=tech0e7-21&ascsubtag=UUwpUdUcU2450454 that they are gonna sell their houses, kidneys, etc to buy some of these cards.
Anyways, I ordered mine from the UK for £475 via a friend.

Does the US Price include tax? Most counties' prices include tax. So its hard to compare

No, the US price doesn't include tax. It varies from state to state and often county to county. However, as a general rule, our taxes on goods are usually a single digit percent. For example, where I am, the cost would be an additional 6.5% added to the card. In addition, the import fees are not high depending on the country goods are coming from.

Some states have no sales tax, but my state has a 7% tax.

The prices are insane in my country too. About 200 euro more for 1080. Was thinking about buying it in US.

If you import from USA to EU you will be charged various import taxes... You might get away with bringing it over yourself in your luggage but if you get caught you will also get fined and then the card will end up being even more expensive than if you had lived in Brazil...

is that NVidia's MSRP in india? or just local stores pricing it that way? why? shipping? it just seems like the average 3rd world country rip off

In Romania the GTX 1080 is around 900 euros, the custom fan design ones.

Just searched for the price of the 1080 here in Hungary, and the first price that came up was 280000 HUF (around 1010 USD). It's insane :D

EU countries can order online from other EU countries, most often without having to pay additional taxes, so it would probably be a good idea to look at online stores in Germany, Netherlands, etc and find yourself a good deal... A good place to compare Dutch and Belgian prices is tweakers.net/pricewatch I'm sure there are similar sites for Germany. Just for reference; Here in the Netherlands the cheapest 1070 seems to cost about US$565 and the cheapest 1080 about US$775 at the moment, that's including 21 or 22% sales tax...

Jup. At mindfactory.de youll get a 1080 for about 670bucks. Posted via the Windows Central App for Android

Would love one but 900 euro are too much..

Does nvidia even know, that we live in a globalized world?

Ofc they know, the price is given for US and without taxes. Only fools could think they would get a card like that for 600$ :)

Problem isn't entirely them its their ODMs

Isn't this because the US prices are listed without sales tax, while the rest of the world lists the cards including sales tax?

The US prices have no additional sales taxes included. Those are added on later.

In India almost all electronics cost about 50% more than in the US. iPhone SE for example was launched at ~₹39000 i.e. roughly $600 but the US price was $399. I ordered a coloud headphones from Sweden once, thry cost about ₹2200, but I had to pay ₹1000 as import duty and taxes!!

That's often the case here in Croatia too. :-(

Do it, do not pay more when yo don't have to :). I wanna see the pricing in Czech republic.

So... We should feel sorry for the turks? Right? Why feel sorry for the second most expensive?

Sweden, NVidia Geforce GTX 1080 ~$926 USD. Not so cheap here either. Heck, my 950XL and my 1520 cost me $720 USD each, both on release.

As I understand it, those US retail prices never include sales tax, so $699 is never really "only" $699 while in most civilized countries sales tax is included in the retail price, so the difference isn't as large as it would seem... Except if you live in Brazil, then you're screwed...

Hmm, the difference is still pretty big sometimes due to the import fees in other countries. People in "civilized" countries seem to get taxed pretty heavily on both ends. For example, a product that costs $699 where I am is subject to a 6.5% sales tax and works out to be $744.44 total at checkout. However, other factors can come into play such as price matching with online retailers that can lower the price or the occasional sale or customer reward program (these are very popular in the US). Long story short, the large difference in cost has more to do with the government than anything else.

Here in the Netherlands that US$699 1080, which really costs you US$745, costs €660, including taxes, which right now is equivalent to about US$775... and because of EU law it comes with a minimum 2 year full warranty... So, in other words, anyone who says the USA needs "a better deal" is clearly a lying idiot. You guys pay the least and get paid the most... All that's keeping you from also being a civilized country is decent minimum wages and free or at least affordable health care... Oh, and less shootings of course! And probably less homelessness...

I'm pretty sure no one ever said that the US "needs a better deal". At the end of the day, a lot of our pricing is because the US is a heavily consuming country with a huge population to offset the need for higher taxes and certain agreements in place with specific countries to import goods cheaply. As for what will make us a "civilized" country in your book and how highly Americans are paid, it's best you leave that discussion alone. Gross-oversimplifications of what will "fix" a country's problems tend to miss the whole picture.

Actually, that orange-faced guy says it in pretty much every single speech, that the USA is getting ripped off by everyone else and that you need him to make better deals for you... I absolutely agree that gross-oversimplifications suck... I hope the majority of your fellow Americans agree with that too in November... No, wait, I forgot your elections aren't won with a majority vote... Uhm, ok, I'll leave it alone now... Sorry, have a great weekend! (Just for the record, I LOVE almost everything about the USA but I think a certain orange-faced guy should be forced to live in India or Mexico for a year or two without any of his inherited money)

LOL, the best way to sum up American politics right now is to reference the Aliens Vs. Predator tagline. "No matter who wins... we lose." ;-)

Well, at least I made you LOL ;-)

That's why I hate my country

950-1000$ in Serbia. So I guess we are among the most expensive probably behind brazil. Posted via the Windows Central App for Android

Seriously? This is getting old!

Probably worth the research being done to understand where it is coming from. Supply shortage in a country without many electronic resellers? Large import tariffs?

Nothing for me to worry about, going AMD with their new cards this year

Is Brazil this card is more expensive than India

Which country has the first highest mark-up?

AMD here I come. Seriously it is like they want to help amd to sell more. If AMD follows this and prices the cards high, that's it.

Rx 480 for the win. AMD is going to rock this cycle.

The cards are just as expensive as in Denmark... The cheapest one i 5.799 kroners @ 672,78 that makes it ca. 862$

Holly heck. I pay 610 bucks for the 1080 here in Germany. Its amazing how big Nvidias balls have to be to oull those prices. Thats definitely not a fair pricing and should and someone should speak up. Posted via the Windows Central App for Android

Just read through the comments. Looks like Nvidia is kinda ripping of poorer countries. Cone to Germany ya all. Apparently everyone is now welcomed here with houses and weekly money ^^ ( true story) . So if you want a 1080 custom design by kfg for 620 bucks, come to germany Posted via the Windows Central App for Android