Gun Strike 2 - a little mercenary shoot 'em up action for your Windows Phone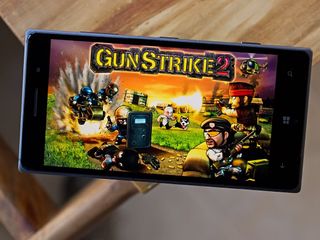 Gun Strike 2 is an action packed Windows Phone game where you play the role of a local mercenary who faces a wide assortment of combat assignments. Game play is along the lines of a robust Hogan's Alley) styled game with your enemies popping out from behind walls, through windows and other areas of cover. While the missions vary in context, the ultimate goal is the same, take the enemy out before they take you out.
Available for low-memory Windows Phones, Gun Strike 2 has plenty of weapons upgrades and mercenary types to unlock. The game has its fair share of challenges and comes across as an enjoyable title for our Windows Phone gaming library.
Gun Strike 2's main menu is a little on the modest side with options to rate the game in the Windows Phone Store and visit the game's Facebook page in the upper right corner of the screen. Key options are center screen and include:
Campaign: This is your main gaming option with thirty-six missions spread out across six levels. You will have to earn a set number of stars during game play to unlock these levels. Also, a training level there is, that has a target range and hunting mode.
Store: Here is where you will find all your in-app purchases. You can remove ad-support, buy gems and cash, unlock all the mercenary characters and unlock all levels. Prices range from $.99 to $19.99.
Safe House: The safe house is where you go to view achievements you earn during game play. There is a mini-game in the safe house (a slot machine) that you can play free once a day to earn bonus items during game play.
Achievements: This is more a traditional view of Gun Strike 2's gaming achievements. It will show your progress towards the achievement and allow you to collect rewards once earn the achievement.
Options: There are three areas of game settings with Gun Strike 2, control, effect and profile. Effect options cover sound/music/graphic quality. Control options offer two styles of aiming control, sensitivity and enhanced accuracy settings. Finally, the Profile option lets you establish a player name for the leaderboard.
Leaderboard
The two aiming options function almost identically. The Touch option has a rectangular grid placed in the lower left corner of the screen. Just tap and move your finger around this area to move your cross hairs.
The Relative option eliminates this grid and allows you to control the cross-hair movement by tapping and holding anywhere on the screen. You don't have the tap to aim feature with Gun Strike 2 where you tap on a spot on the screen to aim at that spot. Having to move your cross hairs around the screen does add to the challenge of game play.
Speaking of which…
Game Play
Again, Gun Strike 2 has 36 missions scattered about six levels. Prior to the launch of a gaming level, you will see the mission objective, which typically involves taking out a set number of enemies. However, there are some missions where you have to rescue hostages and escort personnel.
When you head into game play for the first time, a layout of the game screen will be displayed. You can always revisit this layout by pressing the ? button that is on the main menu.
You have a pause button and mission information in the upper left corner and your health points in the upper right corner. Down the right side of the screen, you will find:
Your skill (dependent on the mercenary you are using)
A reload button (weapons will reload automatically but if you want to get a jump on things.)
A grenade launch button for weapons with a grenade launcher
Your weapons fire button
A button to switch weapons. You get to equip your mercenary with one primary weapon (usually a rifle) and one secondary weapon (usually a pistol).
A button to throw a grenade
Your mercenary will be positioned roughly at the bottom center of the screen behind cover. The only change in this positioning is when you have to escort someone where your mercenary will be running across the screen providing cover/protection for the VIP. Bad guys will pop-up in windows, from behind crates, run across the screen and other hiding places. There will be times that innocent bystanders will run across the screen (don't shoot them).
Your level score is based on enemies killed, accuracy, shots fired, health points remaining, and civilians shot. Based on your score, you'll earn cash that can be used in the mercenary store and stars that will be used to unlock additional levels.
At the end of each mission you will have the opportunity to buy ammo, check in task progress and visit the mercenary store where you can upgrade weapons or pick another mercenary to send into battle. I did not see any means of accessing the mercenary store prior to game play.
Ammo is not replenished at the end of each mission and you will have to spend a little cash in between missions to re-stock your bullets. The game isn't selfish with ammo allotment and the ammo prices aren't through the roof. While some would prefer unlimited ammo this set-up does promotes accuracy rather than just holding down the trigger hoping to hit something.
Gun Strike 2 has a boatload of weapons to choose from that include M1 Garand rifles, M60 assault rifles, Remington 700 sniper rifles, handguns, shotguns and even the old Thompson ( Tommy Gun) submachine gun is available.
Then you have twenty-four mercenaries available that range from your typical "Rambo" styled character to a G.I. soldier to an angry panda bear. Some characters have special skills (damage increase, invincibility, recover hit points, etc) that can be activated when the Skill button on the game screen is pushed.
Overall Impression
Gun Strike 2 may not appeal to everyone but the more I played the game, the more Gun Strike 2 grew on me. The game is simple to pick up and play but will take a little effort to master. Gun Strike 2 will test your reaction skills in identifying enemy targets and swing your weapon sights quick enough to shoot them before they shoot you.
I wouldn't mind seeing an option to access the mercenary store prior to game play but having it pop-up after action isn't the worst of things. Other than that, I cannot find much to complain about with the game.
Overall, if you like arcade shooters that play out like a Hogan's Alley or shooting gallery styled game, Gun Strike 2 is worth checking out. Graphics are well drawn out, game play challenging and Gun Strike 2 is a fun time waster of a Windows Phone game. The game is ad-supported, which can be removed with any of the in-app purchases but isn't in the way so if you are against IAP's you don't feel the pressure to buy something just to get rid of the ads.
If you have tried Gun Strike 2, let us know what you think of the game in the comments below and don't forget to rate the game in the Windows Phone Store. It is the easiest way to offer feedback to the developer.
Get the Windows Central Newsletter
All the latest news, reviews, and guides for Windows and Xbox diehards.
George is the Reviews Editor at Windows Central, concentrating on Windows 10 PC and Mobile apps. He's been a supporter of the platform since the days of Windows CE and uses his current Windows 10 Mobile phone daily to keep up with life and enjoy a game during down time.