Had a hard time upgrading to Windows 10? Share your tale with us!
By Richard Devine published
If you've had to jump through some hoops to upgrade your computer or tablet to Windows 10, we want to hear about it.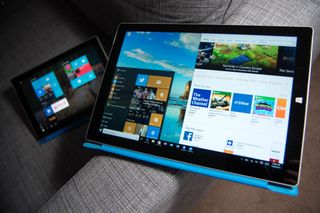 (Image credit: Dan Rubino / Windows Central)
This all stems from a recent personal experience. I just picked up an Alienware X51 R2, albeit used, still on Windows 8.1. To be expected, and indeed only recently can you buy a new one from Dell pre-loaded with Windows 10. I'm reasonably savvy, but the upgrade experience is, shall we say, less than ideal.
Maybe I should have expected it, but given how easy my other upgrades have been, maybe I got lazy.
Either way, on a consumer level it's a pretty janky method to updating my PC. After a failed first attempt produced complete blackness on the screen, Alienware support directed me to the video below.
Turns out that the official, recognized path to upgrading an Alienware PC involves turning secure boot off in the BIOS, uninstalling the NVIDIA graphics drivers, and then running the upgrade. None of it's too difficult but it does seem a lot for an update to Windows. I mean, these are the sort of issues we'd want fixed ahead of time by all the companies involved, right?
But it also got me thinking. For a little weekend community chat, let's see what you, the Windows Central readers have to say. See how far you had to go to upgrade your own computers or tablets to Windows 10. I've had an easy time of it on my XPS 13 and my Venue 8 Pro, and a much more complicated run as I've described here.
So, jump into the comments below and let us know how far you had to go to upgrade to Windows 10!
Richard Devine is an Editor at Windows Central. A former Project Manager and long-term tech addict, he joined Mobile Nations in 2011 and has been found on Android Central and iMore as well as Windows Central. Currently you'll find him covering all manner of PC hardware and gaming, and you can follow him on Twitter and Instagram.
So far I've upgraded my main pc and a linx 7 and 10 with no problems, but I've had an absolute nightmare upgrading my cenovo mini pc, it kept failing at around 70% with a safe_os and image error. It got stuck in a reloading previous os loop and corrupted the whole lot including the rescue partition, I've finally managed to get it sorted today by pure luck.

I needed mct for both pcs i have. Now they have removed the 586 from mct my third pc may not get it through wupdate as it has yet not happened.

Get the ISO from MSDN. If you are downloading from file sharing sites, make sure the SHA1 hash matches that of the MSDN image.

Needed MCT for both major Windows 10 updates...not sure if Windows Update would have made the download smaller in the case of the Nov update...but ended up using abt 3.5 GB via the MCT...maybe I made a mistake in the options I chose...?

Same issue. Been trying to update to build 586 5x already on my HP laptop & no luck so far. It kept restoring to the previous build/os. It only got past the Install Drivers part then blank screen.

No webcam drivers on HP Pavilion... Known issue will all builds...no Skype.
802 Wi-Fi blue screen when using Windows phone as hotspot.
Known issue since 8.1 can be disabled if you remember everytime you install a new build.
240 unresponsive start menu.
586 most stable.
Multiple desktop not reliable especially with groove playing in a different environment.

I had the same problems with my Dell XPS 13. And actuall I am thinking that is the reason why MSFT pulled MCT back to 10240. I contacted MSFT Support on Twitter and they really tried to help me (sfc etc.) but finally I hat to reinstall Windows with Build 10586. Going back to last Build worked until I tried SFC scan so be aware of this if you have important data.

I upgraded my two desktop PCs very easily. However they were both enrolled in the Insider program. However my surface 3 had some issues updating, and now when it boots up it scans the drive, and sometimes fails to boot. I will say that my wife's HP Stream had dome hiccups and it took 3 tries to get it. My mother in law's Stream got it in one try, but every now and then she losers icons in the task bar. They are there, just blank.

I am having the same problem here. But in windows 8.1. Once an app crashes and boom. All icons disappear. Its frustrating.

I'm having a hard time upgrading to windows 10 bcoz of Sony's crappy and lack of support.

Same. Managed to update, but touchpad not scrolling now

With the latest synaptics driver installed, it always stops working after a sleep/hibernate. Finally, read the Sony forums, found an age old version of the driver, which although works, but doesn't scroll in the easiest way. Also, driver always gets updated automatically to the latest (broken) one after restart, so I have to revert back every time I restart :\

They haven't released driver update. Sony sucks a lot.

In the System Properties there is a place under devices to stop Windows updating drivers. Disable that and then it won't revert them.

It's EZ. Anyways, I never upgrade, that's for pleby plebs. I always do a clean install.

You cant do a clean install of windows 10 until you have upgraded first.

Now you can (supposedly) with the November update. Besides, the media creation tool has existed for a while. Posted via the Windows Central App for Android

I did a clean install even long before November update. In fact, I did it just a couple days after the official release date

Only if you have a retail product key. OEM and volume licenses are not eligible.

Yes you can but in most cases, a clean install with w10 is a waste of valuable time and enegry.

Ofc you can. I did it myself.

Got a new SSD for a 10 year old Dell M90 Precision laptop and loaded Win10 x64 Home and Office 2016. Best video driver is the generic one from Windows. Boot time is like 10 sec. Used to be 5 minutes. Worth the $200? Yes.

It was a clean install that blew up my ASUS X205TA Eeebook. I ran an upgrade without any problems (other than the 20GB SSD drive not being able to accommodate the OS + Office + OneDrive, the latter no longer able to sync to my SDXC card). After one insider update (I don't remember the build number), my browser no longer worked. All hyperlinks were DOA. So I d/l'd the ISO file to do a clean install... It worked fine (after I disabled the secure boot in the BIOS) except... ASUS had not yet published all the necessary drivers. So keyboard, trackpad, and sound didn't work. The factory reset from the restore drive didn't work. The whole thing bricked. Since the original OS was 8.1 with Bing (advertising subsidies reducing licensing fee for OEM), the downloadable 8.1 ISO wouldn't install with the prod key stored in NVROM. I had to return it to ASUS for a factory-fresh 8.1 build. Not a plebe - I've built and shot trouble on no less than 150 PC installs (6 yrs as a sys admin for med size company), but with OEMs dragging their heels with Win10 drivers and Win10 itself not quite ready for primetime, there are situations where it's not so "EZ."

Yea, my Dell Inspiron laptop hates Updates...
First with 8\8.1, the Graphics card refused to play nice with 8 & had to go back to 7.
Now with 10, it gets stuck at 80% & that's it! I tired waiting, I tried redoing it ... But noting, always stuck at 80% I eventually said **** it, I'll stick with 7 until I get a new laptop.

Two pcs three laptops and three tablets, pcs and laptops very easy the tablets a little more working out I had to remove the sd card and the third a linx 1010 when its docked to the keyboard caused the Bluetooth drivers to fail. Undock, restore and apply the update, no further issues.

Initial upgrade failed and became stuck at the preparing desktop screen. This was caused by software known as Core Temp. Removing this software resolved the issue but it took a week and many failed upgrades to figure it out.

Lenovo Miix 2 8 has issues with an Intel driver which causes a BSOD when opening the camera. Still unresolved.

Try latest driver from intel download site.

Lol...
That doesn't work either, this issue is very specific to the Lenovo Miix 2 8 and the Dell venue pro. Any Intel imaging signal processor 2400 driver for the Intel Atom chipset causes a BSOD plain and simple when using an app which requires the camera.
PS I feel as if your advice is arrogant, perhaps if you quickly used Bing you'd s what I'm on about...

I also have a Miix 2 8, but I even have the same camera driver problem with Windows 8.1 that gets installed via updates. Other than that, does Windows 10 run fine? If I just do the upgrade, will the original recovery partition stay intact? Thanks.

Upgraded my 2 pc no problem,,,i had issues with my Asus Vivotab smart,,,,after updating to windows 10 it was running slow no audio ,,,, i uninstall the driver i installed back and it was the same,,i uninstalled windows 10 and installed back 3 times,,,after the 3rd time it was fix no problems,,,don't know what happened,,,, i wasn't the only one who had that problem with this tablet ,,,, hope they find out what was the problem

All devices (3 desktops and 1 tablet) went smooth except for 1 device, the Intel Compute Stick fails non-stop and now just hangs at start. I unplugged it and walked away.

I wouldn't say "hard time", more "impossible" to get from 10240 to 10586.11

My each and every upgrade experience since windows XP days have been flawless.And its more than a dozen on multiple devices without even a single failure.However my build transition experience has been stubborn,either builds dont download or when they download they don't install.

I upgraded my Dell desktop last week but I rolled back to the previous 10 version because after the upgrade win 10 didn't recognize my Seagate external hard drive.

And hence u rolled back?? Common you should have played a bit with device drivers,usb drivers.It's more like investigatiing a crime scene.

I did have an experience like that in a previous update. Eventually, it was the damn USB 3 driver that got screwed up. After reinstalling it, everything was fine.

My upgrading process from 240 to 586 is actually quite easy not much problem. But system file corrupt on 240 render my taskbar unclickable after upgrade to 586. Return to previous build and then full reset just make it worst. I just do full clean install after that. Problem solved.

Ran across a few issues on a couple systems. Upgraded a couple old laptops that took some work. Alienware m11x on Windows 7. Came across the black screen. After many attempts to fix it, finally realized that the switchable graphics was the problem and disabled it in bios. On an HP HD18X, after upgrading, couldn't get any apps to work or anything to download from Windows store. Finally gave up trying to fix it. Deleted my account and added it back in and all was working again. Something corrupted with the account.

I had no issues upgrading my Surface Pro 3. However, during the upgrade to my wife's Surface Pro 2 we had a major issue. I believe it had to do with the multi-monitor setup I had for her. The pc was on the docking station and I had the USB 3.0 to HDMI adapter attached to allow a dual monitor setup, my two printers which are always connected through the dock and the Keyboard/Mouse receiver. Since the update went good on my Surface Pro 3, I started the update on my wife's surface and left it on its own. The next morning, my wife found her surface on a reboot loop, it kept attempting advanced recovery and would fail. By now I should mention that I had encryption enabled since this is a business-use pc and my wife has many client files within it. I tried advance recovery to restore without wiping files with no luck. I tried to see if there was a recovery point made by the update which would allow me to revert back and no luck there. I attempted to boot the device through CMD from the startup menu while having the USB with W10 mounted and it did not start the setup. I attempted to boot from USB and it worked, I attempted to do startup repair and it did not work. It froze and then went back the the loop of Starting up, then black screen, then error attempting startup repair. I attempted to start the upgrade from the setup and it stated I had to run the update from the desktop which was not possible. The other option was to overwrite the drive and with bitlocker enabled I do not believe I would have been able to recover the files, much less extract the licensing information to have Win10 legitimize on the surface. Since nothing worked I reached out to microsoft in hopes they would be able to help, they sent me an e-mail which contained instructions to do the stuff I had already done, nothing new. After this, the last resort was to either 1.) Wipe the device and loose all files or 2.) Send it in to Microsoft so they can restore. I went online and found information on how to disable bitlocker through the available CMD and I was able to attach an external HDD, unlock encryption and backup the 50+GB of files. This completed and I went to reset the PC back to factory selecting to wipe the drive and not to keep the files... Well, that did not work. The surface went to 4% and remained there until... you guessed it... reboot occurred, then black screen, then attempting startup repair... which failed again. At this point, I went in to see if there was anything else I could do, there was an option to revert back to the original software on the pc (luckily, since it is a PC we use for our business, I had not wiped the recovery partition to recover the space) but it did not work either, at least, not the first time I tried it. Disheartened, I attempted to restore the PC back with the recovery partition and... Alas, the Surface began recovering!!! I was able to bring it all the way back to Windows 8! Then began the process of upgrading, lucky for me, during the troubleshooting process I had downloaded Win10 (with Nov update) and made a USB drive installable, so I was able to use the device and update to Windows 10 Nov Update. Well, I was lucky is all I can say as I was able to recover ALL DOCUMENTATION from the PC and I was able to restore it overnight as my wife was back in the office the next day. The only thing I hate is that I was not able to recover my OFFICE 2013 installation as I had used up my serial installation and had to acquire another license. I bought the MS Work and Play bundle and immediately installed Office 2016 (Office 365 deal). All in all, I believe the issue was not the update itself, it was the USB3.0 to HDMI adapter I was using. I have now replaced it with a Multiport displayport which allows me to get my lady the 3 screens she had been craving at her home office. I am lucky as I was able to restore the machine and recover all my encrypted files.

Upgraded my 8.1 desktop with no problem. Decided to try upgrading my 2007 Asus TabletPC. Came with Vista, upgraded to 7 four years ago. Took awhile. Afterwards, the links/tiles in modern apps wouldn't work. Ran a repair and now works better than new.

No problem for me while upgrading....the only problem I face is my display driver will cause the laptop to start after a very long time...disabling the device solves s problem but a restart will enable it ....moreover windows update automatically download the display driver (graphics) if I uninstall it....does any one have a solution for this problem of disabling automatic update or downloading update

I tried installing the original Windows 10 build (10240) on my HP AiO PC (it originally came with Windows 8).
It bricked my PC in about a week. The display wouldn't start at all. Some issues with the power driver. Had to perform a clean recovery back to Windows 8. Tried installing again after a few months. Bricked again. Recoered again.
Installed the new build (10586) after it rolled out. It's working fine as of now. Let's see.

It is exactly because of issues like these, that it worries me, that MS will discontinue the use of upgrade to fall update (and future feature updates) per ISO and only allow it through WU.

windows 10 is very good, my only pobleme is the way Onedrive is working... no more placeolder (ability to see file offline in filemanager) still waiting on MS to fix this before ugrading...

Seems like you won't be upgrading anytime soon.

My hp notebook everything was fine, but on my dell venue 8 pro the update process bricked it and I can't fixed yet...

It's quick and easy, but a full reset solves a lot of driver and other issues caused by software and various system settings. However, this causes quite an issue on my Lynx 8 inch tablet... But only because I was in the insider program. It is advisable to clone any drive before upgrading!

I have an hp g6-1048se the upgrade process went smooth and everything worked well except for the switchable graphics and there weren't any drivers at all neither official nor unofficial so i decided to go back to Windows 7 and stick with it forever Posted via the Windows Central App for Android

You can force the installation of 7 drivers anyway.

This has been the worse upgrade experience with windows for me...
Numerous computers/tablets with problems upgrading... Upgrade or clean installs both have their issues. Then you finally get them working, apps stop working like mail, store, and any other apps...
8 and 8.1 at least worked... 10... :( Before any silly responses... I know what I am doing. All computers from surface pro 3 and dell venue pro 8 to my desktop with 12GB ram, ssd, core i7, etc... Many other of my and family computer / laptops... Issues as well.

In my 30+ upgrade experience, apps tend to "break" if you dont let the store update them to the newest version. And if that fails, do a reset of Windows 10 and that usually fixes any problems.

I have seen numberous issues, on numerous form factors and models. The GOOD NEWS is that this new CURRENT RELEASE seems to stablize Windows 10 a lot. But I agree. I like Windows 10 but it feels about as stable as Windows Vista.

Stopped at 81, then restart @0%. Will wait for January update skipping December. ... Posted via the Windows Central App for Android

My Del XPS L501X failed upgrade three times and had to rebuilt with Windows 7 to use my Windows 8 upgrade key to install Win 8 pro.
Now I prefer to stay on 8.1 and wait for OneDrive placeholder on Win 10.

Hundreds of Windows 10 installs/upgrades under my belt and only one problem that was self-inflicted. Tried to save some time, skipped entering the license, assumed I was upgrading the PC from Professional, selected Professional and obviously ran in to Digital entitlement issues. Other than that, never seen any other OS go so smoothly.

Zero problems on any device I upgrade.

I planned to upgrade my PC after having formated it. So I burnt a DVD with the windows 10 .iso, and attempted to create a new partition next to my old Win8.1 installation. Turns out, there was a hard drive file format issue, and I was forced to format the entire HDD, and then install windows. Half way through the installation, turned out the dvd was corrupt. So here I am, with an OSless PC, and no valid installation media. I attempted to download the iso on an old mac running Ubuntu, but at 97%, firefox decided the download had failed (please note have a 1mbps connection). 7 hours of downloading later, I had a valid iso, which I then spent 2 days trying to burn on a DV or USB stick. It never booted correctly. Finally, I tried one last time before buying a windows 10 dvd, and it worked.
Recap: It wasn't fun, and I spent about 4/5 days attempting to reinstall windows. Good thing I'd backed everything up.

Took more than 20 attempts to finally get it running and still can't connect to bluetooth on my Lumia. There is no easy way of skipping some updates which really hurts.

Seen driver issues where something isn't quite working after upgrade (mostly laptop audio) but no major issues. Quite smooth overall I'd say.

I've upgraded many PC and Windows tablet to Windows 10, the hardest device was an 16gb Windows tablet , after the Windows upgrade,I was stuck in that build(I can't install updates) because the storage was full (800mb left) so I really don't recommend Windows tablet that comes with 16 gb

Didn't have a hard time, but Bluetooth no longer exists on my Vaio Tap 11. The built-in Bluetooth hardware is still there, but there's no option in this Win 10 for BT. I'm sure that isn't all that's missing either. It's just the most noticable to me.

Try open Device Manager, under View, enable show hidden devices. Try update the drivers with yellow marks.

Or go to manufacturer website, and download compatible driver

No drivers are available for this device from the manufacturer. The OS selection menu goes up to Win 8 only. No Win 10 drivers. Edit - Heh...strange. I booted up my Tap 11 just now to look at the device manager under hidden devices and the Bluetooth is now functioning. I didn't do anything at all. The BT booted up with the PC. I changed nothing in device manager. I bought a Surface 3 in place of this Tap 11 and haven't used the Tap or powered it on for a couple days. Been using the Surface. But I decided to look under hidden devices in the device manager as you recommended because I was curious. Strange how Win 10 seems to fix itself.

If you're connected to the internet, Windows Update will search for the most compatible drivers. Maybe that's why, after Bluetooth driver has been installed, Win 10 shows the Bluetooth settings back.

I can't see how Win update can do that when the device is powered off. And I used Win update a number of times searching for driver updates and it didn't find anything.

Tried to upgrade a w7 based cyberpowerpc desktop equipped with a gigabyte GA-X79S-UP5-WIFI (rev. 1.0) Intel C606(aka Sandy Bridge EP) no luck corrupts bootloader everytime after initial driver update

Doing the latest cumulative update borked my laptop. Thanks MS.

No horror stories for 10 but I have one for Threshold 2.

I have a tablet with 16 GB internal memory. I successfully upgraded it from 8.1 to 10. It has 32 GB SD card. When November update came out. I did my best to free 6 GB from C: Drive. I really spent hours to do so. After reboot to continue installation, it was stuck at 40%. Eventually I reverted to original Windows 10 installation. Problem is Windows November update has serious problem with SD cards and update can't be done without it. It is a dilemma that hope to be solved

This answers so many questions, I tried 3 times with my alienware before I gave up

:/ no issues with my alienware M17xR4

It worked great on my Asus N550JV, but the latest big update messed some things up oddly enough.

Same here, my Asus 551 upgraded from 8.1 to 10 with just a few driver issues, I remember applying the fix to avoid driver updates then reinstalling all affected drivers. A pain but at least the laptop works. Latest Fall Upgrade went OK but again broke various things like the old usb hard drive power off issue which MSFT have known about for at least 4 Windows versions but never fix. Sadly W10 although better than previous versions in a few areas is just as flacky as before in so many others. So expect to spend many hours tweaking, troubleshooting and fixing just as with all MSFT OS.

I mean I've been pretty lucky overall with both W8 and W10, but I did have some odd things happen with the latest update. For example, Edge lost all the bookmarks that I had on the bookmarks toolbar. I also had added copy to/move to registry tweaks to the right-click menu and they were removed with the latest update. I've also been having rather frequent Intel video driver crashes. I've got all of the latest drivers so I don't know what the deal is. I'm planning on getting an SSD and once I do I think I'm going to do a fresh reinstall of Windows.

No issues and i Have updgraded from Windows 8 -> 8.1 -> 10

To upgrade my PC from Windows 8.1 to 10 was a piece of cake. I only had to click 'update" and it was done. I"m now on build 10586. On the other hand I had to do it 4 times and recover the same number of times on my Lumia 920 until build 10581 and now 10586. Too slow, draining battery, and locking screen were some of the bugs.

I have grown to live with the new challenge...for my alienware17... On my Alienware Aurora r4 it was a breeze... Back to my alienware17, after upgrading the pc which comes with an amd graphics card; anytime the display goes off for more than a minute, my pc would not wakeup again. I have to power off the laptop... Tried everything from refreshing to a clean install... Nothing worked. At first, I a had issues with activating my laptop when I did a clean install.. So I went back to windows 8.1 using the recovery dvd and also had to upgrade the 8.1 to 8.1 pro with another retail O.S I had purchased way before I got my alienware17. Only then could I update to windows 10 pro with a working license... Eventually I just turned off the option for the display to go off... And that's how I have lived with windows 10 on my laptop...

I have an alienware m17xR4, and i never got an issue with that. Mine has an AMD 7970m and works flawlessly... I installed it form a usb img...

I've been looking for your problem, it is caused by cortana when you have activated the "Hey cortana" feature, you can check it typing "powercfg -requests" on your console and checking what is causing it, i dont have this problem, i dont know why... but i installed an older driver for my audio card because the new one was working well but it didn't showed the Sound Blaster Control pannel. Hope this Helps! :)

I have a Dell venue 8 pro 5000 and I upgraded okay. Only problem is that when I put the tablet to sleep and then turn it on only the backlight comes on. I have to hold the power button for 10 seconds and restart completely to "wake" it up. I've tried all the fixes I could find online with my limited technical skills, and nothing works. I just turned off the sleep function and only then it on when I'm going to actually use it. Posted via the Windows Central App for Android

Please read my post above, this may be caused by the hey cortana feature, it happens on a lot of PCs. Try typing "powercfg -requests" ​on the Command Prompt to check what is causing it. Good luck hope this helps! :)

10 attempts using Windows Update..3 Updates using ISO and after that 1 Successful attempt.. Error was caused due to bcd corruption in Windows 8.1..after such painful efforts I again did the Rollback.. :D

I upgraded my tablet with no problem, my PC on the other hand was a little complicated. It didn't validate Windows, so I tried to fix it but nothing work, so I called customer services which they were able to validate windows as a valid Windows OS, then had to do the same thing in the latest major OS Update. Other than that, all cool.

One hp running 8.1 the upgrade to Windows 10 was a piece of cake. My Windows 7 professional I still have not been able to upgrade. I really haven't had the time to sort it out wats causing the problem.

Done 30+ upgrades and clean installs and only once have I had any significant problems. It was on an old 10+ year old laptop, where the upgrade process went fine, but then it started to act up. The WIFI would show not available and yet you were on the network, and the sound would just come and go. A quick (relatively speaking since it was designed for early Vista) reset via the reset in Windows 10, and it all worked fine. You just have to remember to make sure everything is updated.. first the machine via windows update, then the apps via the store. It helps if you have a Microsoft account btw, as Store updates go more smoothly and start faster.. at least in my experience.

I'm back on Windows 7 and now won't touch 10 at all.

My PC stopped after a power cut during upgrading until sofar I've not been able to switch to Windows 10

Upgraded a Samsung ATIV Smart PC 500 from 8 to 8.1 to 10, a homemade gaming computer from 7 to 10, a Gigabyte Brick from 8 to 8.1 to 10, a Surface Pro from 8 to 8.1 to 10, and a Dell Venue Pro from 8 to 8.1 to 10. All but the Venue have the November update. Also, a Surface Book with the November update. All are running well. I had a couple of failures to install but subsequent attempts succeeded without trouble.

Upgraded 7 PCs/tablets to 586 so far (variances of OTA/ISO) and although a better experience than w/240, install process is still waaay to glitchy and a crapshoot, a few induced anomalies too afterwards but have been able to deal with them somewhat reasonably so far.

I needed to remove an app that had installed SQL server. Then uninstall SQL server and finally things actually worked. The installer should have detected this.

I had it where sql server didn't run after inital 240 install but then applying some cumulative updates fixed it.

TW700 stuck updating with a big microsd card. The media creation tool won't let me upgrade unless I free up 5 gigs of space on the primary 16gb drive... Not possible... I'm stuck...

I have installed at least 25 PCs, most of which were Windows 7 and the rest Windows 8. I haven't had a single problem on any of them and am extremely impressed with the free upgrade process. I upgraded my development machine running Visual Studio 2013 with a ton of components, various other packages and 7 screen setup, plus all of our 3 servers running special software, all of which upgraded perfectly. I've read others have had issues but for me the process was spot on. Posted via the Windows Central App for soon to be Windows Phone

Maybe I was just lucky but I had no problems at all 'upgrading' to Windows 10.

On my primary home laptop, it took 6 or 7 upgrade attempts, and even when it went through, it was terribly buggy until I went through 2 complete wipes.

Slow performance in one of my laptops ( I have 2GB RAM though :( ) ... I had to retry Updating to the latest build 4 times due to the constant errors and after several restarts...And to me, Win 10 is still BETA

I did a clean install. I wanted a fresh start anyways. My experience was "clean" and smooth.

I upgraded my laptop from 2014 (from win 8.1) with some isseu's, older software didn't ran (black screens of deaths) a clean install afterwards fixed that but now some special keyboard keys dont work properly anymore (back light doesn't work and I nolonger can turn of the touchpad), its not a deal breaker since I rather run all my software without any problems but it is anoying that things dont work as they should anymore (and I can't find a fix for it) My Windows 7 desktop from 2010 upgraded with no isseu's.

We highly recommend asking for IT to handle the upgrade to W10. (We have Windows 7 and 8.1 on our multi-location network) I suspect it is because of general understanding of IT staff that we have a very few issues doing the many upgrades we have done to this point. But we DO use a USB media prepared drive, rather than any Windows Update procedure. I personally think it is an impossible task for Microsft to create any single method that would succeed globally. I'm actually surprised that they have done so well. Unlike other OS's (Apple, for example), the sheer vastness of different hardware configurations that Windows must support is staggering.

I upgraded my Lenovo miix 2 8 to W10 on day 1, but the performance went so bad that I had to rollback to W8.1. About a month ago, I tried the upgrade again, then everything worked fine since then. Tried to upgrade my 5 years old laptop Samsung RF710, but it didn't work. According to many sources, the problem is the WLan card (a Broadcom). So, I need to replace it for an Atheros or an Intel card, otherwise I'll be stuck on W7 forever.

After upgrading to windows 10 my hp laptop started to have sleep problems.ie. It does not awake from sleep and it can not shut down properly.

The 3 devices I upgraded were a true horror story.
I had to click update... and wait.
End of story.
LOL sorry

No problem upgrading my older laptop to W10. But won't upgrade my SP3 or Sony Vaio. Love Windows 8.X! There's nothing better than the tablet mode in 8.X.

Tablet mode on my SP2 is really nice on build 10586.

I've upgraded about 5 custom-built PCs, a Surface Pro 3, and a Lenovo laptop. It's all been easy sailing - except for the Lenovo, which installed fine but has some GPU driver issues on occasion. It seems like the usual story is the case here as well - laptops with bespoke firmware and driver methodologies freaking out when the OS changes. All I can say is get your shit together, OEMs :P

When installing 10240 on my 3rd gen i7 laptop, the Get Windows 10 app wouldn't show so I had to go into the registry as described in a WC article to upgrade my laptop. Luckily that was the biggest problem I faced when going from 8.1 to 10. To go to 1058x, I had to use the Media Creation Tool as prescribed by WC to start the update as Windows Update wouldn't give me an option to update a couple of days after the release of 1058x. In the process of installing it, my laptop turned off because I failed to plug it into power properly so I had to go through the process again with the second attempt working.

Got Windows 10 via Windows Update both on my HP Pavilion x360 Laptop (13" i5 5th Gen, 8 GB RAM, 1 TB ) and Notion Ink Cain 8 tablet (8" Intel 1 GB RAM, 16 GB Storage). Both working fine like butter. Installed Revit, AutoCAD, Navisworks, Android Studio, Visual Studio 2015 Community Edition. All working perfectly. No graphics issue on my laptop. Posted via the Windows Central App for Android

Upgraded 2 pc's without any trouble.

This is the problem Microsoft and consumers face because of the plethora of hardware Microsoft must support from different vendors and their various methods for protecting their assets.

Thing is in my case though, this isn't some no-name company. This is Dell, Microsoft and NVIDIA. I'd have hoped those three could have got together and figured stuff out.

It doesn't matter whether the hardware is from the top tier OEMs or the bottom feeders. Microsoft has taken on a monumental task in providing WaaS and it's going to take time and effort for them and their hardware partners to be on the same page going forward to make this work.

My upgrade experience has been good.

Yes, I had a very similar experience on one of my computers. Three of the computers, including 2 tablets upgraded without any problems whatsoever. The fourth though did not go as well. This was a cheap Toshiba AMD powered laptop. When I tried to upgrade to Windows 10 it somehow wipe the hard drive, even though I did not request a format. When I tried to use the upgrade media. It did not work at all. I finally had to disable the secure boot feature while using an official Toshiba back up USB drive. The official media creation tool for both the usb and CD drive did not work at all for Windows 10 installation.

I have such hard times that I don't get the Windows logo in the taskbar no matter what advice I follow. Still I have insider build on another partition, just I thought I would use it shortly and got 32-bit, and it turned out it is my working environment now...

I tried upgrading an HP Elite Book and now the power button no longer turns off. It goes into a restart loop. Also, the older Lenovo ThinkPad freezes and needs a hard shutdown following the upgrade, thereafter it seemed slower than Windows 7. Posted via the Windows Central App for Android

Posted this on another article: Dell Venue 8 Pro 5830 (64GB) (updating from 10240 to 10586): The update would get stuck at 68%. I tried a few times then Windows Update wouldn't show it any longer. I then tried the Media Creation Tool and tried to update via the on-bard flash drive. Still stuck at 68%. Read somewhere about removing the additional SD card, so I tried that. Again stuck at 68%. Tried an SD card through an OTG cable and same results. I lastly tried to boot to the SD card and try a clean install (while it's shut off, press Power and Volume Down to get into BIOS), but windows installation requires a mouse and doesn't load any touch screen drivers. Repair solution: Hooked the Dell tab to a 4-port USB hub via an OTG cable. Connected a keyboard, mouse and the bootable USB to the 4-port hub, and made sure the additional SD card was removed from the tab. I then did a clean install (deleted all partitions on the on-board flash drive - created new partitions). After install, I had to download the Win 10 drivers from the Dell Support site and install them via an external SD on an OTG cable (chipset, wireless, and Dell Foundation drivers). Now it's good to go and I've gained a bunch of space on the flash drive. I put the SD card back in and Win 10 will now let apps install to the SD.
The Original Win 10 upgrade back in July went very smoothly, but the TH_2 upgrade was bad.

My only problems were that MS installed bloatware on their own. When I put Win10 on my desktop that I built myself, they installed some Dell NetReady app on it without me telling them to. On my laptop when I upgraded to Win10 they installed some HP crapps.

Off-topic: I got an SSD and upgraded from windows 8 in 30 minutes with no problem. I never thought these things were this fast and awesome.

3 PCs, 2 6+ years old laptops, 2 tablets zero problem except the Dell Venue Pro 8. After removing the micro SD card and moving some files off the primary drive, it updated without problem.

With my ASUS laptop and my desktop things worked just fine, but I needed to update the touchpad driver for my ASUS, but overall, just fine. On other note, my ASUS laptop got a lot of issues with the nightmare situation of the store not updating anything and some apps not working (Mail for example), and after a cumulative update, Edge just broke itself, so I needed to reinstall Windows 10 in the Recovery option in Settings, after that, just everything go smooth :)

Went ahead to upgrade both my pc(8.1) and laptop(7), upgrading the pc went without a hitch, take decision to do a clean install.
did the same step on my laptop, upgrading it first and then do a clean install with windows iso. but found out after 2 weeks that my laptop was not activated, i called windows support (i didnt know it exist in the first place), then was transferred to a technical service and then transferred again to database officer or something as they need to look/change at the db. i was told that my key is for Home edition (really you need 3 ppl to tell me this info). they ask me to install windows 10 home without telling me how to do so ?
after doing a lot of research on this matter i found out how to edit windows 10 ISO to force it to change/select edition.


Upgraded an ASUS T100 64G to 10586 using the MCT (before MS pulled the option) - went well, after a few reboots all is good.

So far for me on my Surface Pro 3 i7 256BG W10 has been a huge fail. The most unreliable OS I have ever used. Vista was better and I hated Vista. Why would MS not make sure it worked for their own products before releasing. Makes me feel like High School kids are building this in class. 8 times I have reinstalled this OS. 8 times nothing but serious failures, whether it was Edge crashing, to countless other programs not working including Bluetooth crashing. Then to Extreme CPU lock up being idle and Loss of installed ram. Yet they keep trying to force an OS they RTM that can't run on current products. It's like being in a bad developer build. Very disappointing. Get your crap together MS before you loose everyone back to APPLE OSX!!!!! I currently have a great $2,000 Surface W10 paperweight! If you cant even email or browse the web I consider that a complete failure as a company! I am sick of reinstalling my OS, Studio one 3 Pro and Adobe Audition CC with plugins. I JUST WANT TO GET MY WORK DONE!!!!!!!!!!!!!!!!! P.S. I would like to also add I did a clean install several times as well and tried to run without any of my pro applications. Still junk.

Sounds like a faulty product? If your warranty has not yet ended, I would suggest making use of it :) I kind of experienced the same thing with a graphics card where everyone else was not having issues. Good luck :)

I have upgraded two devices. Upgrades ran without error on both but issues followed that indicate the upgrade was flawed. One ASUS zenbook that I didn't save any data, let it wipe all user data during the upgrade. This machine worked after without issue, other than finding that internet explorer on windows 10 isn't same as on windows 8 or 7. Web site required for work didn't work. This was unexpected. Stopped me from upgrading additional machines. The 1st machine I upgraded was a 3 user sony vaio windows 8 machine. As I said the upgrade had no errors. Windows 10 had predownloaded. After the upgrade I am finding that severa apps just don't work. Calendar, mail, photos and some others. No error, just click on them and they don't load. I have not found a solution to this and haven't had time to troubleshoot unfortunately. Thje apps not working vary by user. My user the photo app work, on my daughters it doesn't. Suspect I need to make sure all my kids schoolwork is in the one drive folder and wipe all users clean and recover the device. I hope that will resolve things. If that doesn't then I will be at a complete loss. Maybe over the holidays I will have time.

I got 4 devices with 4 different cases. First one is my HP ProBook. Upgraded from Windows 7 Pro. After the upgrade, my BitDefender antivirus goes haywire, so is Defender. Learnt that you need to uninstall any antivirus on your PC before upgrading. What gives. Second is my Surface 3. Lesson learnt from my ProBook; upgraded without a problem. Third is my HP Stream 7. This one I bought new. Once delivered to me, boot it up, straight away upgrade to Windows 10 Home. The installation process tooks longer time. Maybe due to its Atom+1GB combo. Overall, no problem. Fourth is my 2014 desktop PC. Upgraded from Windows 8.1 Pro. No problem during installation but the Store stops working after the upgrade. I have tried countless workaround (reset Store cache, log out and log in again etc) but to no avail. Frustrated, I just reset the whole thing and after that found out the culprit is the cumulative update right before Version 1511 comes out. Meh.

Thanks to WC, I forced the update to my xps 15 i7 on the day W10 launched

Bricked 2 tablets. Both HP crap anyway. Given to me as prizes, so no real loss. All of my other Windows 10 upgrades went smoothly, however.

My friend upgrade his old Acer laptop from Win 7. After upgrade, clicking any folder in Explorer would result in explorer.exe crashes. Weirdly, if I opened in a folder in a new window it was fine. I took a dive into folder settings & try 'running each process seperately' sort of option. And that was tghe first time I troubleshoot without referring to forums. Anyone has Win 10 Explorer crash?

Yes, I had a hard time upgrading. My cat had tummy issues and the whole upgrading process was not immersive. :(

Im still having problem in getting the November update on my HP laptop. Its downloading for 5-6hrs and says retry again.

My hp x360 needed the ISO for the November update because it only has 32GB installed. My wife's tablet has 16 GB installed and is 32bit. I think I'm gonna have to take it to the Microsoft store to see if they can do the update because I have nothing 32bit around to make appropriate media and I have no idea how I'm gonna update her to 1511. :(

Haven't had a single problem, I've got Windows 10 on my Linx 7, Lenovo Z50-70, Lenovo C3550 AIO, HP Pavilion X2 and my brothers Dell and sisters Acer laptops, no issues at all on any of them!

Only because of some ownership or boot record trouble I got after I had swapped my OS to a new SSD. Once fixed, it was a breeze.

Richard Divine, I predict your Alienware X51 will die due to a bad motherboard in the near future. We've had 5 of these (R1 and R2), and all died due to bad motherboards. At least we can salvage the other parts...

More than 10 pc upgraded (Dell, HP, Surface, Acer, Toshiba) latest to receive the update yesterday.
Not a single problem, the upgrade was 100% automatic :)
The only issue we have is the damn wifi "pauses" when there is an Intel Wifi integrated card like Surface and Spectre.... Solved adding a Wifi usb dongle, and excluding the default one... [censored]

I updated easily via windows update, but auto rotation was not showing in any option, downloaded kionix driver but orientation is wrong.

Rotation does not work on HP Steam too after upgrading..

Mine just crashed with BSOD when my bluetooth speaker connect automatically to my windows 10 laptop after upgrade. Still haven't found a solution.

It was initial days of windows insider and may be the second build by redmond. I was already testing ubuntu, ios and windows 8 in same laptop. I updated the win 8 via insider. And it all started to glitch. The whole system became messed up. So i removed ubuntu first, and dont know how all the partition of hard drive became non-dos. The system became fully dead and unresponsive. I tried many recovery even full format with almost all operating system. But all in vain. It always have the same answer no drive found/ non readable partition. I even tried to connect hard drive with a fine system. But that to did not help. Finally at last by some boot sector repair and ghost xp os i any how complete formated it. But lost all the data. After that i started using insider builds on hp pavillion. But they don't have all the drivers at the time of build 9600 so a problem again. But in our crazy frnd group its a thing for enjoyment. After all i love higly messed and beautifully broken things. (not fully related to windows 10 final update. Still wanted to share.)

Did clean install but cannot update the new cumulative upgrade.while updating leads to BSOD.any way out?

My issues upgrading my wife's Vivotab note 8 from 8.1 to 10 has been god awful. The touch input on a tablet without a full sized USB leaves no recourse for recovery or updates when the touch failed to respond and Bluetooth keyboard and mouse was not already setup. ASUS I am sure has no intention of upgrading the firmware to windows 10 for anything as last I checked everything was still for Windows 8, or very few things 8.1. I need to roll it back to 8 so it will be useable again. My custom rig has been fine, minus the mouse driver for my Corsair M90 gaming mouse. The macros will not work since the update and the universal mouse drivers auto recognize, so everytime I restart my PC I have yo fake a fw update to get the mouse working. That is corsairs issue and since it is not a more recent mouse with their CUE software I doubt the drivers and firmware will ever be updated. Which is too bad the mouse is wonderful.

My hp stream 7 got bricked. I have to reinstall windows using otg cables.

Dell XPS 15. Had to flash BIOS with newer firmware and upgrade many drivers. Installation was smooth. Others who avoided the above two steps could not install windows 10. Problem started with updates. System started crashing in the middle of the updates. Then on restarting the messages like "undoing changes" took away my nights sleep a couple of times.
......... The major problem started after Nov update. PC won't start one day. I repaired it with Win 10 iso. After repairing, on restarting, the task bar was blinking, and I could not see anything on the screen. I decided to go back to Windows 7 for some time. I did that and I got blue screen of death for 5 times in a day. It was also pretty slow. And OS got corrupted 5 times in a day. Later on, I found that had disk is damaged. The story ends here. I will be going to dell store today.

I have a HP laptop with AMD A10 processor. The initial checks conducted by windows informed me that everything is alright with the PC and I can upgrade it to Windows 10 easily. When I did receive the alert that windows 10 is now available, I was super excited. I read that in the morning and could hardly work the whole day in office as I just wanted to go back home and install W10. I went to PC settings chose the option to upgrade and the dialog box showed that download of the file is in progress. I kept my patience up to see that it downloaded completely. Next begun the installation phase. I was like a child reading all the messages that poped and was getting more and more excited to see the progress being made. Finally, after several restarts, which happenedd on their own as I just sat back and enjoyed, it was the time for one final restart. I got the windows 10 logo soon after the reboot, however to my horror after a few seconds it gave me a message that something went wrong and the PC is being taken back with win8.1. After this I tried the same approach a couple of times and everytime got the same. The I used the media creation tool. Here too the file got downloaded but the installation process threw up this error and PC rolls back to 8.1. To my utter dismay, never was I told what the problem was. It was always 'Some problem occured'. I got fed up after a few tries and burning a large chunk of my broadband data for nothing, I have decided to just stick to 8.1 for now. The notification ap, which checked that the PC was OK earlier, now tells me that there is some incompatibility with bluetooth, however, it too shows that Windows 10 would get installed nonetheless. But it is not happening. I have given up now and have not tried installing it again for over a month. I did recieve 2-3 updates to 8.1, but still no windows 10 for me.

I tried to upgrade my Dell Inspiron laptop from Windows 8.1 to 10 as soon as the update went live. After failing to update three times (each time re-downloading the update file by Windows Update) I decided to retry later, by reinstalling Win 8.1 and trying then. I'm too busy to do that right now so probably I'll try again in December. Your article however made me realize that I might need to seek special procedures on Dell's website - thank you for that, hopefully I will be using Windows 10 by the end of the year! :)

Have not been able to successfully upgrade my PC, laptop or tablet. PC upgraded but the WiFi wouldn't work and no wired connection is available for that unit. After 2-3 extremely irritable days of dealing with Microsoft support I reverted to Windows 8.1.
I went to upgrade the laptop running Windows 7 this morning and Windows 10 doesn't support the Broadcom 802.11g Network Adapter for WiFi and basically took me to the "look for a new computer" section. I don't think so.
The HP Stream 8 running Windows 8.1 is a great machine that Windows 10 says doesn't have enough memory to upgrade.
Nothing but frustration.

For network you will need you specific drivers for it to work. Even I did for killer to work.

After I upgraded and saved my games on my sd card everything was alright.Now games want open no matter how many times I try.Xbox live games won't sign in if saved to card also.Help someone?

Used xp before. Clean installed 10. Bought an 8.1 key from dvlup. Waited and installed November update, entered the key, didn't accept it. Wiped the drive. Installed 8.1, used new dvlup key, then upgraded to 10. Got my 10 key out saved. Downloaded November update, saved it from the bt folder. Had to copy the boot.wim file from 10 iso to November update after copying it for it to work. Pain in the ass the whole procedure.

Upgrade 8 PCs between friends and family. The only issue was with the Win 7 to Win 10 upgrade on a single machine. I had to eventually blow it away and do a clean install.

No problem for me while upgrading....the only problem I face is my display driver will cause the laptop to start after a very long time...disabling the device solves s problem but a restart will enable it ....moreover windows update automatically download the display driver (graphics) if I uninstall it....does any one have a solution for this problem of disabling automatic update or downloading update..

My laptops upgraded fine, but took their time. My 16GB tab on the other hand... was pretty damn complicated. It came with 8.1 with bing, and about a month after windows 10 had launched I upgraded and it went pretty smoothly. But then the november upgrade came and it told me I didn't have enough space even after I'd attached a 32 GB USB to it. Tried about 4 times with and without Micro SD card, and it still wouldn't work, it'd just get stuck at 41% and tell me that it failed and to retry. Then I used the Media Creation Tool but that too kept telling me I didn't have space (I'd cleaned the damn thing there was nothing else to remove!) so I used my laptop to create the ISO but that completely removed the touch screen drivers and sound drivers and chipset drivers and all the drivers. Luckily I had a keyboard cover and mouse in handy. It took me 3 days to find and fix the touchscreen drivers because the manufacturer had nothing :/ Then it suddenly started telling me I wasn't activated even though I'd followed all the steps (No valid digital entitlement key apparently) So I had to reinstall 8.1 with bing from another USB I had made and that broke the touch again. Fixed that and then finally used the esd files to upgrade to Windows 10 with the November upgrade. Even now the camera doesn't work and the auto rotate is flipped :/ It shouldn't be this hard guys....

On my Dell Inspiron 15 3521 The 1024 upgrade made copying files and charging via my USB port very slow and sluggish which i dont know how to fix since it says my USB drivers are up to date ,and, the 10586 update makes my entire system slow. On my mobile (Lumia 520) the 1586 works very fine without any issue. (I included my mobile bcos is part of Win 10 upgrade). Also Dell Update and Dell Digital Updte don't seem to work.

Dell has upgraded their list of computers that will NOT be supported for Windows 10. They officially state that upgrading is NOT recommended. So no drivers, no support, etcetera forcing some owners to either stick with Windows 7, 8, 8.1 or buy new. So my excellent XPS1530 may be relegated to the retirement box as support for Windows 7 ultimate is going soon. I may still try 10 or 8.1 as the hardware is compatible. Shame

I checked the list before upgrading to Windows 10 and my Laptop model was among the list of Dell computers that was upgradable to Win 10. So I see no reason why they wouldn't support it or why it should have problems running Windows 10.....

My graphic card is ati mobility radeon hd 4500. Having w10 (July 15) everything went fine but, after installing 1115, my desktop uses the default vesa video driver. I have manually fixed it removing the radeon graphic driver and adding it again. Other thing is the wifi driver or something else. I have 50mbps and sometimes the speed decreases to 5-10mbps (my mobile and other pcs get 50mbps, so it is not a problem of the router). Upgrading the atheros wifi driver is not useful in this case, the behavior is exactly the same :(

I had to downgrade my Surface 3 to Windows 8, and now it freezes from time to time... I'm desperate...
I've upgraded my PC with no problem, a PC of one of my friends and my dad's.
Then I tried Windows 10 on my Surface 3, it was laggy, i thought it was due to the fact that it wasn't a clean installation. So I tried to do a clean install, but the tablet never made it. Once I got to 82% and it freezed >.< so frustrating...
At the end I had to reverse it to the original installation, so now I'm running Windows 8, do all updates but it still freezes from time to time >.<
Any suggestion would be appreciated...thank u

Had no trouble upgrading my 7-year-old HP Mini, although it was my fault that I tried to force the update. When I did that, it kept failing. When "Get Windows 10" prompted me to upgrade, it happened without a hitch first time.

I've updated all my devices with no problems.
Surface SP3, an Laptopt from MSI and a Desktop PC with an ASUS motherboard.
The fall update worked well on the desktop PC and the Surface SP3 but in the Laptop I needed to usb the tool to create an USB Installer (can't recall the App name)

The only machine I had problems with was the Intel Compute Stick, I bought for my lunch break web surfing at work. Freezing after login.

Hi everyone. I had some problems with different devices. First of all the update didn't show up on any of my devices (2 Desktops, 2 Laptops). Same procedure as with Windows 10 update 29 July. It never showed up for me. So I used MCT like I did last time to force the update. My Desktops went fine. So did my Asus ROG Laptop from 2012. No problems with upgrading through MCT. But then there came my Dell XPS 13 2015 (i7 5500u, 8gb ram, 512gb SSD). MCT went fine until about 70% of the black screen with the circle. 2nd reboot during the procedure. XPS reboots, black screen nothing happens... So I went back to the last Build. Tried again. Same happened. So I went back and contacted MSFT and Dell. Dell answered late and wanted me to buy a Software Support. MSFT answered instantly via Twitter. Thanks MSFT. They said: Run SFC and try again. So I did. Same thing happened. So I tried to go back to last build but couldn't. That is why I had to reinstall everything from the beginning. I did with MCT and build 10586 everything works find and smooth now for me. Hope this won't happen with the next big update. So I had a bad experience with my Dell and especially Dell Support, though I really like the Device.

BTW I searched for Dell in this article and guess what, the most problems are with Dell try yourself. Unbelieavable since Dell calls itself a premium Windows Partner. WTF?!

Yeo, just added my experience with work's Dell Vostro 3550 laptop. Seemed to load ok with the auto update but just hung at the last bootup. Even a recovery disc couldn't fix it. Lucky we keep everything on the cloud becuase the device needed to be wiped with a clean instal of Windows 7 again.

Yeah! I still love that I have Windows 10 on my super sweet Dell.

I downloaded it on my HP Pavilion G6 (2011), it took me 4 hours to install and it lagged like crazy after that(I already tried Windows 8.1 and it was ok, but seems that Windows 10 isn't) and finally I reinstalled my Windows 7 back.

I've updated all my home PC's (4) and none had any issue at all apart from some minor driver issues which were rectified quickly. However, I asked my boss if I could update work's Dell Vostro 3550 i3 laptop and it bombed completely. Seem to be upgrading perfectly well but when it finally started to load up again to boot into Windows 10 it just hangs after the Windows splash screen. I tried repairing from a bootbal drive and it kept coming up with errors. Tried a diagnostic and it showed no errors across any of the hardware or OS, but it still wouldn't do a full boot to Windows 10. I then decided to try and roll back to Windows 7 and it couldn't locate the necessary files and gave me no option to roll back. A FINAL NOTE:- I should have read Dells website which said they weren't updating drivers for this line of laptops, so I imagine the problems I have had are driver related.

I upgraded my machine initially with ZERO problems. Then I did the rest of our machines at home with no problems. I thought that was that and I was in the clear. Well, my computer decided it would start to act flaky and so I thought "I'll do a refresh" and just reinstall my apps. No biggie. Nope. That is, until it got to 95% and just stopped and wouldn't go any further. I then did the only thing I knew to do, cold shutdown. I knew that was dangerous and I turned out to be right. I got stuck in an infinite loop of "continue to windows/restart" hell. Nothing worked. Nothing. I had also NOT created the restore drive. Great, so now I was going to have to contact Dell, get windows 8 installed again and upgrade again. This was going to be a days long process. I decided "to hell with that". I whipped out the credit card and bought windows 10 outright from the Windows Store. Unbeknownst to me at the time that would prove to be a mistake. I got the OS installed and all was well... for about 4 hours. I started getting messages to activate windows and that my key would be in the email that was sent to me. I had an email but it had no key. I was perplexed. At this point I'm trying to contact MS. I tried for hours and gave up and then tried again the next morning. Finally and hour into that I got a person. They told me I had not purchased windows. So, I sent them a screen shot of the email I got and a screenshot of my credit card transaction. I was absolutely LIVID. I was about to dare that rep to tell me that I didn't buy it. After I showed I undeniably did buy it she gave me a phone number. I gave them a call and they redeemed themselves. We got it all straightened out. I got an actual email with an actual key, they refunded my initial purchase and we made another transaction. All this because I didn't through to MS.com, I went through the Windows STORE. So, if you're thinking about buying it; use http://microsoft.com. I've had a couple of system meltdowns since then but they were mostly my fault. I'm overall happy with Windows 10 despite a couple of enraging snafus. Maybe I'm just a glutton for punishment. :)

I should note that I gave a LOT of feedback on that whole situation and I think I wasn't alone in my ordeal. A few of the recent changes I think were due to that sort of thing happening.

My upgrade issues possibly stemmed from strangely coincidental trips to Canada on both update cycles, win 8 - win 10 and the Nov win 10 update.
Update went smooth, and I when I booted up in Canada everything worked. However after I returned home to Washington, the windows 10 outlook app stopped syncing. I applied various correction suggestions and got the shop mostly working last week, yet still syncing can be a problem.

After upgrading my Surface Pro 3 something happened to the Premisions of my user folder that prevented programs from being able to save there. Had to do a complete rest to get it working.

So many "tales" on different laptops and tablets, due to a couple of issues: Windows 10 November "upgrade" completely ignores previously manually installed drivers and either does not install devices at all or does so using incorrect or deficient drivers. The famous SD card bug. Dell Prceision M4600 WiMAX Apparently, Windows 10 does not support WiMAX at all so this functionality is completely gone. IDT Audio The latest version of IDT Audio drivers for many systems on the manufactures websites are out of date. You have to install the latest IDT driver from Softpedia manually http://drivers.softpedia.com/get/SOUND-CARD/IDT/IDT-HD-Audio-Driver-6106... ... it supports Windows 8.1 and Windows 10 Lenovo ThinkPad 8 Rear Camera It does not work correctly ... and no it is not the camera drivers but the latest Intel Chipset and Graphics drivers which fix the issue. SD card installation woes Lenovo has a hardware issue wherein if you have inserted a Micro SD card in some of its tablets the spring mechanism which allows you to pop the card out by pushing it in is broken. Which means you need a pair of pliers to take it out ... this was a major waste of time as the Windows 10 install gets stuck at 40% ... I figured out the issue and then took the card out ... had to FORCE power off the tablet during install = Tablet goes back to Windows 10 July update ... and redo entire process ... took like half a day to go through this ardous process. Asus X550L Laptop Audio (Realtek) Uninstalls previoulsy installed Realtek driver and Installs incorrect driver which causes microphone to not work ... you need to go to Realtek site to get your audio subsystem to work properly. Graphics (Intel + nVidia) Optimus (I HATE OPTIMUS where you cannot turn off Intel) Uninstalls correct Intel Graphics drivers found by Intel utility and installs WDDM drivers which cause graphics artifacts. Need to unistall WDDM drivers before you can install correct Intel drivers again (or else you get a message which says that teh drivers you are trying to install do not work for your system). Given my experience with 4-5 systems, most normal people are not competent enough to figure all these tweaks.

Still failing Windows Update with original Surface Pro. Going to need to delete patch history and try again somday. I upgraded my HP X360 with no problems. I upgraded my Surface Pro 3 with no problems.

I upgraded 2 older desktops and 2 older laptops without a problem. I was thinking "wow, Microsoft really nailed it with this one!" I then upgraded my trusty 10 year old Latitiude laptop and even though I was told it would be ok, the NVIDIA driver didn't work, so I had to hack a driver to work. I thought that was the worst of my problems until I came to do my main desktop... My main desktop is a Dell Inspiron that is a few years old now. Prior to this upgrade I had never had a problem with it. EVER. No freezing, no BSODs, no need to do anything with it. It just worked. It was fantastic. I ran the windows 10 upgrade and it was supposedly all clear. So I backed up everything, unpluged my external hard drives, and started the upgrade. Then it all went down hill. It wouldn't actually do the upgrade. It would always get stuck between 60 and 80%. Same amount every time, and then revert to windows 7. I tried this for a week with no success. I googled EVERYTHING and tried EVERYTHING but still no go. Then I admitted defeat, and called Microsoft support. That was an even bigger mistake. That guy only messed my computer up even more. The only positive thing is that they provided me a OS key, so I was able to wipe my SSD and start from scratch. I eventually pulled everything out of my computer that wasn't necessary for it to run and tried again. Finally, about 2 weeks after I had originally attempted the upgrade I had W10 on my main desktop. I think it was an NVIDIA driver issue that was at least partly responsible for the problem again. I'll probably never buy anything from NVIDIA again as a result of the frustration. 0/10 would do it again.

Trying to go from 240 to 586 and it's taking forever. MS seriously needs to fix the kinks in this or people will start moving to macs.

Have a very expensive ASUS PRO77s high end 17in laptop
Told by asus its not compatible with windows 10
Thats it end of story
Its just over 3 years old
Had to have motherboard replaced during warranty
Stay away from asus
Ive installed windows 10 on much older machines
Im furious
Bought top end model and pretty much ignored by the manufacturer
It is now an obsolete piece of junk..
Beware of asus
Windows Central Newsletter
Get the best of Windows Central in in your inbox, every day!
Thank you for signing up to Windows Central. You will receive a verification email shortly.
There was a problem. Please refresh the page and try again.