Haier launches budget Windows 8.1 tablets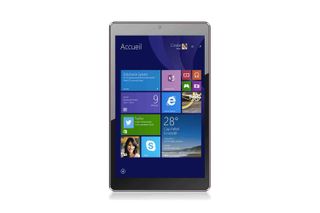 Haier has launched two budget Windows 8.1 tablets at CES 2016. First up is the HaierPad W800, which offers an 8-inch 1280 x 800 display, 1GB of RAM, Intel's quad-core 1.8GHz Bay Trail T CPU, 16GB storage, microSD slot, 2MP camera at the back, 0.3MP front camera, Bluetooth 4.0, micro-HDMI, Wi-Fi 802.11 b/g/n, and a 4000mAh battery. Buying the will give you one year's worth of Office 365 for free.
Then there's the HaierPad W203, which offers a 10.1-inch 1280 x 800 display, 2GB of RAM, quad-core 1.33GHz Intel Z3735F CPU, 16GB storage, microSD slot, 2MP front and rear shooters, micro-HDMI, Bluetooth 4.0, Wi-Fi 802.11 b/g/n, and an 8000mAh battery. A stylus is integrated with the device, allowing you to quickly jot down notes.
Not the most powerful hardware around, but if you're looking for budget tablets, Haier's offerings seem like a decent choice. No word as yet on pricing or availability in the U.S. market, but we'll let you know once we hear more.
Windows Central Newsletter
Get the best of Windows Central in your inbox, every day!
Harish Jonnalagadda is a Senior Editor overseeing Asia for Android Central, Windows Central's sister site. When not reviewing phones, he's testing PC hardware, including video cards, motherboards, gaming accessories, and keyboards.
Windows 8.1?? This isn't acceptable.

Yup, I don't quite understand it myself. I mean, Windows 8.1 still has support, ofc, but it's soon going to stop being offered to OEMs to preinstall it on their devices. Also why not just go with the newer OS, since it probably costs you the same.

Windows is free to OEMs on their devices with 10.1" or less on their screens, so, an odd move by this OEM.

I don't know why that urgency of putting W10 in every devices, I mean, W8.1 works better with touch interfaces, is less laggy and much more polish (touch) than W10

Exactly, my hpstream 7 was much better with 8.1. Windows 10 has pretty much ruined it. Edge is awful on it.

Feel the same way though 8.0 has a more stable ndis then 8.1 on my aw m18x r2 which is a shame since MS requires it for aoe:cs, & reject spark

Hey you can always update 10

If you update to windows 10. You'll get it free for 1 year! Then you have to pay.

This is completely false. MS have said time and time again that you won't have to pay again if you take the free Windows 10 upgrade offer.


Microsoft is not going to ask you to pay after an year of upgrade. The upgrade is available for free for 1 year and once you have upgraded, you can keep it for lifetime.

I thought idiots like you went extinct several months ago. But I guess everyone can be wrong sometimes.

nope. idiots like this still think the xbox one has to be always on and has strict DRM with no used games etc. the general population is simply uninformed and will stay that way.

That's the power of misinformation from competitors. Most people don't verify what they see and hear is the fact. Not only that, they'll continue to talk about it as if it's the golden truth.

MS doesn't need the competition to misinform their consumers, they do it by themselves all the time.

Upgrades on 16GB devices is problematic at best. I have had to remove all software and does files AND recovery partition to make some updates on my Stream 7 with a 32GB drive.

Correct, that's the real problem with this device. I have a Dell Venue Pro 8 with 32GB and I have to clean out a few things before you can update. With 16GB, I don't know how you can do it.

I had the same issue with a HP stream 11 32GB laptop. To update from 8.1 to 10, it required to add an external drive run the update.

An article full of typo's.
- Windows 8.1 (picture showing it running w10) - resolution 12800x800. WindowsCentral, You can do better than that.

Fixed the screen resolution. It runs Windows 8.1. Got the wrong press image :(

You know nothing about Windows tablet, cause if you did you would know 8.1 is better 10 on tablets. Windows 10 is not fully optimized for tablets and won't be until the next big update in November.

N​ovember? Anyway, I think whether 8.1 is better on 10 on tablets can be debated.

W8.1 comes with Office 365 for free for a year, W10 doesn't. W8.1 offers way better value therefore, and you can update to W10 if you want. :-)

You say Windows 8.1 but the pic clearly shows them running 10! Are they really loading the old 8.1 on these new PC's?

Don't you mean Windows 10 as it's clearly shown in the picture and know the price point? Posted via the Windows Central App for Android on my Frost Nexus 6P

Lot of device coming to windows! Good news for windows and fans !

If only they bit the bullet and made more phones and Microsoft attracted more devs hmmm but nope

If only they bit the bullet and made more phones and Microsoft attracted more devs hmmm but nope

The 8 inch would have to win10 mobile

Wouldn't you just upgrade if the 10inch it came with 8.1.

Unfortunately, people who buy it on August 2016 onward won't be able to upgrade to 10 for free. Unless Microsoft prolong the free upgrade promotions.

Tab looks great.. the keyboard colour is -_-

It's the new 160:10 or 16:1 aspect ratio all the hardcore sim racers have been wanting for quite some time now. Basically wraps right around you. Surprised they finally released it in tablet form though. Hopefully Gameloft updates Asphalt 8 to run at that aspect ratio. I also hope it's incredibly flexible and has some sort of torso mount.

They need to stick to A/C and hair appliances cause with tech they suck.Windows 8.1 really, how about there Android tablet they announce with latest Android OS in there world (Android 4.4 KitKat) wonder if they said this is latest windows too. Posted via the Windows Central App for Android

I made the mistake of buy one of their HDTV's once. NEVER AGAIN.

Haier are one of the world's biggest manufacturers of A/C and ventilation equipment. Does that mean they'll be Windows "fanbois"?

It is definately mistake . according to an Chinese Website, it will be Windows 10. no way anyone still making windows 8.1 products now.

It's still annoying OEMs are releasing Bay Trail tablets in 2016. Cherry Trail has been on market since April.

They didn't get the memo... It is windows 10 and not windows 8.1. The tablet is already outdated before it hit the market by a few years...

I'm sure it is a typo but if I use this thing as a pure tablet experience, I would prefer it has Windows 8.1 . The tablet experience on 10 is still lacking.
. . ​

The HaierPad W800 and W203 were launched this year, not announced at CES 2016. And yes they ran Windows 8.1

My canvas laptab 32/2 GB DDR3 2+2MP 1280*800 is better

Supply Chain Head / COO : Found some unsold tablet inventory lying in the warehouse during stock checking.
CEO: Whattt? Ok, don't fret. Let's launch it at CES. The innovation we are going to talk about is that these come preloaded with 8.1 instead of 10. Nostalgia is a good thing.

Finally! A OEM that make something good! No more laggy W10 on no much capable hardware!

How come it's budget tablets w/o knowing the price!! I am quite surprised with subject and what's missing in the content.

Is there a price for any market? It doesn't list any yet you know it is a budget tablet? There's a "budget" price then there's a real budget price.

Vulcan sold tablets with Windows 8.1 last year with Atom Bay Trail at just $60, thats great since BayTrail supports Miracast so you can play games on a large TV using a dongle like Microsoft Wireless display. Other than that, these Windows tablets are great for reading PDF books, magazines, news, etc. They're not good for productivity activities like MS Office, so you can install the Office 365 license on another laptop as I did.