Halo 5 adds Warzone Turbo mode until April 4, new maps and more coming next week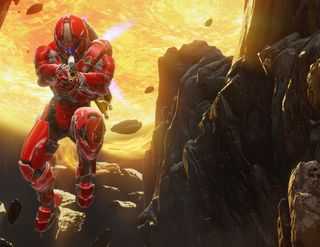 Players of Halo 5: Guardians have lots to look forward to over the next few days. The Xbox One first person shooter is adding a temporary mode called Warzone Turbo that will last until April 4. Also, the next content update, Ghosts of Meridian, is due for release next week.
The official Halo site has the info on Warzone Turbo:
Sometime next week, Halo 5 players can download Ghosts of Meridian for free. It will add the small Arena map Tyrant that's set on an asteroid floating in space. The other map is Skirmish at Darkstar, a Warzone map that will include two Legendary bosses and a gate that players can open and close.
Ghosts of Meridian will also add lots of new REQ packs to access for weapon and armor variants, along with new emblems and skins. Developer 343 Industries is also including a lot of bug fixes and improvements with the update.
See at Microsoft Store (opens in new tab)
No, Warzone Firefight hasn't been released yet. And, unlike Warzone Turbo, it will be a permanent mode.

Firefight is coming in the summer time.

A friend and I tried Warzone Turbo last night. It was still just an RNG nightmare that wasn't especially fun. It still takes too long becuase of the boss spawn timers, though they died faster because of the vehicles. However, getting spawned with three Banshees, a Scorpion, and a Wraith surrounding you isn't my definition of "fun." It would be more enjoyable if they tailored the games/maps to fit the new rules, but on the base maps, and with the full-size teams, it's just cluttered and bothersome. We stick to Warzone Assault because the matches are faster, meaning we can get out sooner.

How does Halo 5 match up to Battlefield 4? It's probably the best hand I've ever owned. I have Tom Clancy's The Division, Call of Duty Games, the remastered Gears of War, none that matches up to Battlefield 4 in my opinion. I prefer 1st person shooters over 3rd. Probably why I'm not enjoying The Devision or Gears as much.

I think Halo 5 has the best multiplayer gameplay mechanics of any FPS I've ever played. 343i did an amazing job on that end. It's a quite different shooter than Battlefield, though: it's fast-paced, teamwork-driven, competitive arena-style. I think it takes more skill, patience/restraint, teamwork, and strategy than any other FPS game out there. It's well worth the money, I say.

Thank you for your reply! That's stated very well and make a lot of sense. I will probably give it a shot tonight. Does it have a good single player campaign like Battlefield or do you play it more online than anything else?
Windows Central Newsletter
Get the best of Windows Central in in your inbox, every day!
Thank you for signing up to Windows Central. You will receive a verification email shortly.
There was a problem. Please refresh the page and try again.