Halo 5: Guardians pre-orders begin, including a $249.99 Limited Collector's Edition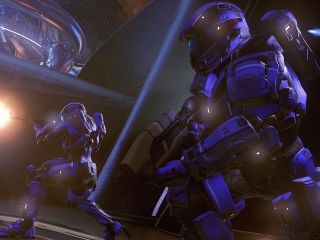 Microsoft will begin the multiplayer beta test for Halo 5: Guardians later today, but the company is already taking pre-orders for the full version of the upcoming Xbox One sci-fi shooter, several months before its release sometime in the fall of 2015. There will be three editions of the game, including a Limited Collector's Edition that will cost $249.99.
The Standard Edition of Halo 5: Guardians will cost $59.99 and people who pre-order the game will be able to get an exclusive poster from participating retailers. The Limited Edition will cost $99.99 and will have everything in the Standard Edition, plus "new digital content to enhance Spartan combat and exclusive items wrapped in a uniquely designed steel book."
The $249.99 Limited Collector's Edition will have everything in the Limited Edition plus some more content, including a "commemorative numbered statue designed by 343 Industries." More information on what will be included in the Limited and Limited Collector's Editions will be revealed later.
People who play the Halo 5 multiplayer beta will be able to unlock content in Halo 5: Guardians and have it carry over when the full game is released. The beta test, which is available for anyone who owns Halo: The Master Chief Collection, will begin today at Noon Eastern time (9 am Pacific) and will end on January 18, 2015.
Source: Xbox Wire (opens in new tab)
To some it's expensive as hell but, there has been editions for more than that in the past ever since the release of the first gen 360. Some people love all that nick nack junk that comes with limited edition games.

Ridiculous right, but. Maybe that statue has to be next to the Xbox and has Cortana built in so that if you try to change the disc it starts cursing and calling you names.

It took me an hour to talk myself out of preordering right away, but only because of an expensive Christmas and that I've been off work for a month now... I'll probably preorder next week LOL.

To be fair, you're buying a helmet and there just so happens to be a game disc with it.

Bargain, I'll order three.

Looking forward to getting this. I just hope the story isn't as short as Destiny

Damn man, I hope they have some ointment for that burn! XD

http://en.m.wikipedia.org/wiki/List_of_burn_centers_in_the_United_States

Different developers. 343 Industries = Halo 5. Bungie = Destiny.

Is anyone aware of one of these collectors editions actually increasing in value? Usually I see them heavily discounted in game shops a few months after release.

Yes, but it's all the timing and if it is new or used original packaging etc. Halo 3 legendary edition had been going for $400 pretty much around the launch window of reach. Now you can find them for 80$ on EBay. Typically it's all about finding the right buyer. Collecting is fickle to say the least. Something I think is worthless and wouldn't give 5$ for someone May give you $200 for. Also with collector edition like this they are numbered and the lower the number the more value it will retain.

Only niche games really have it happen anymore. Games like this, the special editions are overproduced to hell, so they instead end up deeply discounted several times before places start selling out of them. Like was said, the Halo 3 Legendary Edition that ran $130 can be found for a good bit less than that now (a pawn shop here has it for $55 on Craigslist). The ones that jump up in price are the titles where the game/series isn't insanely popular, and where the thing is ACTUALLY limited in its availability. Good examples of late would be the Kingdom Hearts 2.5 ReMIX Collector's Edition and the Super Smash Bros.Wii U bundle. Even Dragon Age: Inquisition' s biggest bundle had some value online, despite coming with a bunch of cheap crap buyers were complaining about (as a lot of the piecdes looked like dollar store toys and/or came broken). Shooters like Ghosts and Titanfall overdid it with the availability of their special editions, and now you have things like the Ghosts Hardened Edition available for about $35 at Target, and the $250 Titanfall statue down to $100 at the MS Store.

Everyone I have ever known that bought into all that extra content like statues and crud has kicked themselves in the arse for spending their money on it. 100% of it has wound up in their game cabinet with ton of dust and worthless.

I don't know if I've ever regretted it. But I've only done a few times. I can think of Halo 3, 4, and Bioshock 1 as the only big collectors editions I've gotten (excluding limited editions that are ~$10 more) but I never regret them.

The most i am willing to spend is maybe an extra 20$ for a steel case and a book with a few pretty pictures... If it is a game i thoroughly enjoy. And I'd they throw in some discounts on future dlc, even better.

Yep. The Halo 2 "Limited Collector's Edition" came with the metal case plus an extra disc with a documentary. It cost $10 extra. It also came with an additional 11 maps spanning 4 DLCs. But then again, so did the regular edition

Borderlands Loot Chest edition was truely limited and sold out in just a few days and so the value went up significantly atlleast in the short term. I haven't bothered to look lately. Later they partnered with ThinkGeek to make a loot Chest 2 that was available in a more reasonable supply and did not include the game. Just depends on how many 343 decides to push out will determine value and how many sit on shelves.

Only real value is the fond memories associated with the item. My Halo 2 Collector's Edition is rusted out and junky, but it's the sole physical game still on shelf. https://twitter.com/conductiv/status/532389357962133505

Didn't 343 learn from Respawn? Titanfall ran $250 for a statue, and those things are STILL available for purchse. This, after multiple imstances where stores dropped them from $250 to $100 (most recently, the MS Store itself). This price is insanely stupid, unless you have these things severely limited in availabilty. $150 for a statue has never been worth it, IMO. I might pay a bit more for the steelbook, but screw that price for the statue. I was suckered into the $130 Halo 3 Legendary Edition, only to see that drop $50 in a fairly short amount of time. Instead, I'll sit back and wait for this thing to flop commercially, then pick it up for $100 or so in 18 months.

Awesome ill take 4. It's not like 249.99 per each game is anywhere near overpriced and plain right expensive for a console game even if it had bonus content! Throw maybe 100-150 bucks more to that price and you can get a full fledge Xbox One or PS4 with possibilities of bundles of each console. Nothing greedy or outrageous in that.. Logic people! Posted via the Windows Central App for Android

People need to stop pre ordering games like the game wont be available day one. No game sells out anymore. You're just giving game companies less incentive to make better games. Look at every game that has came out this year.

I like to pre-load games if possible.

Will be ordering the game but could care less for all the extra. Lego has me covered for characters, lol.

What everyone doesn't know is the $250 version is the DAY ONE edition with the multiplayer patch that patches the prerelease patch that broke the online patch that broke online play.

Im hoping for a xbone halo 5 edition. Maybe an xbone slim by then.

Same here...I somehow managed to avoid buying an Xbox One this holiday even though the prices were almost too good to pass up....I will preorder a Halo 5 Limited console as soon as they are offered....Hopefully it will have a custom paint job and a 1TB HD....A slim would be awesome!

New digital content for$99.99? I guess that means the game as designed can only be had at a premium price, while the regular priced version will be stripped down and those players will be disadvantaged in multiplayer. Maybe I'm just cynical given MCC's release, but it's going to be hard for me not to be suspicious of 343's tactics and release quality for a long while. May just wait until the deep discounts kick in.

Which edition comes with functional multiplayer?

Preordered the $249 version.

Why would you preorder now? If you're going to preorder at least wait to compare what stores will give you the best extras, like gift cards, T-shirts, or whatever.

Eeeesh, I dunno about $99 for something that ambiguous. It had better come with a heck of a season pass to justify it. Hopefully there'll be a nice $80 digital limited.

Begin? I preordered Halo 5 three months ago.
Windows Central Newsletter
Thank you for signing up to Windows Central. You will receive a verification email shortly.
There was a problem. Please refresh the page and try again.