Halo Infinite and the problem with video game betas
Following the official release of Halo Infinite, fans are questioning shallow improvements made throughout its three-week multiplayer beta.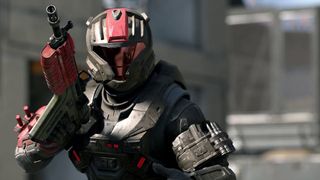 (Image credit: Xbox Game Studios)
Microsoft launched Halo Infinite on Wednesday, the latest installment of the revered sci-fi shooter, now synonymous with its Xbox console family. It marks the arrival of a new singleplayer story campaign, descending on the Zeta Halo ringworld, host to a new open-world ripe for exploration. It also shipped in tandem with an accompanying multiplayer mode, harking back to the franchise's golden era, and presented through a free-to-play lens.
The conversation at launch has primarily gravitated toward the Halo Infinite campaign, a critically acclaimed experience, among the best modern Halo experiences from 343 Industries. The multiplayer has taken a backseat following its initial rollout in November, launching three weeks ahead of its Dec. 8 release date. But with Halo Infinite now exiting beta, many fans are now questioning the test's purpose, given a tight window to make changes for launch.
Video game "betas" play a crucial role in any development cycle, and despite variations between projects, they generally serve a shared purpose. Development goes through various stages, eventually moving through an alpha state, with further refinements leading to beta software ahead of release. Traditional beta testing aims to iron out bugs before nearing a candidate for a final release build.
A couple of decades ago, marketers realized a new opportunity for beta tests, promising a level of early access before a game's release. They'd sometimes be tied to preorders, shrouding tests in the sense of exclusivity, inching further from their functional purpose with time. It's now increasingly common for game publishers to host public betas just weeks before launch, leaving little time to implement even minor tweaks and fixes before launch day.
Public beta testing has indisputable value in an industry now dominated by multiplayer titles, allowing developers to test at scale in real-world conditions. But the term's value has been eroded with time, often providing a slice of the final game just shortly before release. While not to be perverse around the technicalities of betas, its role in development has changed, at least from a consumer's perspective.
Halo Infinite takes a vastly different approach with its multiplayer component seeing a surprise rollout on Nov. 15, commemorating 20 years of Microsoft's Xbox consoles. 343 Industries took the opportunity to launch its entire free-to-play offerings early, albeit under the guise of a multiplayer beta for those three initial weeks. However, with the final game here, debates have sparked around the role of this latest "beta." The discussion joins the top posts on the Halo subreddit and other forums, with the day-one package carrying the same blemishes as its pre-release test.
These questions follow extensive criticism during the early weeks of Halo Infinite, including several gripes fundamental to its new free-to-play business model. But little has changed, and many community concerns still loom large, with some promised updates still months from release. It turns out Halo Infinite's multiplayer beta, was in fact, not a beta.
Discourse in the leadup the Halo Infinite's launch has centered around Battle Pass and monetization, with slow XP gains and Challenge-centric progression still an ongoing debate. The game's customization systems remain relatively barebones at launch, with many cosmetic offerings tied to its in-game shop using paid virtual currency. Those concerns were also raised during multiple "technical previews" earlier this year. While 343 Industries has made some quick tweaks, it states that more considerable changes "will take time" to implement.
343 Industries also launched the beta with "all the maps, core modes, Academy features, and the full battle pass to unlock," assembling the complete day-one package. It was the final release in all but name, leaving many vocal about limited content, offering just four playlists that exclude traditional Halo modes. While more playlists have since been promised, with these modes already present in files, they, also, couldn't be turned around for the official release day.
That's without touching on a list of bugs and issues still impacting players, including game-breaking flaws with desync and hit registration. They're all still present in the final Dec. 8 release, with some significant work seemingly needed until a remedy drops.
Halo Infinite has faced a series of controversies since its November debut, including fundamental issues with gameplay stability, launch content, and slow progression. Through our extensive coverage of Halo Infinite's multiplayer rollout, some echoing feedback from fans, many dismissed criticisms simply due to its beta state. "It's a beta," "wait until launch," were among common responses, with many expecting a wave of day-one changes to come. And it's only natural for coverage to provide a little slack for any early access release, simply due to the "work-in-progress" nature of the project.
That's not to say betas can't work, with significant lead time opening opportunities to truly shape projects in response to feedback. 343 Industries even tested Halo Infinite at scale throughout the year, hosting a series of "multiplayer technical preview" tests, available on an invite-only basis. But with the shield of a beta release, I wouldn't be surprised to see more publishers adopting a staggered rollout into the future. The launch-day product ultimately mirrors the beta in every way, with the same content and features, plus many of the same bugs and issues.
With just a few weeks to launch, Halo Infinite would never see meaningful change, and its beta state shouldn't shield the title from criticism. While free-to-play, the business model shouldn't dictate how we perceive games — especially when that beta has hundreds of dollars of cosmetics available via its storefront. While it's easy to get caught up in the technicalities, it's crucial to keep expectations in check, more than ever.
Halo is back
Halo Infinite multiplayer
Halo Infinite's multiplayer has launched a few weeks early, compiling classic arena multiplayer modes, expanded 24-player Big Team Battle, and more into one free-to-play package.
Get the Windows Central Newsletter
All the latest news, reviews, and guides for Windows and Xbox diehards.
Matt Brown was formerly a Windows Central's Senior Editor, Xbox & PC, at Future. Following over seven years of professional consumer technology and gaming coverage, he's focused on the world of Microsoft's gaming efforts. You can follow him on Twitter @mattjbrown.