Halo Infinite multiplayer launches early on the Xbox 20th Anniversary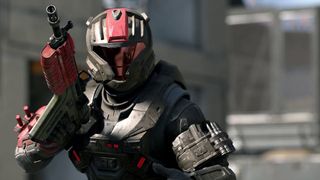 (Image credit: Xbox Game Studios)
What you need to know
Halo Infinite's multiplayer has officially launched early and is now available to all Xbox and PC players.
The multiplayer features Arena, Big Team Battle, and $10 Battle Passes that reward players with cosmetic items like new armor pieces and coatings that change the color and texture of their gear.
Halo Infinite is available on all Xbox consoles, as well as on Windows PCs.
Halo Infinite's campaign costs $60 and is expected to launch on Dec. 8, 2021.
While the official release date for Halo Infinite has been Dec. 8 for some time now, Microsoft and 343 Industries have surprised the gaming community by releasing Halo Infinite's multiplayer early on Xbox and PC. The game's full suite of multiplayer content, including 4v4 Arena, 12v12 Big Team Battle, and the Academy training mode, is now fully available. Notably, Microsoft and 343 Industries are classifying the release as a beta, although it includes all of the full game's multiplayer content and players will be able to carry over progress into the full game. The Halo Infinite campaign is still slated to launch on Dec. 8 for $60, and can be purchased ahead of its release since Halo Infinite preorders are live.
The early release is a part of Microsoft's celebration of the Xbox 20th Anniversary, which is Nov. 15. Notably, this is also the date that the original Halo: Combat Evolved launched on, meaning that it's also Halo's 20th Anniversary as well. For both Xbox and Halo enthusiasts, the early release of Halo Infinite's multiplayer is a fantastic anniversary gift.
In terms of what to expect from Halo Infinite, there are two types of experiences that players can enjoy. The first is 4v4 Arena, which promotes competitive gameplay and strong team coordination on small, infantry-focused maps (there are some vehicles on some Arena maps, however). There's also a dedicated competitive Arena playlist that features BR (Battle Rifle) starts, no grenade hitmarkers, and a disabled motion tracker.
The second is Big Team Battle, which is a social 12v12 mode that's home to large maps, plenty of vehicles, and tons of different weapons and equipment pieces. It's important to note that unlike previous iterations of Big Team Battle, Halo Infinite's features a scaling vehicle spawning system that begins to drop in heavier and heavier vehicles as matches progress. Another new feature are the "loot caches" that players can find and unlock with their personal AI in each Big Team Battle map. These caches typically contain a few heavy weapons and equipment pieces, making them valuable locations to control.
Every three months, there will also be a new seasonal Halo Infinite Battle Pass for players to progress through (Season One is active now). These Battle Passes cost $10, and as players earn XP by completing in-game daily and weekly challenges, they can earn various different types of cosmetics items for their Spartan, weapons, and vehicles. These include armor pieces, different types of helmet visors, and both armor coatings and weapon coatings that change the color and texture of their Spartan's armor and weapons. There are also coatings for vehicles as well.
The Halo Infinite multiplayer can be downloaded for free from both the Microsoft Store and Steam, and the game is playable on Xbox Series X, Xbox Series S, Xbox One consoles, and Windows PCs. Note that on console, only the Xbox Series X and Xbox Series S support up to 120 FPS, which is what Halo Infinite itself maxes out at.
Halo is back
(opens in new tab)
Halo Infinite's multiplayer has launched a few weeks early, compiling its classic arena multiplayer modes, expanded 24-player Big Team Battle, and more into one free-to-play package.
Windows Central Newsletter
Get the best of Windows Central in in your inbox, every day!
Brendan Lowry is a Windows Central writer and Oakland University graduate with a burning passion for video games, of which he's been an avid fan since childhood. You'll find him doing reviews, editorials, and general coverage on everything Xbox and PC. Follow him on Twitter.
Suprising. Now delay the campagin till CO-OP is done.

How about you just not buy the game until it's out, and the rest of us who really don't give a crap can just buy and play it earlier on its intended. It's coming out later, I shouldn't have to wait for you to get a feature I won't play that we are both getting for free at a later time. K Thx Bye

I'm not buying it regardless, I have Game Pass. Some of who actually care actually don't want them release a half finished game that some people are actually paying full price for. We are entitled to our own opinion just like you. K byeee!

Why should people who want to play single player have to wait. I don't like your opinion.

Yet another fun surprise absolutely ruined by those who can't wait.

A person would have to be insane to pay $60 for the campaign.

Why? Most new video games cost that much

Most aren't only a half (or less) of the game though. This should be 50 at most.

Simple, because the multiplayer portion is free. You could just get a one month Game Pass subscription for 10-15 bucks and get the campaign sorted in a month. Hell, you could get two or three months and still pay less than the cost of the game at retail.

This was great news for sure. I loved the flight when I tried it and spent some time on it last night. I typically skip on getting battlepasses or season passes on games but not on this game. I'm all in!

I played it last night. It's pretty fun. Great graphics and smooth gameplay. Didn't experience any lag. The maps in BTB felt quite repetitive to me. Also there is no playlist just for team slayer. 2 player split screen doesn't seem to work at the moment. Aiming down sights doesn't seem quite right. The game also crashed a few times on me as well. But it's free and it's the best multiplayer game out right now!
Windows Central Newsletter
Thank you for signing up to Windows Central. You will receive a verification email shortly.
There was a problem. Please refresh the page and try again.