Halo Infinite Battle Pass: Price, rewards list, and what you need to know
Climb your way to the top with Halo Infinite's battle pass progression.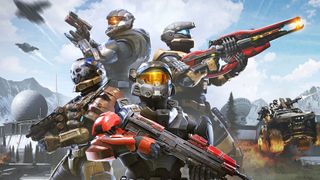 (Image credit: Xbox Game Studios)
Halo Infinite has landed on Xbox consoles and PCs with a new free-to-play multiplayer experience, reviving Microsoft's hit sci-fi shooter for the latest generation. It also introduces a new battle pass packed with exclusive rewards, marking the latest shakeup to progression in a mainline Halo entry. The system sees players climbing the virtual ladder and earning unlocks along the way.
Battle pass progression offers rewards split across free and paid tiers, fuelling the extensive armor and weapon customization available throughout Halo Infinite. Developer 343 Industries has also toyed some new ideas improving the value of the battle pass compared to those from rivals in the shooter space. Here's what you need to know about the Halo Infinite battle pass, including the price, and how it does things differently.
Halo Infinite Battle Pass: What you need to know
Halo Infinite is among the latest embracing the battle pass formula, a tier-based approach to progression and monetization in video games. The system mirrors similar implementations from Fortnite and Call of Duty, designed with a clear chain of rewards. While developer 343 Industries previously experimented with battle passes in Halo: The Master Chief Collection, Infinite refines the approach.
Halo Infinite battle passes are immediately recognizable to those familiar with other popular shooters, splitting various rewards across fixed tiers. This linear progression ties to XP earned, climbing levels for completing matches, and playing the game. Weekly and daily challenges, XP boosts, and other bonuses help fast-track the process. With over 100 tiers, the battle pass takes some time, but there are some tricks to earn XP fast in Halo Infinite. 343 Industries has also been speeding up player progression in response to recent community feedback.
Progressing through the free battle pass, available to all Halo Infinite players, unlocks various rewards at each tier. There's also a paid premium track, available as a one-time purchase, with exclusive bonus gear. 343 Industries has expressed intentions to split the goodies across both channels, providing ample rewards no matter your investment.
The rewards vary, although primarily center around cosmetic gear to use in multiplayer. Players will unlock pieces of the full Halo Infinite armor list, armor coatings, weapon skins, and more for hitting their associated milestones. Various effects also return, including those augmenting your appearance or death animations, plus emblems to use in-game. One-time consumables also pad out the tiers, including XP boosts and "challenge swaps," allowing you to pass on specific limited-time challenges.
But Halo Infinite has a different approach to battle passes. Developer 343 Industries has pitched a consumer-friendly approach with transparent rewards and long-term value whenever you invest.
Firstly, paid passes will never expire in Halo Infinite, meaning you can earn rewards for months or years to come. Many popular games tie battle passes to their seasonal content plans, meaning that even after paying for battle pass content, they'll expire unless you complete all available tiers. The only limited-time content comes via Halo Infinite's Fractures, events that break away from game lore, exploring more creative concepts.
Halo Infinite will also offer its individuals battle passes long beyond their respective release dates. It means you don't need to invest the moment they release, providing players flexibility to return to previous seasons, should you desire. When Halo Infinite has multiple passes available, you'll be able to select which to progress with your earned XP.
Everything in Halo Infinite boasts a defined rarity, ranging from common, standard-issue items through coveted Legendary-tier unlocks. 343 Industries has stated that battle passes will scatter Legendary items around every "quarter" of the pass in speaking with IGN, providing variety in rewards as you climb the ranks.
Halo Infinite Battle Pass price
Each Halo Infinite battle pass will have free and paid tracks, the latter available as a one-time purchase. 343 Industries has stated that Halo Infinite battle passes will cost $10 each, providing premium battle pass unlocks alongside existing free rewards. Video game battle passes traditionally fall between $5 and $15, fluctuating based on the number of rewards and tiers, leaving Halo Infinite reasonably priced.
Halo Infinite dabbles in a new virtual "credits" currency used to purchase the battle pass and other cosmetics via the in-game store. This currency remains tied to real-world cash and somewhat obfuscates the price of digital items, as a result. However, with Microsoft charging $10 for 1,000 credits, 1 credit equals around 1 cent in the U.S. Players can also score savings on credits when purchasing a higher volume in bulk, with 2,200 credits priced at $20, 5,600 credits priced at $50, and 11,500 credits priced at $100.
Microsoft allows players to purchase the Season 1 Heroes of Reach premium battle pass for 1,000 credits, equating to $10 via the in-game store. The battle pass is also obtainable via a 2,800 credit "Premium Pass Bundle," plus 100 XP grants to fast-track the first 25 tiers from day one.
Various other games also offer their respective currencies as battle pass rewards, providing the opportunity to earn back your investment. While a similar approach could provide extra value to the paid Halo battle pass, that's not the case at launch.
(opens in new tab)
Halo Infinite handles all of its in-game purchases through optional Credits, which can be spent on purchasing Battle Passes, Shop offers, and more. There are a variety of Credits options, with higher-end selections providing bonus Credits.
Halo Infinite Season 1 Battle Pass: 'Heroes of Reach'
Halo Infinite's debut battle pass arrived at launch, accompanying what 343 Industries names its first season of multiplayer content. Season 1 calls back to Halo: Reach with a series of exclusive cosmetics tied to its 2010 franchise spin-off. The battle pass, appropriately dubbed "Heroes of Reach," includes various Halo Infinite armor and unlocks, taking cues from earlier titles.
Halo: Reach had a signature style back in the day, coupled with new armor styles still used in modern Halo games. Members from Noble Team make an appearance, translating their iconic SPARTAN III armor pieces into the pool of multiplayer cosmetics. You can mix and match these components around your preferences or equip dedicated "armor kits" mirroring existing characters from Halo lore.
Players can also unlock special cosmetic effects outside of the standard armor and coatings, a concept introduced in Halo: Reach. These include returning animations like flaming effects, plus those that trigger upon each death.
Is the Halo Infinite Battle Pass worth it?
Halo Infinite launched in tandem with its battle pass, positioning the new progression system as fundamental to its multiplayer experience. The vast majority of player customization is currently tied to the premium track of the battle pass, forgoing a traditional XP-based progression system found in recent Halo games. While the free battle pass has some complimentary rewards for those who invest time into Halo Infinite, you're limited to only a subset of launch-day cosmetics.
With Halo Infinite's multiplayer component available as a free-to-play download, that $10 asking price is just a fraction of what many new blockbuster shooters cost at launch. It makes the battle pass a relatively high-value investment, especially for those drawn by Halo Infinite and its accompanying customization systems. That price includes access to various Halo Infinite launch-day armor and cosmetics, including a series of Halo: Reach-themed items pulled from past games.
Those who stick with the free battle pass aren't entirely locked out from customization, with various rewards also available via specific player challenges, events, and the Halo Infinite shop. However, the battle pass provides a clear ladder to climb in lieu of a traditional XP progression system, making this a must-buy for any Halo Infinite fan.
List of Halo Infinite Battle Pass rewards
Microsoft has launched its first Halo Infinite battle pass alongside its Season 1 launch, providing an extensive list of rewards spanning 100 individual tiers. The battle pass serves as the primary route to obtain armor and other cosmetics throughout the multiplayer launch, with no XP-based progression system available at launch.
We've rounded up the complete list of Halo Infinite battle pass rewards, including their associated tiers and rarities, following the launch of Heroes of Reach.
Tier 1 — Tier 25
Swipe to scroll horizontally
| Tier | Reward | Track |
| --- | --- | --- |
| Tier 1 | FUI (Epic Backdrop) | Free |
| Tier 1 | MARK V [B] (Epic Armor Kit) | Premium |
| Tier 2 | UA / TYPE B1 (Rare Helmet Attachment) | Premium |
| Tier 3 | UA / DO-01-CCR BREACHING KIT (Epic Chest) | Premium |
| Tier 3 | Challenge Swap (Consumable) | Free |
| Tier 4 | UA / P1DA BRACER (Rare Wrist) | Premium |
| Tier 5 | Blue Rampage (Epic Coating) | Premium |
| Tier 5 | Challenge Swap (Consumable) | Free |
| Tier 6 | Bryce (Rare Visor) | Free |
| Tier 6 | Challenge Swap (Consumable) | Premium |
| Tier 7 | SAP / EVA (Rare Left Shoulder Pad) | Premium |
| Tier 8 | SAP / EVA (Rare Right Shoulder Pad) | Premium |
| Tier 8 | Challenge Swap (Consumable) | Free |
| Tier 9 | TAC / RS / WILLOW (Rare Helmet Attachment) | Premium |
| Tier 10 | EVA (Epic Helmet) | Premium |
| Tier 10 | Challenge Swap (Consumable) | Free |
| Tier 11 | Stone Green (Rare Coating) | Free |
| Tier 11 | XP Boost (Consumable) | Premium |
| Tier 12 | TAC / MAT-2519C COMMUNICATOR (Epic Chest) | Premium |
| Tier 13 | TAC / MC5 TACPAD (Epic Wrist) | Premium |
| Tier 13 | Challenge Swap (Consumable) | Free |
| Tier 14 | Noble Principle (Epic Coating) | Premium |
| Tier 15 | COMMANDO (Epic Helmet) | Premium |
| Tier 15 | Challenge Swap (Consumable) | Free |
| Tier 16 | Calm Blossom (Rare Stance) | Free |
| Tier 16 | XP Boost (Consumable) | Premium |
| Tier 17 | Noble (Epic Visor) | Premium |
| Tier 18 | HUL [3] / BNR / COURIER PEARL (Epic Helmet Attachment) | Premium |
| Tier 18 | Challenge Swap (Consumable) | Free |
| Tier 19 | Noble Command (Epic Stance) | Premium |
| Tier 20 | CARTER-A259 KIT (Legendary Armor Kit) | Premium |
| Tier 20 | Challenge Swap (Consumable) | Free |
| Tier 21 | UTIL / ENAV BEACON (Rare Chest) | Free |
| Tier 21 | XP Boost (Consumable) | Premium |
| Tier 22 | Noble (Epic Nameplate) | Premium |
| Tier 23 | Noble (Epic Charm) | Premium |
| Tier 23 | Challenge Swap (Consumable) | Free |
| Tier 24 | UA / DO-06-FGM TACTICAL KIT (Rare Chest) | Premium |
| Tier 25 | FCI / FASCIA (Legendary Helmet Attachment) | Premium |
| Tier 25 | Challenge Swap (Consumable) | Free |
Tier 26 — Tier 50
Swipe to scroll horizontally
| Tier | Reward | Track |
| --- | --- | --- |
| Tier 26 | Vandal (Epic Visor) | Free |
| Tier 26 | XP Boost (Consumable) | Premium |
| Tier 27 | TAC / SRT UGPS (Epic Wrist) | Premium |
| Tier 28 | System Of Systems (Epic Backdrop) | Premium |
| Tier 28 | Challenge Swap (Consumable) | Free |
| Tier 29 | TAC / T-MAGS (Rare Chest) | Premium |
| Tier 30 | AVIATOR (Rare Helmet) | Premium |
| Tier 30 | Challenge Swap (Consumable) | Free |
| Tier 31 | Ancient Code (Epic Color) | Free |
| Tier 31 | XP Boost (Consumable) | Premium |
| Tier 32 | SAP / SNP (Legendary Left Shoulder Pad) | Premium |
| Tier 33 | SAP / SNP (Legendary Right Shoulder Pad) | Premium |
| Tier 33 | Challenge Swap (Consumable) | Free |
| Tier 34 | Noble Observer (Epic Coating) | Premium |
| Tier 35 | SCOUT (Epic Helmet) | Premium |
| Tier 35 | Challenge Swap (Consumable) | Free |
| Tier 36 | LUMU (Rare AI Model) | Free |
| Tier 36 | XP Boost (Consumable) | Premium |
| Tier 37 | HUL-I / RS / ARGON (Legendary Helmet Attachment) | Premium |
| Tier 38 | UTIL / DESERT PATROL (Epic Chest) | Premium |
| Tier 38 | Challenge Swap (Consumable) | Free |
| Tier 39 | Noble Strike (Epic Stance) | Premium |
| Tier 40 | JUN-A266 KIT (Legendary Armor Kit) | Premium |
| Tier 40 | Challenge Swap (Consumable) | Free |
| Tier 41 | Tempest Lilac (Rare Coating) | Free |
| Tier 41 | XP Boost (Consumable) | Premium |
| Tier 42 | Noble (Epic Emblem) | Premium |
| Tier 43 | TAC / RECON PACKAGE (Rare Chest) | Premium |
| Tier 43 | Challenge Swap (Consumable) | Free |
| Tier 44 | Search and Assess (Rare Stance) | Premium |
| Tier 45 | RECON (Legendary Helmet) | Premium |
| Tier 45 | Challenge Swap (Consumable) | Free |
| Tier 46 | UA / AGATHIUS (Epic Left Shoulder Pad) | Free |
| Tier 46 | XP Boost (Consumable) | Premium |
| Tier 47 | MK59E CBRN / GLANCE (Epic Helmet Attachment) | Premium |
| Tier 48 | CHALLENGER (Epic Glove) | Premium |
| Tier 48 | Challenge Swap (Consumable) | Free |
| Tier 49 | UA / AGATHIUS (Epic Right Shoulder Pad) | Free |
| Tier 49 | Critical Path (Epic Backdrop) | Premium |
| Tier 50 | Judgement Phoenix (Legendary Kill Effect) | Premium |
| Tier 50 | Challenge Swap (Consumable) | Free |
Tier 51 — Tier 75
Swipe to scroll horizontally
| Tier | Reward | Track |
| --- | --- | --- |
| Tier 51 | Dynasty (Epic Visor) | Free |
| Tier 51 | XP Boost (Consumable) | Premium |
| Tier 52 | UA / TYPE FJ (Epic Kneepad) | Premium |
| Tier 53 | M45 Hardcase (Epic Hip Attachment) | Premium |
| Tier 53 | Challenge Swap (Consumable) | Free |
| Tier 54 | Noble Intercessor (Epic Coating) | Premium |
| Tier 55 | AIR ASSAULT (Epic Helmet) | Premium |
| Tier 55 | Challenge Swap (Consumable) | Free |
| Tier 56 | Ghost Grey (Epic Coating) | Free |
| Tier 56 | XP Boost (Consumable) | Premium |
| Tier 57 | Noble (Epic Emblem) | Premium |
| Tier 58 | TAC / RS / STARLIGHT (Epic Helmet Attachment) | Premium |
| Tier 58 | Challenge Swap (Consumable) | Free |
| Tier 59 | Noble Confidence (Epic Stance) | Premium |
| Tier 60 | CATHERINE-B320 KIT (Legendary Armor Kit) | Premium |
| Tier 60 | Challenge Swap (Consumable) | Free |
| Tier 61 | Kill Count (Epic Backdrop) | Free |
| Tier 61 | XP Boost (Consumable) | Premium |
| Tier 62 | SAP / ODST (Rare Right Shoulder Pad) | Premium |
| Tier 63 | SAP / ODST (Rare Right Shoulder Pad) | Premium |
| Tier 63 | Challenge Swap (Consumable) | Free |
| Tier 64 | Helljumper (Rare Visor) | Premium |
| Tier 65 | ODST (Epic Helmet) | Premium |
| Tier 65 | Challenge Swap (Consumable) | Free |
| Tier 66 | Karaba Sirocco (Rare Coating) | Free |
| Tier 66 | XP Boost (Consumable) | Premium |
| Tier 67 | UA / ODST (Rare Chest) | Premium |
| Tier 68 | Keep It Clean (Rare Charm) | Premium |
| Tier 68 | Challenge Swap (Consumable) | Free |
| Tier 69 | Super Tone (Legendary Color) | Premium |
| Tier 70 | Superintendent (Legendary AI Model) | Premium |
| Tier 70 | Challenge Swap (Consumable) | Free |
| Tier 71 | UA / M557 Jackplate (Rare Chest) | Free |
| Tier 71 | XP Boost (Consumable) | Premium |
| Tier 72 | UA / TYPE JOR (Epic Kneepad) | Premium |
| Tier 73 | UA / VAUNTLOCK (Legendary Chest) | Premium |
| Tier 73 | Challenge Swap (Consumable) | Free |
| Tier 74 | Noble Defender (Epic Coating) | Premium |
| Tier 75 | GRENADIER (Epic Helmet) | Premium |
| Tier 75 | Challenge Swap (Consumable) | Free |
Tier 76 — Tier 100
Swipe to scroll horizontally
| Tier | Reward | Track |
| --- | --- | --- |
| Tier 76 | Noble Portal (Epic Coating) | Free |
| Tier 76 | XP Boost (Consumable) | Premium |
| Tier 77 | Stalwart (Legendary Visor) | Premium |
| Tier 78 | UA / TYPE E3 (Rare Helmet Attachment) | Premium |
| Tier 78 | Challenge Swap (Consumable) | Free |
| Tier 79 | Noble Justice (Legendary Stance) | Premium |
| Tier 80 | JORGE-052 KIT (Legendary Armor Kit) | Premium |
| Tier 80 | Challenge Swap (Consumable) | Free |
| Tier 81 | TRAILBLAZER (Epic Helmet) | Free |
| Tier 81 | XP Boost (Consumable) | Premium |
| Tier 82 | SAP / MKVI (Epic Right Shoulder Pad) | Premium |
| Tier 83 | SAP / MKVI (Epic Left Shoulder Pad) | Premium |
| Tier 83 | Challenge Swap (Consumable) | Free |
| Tier 84 | FCI-I AIRWOLF (Epic Helmet Attachment) | Free |
| Tier 84 | MARK VI (Epic Helmet) | Premium |
| Tier 85 | Judgement Mantle (Legendary Armor FX) | Premium |
| Tier 85 | Challenge Swap (Consumable) | Free |
| Tier 86 | Claw Marks (Rare Backdrop) | Free |
| Tier 86 | XP Boost (Consumable) | Premium |
| Tier 87 | M10 TACTICAL SOFT CASE (Rare Hip Attachment) | Premium |
| Tier 88 | TAC / CASC (Epic Wrist) | Premium |
| Tier 88 | Challenge Swap (Consumable) | Free |
| Tier 89 | UA / M550D HALFPLATE (Rare Chest) | Free |
| Tier 89 | Noble Executioner (Epic Coating) | Premium |
| Tier 90 | EVA [C] (Legendary Helmet) | Premium |
| Tier 90 | Challenge Swap (Consumable) | Free |
| Tier 91 | Special Delivery (Legendary Stance) | Free |
| Tier 91 | XP Boost (Consumable) | Premium |
| Tier 92 | Visigoth (Rare Visor) | Premium |
| Tier 93 | TAC / SAPPER RIG (Epic Chest) | Premium |
| Tier 93 | Challenge Swap (Consumable) | Free |
| Tier 94 | Dragoon (Epic Visor) | Free |
| Tier 94 | Noble Fury (Epic Stance) | Premium |
| Tier 95 | EMILE-A239 KIT (Legendary Armor Kit) | Premium |
| Tier 95 | Challenge Swap (Consumable) | Free |
| Tier 96 | MARK VII (Legendary Helmet) | Free |
| Tier 96 | XP Boost (Consumable) | Premium |
| Tier 97 | Judgement Helm (Legendary Armor FX) | Premium |
| Tier 97 | Challenge Swap (Consumable) | Free |
| Tier 98 | UA / ARMET (Legendary Helmet Attachment) | Free |
| Tier 98 | MIA (Rare Visor) | Premium |
| Tier 99 | Redacted Records (Epic Coating) | Premium |
| Tier 99 | Challenge Swap (Consumable) | Free |
| Tier 100 | UA / TYPE II-A1 BUCKLER (Legendary Wrist) | Free |
| Tier 100 | Judgement Flame (Legendary Mythic Effect Set) | Premium |