Where to preorder Halo Infinite Xbox Series X: Walmart, Best Buy, GameStop
Everything we know about Microsoft's limited-edition Halo Infinite console.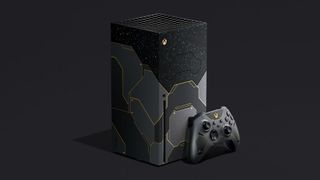 (Image credit: Microsoft)
Microsoft unveiled a new line of custom Xbox hardware at Gamescom 2021, including a limited-edition twist on its Xbox Series X console. The star-speckled console presents a new look for Microsoft's latest 4K flagship, themed around its biggest shooter of the year. The company also dropped a new variant of its premium Xbox Elite Controller Series 2 gamepad, donning Master Chief-inspired olive plating.
The devices surfaced during Wednesday's Opening Night Live show, with preorders now steadily rolling out among retailers. The devices release Nov. 15, 2021, providing ample time to get familiar with the gadgets ahead of the game's release this December. We've rounded up all the details announced so far to increase your chances of securing these Halo Infinite goodies.
Update, Aug. 26 (11:50 a.m. ET): We've updated this article with the latest on Halo Infinite Xbox Series X stock as more retailers ready preorder listings.
(opens in new tab)
Xbox Series X – Halo Infinite Limited Edition Bundle
Microsoft honors two decades of Xbox and Halo with a limited-edition Halo Infinite black and gold design of its flagship Xbox Series X console. While stock is limited, you can find the latest links below.
(opens in new tab)
Xbox Elite Wireless Controller Series 2 - Halo Infinite Limited Edition
Microsoft has shaken up its best-in-class Xbox controller with a new Master Chief-themed design while retaining all the competitive-ready features that made this gamepad so great.
Update Aug. 26 (11:50 a.m. ET) — More Xbox Series X stock incoming
While the Halo Infinite Xbox Series X console sold out fast on Wednesday, new stock is expected from various U.S. retailers yet to list the console. Amazon, Best Buy, and GameStop are among those yet to open preorders, providing more opportunities for those yet to purchase the console. These Xbox Series X consoles will be hot property headed into the fall, with demand only amplified by ongoing chip shortages impacting console production.
We expect Amazon and Best Buy to go live shortly, with placeholder links uncovered via each retailer, although still to go live as of publication. We continue to round up the links and preorder drop times as available.
Halo Infinite Xbox Series X restocks: Where to buy
Preorders for the Halo Infinite Xbox Series X console recently went live via the Microsoft Store, with stock depleted in seconds, with months until launch. High demand has seen web pages slowing to a crawl, with checkouts flickering with out-of-stock notices. Walmart and Target also opened preorders on Wednesday, with both listings out of stock shortly after going live.
We expect the Halo Infinite Xbox Series X console to sell at more retailers this week. We're currently waiting on Amazon, Best Buy, and GameStop, all yet to list the console via online stores. While we don't have specific times on when these retailers plan to sell their allocated consoles, we're rounding up all the latest information as it happens.
With the standard Xbox Series X stock already lucrative amid ongoing global ship shortages, you'll need to hover over those refresh buttons for an opportunity to check out. We recommend regularly checking listings throughout the evening for your best shot at securing either device.
While we're also keeping a lookout for Xbox Series X restocks, including the Microsoft Store and Walmart, the limited nature of this console release could leave some eager fans disappointed for launch. Keep checking back on this page for all the latest updates.
What's included with the Halo Infinite Xbox Series X?
The Xbox Series X first launched in Nov. 2020, but with ongoing global chip shortages throttling production, purchasing these latest-generation devices has proven challenging. That hasn't stopped Microsoft from unveiling a limited-edition Halo Infinite-themed Xbox Series X bundle, doubling as the first custom variant of its best Xbox console.
The Halo Infinite Xbox Series X bundle costs $550 for the 1TB console with a custom controller. It swaps out the all-black casing for metallic black and grey, coupled with space-themed detailing and gold accents drawing inspiration from its sci-fi setting. The design references the mysterious Forerunner structures that dominate the Halo landscapes and star-speckled skies, which according to Microsoft, reflect views from the Zeta Halo ring. The device also has a blue-tinted fan, a nod to its iconic AI companion, Cortana, and custom sounds when booting up the console.
The limited-edition Halo Infinite bundle includes the Xbox Series X and an accompanying Xbox wireless controller mirroring the console design. This exclusive gamepad differs from the Xbox Elite Controller, building upon the new Xbox Series X|S controller, featuring a dedicated Share button and improved directional pad. Buyers will also receive a digital code for Halo Infinite an HDMI 2.1-compatible "Ultra High Speed" HDMI cable that supports 4K resolutions up to 120Hz refresh rates.
The standalone $200 Xbox Elite Controller Series 2 also underwent a similar transformation, with a metallic green faceplate and black grips akin to the Master Chief's armor. A gold directional pad, blue-tinted LEDs, and 117 decals complete the look for Halo fans.
This Xbox Elite Controller features the same staples as its standard variant, including interchangeable paddles and directional pads, hair-trigger locks, and thumbsticks with adjustable tension. The controller also ships onboard Bluetooth, ideal for use with PC and mobile, plus a themed carry case with an integrated wireless charging pad.
Halo Infinite Xbox Series X release date
Microsoft unveiled the Halo Infinite Xbox Series X console and Xbox Elite Controller at Gamescom 2021, with preorders opening shortly after their appearance on-stream. The two devices launch on Nov. 15, 2021, almost one month prior to Halo Infinite, slated for December 8, 2021.
Matt Brown is Windows Central's Senior Editor, Xbox & PC, at Future. Following over seven years of professional consumer technology and gaming coverage, he's focused on the world of Microsoft's gaming efforts. You can follow him on Twitter @mattjbrown.
the series x edition console sold out on Microsoft Canada in seconds 😞

the series x sold out before the email even went out.

I ended getting a preorder in, in person.

So dumb. Both console and controller sold out in seconds. Makes no sense that almost 1 year later, MS cannot make enough consoles. I have bought every Xbox console at launch, and since I have kids, I usually buy 2, usually with no issues, but I still cannot get my hands on a regular Series X now approaching 1 year later. Sad, I want to give MS my money (I was planning on the elite controller as well), but they don't want it, lol.

Why doesn't it make sense given the pandemic and chip shortages? Makes a lot of sense to me. Plus, in general, any popular electronic gets sold out quickly even if there wasn't a pandemic or chip shortages

To be fair, Halo consoles haven't usually been one of those things that were super-limited and sold out quickly...but neither were base consoles, this is the reality we live in now.

Cough, cough..... Worldwide pandemic..... Cough, cough...... Stop your whining.... Cough, cough. Sorry I got something stuck in my throat.

Xbox elite controllers are available. The Special edition controller just has a different case. Chip shortage has nothing to do with it. Similarly, approaching 1 year following launch of the consoles (PS5 included), the main issue for lack of consoles has been a 'relative' unprecedented demand for consoles, pend up demand because of that, and of course the chip shortage last summer, but the main reason there is a problem now, is because scalpers have been buying up inventory as soon as they are released everywhere. Only reason why this special edition console got sold out in minutes is because scalpers have bots that are buying up the consoles quickly. My complaint is about that. You can chose to call it whining if you want but I am not the only enthusiast unhappy about the scalpers.

Bots aren't great, but the chip shortage is ongoing. Granted some are starting to worry of overproduction. Could mean a crash eventually with cheap(er) chips.

Ummmm, get some perspective here. Global Pandemic + Chip Shortage going on for over a year now. Even when things get produced, they can't be SHIPPED because of a huge shortage of Shipping Containers, plus a Water Shortage in Taiwan. It just keeps going on and on and on........ Ford and GM have tens of THOUSANDS of vehicles sitting in storage lots, unable to sell/ship because of the Chip Shortage. They will pay ANYTHING to get the chips they need to ship those $40K-$70K+ products BUT THEY CAN'T GET THEM, and you think MS can for a $500 Gaming Console?!?! They are missing the exact same chips that MS is having trouble getting for their Series X. Not CPUs or GPUs, but the little stuff: Voltage Regulators, Op-Amps, I/O Buffers, even stuff like impedance termination chips, that kind of thing. There are only a couple of manufacturers of those (due to consolidation in the industry) and the profit margin is so low on them, nobody else wanted to make them, so now, years later, here we are. With so many manufacturers that use these products signing multi-year contracts for HUGE numbers of these devices, they have no extra to sell for new(er) products that require them too as they must service the older (and more profitable) contracts first. I suspect that around Christmas 2021 SOME of the shortage may begin to ease, but it will be well into 2022 before things get anywhere near "normal" in this industry again.

The grey-on-grey aesthetic is a little boring, so the controller isn't that exciting. The star pattern on the console and what seems to be more gold trim, make the console look pretty nice. Seems to be sold out already, sadly, but hopefully they have it come back at some point. This is definitely what I want to buy, if I get the chance, and it's why I've stuck with my XB1X so long.

Scalpers are buying up all the stock instantly using bots. Has nothing to do with the chip shortages. It makes no sense that they did not put a 1 item per customer limit. I still don't have a series x because I refuse to overpay for a game console.

just preordered one. hurray
if you're in Canada, message me and I'll provide Info on where/how

Yo, as a fellow Canuck I'd like to know how you pulled that off!

go into Eb games.. they have not posted stock online but you can preorder in person 😁

Thanks, I'll give that a go!

$50 more than the regular Series X. If you can play Halo with Game Pass, what's the point?

Noted that it won't be on Game Pass (at least for a while). I guess you are paying for the game and a different painted console then.

Huh? Are you talking about the release date of the console compared to the game? The game will release day one into game pass.

Why is it called a bundle including console and controller. Does the normal Series X not bundle with controller?

This bundle includes the game as well, I believe

I would hope it includes the game for an extra $50 over the non "bundle" Series X.
Windows Central Newsletter
Thank you for signing up to Windows Central. You will receive a verification email shortly.
There was a problem. Please refresh the page and try again.